Recently we had the opportunity to Skype with Joysy John, an engineer turned business strategist turned startup CEO and agent of change. Her inspirational story includes climbing the corporate ladder then jumping off for the unpredictable but exciting world of tech startups and social impact organizations.
Joysy studied to be an engineer and excelled at it, but wanted to be more involved in business. When Joysy decided to pursue an MBA at London Business School she found the funding and support she needed through a fellowship. The Forté Foundation Fellows Program offers fellowships to accomplished women who are pursuing full-time, part-time or executive MBA at participating universities.  The purpose of the fellowship is to increase the number of women applying to and enrolling in MBA programs. The Forté Fellowship is highly selective, offers multiple scholarship opportunities, and provides fellows with additional benefits such as participation in conferences and unparalleled leadership development and networking opportunities. Joysy was happy to share her insights for ProFellow.
1. Why did you decide to pursue an MBA and a Forté Foundation Fellowship?
After six years with JPMorgan in Singapore and New York, I was ready to change my career from a technology leadership track to sales & trading. I have a computer engineering degree and wanted to enhance my knowledge in other disciplines such as finance, accounting, strategy and marketing so decided to do an MBA. Since Forte Foundation Fellowship not only provided financial support but also provided exposure to leading companies and access to a network of peers across top business schools, I decided to apply for it.
2. What do you think made your application stand out?
My leadership experience, commitment to women's empowerment and entrepreneurial background helped make my application stand out. I was the youngest person selected on the JPMorgan Future Leader Development Program and that really helped build the case for my leadership potential.
My commitment to women's empowerment was evidenced in my essay on how I would lead and enhance the Women in Business Club at London Business School. I was in the founding team of Financial Women's Association in Singapore and had launched the mentoring program for young women in finance. I wanted to bring similar opportunities to women at business school who were interested in careers in finance. Finally, my entrepreneurial drive was highlighted through the Students Initiative for Technopreneurship club that I had setup while at university.
3. What tips would you give others applying to the Forté Foundation Fellowship?
Know what you want to do and ask yourself how an MBA will help you achieve your goal. Research the schools that you are interested in by talking to students and alumni to find out whether you fit into the culture of the school. Member schools in the Forté network make the determination of who on their MBA class will get the Forté awards so make sure to check whether the business school you are applying to is in the Forte network. Then highlight your leadership and women's development initiatives in the application and interviews. During the application phase, make sure you spend enough time crafting your story to differentiate yourself. The essays and recommendation letters are crucial to the application process so give yourself enough time to prepare.
Joysy John is cofounder and CEO of Founders Fit. She is also the Head of Global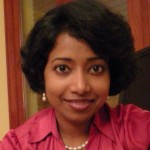 Partnerships and EMEA Director for Startup Leadership Program. She has over a decade of experience in technology, business management, strategy and sales roles with JPMorgan and Morgan Stanley in Singapore, US and UK. She was the youngest person selected into the Future Leader Development Programme at JP Morgan Chase. Joysy is passionate about education and women's empowerment. She holds a Computer Engineering (Honours) degree from Nanyang Technological University, Singapore and an MBA with Distinction from London Business School where she was the President of the Women in Business Club and a Forté Scholar.

© Victoria Johnson 2012, all rights reserved.