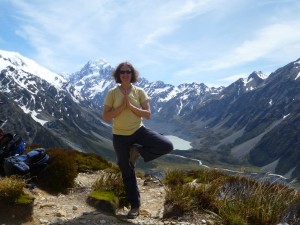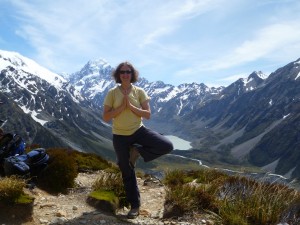 Rebecca Stahl previously worked as a Judicial Law Clerk at the Arizona Court of Appeals before moving to New Zealand as a 2011 Fulbright Fellow at the University of Otago. Rebecca is also author of the blog, "Is Yoga Legal?"
We asked her three questions about her experience.
1. Why did you decide to apply for a Fulbright fellowship in New Zealand? 
I decided to apply for a Fulbright fellowship in New Zealand because I was interested in learning more about the New Zealand family court system I had studied while in law school. Fulbright provided the funding, but more importantly, it provided connection to a base in New Zealand. While searching for funding opportunities, it was the Fulbright vision that most clearly resonated with what I wanted to gain through a study abroad experience. It is more than just doing the research while you are abroad. It is about connecting to a new world, and Fulbright supported both aspects of that.
2. What do you think made your application stand out?
I think my application stood out for several reasons. First, I do not believe very many lawyers apply for Fulbright fellowships, so just the fact that I was a lawyer, I think, made a difference, especially in New Zealand where so many applicants are scientists. Second, I was lucky to have a connection in New Zealand who then connected me to people at the various universities. By the time I applied, I had set up affiliations with two universities. Third, I was specific about my research goals. I had already studied the New Zealand system, but I knew the only way I could learn more about it was to come to New Zealand, so I discussed the problems we face in the United States, what I believed New Zealand was doing to remedy those problems, and had the affiliations to go along with it. Finally, I talked about my past study-abroad and work-abroad experiences in which I got involved in the local community. Thus, I spoke to the citizen diplomacy aspect of the Fulbright program in addition to the research.
3. What tips would you give others applying for a Fulbright in New Zealand? 
I would encourage people applying for a Fulbright fellowship in New Zealand to reach out to people in New Zealand with whom they would like to work. Do some research and find the people who do the work you want to do. In addition, I think it is important to discuss how you intend to participate in culture. In New Zealand, that could be talking about tramping or bird watching, or even just getting involved through volunteering. Finally, be honest and upbeat. The Fulbright staff want to know who you are more than they care about whether you graduated in the top of your class. So be fully honest. It shows, and it will make a difference.
Rebecca Stahl is now an attorney at the Pima County Office of Children's Counsel and lives in Tucson, Arizona.