By ProFellow Founder, Dr. Vicki Johnson
After Rachel Santasiero completed her undergraduate degree in Civil Engineering, she didn't think she was qualified to apply to and win competitive fellowships. Her first year after college, she worked as an entry-level engineer at a small firm, but with her dual interest in International Affairs, she began daydreaming about having a professional experience abroad. She started to explore early-career fellowships and application support, and enrolled in my signature Fully Funded Course and Mentorship Program in 2019 as one of my first students.
Through the Fully Funded Program, Rachel learned how to tell her unique application story when applying to fellowships and graduate programs, which led to several successes. She went on to earn and be selected as a Finalist for several prestigious professional fellowships in the US and abroad. The following year, she found, applied, and was accepted to multiple fully funded master's and PhD programs in International Affairs and Development. During her graduate studies, she was also chosen for the highly competitive Herbert Scoville Jr. Peace Fellowship. Rachel is now a Scoville Fellow and Master's student, and also supports the Fully Funded Course and Mentorship Program as a Coach, helping other scholars like her find and win funding. 
Recently, I interviewed Rachel to discuss her career journey. Rachel shared with me her experience pursuing fellowships and graduate school, how she chose between multiple full funding offers from graduate programs, her current experience on the Scoville Fellowship, and advice she has for other students pursuing fellowships and graduate school. Listen to the full exchange in the video above, or read on for a condensed transcript of the conversation. 
Remember: Just like Rachel, you can use the free ProFellow Database to find the right fellowship and fully funded graduate program for you! 
Dr. Vicki Johnson:
Hello, everyone. My name is Dr. Vicki Johnson, and I'm the Founder and Director at ProFellow. I have a very special guest today, Rachel Santarsiero. She's someone that I met way back in 2019 when she was a recent graduate just out of college. She started working in civil engineering, which is what she did her first degree in. Part of the reason we met is she was actually one of the very first students in my Fully Funded Course and Mentorship Program for graduate school and fellowship applicants. 
In that early period, she was applying to fellowships and thinking about graduate school. Because she is one of our success stories from the course, we are still working together. Rachel is now a Coach for the Fully Funded Course. So I wanted to share Rachel's interesting story since she's moved from the field of Engineering to International Affairs. 
Rachel, welcome. It's great to have you here, and we're going to break down how you got to where you are now. 
You're a fully funded Master's student in Science and Technology for Innovation and Global Development at Worcester Polytechnic Institute, and you're also a Herbert Scoville Jr. Peace Fellow in Washington, D.C. I was really excited to hear that you had won this award because I was a Scoville Fellow myself many years ago back in 2005. 
Now to learn more about your journey, let's go way back to the beginning. You graduated with a BS in Civil Engineering from Worcester Polytechnic Institute back in 2018 and you began working as a civil engineer. What prompted you at this early stage in your career to think about fellowships, and, in particular, international fellowships?
What inspired you to begin applying for fellowships right after college?
Rachel Santarsiero:
That's a great question to get started with because sometimes I look back and think I've had an unconventional path, but I've grown up and have always had a lot of multidisciplinary interests. I think I always knew I wanted to work in this space that combined science and technology and problem-solving, but in an international sense, working on policy because I felt like it was just a great experience to be able to work abroad or do something more interesting than a traditional engineering job. I think that's why I ultimately started looking at fellowships and graduate school opportunities: because they are just such a great way to do research, work abroad, and think about issues in a more holistic way.
I had actually applied to a couple of different fellowships around 2019 and 2020. The first was the Fulbright US Student Award in Oman, where I proposed research to combine my engineering experience in designing bike paths and shared use trails in one of Oman's national parks. I was lucky enough to make it past the Semi-finalist round to become an Alternate for that program. I was really excited to have even made it to that stage. 
A couple of other fellowships I applied to were the National Public Radio Kroc Fellowship, which was a journalism program in Washington DC. It was a year-long program to acclimate students who maybe didn't have journalistic experience before, but wanted to move into the field. 
The last two were the New York City Urban Fellows Program, which allowed Fellows to work in local government on local issues in city agencies or mayoral offices, which I also was able to make it to the Semi-finalist round of. 
I was also selected for – but they ultimately canceled due to COVID – the Congress-Bundestag Youth Exchange for Young Professionals (CBYX), which is a year-long exchange program in Germany. 
I've always had my sight set on lots of different types of fellowships. And I just felt that they were always ways for me to move into this sphere of international affairs and international relations that I wanted to do. Even though the CBYX Fellowship didn't work out because of COVID, I was able to pivot and start looking at different opportunities, which ultimately led me to apply for grad school.
Dr. Vicki Johnson:
When we first met, your biggest concern was you just didn't feel like you would be very competitive. You didn't think you had a unique story. Tell us a little bit about what you learned about yourself and the application process, and especially through some of the things you learned in the Fully Funded Course.
How did the Fully Funded Course help you to tell your unique application story?
Rachel Santarsiero:
I think I felt, again, wanting to pivot into a career that was more international or thinking about projects outside of just hard engineering or STEM. I did really feel like an unconventional applicant in that didn't have the political science or government experience that some other applicants might have. I did have some international experiences abroad, but again, I just think I was coming from a place where I didn't feel very confident, that I wasn't a unique applicant.
It honestly wasn't until joining the Fully Funded Course, and in our conversations, that you helped me reformulate how I can think about my experiences and show that I'm a unique candidate and that I will provide this really different perspective. Where I started off feeling more self-conscious about my STEM background, I ultimately realized it really set me apart and made me a unique candidate to apply to these types of fellowships.
Dr. Vicki Johnson:
Absolutely. You were bringing that civil engineering background into an international sphere, which is unique. I'm glad that through working through your application story in the course, you realized that you do have a unique story to share. Unfortunately, you couldn't do the Congress-Bundestag Youth Exchange Fellowship because of COVID. This did happen with a lot of the international fellowships in that period. Lots of disappointed candidates.
Some were doing their fellowships remotely from the US, which wasn't ideal either, but it was probably still great to just get to those Finalist rounds. But this cancellation ultimately allowed you to change your path. Tell us, what prompted that next step to pursue graduate school?
What prompted your decision to pursue graduate school?
Rachel Santarsiero:
I think I had always had my sight set on grad school at some point. I was not exactly sure of that when I started out in my civil engineering career, but I've always loved school. I've always loved to learn. I feel like I'm a very curious person and I think I really excel in the classroom setting. I just thought grad school would prepare me and give me those research skills that I wanted, whether I ultimately end up in academia or end up going more of a public policy route. I really did feel like grad school was the right step for me to be able to build on those skills that I hadn't maybe developed in undergrad or I maybe wasn't getting in the industry. I think I gained a lot of professional skills working as a civil engineer for a few years, but I think grad school was the logical next step that was really going to allow me to get that subject matter expertise, especially those research and method skills that I knew I wanted.
Dr. Vicki Johnson:
And tell us what type of degrees you applied for knowing that you had an interest in international affairs paired with this engineering background?
Rachel Santarsiero:
I mainly applied for international affairs and international development programs, but I also applied to an environmental policy program, an environmental policy and science program, and also a journalism program. I applied to a couple of different disciplines, which I know isn't the most typical, but I felt that I could really see myself succeeding in any one of those programs. I felt like all of them would give me different things, but I felt like I would be interested in any one of those things.
Dr. Vicki Johnson:
Did the process of applying help you narrow down which one to choose? I know you got into multiple fully funded programs, mostly masters, but you also got into a PhD program. Tell us what did you get into, and then how did you choose your current program?
After receiving multiple grad school offers, with support from the Fully Funded Course, how did you ultimately select your program?
Rachel Santarsiero:
That's a great question, especially because the narrowing down process can be really challenging for students. I did get accepted to more traditional international affairs and international relations programs at Georgetown and George Washington University. And then I also got accepted to UMass Lowell's terrorism studies PhD program. I had a lot of really great options in front of me.
I also had the option for this newer program at Worcester Polytechnic Institute, where I went for my undergrad. Ultimately, I felt like WPI's program, even though it was a little bit newer, was preparing students to use science and technology to tackle these bigger problems. It felt really innovative. It felt like it really focused on this transdisciplinary thinking, which I was really interested in. And I felt like it would just give me the tools to best prepare for tackling global problems in a more holistic way, which is something that I've always wanted to do. As you mentioned, the program is fully funded and I feel really grateful that I had that opportunity to do a fully funded program because it gives me the opportunity to work as a research assistant with different professors in the department. And it also gives me that financial flexibility to just have more opportunities, I think, both during the program and after. That aspect of being fully funded definitely ended up being a huge factor for me in my decision-making.
Dr. Vicki Johnson:
Absolutely. And for a lot of people, they would've gone for the PhD. I totally respect that you chose the program that was really the best fit for where you want to be right now, but it also sounds like you could ultimately still do the PhD, especially now that you know where the fully funded PhD programs are.
Tell us a little bit about the most important or eye-opening things that you learned in the process of taking the fully funded course and mentorship program?
What were the most valuable things you learned from the Fully Funded Course and Mentorship Program?
Rachel Santarsiero:
There are so many things I learned along the way and have learned since that I never would've known if I hadn't joined the course. The first thing is just the structure and the time management skills that the program gives you. So many students who go through the program are so diligent and so determined to apply for these programs and they're really qualified applicants, but I think, for me, this program really helped me just be able to give myself the guardrails to work between and give myself these clear checkpoints to work with, to know that I was totally on top of my applications, especially applying across multiple disciplines that I was on the ball with them and could put together some really competitive applications.
And then the other huge component for me, like we've talked about, is that it's just really given me the confidence to know that I am a competitive and qualified applicant for these programs. Some of these programs, even the fellowship that I'm on now, the Scoville Fellowship, felt like such a leap to even apply for. I'm grateful every day that I was accepted to it. I think the fully funded program really gave me the tools to be able to reflect on my experiences and cultivate them into this story that could show that I'm a competitive, qualified, and unique applicant for these types of programs.
Dr. Vicki Johnson:
Absolutely. And the other thing is that you've always wanted to work in a socially impactful career. And I know that I've seen you grow and be able to show how to express the story of what you want to do in your career as well, which I think has probably really wowed the selection committees.
Rachel Santarsiero:
Going through the Fully Funded Course really gives you the tools to be able to develop that through line. I think a lot of us, as we're going through these experiences, sometimes they can feel really disparate or disjointed, and it's hard to know why one thing led you to the next. But going through this course really helps you develop that through line and be able to show selection committees, "This is where I've been. My journey may be a little winding, but that's actually a good thing because it's really prepared me to take this next stage. And that's why, at this time, right now, it's important that I do X fellowship or Y PhD program."
Dr. Vicki Johnson:
Absolutely. Now let's talk a little bit more about the Scoville Fellowship. Even back a long time ago, when I was applying, I knew that this was a really competitive fellowship. They only take about two to five fellows per cohort. They do two cohorts a year, but this program gets hundreds of applications. It's such a unique program. They place all of the fellows in full-time work placements in policy think tanks in Washington, DC, as well as government organizations and others. When I first saw the fellowship, I thought it was incredible because it's really hard to get your foot in the door even into unpaid internships at these organizations. They just get so many applications. 
Tell me a little bit about your experience with the Scoville Fellowship. Why did you apply for it? What did you hope to get out of it? And then tell us about the placement that you chose.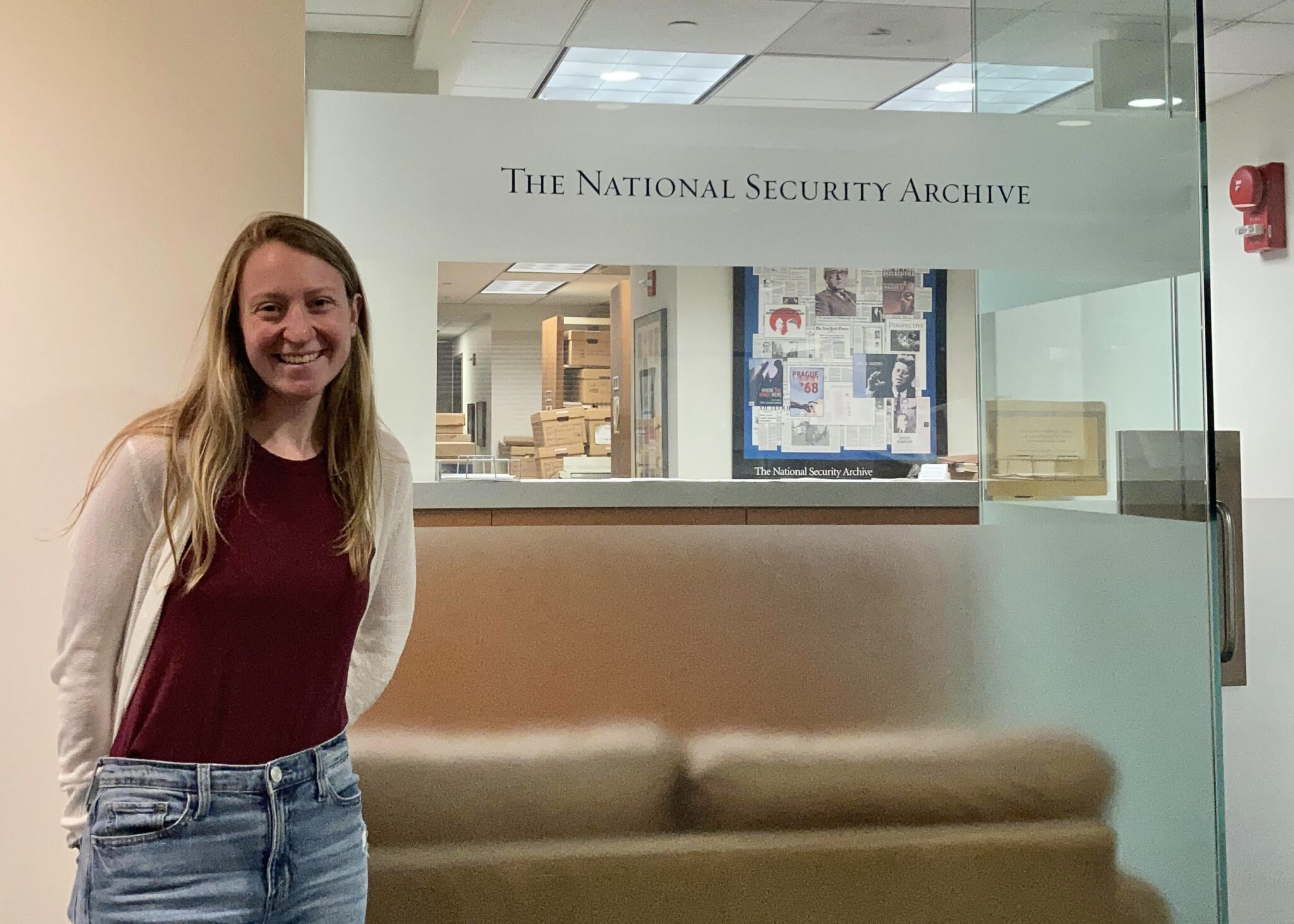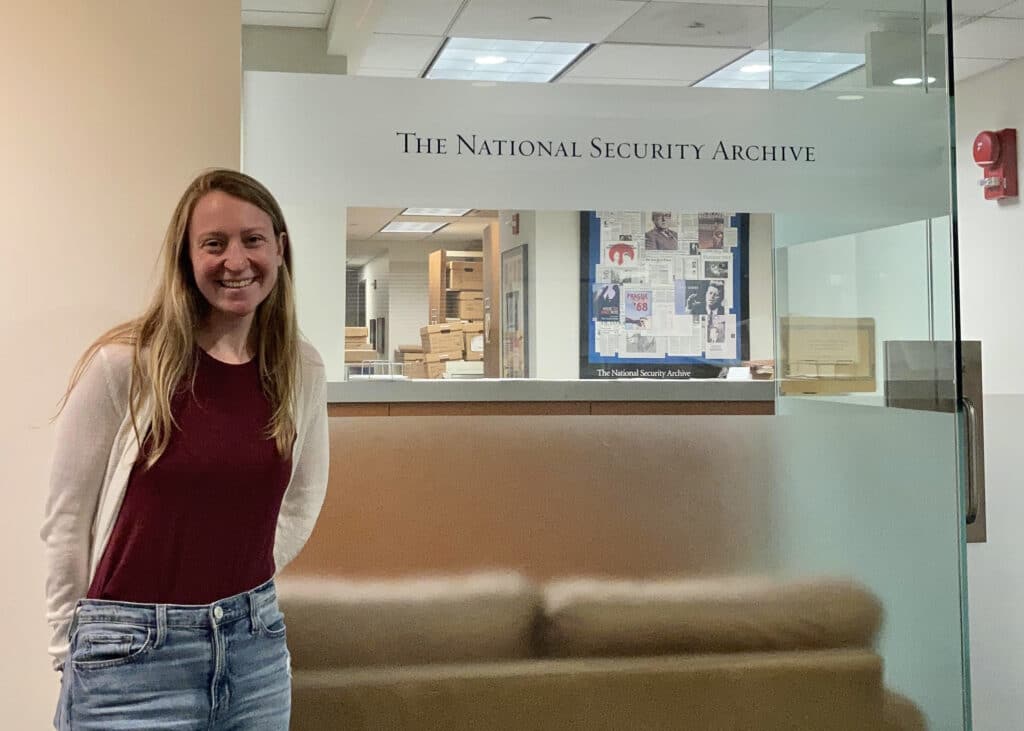 Tell us about your experience with the Scoville Peace Fellowship and why you chose to apply to that program. 
Rachel Santarsiero:
Just exactly what you said, having that proximity and access to some of these policy think tanks or research organizations. That's something I knew I always wanted and felt like, just like you said, it's really hard to access when you're on the outside of it. And especially coming from more of a STEM background, I feel like I didn't have a good way to enter this world without some kind of fellowship or research internship or something. That ultimately was a big reason why I ended up applying: Getting the chance to work on these cutting-edge issues that are happening around us right now, like climate change or just other aspects of national security, peacebuilding. The subject matter itself was so fascinating.
I knew that if I could apply to this and be fortunate enough to get in, it would really give me the tools to continue on and be a better problem solver and better work on these global issues. I felt like it married well with the type of work that I was already doing in my fully funded masters. And it had the DC aspect to it that I was really looking for. 
Like you said, I'm working with the National Security Archive, which has been an amazing experience. They're a nonprofit research organization, library facility, publisher, and advocate for government transparency. They work to provide journalists, librarians, scholars, and researchers with this trove of declassified and unclassified documents. Their biggest thing is really promoting government transparency through conducting a multiplicity of research projects and sending Freedom of Information Act requests to different government agencies.
I've been really fortunate that I've gained so many skills, especially these Freedom of Information Act, or FOIA requests. I think that's just such a valuable skill that I've been able to pick up that I definitely want to take into my career, whether it's in academia or journalism. And so the two main projects that I'm working on are related to my two biggest research interests. The first one is Middle East related, so we're looking at US-Iraq policy during the war in Iraq. And then the second project is related to climate and security, which has just been so interesting and so timely. And it's great being able to delve in how these government organizations are thinking about these types of problems.
Dr. Vicki Johnson:
Oh, absolutely. And what other benefits are there from the fellowship? You've got this really interesting work placement. What else are you getting out of the fellowship?
What benefits does the Scoville Peace Fellowship provide beyond the work placement?
Rachel Santarsiero:
Like you mentioned, we usually have either monthly or bimonthly meetings with policymakers. It's up to the cohort to see who is interesting to them and we get to pick who we want to talk to and what type of work we're interested in. And the fellowship really gives you that proximity and access to be able to talk with people in the field, sometimes newer people in the field who are just getting started and then sometimes more seasoned people who have seen so many different types of peacebuilding and national security issues. I think having that access to so many different types of work that people are doing down here — academics, people in the Department of State, people at USAID, people at nonprofits — is just such great exposure to the type of work that we could do down here. I think also just the cohort that we have are just amazing, people from all over, all different perspectives. It's really just opened my mind to the types of possibilities that are out there.
Dr. Vicki Johnson:
I do remember that I really enjoyed the cohort aspect of it, and it sounds like the program's doing even more than even when I was a Fellow so many years ago. They just celebrated the 35th anniversary of the program and launched a new website, so there's a lot of exciting things going on with the fellowship. 
I want to ask you as well, some people are doing the fellowship as their paid job. You're doing it as an add-on experience to your graduate studies. Tell us, how is this adding to your graduate school experience and even potentially maybe your future career goals?
How is the Scoville Peace Fellowship assisting in your graduate studies and helping advance your career?
Rachel Santarsiero:
Like you said, I think a lot of Scoville Fellows choose to do the program after their undergrad experience to segue them into the working world. But I think doing it how I've been doing it and completing my masters with this fellowship is really helping me develop the research skills that I know I want to incorporate into my thesis once I go back for my second year of my masters. It's helping me with research skills, interviewing skills, finding information, and also learning from the specialists in these fields. When I go back to my master's program, I can have an idea of who the main people are that are working on these types of issues or the types of other think tanks and organizations that are working on these issues.
There are so many things that I'm really looking forward to bringing back to my program when I go back to Massachusetts. And ultimately, my goal for my master's is to work on a thesis that's related to climate and migration concentrated in the Middle East, so I think the two research projects that I've been able to work on at the National Archive have also really given me a lot of valuable skills on how to think through these topics and think about what specifically I want to focus on in my thesis. I think it's a great opportunity to do in the middle of a graduate program like this for anyone else that's interested.
Dr. Vicki Johnson:
That's great. We never know where these fellowships can lead us. I feel like there's always new job opportunities, and new networks that we can develop. What do you think right now that you'll do after your master's? Do you have an idea?
What are your future goals for after your Scoville Fellowship and graduate program?
Rachel Santarsiero:
That's a great question. I'm definitely thinking about it all the time, always trying to think about what my next move is or the kinds of things that I'm interested in. For starters, I'm always looking out for fellowships. I'm constantly checking the ProFellow database to see what's there. I really am checking out a lot of journalism fellowships that I think would be really interesting, especially as this segue from the National Security Archive work and with these FOIA skills that I've gained. I think that would really be a nice transition. 
I'm also just thinking about pursuing a career in academia and going for that PhD. I really feel myself gravitating towards these issues of climate and migration. I think that could be something really interesting to explore in a PhD setting. Whether I ultimately go into academia or end up taking more of a policy role, I think a PhD would be really beneficial to be more of an expert in those areas. 
Dr. Vicki Johnson:
Oh, that's excellent. Lots of potential pathways you can move into. And since you mentioned it, yes, let me put in a plug for the free ProFellow Database, because you actually found a lot of your fellowships, if not all, of them through the ProFellow Database. 
At ProFellow, we also teach how to find fully funded programs. They're not necessarily that easy to find, so that's another thing we really try to teach at ProFellow: how to find programs that offer funding. If you're not already in the database, everyone should sign up. It's free, and we currently have more than 2,000 fellowships and fully funded graduate programs included. Even in the fellowship realm, there are professional fellowships, summer fellowships, doctoral fellowships, masters fellowships, and postdocs. 
There are lots of different opportunities. And the great thing is you can pursue fellowships all throughout your career. Rachel, thank you so much for sharing your experience, your journey, where you were a couple of years ago, and where you are now. Do you have any final thoughts or application tips that you want to share with aspiring fellows and aspiring graduate students?
What tips do you have for other students applying to fellowships or graduate programs?
Rachel Santarsiero:
Here are the three biggest pieces of advice I can offer.
#1 Start Early 
If you're looking at fellowships or grad school applications, start as soon as you can because that'll really give you the time to put together a competitive application, especially if you're applying across disciplines or to multiple different types of fellowships. It'll really help you do the application justice to be able to take the time to hone in on those personal statements, those research proposals, and get letters of affiliation if you need it.
#2 Don't Be Shy
Reach out to people, whether it's admissions, faculty members, or alumni of grad programs or fellowships. They will all help give you a better window into what this program is going to be like and if it's a good fit, and they'll be able to give you those tips to make your application the best that it can be. Any advice that you can get from people who have already gone through the program or faculty members will be very helpful. Definitely don't be shy about reaching out because they're there to help. 
#3 Be Confident 
The last thing that we've already touched on is just to be confident in yourself. Know that you are a competitive applicant and that you're looking at these programs for a reason because they're of interest to you. Even if they seem like a reach or they seem really competitive, don't be shy about really going for it. The Fully Funded Course and Mentorship Program will really help give you the tools to succeed. 
Dr. Vicki Johnson:
Fantastic. Thank you, Rachel, so much for being with us today. I'm really excited to see where you go in your career, and I'm sure we'll stay in touch for a very long time, so thank you so much, Rachel.
Rachel Santarsiero:
Thanks for having me, Vicki.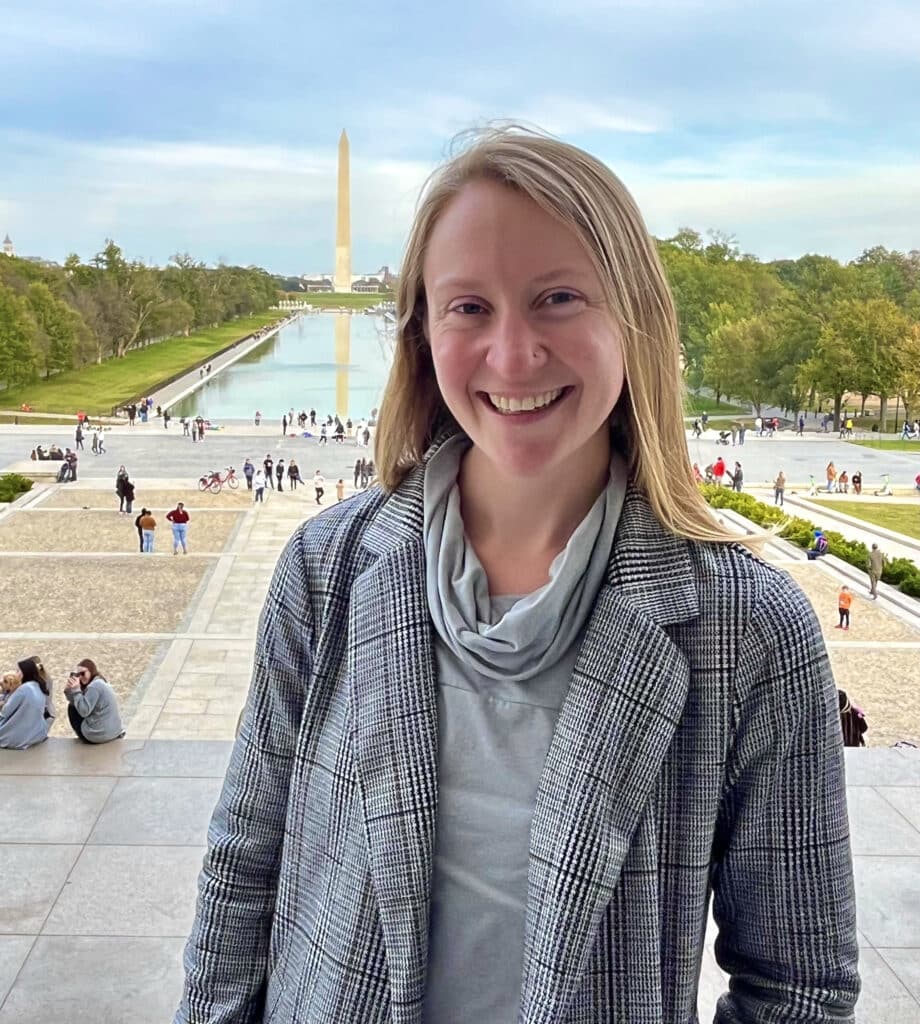 Rachel Santarsiero is a Herbert Scoville Jr. Peace Fellow with the National Security Archive in Washington, D.C. At the Archive, she works on projects related to the U.S.-Iraq Policy and Climate and Security by conducting background research, creating chronologies of events, and submitting Freedom of Information Act (FOIA) requests to federal agencies. Rachel is currently pursuing her M.S. in International Development at Worcester Polytechnic Institute (WPI) where she studies the intersection of climate change and migration in the Middle East and North Africa. In 2018, she graduated from WPI with a dual B.S. in Civil Engineering and Professional Writing, and a minor in International and Global Studies. Rachel is also a Coach in ProFellow's Fully Funded Course and Mentorship Program for graduate school and fellowship applicants. In this role, she provides guidance, mentorship, and application feedback to students in the program who are applying to top PhD and master's programs, as well as competitive fellowships.
Learn more about winning fellowships and achieving full funding for graduate school directly from Dr. Vicki Johnson by signing up for the Fully Funded Course.
© ProFellow, LLC 2022, all rights reserved.