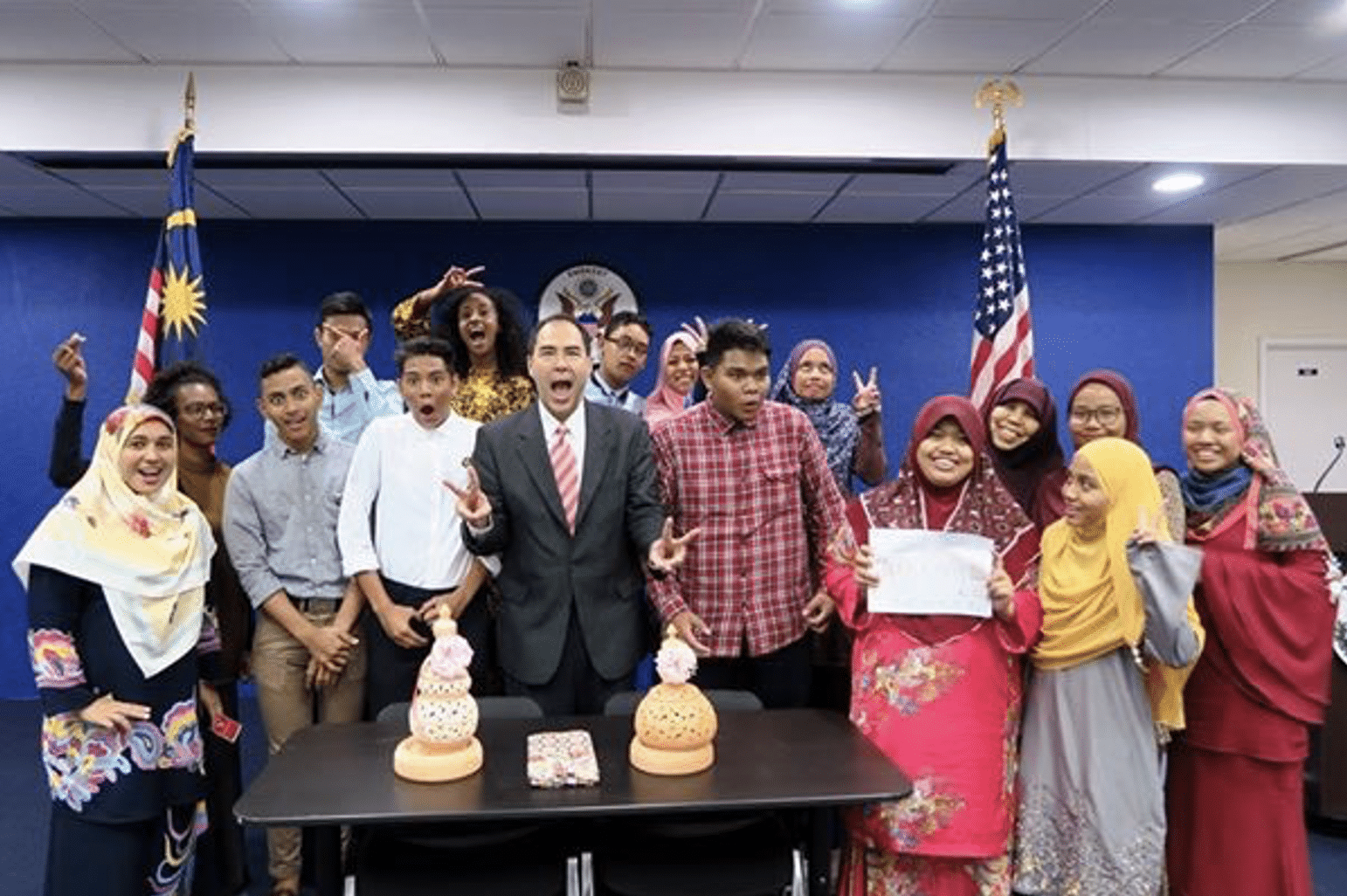 The Fulbright English Teaching Assistantship (ETA) places recent college graduates and young professionals from the United States in classrooms around the world to facilitate the teaching of English. The one-year fellowship, which has opportunities in over 70 countries, is designed to foster intercultural understanding and communication through an immersive cultural experience. In addition to their teaching roles, ETAs serve as ambassadors for the U.S., sharing their culture and forming relationships with residents of their host country. The ages and English abilities of students vary significantly by country and applicants can apply to one country per application.
We talked to Ashleigh Brown-Grier, a Fulbright ETA to Malaysia in 2016-2017, to learn more about the program and get some application tips.  
1. What inspired you to apply for the Fulbright ETA in Malaysia?
Honestly, I had never heard of the Fulbright program during undergrad. After completing my first semester of graduate school at Morgan State University, I became interested in teaching abroad. I haphazardly came across the Fulbright program information on Morgan's study abroad website. I actually applied to the Fulbright program twice, the first time to Vietnam, where I made it to the semi-finalist round and was not awarded a grant. I reapplied with the same application materials; I updated only my job experience.
I was inspired to apply for Malaysia because it did not require a foreign language, and other Morgan alumni had won English Teaching Assistantships to the country.
When I applied, I was pursuing a Master of Arts in Teaching degree and hoped to enhance my teaching skills in the classroom and cultural competency skills. Additionally, I hoped to learn more about the country, the education system, and Bahasa Melayu, the Malay language.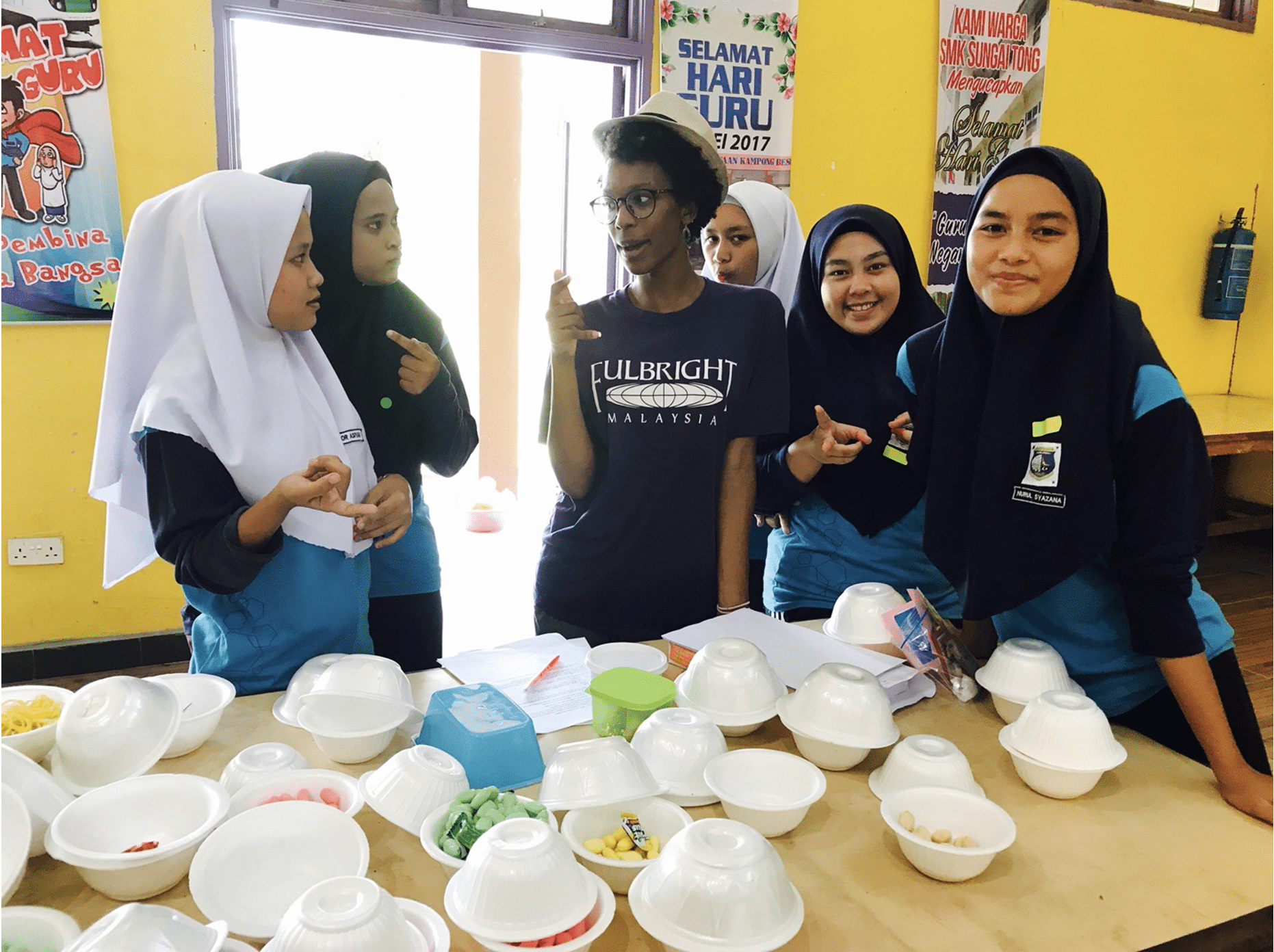 2. What were some of the most eye-opening moments during your fellowship?
Initially, my most eye-opening experience was being Black in rural Malaysia. I expected my presence to be a bit different from the "perceived" American. I quickly realized my students and people in my host community had no concept of the Atlantic Slave Trade or the Civil Rights Movement in the United States. To help my students understand, I created a crash course lesson plan about both topics. Here is an article I wrote about the lesson, A Cikgu's Lesson on Diversity.
During my time in Malaysia, I solidified my Blackness. I was pro-Black before, but being in a non-Black space made me rely on my confidence. I also found it important to build a connection with other Black ETAs. We supported each other daily and, during breaks, traveled together.
ETAs are encouraged to host English Camps, and these camps allow students to practice speaking English. ETAs can invite fellow ETAs to volunteer at the camps to help students practice speaking with a Native English Speaker.
One of my favorite camps was a joint camp, an American Music Idol Singing Competition and American Music Camp. This camp was definitely inspired by my love for music. As a vocal music major, I thought it was important to teach my students about the various music genres in the U.S., as the only current R&B song I heard on the radio in Malaysia was Unbreak my Heart by Toni Braxton, aside from usual Pop music. The American Music Camp was open only to students from my school. Students participated in interactive sessions that exposed them to all genres of music from the U.S. The culminating event was watching the finalists of the American Music Idol compete.
Another project I completed was editing an American and Malaysian Poetry and Recipe book. Students from Malaysia and America submit poems about and recipes of their favorite foods.
My experience in Malaysia was challenging. It challenged me to think and go beyond my norms. It enhanced my critical thinking, leadership, creativity, and cultural skills. I learned to trust myself and take risks. I participated in activities and traveled to places I didn't think were possible. But more than that, I grew close to my students and co-workers, many of whom I still talk to today. I consider them my family!!!!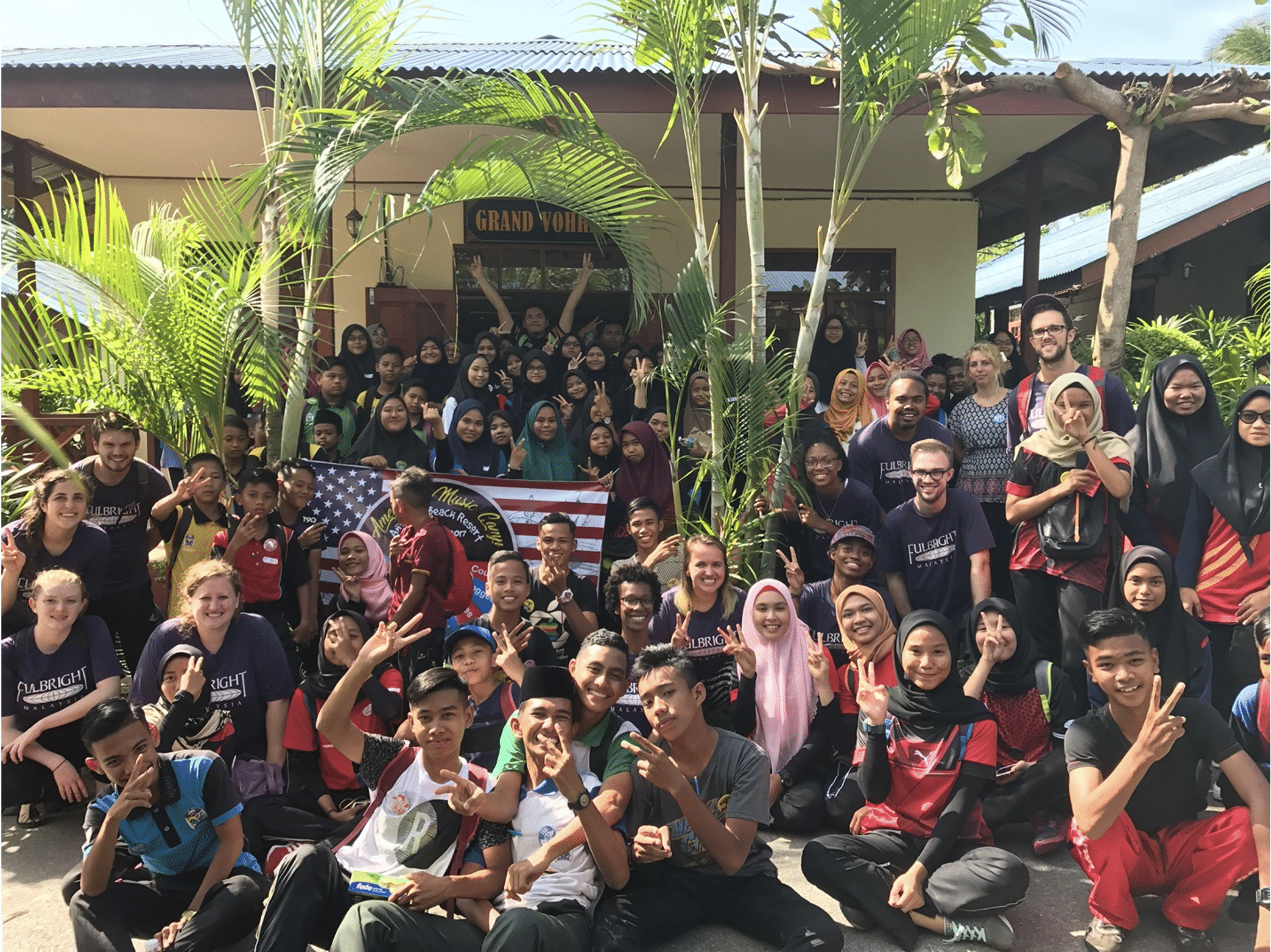 3. How has the fellowship experience influenced your current work? 
My experience as an ETA definitely influenced my career and current work experiences. Upon return to the States, I left the K-12 classroom after 6 months to pursue a Masters in Higher Education from UPenn. I am currently a Ph.D. student at Howard University in the Higher Education Leadership and Policy Studies program. My research interest is internationalization at Historically Black Colleges and Universities (HBCUs)– specifically all things international students. Currently, I am conducting a study on the experiences of International Students enrolled at HBCUs before and during COVID-19.
Outside of the classroom, I am all things international exchange. I am a Fulbright Alumni Ambassador for the Institute of International Education and the founder of two programs, Fulbright HBCU and International HBCU Xchange (iHBCUx). In February 2020, a month before COVID, I created Fulbright HBCU, a social media platform. Fulbright HBCU's goal is to increase knowledge and awareness of and participation in the Fulbright program. This is done by highlighting HBCU and Fulbright alumni on the page and hosting virtual presentations with HBCUs.
The iHBCUx program aims to increase knowledge and awareness, and participation in government-funded international exchange programs (Fulbright, Boren, Gilman, and Critical Language Scholarship). The program works with students and study abroad and fellowship advisors from HBCUs. iHBCUx provides culturally relevant programming sessions and outreach and recruitment. iHBCUx partners with four government-funded programs to host program-specific sessions for both students and advisors. Our goal is to have all 101 HBCUs study abroad and fellowship office staff connected with international exchange programs. Additionally, we want to make every student at every HBCU aware of international opportunities. iHBCUx is funded by the Citizen Diplomacy Action Fund sponsored by the U.S. Department of State and administered by the Americas' partners.
Currently, there is no HBCU data on the percentage of students who participate in government-funded international exchanges. According to the Open Doors Report (2017), 0.5 percent of HBCU students participated in study abroad programs. Additionally, 95 percent of them are Black students. One can assume this is a similar trend amongst government-funded international exchange programs.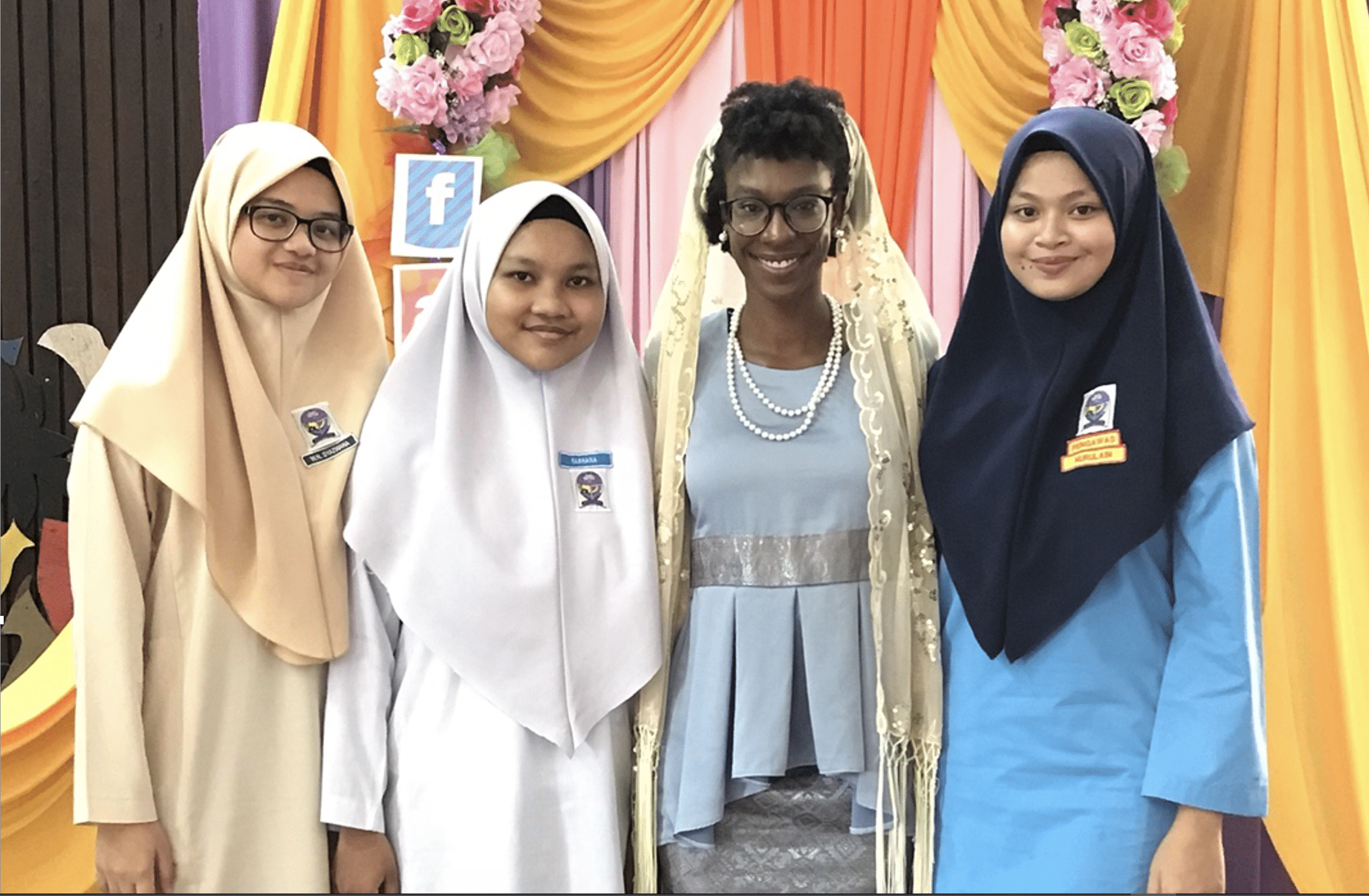 4. What tips would you give others applying to the Fulbright ETA in Malaysia?
This question is a bit tricky as the Malaysia program recently got a new Executive Director, and the Fulbright application has changed a bit since I applied. However, the ESSAYS remain the most important part of your application. With that being said, make sure you take your time with the essays. The statement of purpose should focus on why you are applying to this particular program and what you hope to do while in the country. Your personal statement allows the reviewers to get to know you. 
The Fulbright website provides great information to help applicants with the essay; read that section thoroughly. If your campus has a Fulbright Program Adviser (FPA), meet with them about the application. FPAs are there to help and guide you through the application process. If your campus does not have an FPA, reach out to your writing center for assistance.  
Ashleigh Brown-Grier is pursuing a Ph.D. at Howard University in Higher Education Leadership and Policy Studies. Her research focus is internationalization at Historically Black Colleges and Universities (HBCUs), specifically in international student support. As an IIE Fulbright Alumni Ambassador, she assists with conducting outreach for the Fulbright Program. She is also a Just-Julian Scholar (Howard University) researching international student support with academic and social support before and during COVID19.
Ashleigh Brown-Grier was a Fulbright English Teaching Assistant (ETA) in Malaysia during 2016-2017. Her experience as an ETA highlighted a disparity amongst Black students and HBCUs' graduates. With this knowledge, she founded @Fulbright HBCU's social media pages to highlight HBCU Fulbright grantees and spread awareness about the Fulbright program to HBCU students.
Ashleigh obtained a B.A. in Vocal Music Performance from Talladega College, a M.A.T. from Morgan State University, and an M.S.Ed. in Higher Education from the University of Pennsylvania. 
Interested in applying? Bookmark the Fulbright English Teaching Assistantship your ProFellow account.
© ProFellow, LLC 2021, all rights reserved.