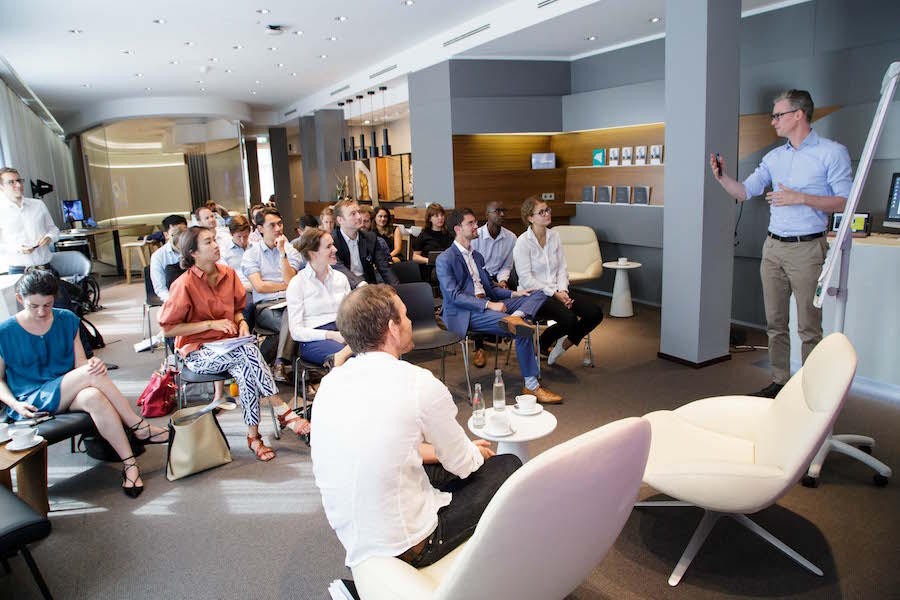 Fellowships offer unique experiences that often couldn't happen in a traditional work or school setting. We enjoyed talking with Jamaal Glenn, a current New Urban Progress Fellow and alumnus of many different programs in leadership and international relations, to learn more about how fellowships have shaped his career trajectory and what he's learned about how to make a standout application. 
1. What inspired you to start applying for fellowship programs?
Build relationships with rising superstars. I do my best networking in an organizational context. This means that I've built my strongest professional relationships with sustained, organizationally-facilitated interaction with really brilliant, ambitious, and influential people. Fellowships allow you to meet and develop these deep relationships often with the goal of producing new content or ideas. Having to co-author research or engage in a public debate forces an intellectual interaction that can be special. 
Gain global perspective. My family didn't travel much outside the U.S. when I was growing up, so I didn't really discover the world until I was an adult. Once I did start to travel, I realized how small I was in the context of the globe and I fell in love with different cultures, languages, and seeing how other parts of the world worked. 
After grad school, I made a plan to travel internationally at least six times per year. I imagined that some of those trips would be vacations, others would be work trips, and the remainder would come from fellowships. My hope was to find organizations that would sponsor or facilitate travel to interesting places. 
Fellowship travel can be better than typical travel. You can often interact with people and organizations in a way that's hard to do as a tourist or for a narrow work purpose. 
Helping fill the cracks between sectors. Some of the most novel and important problems don't fit conveniently into traditional boxes. Often, there's no market for fixing them, no profit margin in addressing them. The fellowships I've pursued exist at the intersection of disciplines and sectors and often specialize in bringing together experts that wouldn't otherwise be working together. Magic can happen when you bring these people together and fellowships provide the space for that to happen when it might not otherwise happen organically.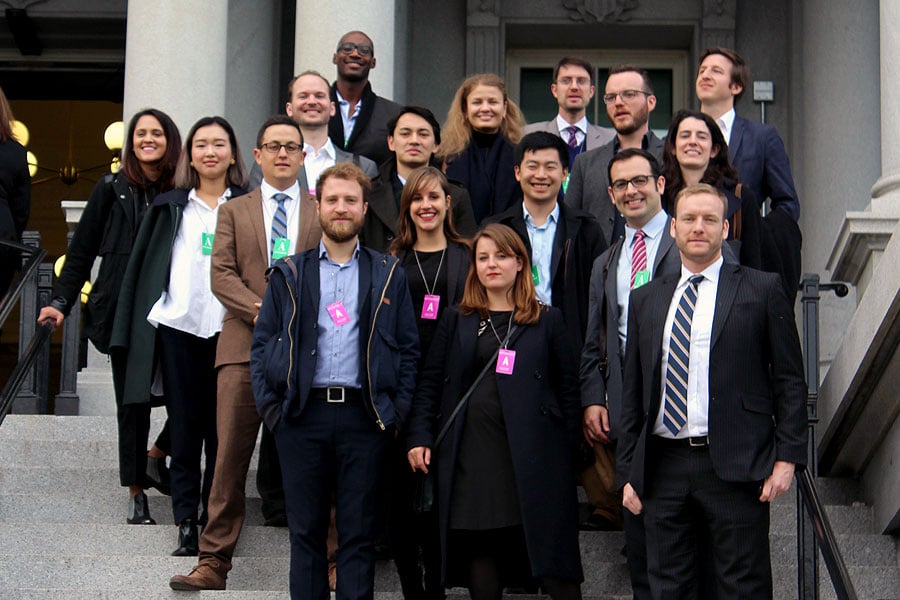 2. How have your fellowships shaped your career so far?
Complementary with traditional work. I knew early in my career that I wouldn't be fully satisfied with my traditional 9-5 job. My set of interests were then, and still are, too broad to ever be fully encapsulated in one primary "job". Once I realized that, I began to think intentionally about building a portfolio of simultaneous professional experiences across various sectors that would be complementary and provide meaningful engagement in areas such as academia, politics, or business. I knew that many of those experiences would have to come outside of what we traditionally think of as "work." Fellowships, especially those that can be done part-time and remotely, fit really nicely into this bucket.
Planting Seeds around the globe. The relationships I've built through fellowships have been both personally and professionally rewarding. I leverage these relationships everyday in my current roles as an impact investor and as an educator. I've had people I've met through fellowships introduce me to companies in which I invested, guest lecture in my courses, and make crucial professional introductions. 
But as much as they're helpful now, I'm betting that they'll be even more influential in the future. Many of these people are likely future heads of state, foreign ministers, university and foundation presidents, and industry-leading CEOs. Many fellowships look for leaders. One of the primary filtering criteria is demonstrated leadership and the potential to lead in the future. Participating as a fellow isn't only a professional asset, but also a chance to build relationships with a group of high-impact people. 
3. What have been some of your favorite experiences as a fellow?
An American in Germany. In 2016, I was selected as one of nine Americans selected to participate, alongside nine Germans, in the inaugural Transatlantic Digital Debates (TDD) Fellowship, sponsored by New America in the U.S. and the Global Public Policy Institute in Germany. During our week-long discussions in Germany, we hotly debated topics such as the role of corporations in protecting consumer privacy and shaping regulations and norms. In a meeting at the German Federal Ministry of Defense with Germany's first Inspector Cyber and Information Space of the Bundeswehr, we discussed the role of militaries in cybersecurity. In the Berlin offices of Microsoft, we compared and contrasted the U.S. and Europe's dueling innovation ecosystems.
It was an education not only in German cultural attitudes towards technology and privacy but also an education in German food and civic life. I received tutorials on German sausage, watched Germany lose in the 2016 Euro Cup semifinal amidst a sea of a thousand Germans, and received a tour of the infamous East German Stasi prison.
4. What advice would you give for those who want to become strong applicants to fellowship programs?
Be brutally specific about how you'll use the fellowship to help propel your career and, in turn, help the sponsoring organization. Do this by talking about how you'll be an asset in both the short term and in the long term. 
In the short term, how will you specifically check off the boxes of what they're looking for? It's probably hard to be too specific here–they want as much detail as possible. You also want a vivid picture of the future for the people reviewing your application. How will you elevate the profile of the fellowship itself? Of the sponsoring organization? What work will you produce that they'll be using as justification for more resources in the future? How will you go above and beyond what they ask? Is there a symbiotic relationship between other things you do and the fellowship? Can you be an asset for fundraising? How will you contribute to the fellowship as an alumnus?
In the long term, convince them that your career is on a trajectory that will cause them to regret not being affiliated with you. Tell them the story of what you'll do at the pinnacle of your career that will put you at the top of the 'notable alumni' section of their website. 
Jamaal Glenn is a Director at Schmidt Futures, a social impact investment firm, where he leads the organization's entrepreneurship programs and venture capital investing. Jamaal is also an adjunct professor at New York University, where he teaches graduate and executive education courses on finance, marketing, and entrepreneurship. Jamaal is also the founder of Glenn Media Group, a boutique consulting firm.
He is a member of the Council on Foreign Relations and a New Urban Progress Fellow with Das Progressive Zentrum, Alfred Herrhausen Gesellschaft, and Progressive Policy Institute.
Jamaal received an MBA from the Stanford Graduate School of Business, an MPA from the Harvard Kennedy School of Government, and bachelor's degrees in finance and journalism from the University of Missouri. He lives in New York City with his wife.
Interested in applying? Bookmark the New Urban Progress Fellowship to your ProFellow account.
© Victoria Johnson 2021, all rights reserved.