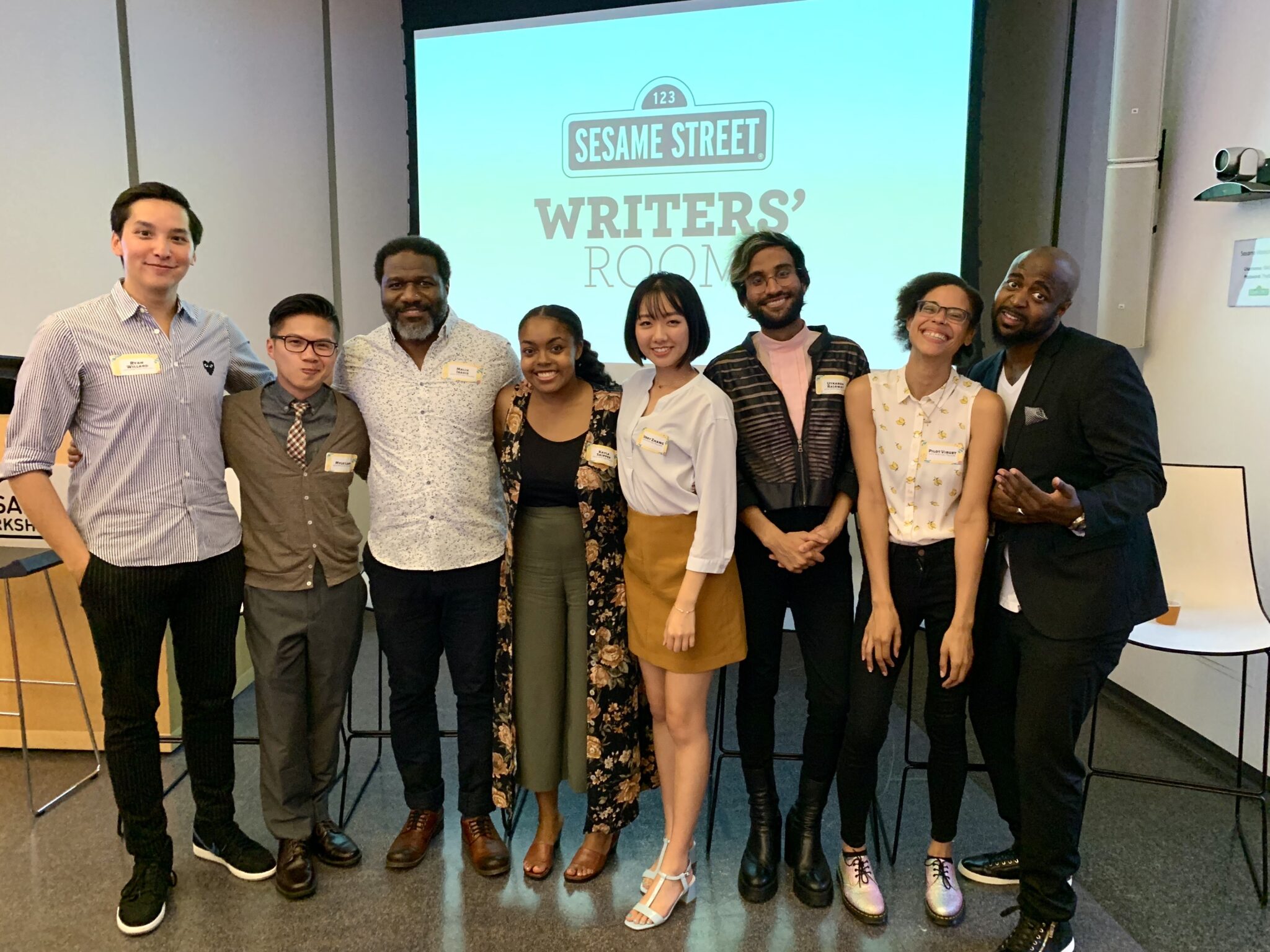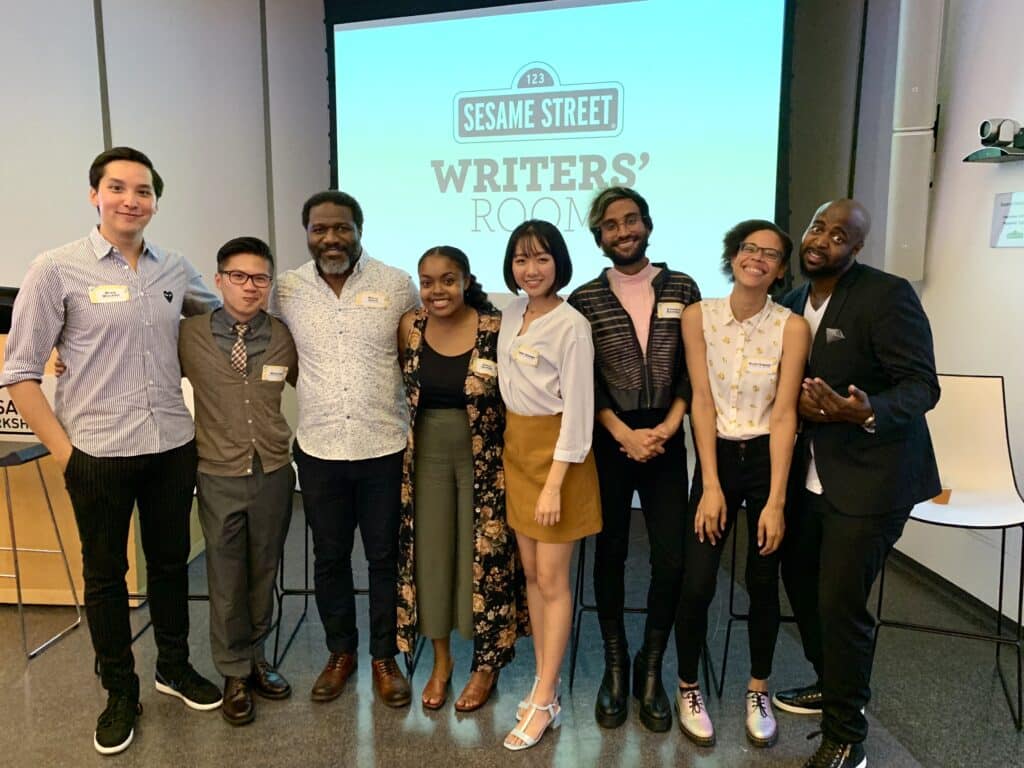 Breaking into the television industry can be extremely difficult, especially for writers of color who are traditionally underrepresented in writers' rooms. Thankfully, there are fellowship opportunities that will allow you to get the hands-on experience and mentorship you need to land your first big gig. No one knows this better than screenwriter Kayla Skipper, who recently made her big break into the Kids TV space by taking advantage of the Sesame Workshop Writers' Room Fellowship, from the creators of Sesame Street.
This intensive 8-week professional development program allowed Kayla to pitch and develop her own original script, attend workshops with children's television writers, and network with industry leaders. Ultimately, her experience and connections allowed Kayla to eventually co-write multiple episodes of popular children's television shows, which will air on PBS this year.
Read on to learn more about how the Sesame Workshop Writers' Room Fellowship helped Kayla launch her screenwriting career, as well as her advice for other writers who hope to break into the television industry.
Tell us about your background and professional journey. What led you to the Sesame Workshop Writers' Room Fellowship?
I've been writing for most of my life: It's one of my biggest passions. But I didn't start seriously considering screenwriting as a career until 2015. I applied to the Television, Radio, and Film Masters Program at the S.I. Newhouse School of Public Communications at Syracuse University. While there, I was able to learn more about the entertainment industry and the journey of writing for TV and film professionally. I was also able to really perfect my craft as a writer by working under industry-level screenwriting professors.
Following my time at Syracuse, I began working as a Production Assistant on various film and TV sets around Upstate New York and New York City. Being on set was an invaluable experience. I got to learn the whole production process and met a lot of great industry professionals who I'm still connected with today.
In addition to gaining on-set skills, the flexibility of freelance PA'ing gave me a lot of time to write. Kid's TV had always been an interest of mine, so the Sesame Workshop Writers' Room Fellowship felt like the perfect opportunity to help me break into that world.
I applied for the program for the first time in 2018, but wasn't accepted. I was discouraged for a little while, but after taking an inward look, I knew there was room for improvement in my writing samples. I worked harder on perfecting my craft and reapplied for the Fellowship the next year. I was fortunate enough to get an interview and was accepted as a 2019 Sesame Street Writers' Room Fellow.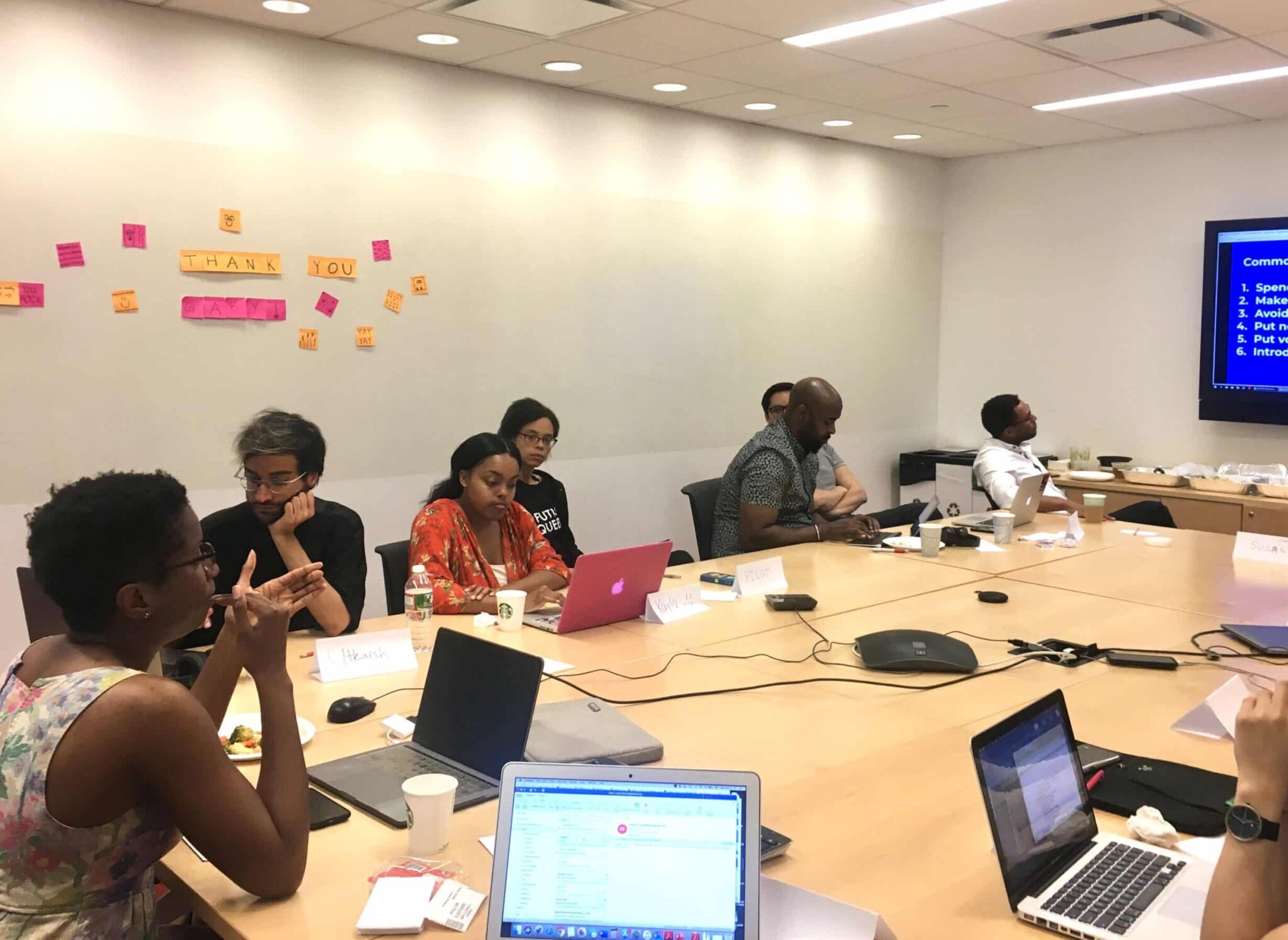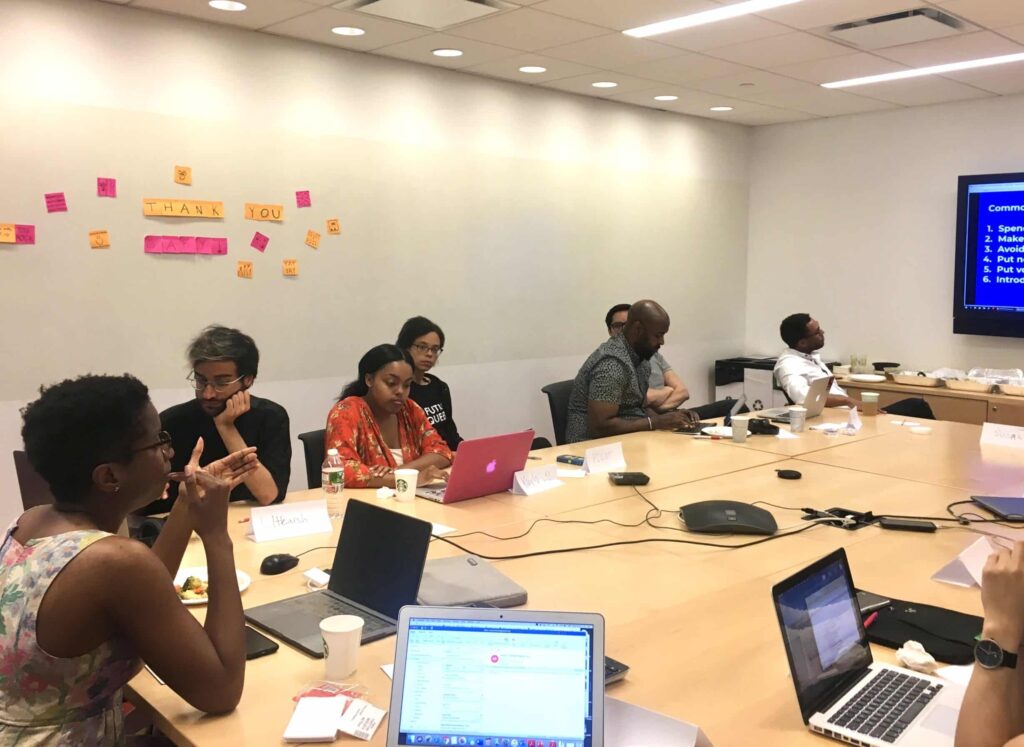 What is a typical day like for a Sesame Workshop Writers' Room Fellow? What projects did you have the opportunity to work on?
As a Sesame Workshop Writers' Room Fellow in 2019, each Fellow was given the opportunity to present an idea for an original script. Over the 8-week program, we went through the process of writing our scripts from idea, to outline, to rough draft, to final draft. We would work on these different phases of our writing process on our own time, and would then meet up once a week at the Sesame Street Offices to workshop our scripts in a writer's room setting.
Most weeks, we got to workshop the various parts of our script with writers and other professionals from the Kid's TV world. They really helped us break down our script structure, gave solid feedback on our stories and character development, and provided invaluable advice and resources for breaking into the industry overall. It was amazing to meet the head writers from Children's TV classics like Sesame Street, Arthur, The Odd Squad, and many others.
How did this opportunity allow you to advance your career and network with mentors and other writers in the industry?
In addition to meeting industry writers and professionals during the 8-week program, Fellows were also invited to a networking event where we got to pitch our original scripts to a room full of industry professionals, writers, producers, and execs from the Kid's TV space. After the Fellowship, I continued to build relationships with the contacts I made by having coffee dates and zoom calls. I also continued writing and made sure to share my updated writing samples with my contacts.
The process was slow and required a lot of patience, but finally, in 2020 (nearly a year after the Fellowship) I got the opportunity to co-write an episode of Daniel Tiger's Neighborhood, a preschool show on PBS Kids. I also got the opportunity to write 2 episodes of the PBS show Pinkalicious and Peteriffic in 2021. My Daniel Tiger's Neighborhood episode recently aired on PBS, and my episodes of Pinkalicious and Peteriffic will air in early October.
Overall, the fellowship has opened many doors for me in my career and has provided a vast network of professionals in the Kid's TV Space who support and help advance my journey as a writer.
What advice do you have for writers who plan to apply to the Sesame Workshop Writers' Room Fellowship, or writers of color who hope to break into the television industry?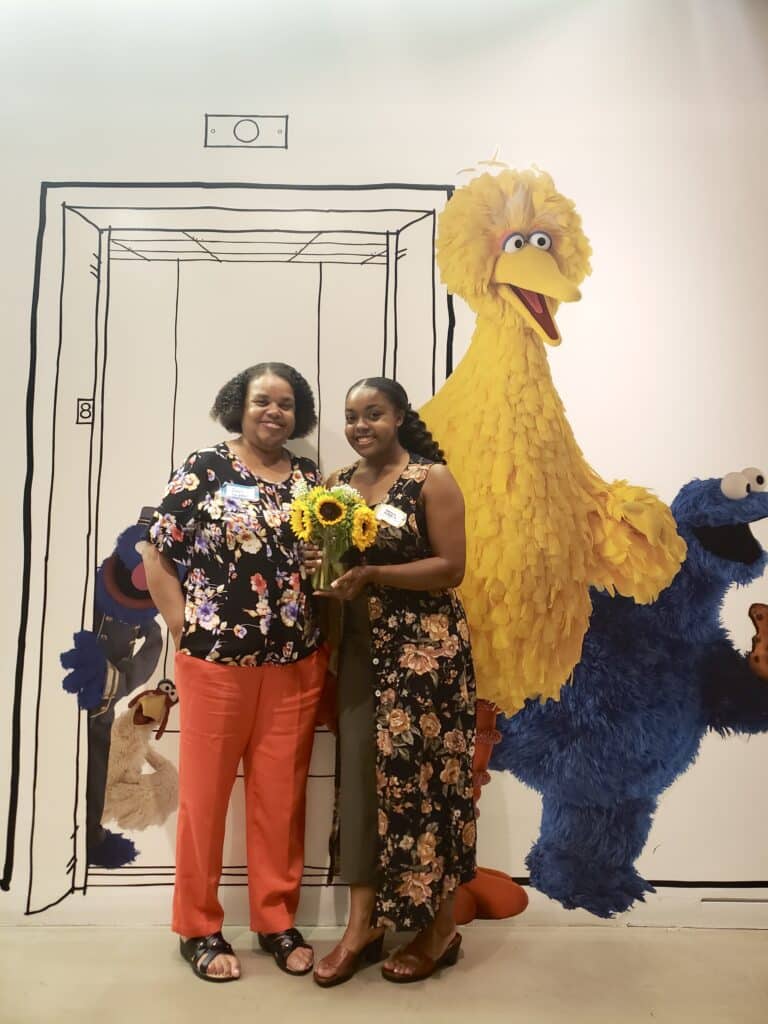 The best advice I can give for the application process is to have a great personal statement. Really share who you are as a person, and how your life experiences and passions tie into your desire to work in the Children's TV space. Don't make it another resume where you ramble on about accomplishments and accolades, but more about sharing who you are as a person and your character.
As far as the writing sample, I would say to familiarize yourself with the structure and formatting of basic screenwriting! Take a look at a few of your favorite kid's shows to see how episodes are broken down. The program is not looking for you to be a seasoned Kid's TV writer, but they definitely want to hear your unique voice and perspective in your script sample to see that you have a general idea of the basics. My biggest advice to those who do make it into the fellowship is to trust the process. None of the Fellows in my cohort got writing jobs immediately after the fellowship, but it definitely opened doors for us that wouldn't have been available without the experience.
As far as writers trying to break into the industry, the best advice I can give is to perfect your craft as a writer. Continue to learn and get your writing to the best place it can be. Always be writing and always have samples readily available. Whether they're specs or original scripts, make sure you have something to show if the opportunity pops up. The biggest reason I was able to get my first writing credit was because a spec script (speculative screenplay) of mine was passed around to different head writers in my contacts list.
That being said, be consistent and intentional with your industry contacts too. If they don't hear from you, they can't think of you for opportunities. Try to truly build organic relationships with them that have nothing to do with personal gain. Your work will speak for itself, but it's up to you to create real relationships.
Lastly, be patient and make sure your heart's in the right place. In this industry, there's a lot of waiting to see if you're going to be given an opportunity to write an episode, and an even longer wait for the episode to air. There are not a lot of accolades to show as a writer at times. Things can move really slowly, so you have to have that passion to make things happen.
Kayla Skipper is a screenwriter devoted to using her voice and her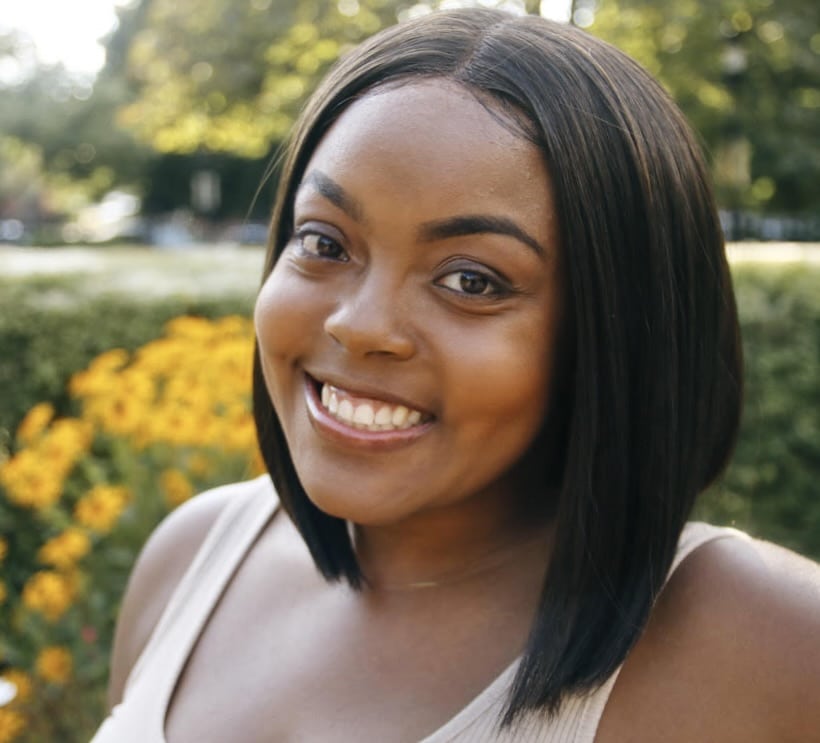 writing to spread awareness and share the Black experience. Growing up in the Oswego NY area, Kayla has a unique experience that she draws from to shape her stories. She is a graduate of the Newhouse School at Syracuse University, where she received her Masters in Television, Radio, and Film. Currently, Kayla works as a freelance writer in the Children's television space and a screenwriter for the YouTube channel Dhar Mann Studios. In her spare time, you can find Kayla writing poetry, binge-watching her favorite shows, thrift store shopping, and of course creating storylines about you in her head.
Interested in the Film & Television Industry? Check out guest author Luisa Banchoff's 9 Tips for Applying to Film School.
© ProFellow, LLC 2022, all rights reserved.