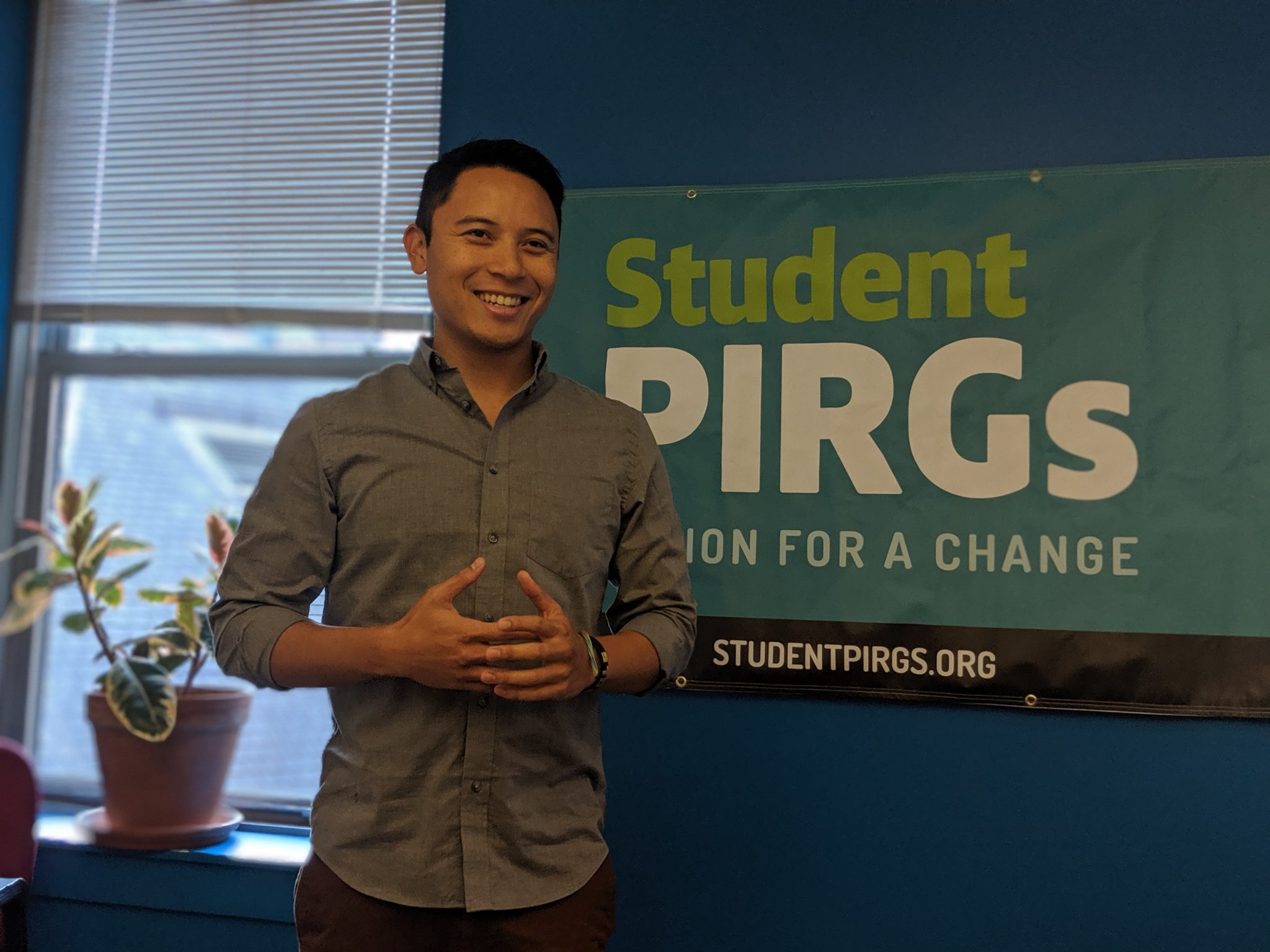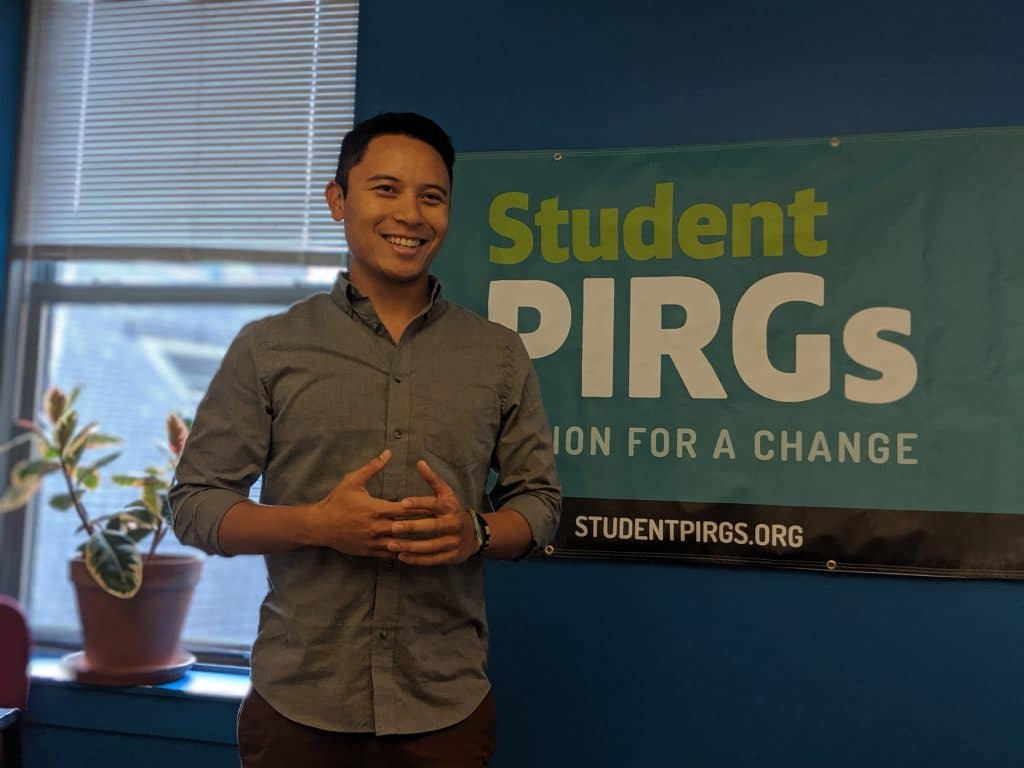 Students are often at the forefront of movements to build a better future for our country. Whether or not those students make real progress depends on whether they are organized, have the skills to be effective and have a strategic plan to get things done. The Student PIRG Fellowship makes sure they do.
The Student PIRGs have been working for more than 40 years to amplify the power of student activism and help students make real change, right now. We all want to live meaningful lives and have a future that's greener and healthier. By recruiting, training and working alongside student activists on campaigns that get results, our organizers are helping to build that future today. 
Our chapters on campuses across the country provide the training, professional support and resources students need to tackle climate change, protect public health, revitalize our democracy, feed the hungry and more. Our organizers provide students the training and resources they need to become movement leaders by recruiting volunteers, training potential leaders to take on more responsibility and doing campaign work themselves.
The target annual compensation for this position is $28,000 in the first year. Each of the groups that partner with the Student PIRGs offers a competitive benefits package. They also offer an excellent training program and opportunities for advancement.
Manny Rin, the current Director of the Student PIRGs New Voters Project, gave us some insights into the program and gave us tips for making a competitive application.
1. What inspired you to get involved with the Student PIRG New Voters Project? 
Growing up in an immigrant family, we valued the idea of citizenship and understood the importance of voting. That's why one of the first things I did when I moved to college was register to vote. I remember filling out my registration form and getting excited to vote later in November for the very first time. As you can imagine, my first semester of college flew by as I was getting used to my class schedule, living away from home, and getting involved with clubs. As quickly as my first semester flew by, so did election day. I remember watching the results trickle in on TV and realizing that I forgot to vote. 
Eighteen-year-old Manny is the exact reason I do this job. I took the position as the Director of the Student PIRGs New Voters Project because I realized that my first election experience is not uncommon for thousands of young people around the country. A person may understand the importance of voting and may even be registered to vote, but sometimes it takes a reminder from a classmate or friend to make sure you go do it. I took this job to help students realize the power they have when they turn out to vote in elections. 
2. What kinds of campaigns are Student PIRG New Voters Project Fellows involved in? 
The Student PIRGs' New Voters Project is the nation's largest and oldest field-based young voter mobilization program, helping to register more than 2 million young people to vote and making 2.5 million personal reminder contacts since 1984. We do this work for two reasons. First, we believe democracy is strongest when citizens participate – and for too long, young people haven't been full participants. Second, we believe the best way to get political leaders to pay attention to young people and their issues is to demonstrate that young people are highly engaged in the political process. 
Students are at the forefront of the effort, working on their college campuses with administrators, professors, student government, student housing, Greek life and more. The voting campaigns we run often take the shape of the university, with school colors, mascots, and a lot of school pride. We organize big visible tabling events on campus with colorful props, whiteboards with "reasons why I vote," and sometimes a live goat — known as the "Vote Goat" — to attract students to the registration table. While the work to register and turn out young people is important, we make it a lot of fun. 
3. What are the benefits of the fellowship?
We run a civic engagement and leadership training program that places organizers on college campuses to recruit and train students to make a difference on issues they care about. Our training program moves students along a skills and politicization track that begins with the opportunity to lead service and education projects and gradually evolves to running an entire campaign and pursuing a lifetime of activism. Over the last year, over 40,000 students signed up to volunteer with us, and we've trained over 1,500 students to take on leadership positions this fall. Many of our organization's leaders got their start as volunteers or interns with the New Voters Project, where they learned campaign and organizing skills that can be applied to future work they do on issues that matter to them. 
One of my proudest moments this year was working with students around the country on National Voter Registration Day in September of 2019. We held over 40 events in 10 states around the country, registering and educating over 3,000. Students worked hard on their campuses to make sure that their peers were registered and excited to vote in the state and local elections. 
4. How has the New Voters Project influenced your current work? 
I got my start as a New Voters Project organizer in 2012. As an organizer, I had the chance to take on major responsibility in my first year out of college. I helped educate and train new leaders on campus where I taught citizenship and organizing skills to students. In total, I recruited and trained over 50 student volunteers and interns during the 2012 election. I ran a non-partisan voter registration and turnout campaign to help over 2,000 students register to vote at the University of California, Irvine. I also worked with student volunteers and interns to build a diverse, invested coalition of organizations and people to boost youth voter turnout.
5. What tips would you give for applying to the Student PIRG New Voters Project Fellowship?
We are looking for passionate people who have demonstrated a commitment to environmental, public interest and student power issues. We are looking for goal-driven and results-oriented individuals who have excellent communication skills and enthusiasm to turn out the youth vote this coming election and build student power on campus in the long run. Jobs are available now! We're hiring organizers to work on college campuses in Massachusetts, Connecticut, New Jersey, Maryland, California, Georgia, Oregon, Washington, North Carolina, New Mexico, Arizona, Florida, Illinois, Texas, Wisconsin and Michigan.
Manny Rin directs the strategy, fundraising and fieldwork for the New Voters Project to engage as many young people as possible in our democracy. Manny got his start organizing in 2009 as a student volunteer with CALPIRG and came on to full-time staff after he graduated from University of California Davis. During his time with CALPIRG, he recruited and trained hundreds of student activists on college campuses across the state, running projects that have registered thousands of students to vote and campaigns to protect California's air, water and environment.
Interested in applying? Bookmark the Student PIRG Fellowship to your ProFellow account.
© Victoria Johnson 2020, all rights reserved.