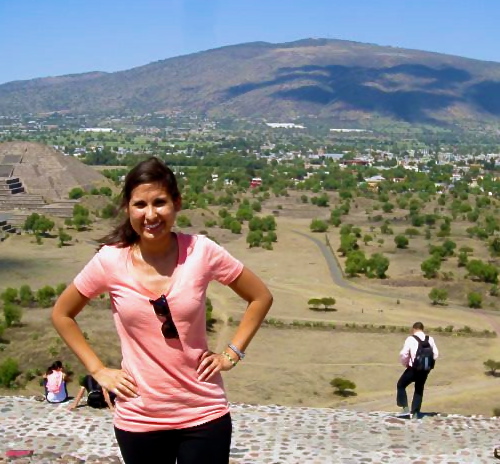 Cynthia Villamizar makes the most of any opportunity that comes her way. While interning at Google, Cynthia began researching professional fellowships and came across Fulbright Mexico's Binational Business Grant, which offers a 10 month opportunity to acquire professional experience at companies and non-profits in Mexico. The program also allows grantees to take graduate courses in business, finance, international trade and comparative-law, among others, to supplement the practical experience. Cynthia won a 2011-12 grant and used the opportunity to work full-time at the Mexican Fund for the Conservation of Nature, an environmental non-profit, and take business classes at Instituto Tecnológico Autónomo de México (ITAM). Now that Cynthia is back in the U.S. as a new Account Manager at Google in Silicon Valley, we caught up with her to ask her more about her extraordinary fellowship experience.
1. Why did you apply for the Fulbright Binational Business Grant in Mexico?
Two corporate summer internships and a week-long business program inspired me to apply for the Fulbright Binational Business Grant in Mexico. I spent the summer before my senior year as an intern at Google and took advantage of the time they granted employees to search for opportunities that diverged from their main projects. I used this time to plan volunteer days for the interns, learn about Google Grants and research Google's philanthropic initiatives. I had spent the previous summer working at State Farm developing an understanding of the importance of corporate community development efforts and really wanted to translate some of that experience to my time at Google. I also had the chance during summer 2010 to attend a one-week program at Harvard Business School called the Harvard Summer Venture in Management Program, where we covered several case-studies that linked business to the prosperity or detriment of global economies and governments.
I realized after some time that I wanted to work somewhere in the intersection between business and community development and knew that in order to do that, I needed to learn more about how non-profits (and eventually governments) worked and how they collaborated with corporations to promote sustainable and effective change. I considered the options I had in the U.S. and decided that adding an international element could only bring about more lessons and challenges to reflect upon. The Fulbright Binational Business Grant allowed me to explore all of these elements.
2. What do you think made your application stand out?
Before starting the Fulbright application I got a great piece of advice:
"Make sure to link every personal and professional experience that you mention to why you MUST be in Mexico and why you MUST get the Fulbright grant. Essentially, prove that this is not just a logical step in reaching your goals, it is THE step that will allow you to reach them."
I read my application over and over to make sure that everything I mentioned about my internships, education or personal life supported that aim. A good exercise to do that is to sit down and convince yourself why you want and need the fellowship in the first place.
3. How has the fellowship influenced your career path?
Living in Mexico as a Fulbright grantee and working with a non-profit really gave me the opportunity to see how government inefficiency, cultural norms and business practices can lead to a lack of faith and progress among people. My time there reaffirmed my desire to work with a combination of corporate, public and government partners and I hope to pursue that more fervently after I spend a couple of years developing hard skills at Google and earn a graduate business and/or public policy degree.
Cynthia Villamizar will be a new guest blogger for ProFellow, providing tips on applying and her experience living abroad. A Miami native and long-time Tennessean, Cynthia spent the year after graduating from Vanderbilt University in Mexico City as a Fulbright Binational Business grantee. While at Vanderbilt, she majored in Communication Studies and Spanish, studied abroad in Madrid (at Universidad Complutense de Madrid) and was heavily involved in the Alternative Spring Break Program. She now works as an Account Strategist at Google in Mountain View, California. 
© Victoria Johnson 2012, all rights reserved.