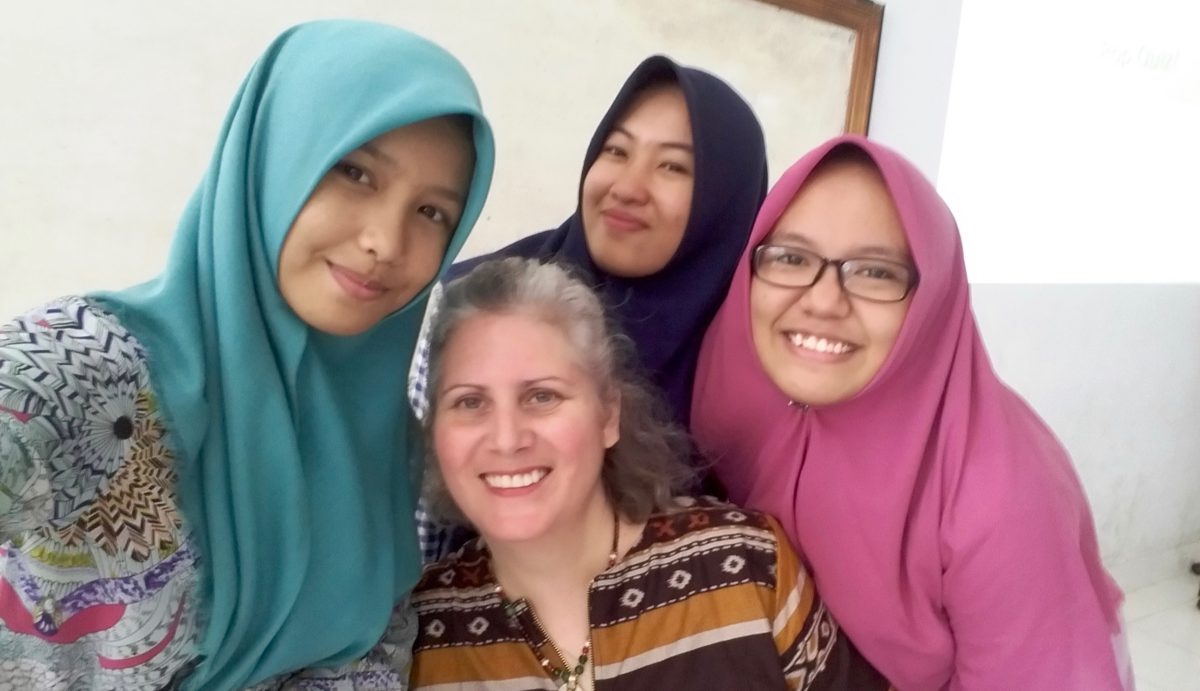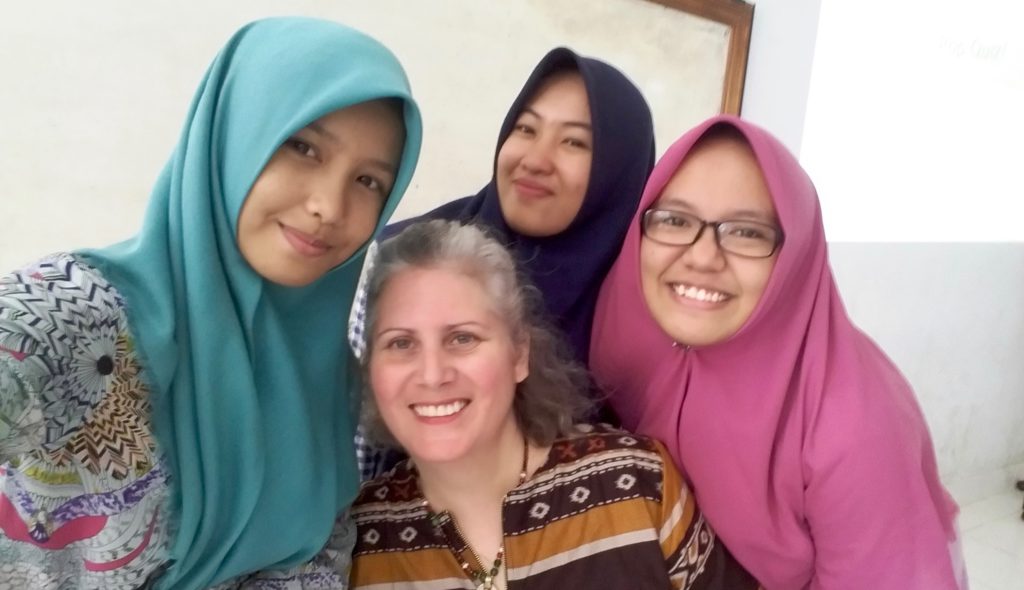 The English Language Fellow Program promotes English language learning and international diplomacy around the world. This ten-month fellowship places highly qualified educators in various regions to serve as full-time English language teachers for college students and professionals. Fellows typically have a Master's degree in TEFL/TESL or Applied Linguistics, and receive a stipend, roundtrip travel and benefits during their time abroad.
Heather Phillips has a breadth of experience living and teaching around the globe, and is currently serving as an English Language Fellow in Indonesia. We caught up with Heather about her experience so far in Indonesia and what makes this fellowship truly unique.
1. What inspired you to apply to be an English Language Fellow in Indonesia?
Indonesia has been a part of my history for some time: I taught English almost 20 years ago in Jakarta, where I met my husband, an English teacher at the same language school we worked at. My husband was also an English Language Fellow (ELF) in Sumatra and Java a few years back, which rekindled my interest in the country and allowed me to see firsthand how challenging, yet rewarding the English Language Fellowship was.
I know that despite the frequent blackouts and occasional roach infestations, the experience of playing Jeopardy with a rowdy bunch of Makassar Education students, having a class of respectable Indonesian soldiers hurl paper snowballs at each other, or hanging out with a student's pet monitor lizard between classes will be the kind of things that stay with me most after I leave. It's a pretty unique fellowship in that respect. I've met a few former ELF's over the years and they always seemed to light up when talking about their experiences as an English Language Fellow. I totally get that now.
Professionally, it's been quite groundbreaking for me, as well. I'm more than halfway through my fellowship now, but I feel as though I've been pushed in ways that I never was in previous jobs. It's not entirely unusual in Indonesia to be thrown into classrooms with no course descriptions, let alone curriculums or materials, or suddenly to be tasked with organizing a teacher-training workshop for participants you know little about.  While stressful at the time, it's been a bit of revelation to me that in "sink or swim" scenarios, I end up swimming more often than not. And the "sinking" scenarios at least makes for a good laugh—or story—later on.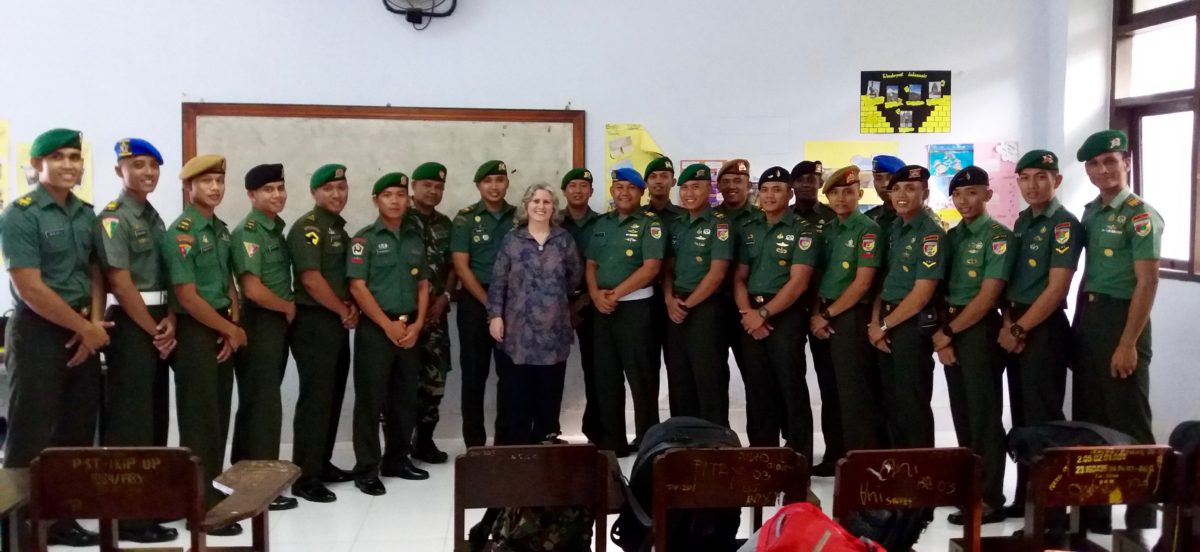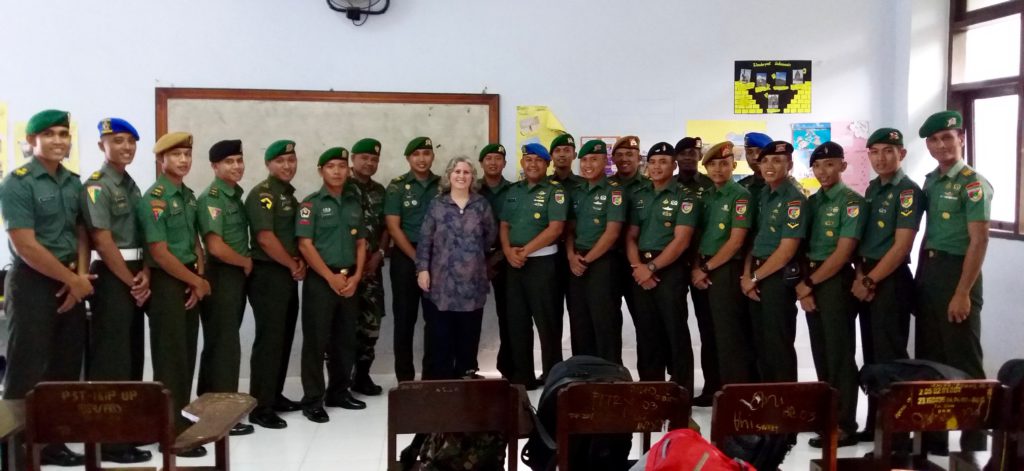 2. What is a typical week like for an English Language Fellow in Indonesia?
Though I can't speak for the other fellows, I don't think there is such a thing as a "typical week" in Indonesia. Even with a fixed schedule of classes, you can show up for class to administer a speaking diagnostic, only to be interrupted by a trio of drummers delivering a deafeningly loud musical narrative of the university's history. Or perhaps a bat flies into the room in the middle of your writing midterms. Indonesia is a fascinatingly diverse country, so I think all of the ELF's experiences here (and in Timor) vary wildly.
I usually take a bentor—a motorized pedicab—to get to work and around the city. While Makassar doesn't have Jakarta or Bangkok level traffic, Macet-Macet (the Indonesian word for traffic jam) is something unavoidable in Indonesia's fourth most populous city. I've learned to adjust to Indonesian "rubber time" and always wear a face mask to avoid the exhaust fumes. While I haven't quite warmed up to Makassar's traditional dish of beef offal soup, there's good seafood here as well as a number of decent restaurants and coffee shops, so I often do my grading and lesson planning over coffee on weekends—as long as the traffic isn't too bad.
While the bulk of my time is spent at my host site, the State University of Makassar, I've had the opportunity to collaborate with the American Corner at University of Hasanuddin nearby. We've run a few Academic Writing workshops and last week, started a poetry workshop, where students wrote haiku poems. I'll also be working with the State Department's EducationUSA to do a workshop on writing Personal Statements for university applications in May. And last week I helped judge a talent show at a local high school and got to see an amazing Torajan dance and a student solve a Rubik's cube in less than two minutes—without taking the stickers off!
I'm looking forward to seeing some more of eastern Indonesia before the end of my fellowship in four months. In April, I will co-teach a teacher training workshop with another ELF for secondary school teachers in Flores, while in May I'll join another fellow for a creative writing workshop in Timor. I'd been warned how quick this ten-month fellowship goes by and people weren't kidding! I can't believe I'm more than halfway through already.
3. What tips would you give others applying to be an English Language Fellow?
While I can't speak for what their exact criteria is, I suspect my adaptability and past overseas experience may have factored into the selection process. From the application to the interview to the acceptance, the whole process, for me, took about 6-7 months. After you are selected, there is still no guarantee you will be posted. The final decision is up to the Office of English Language Programs, who chooses candidates based on U.S. embassy project needs and on how well your skills match specific projects. If you aren't selected for one embassy's projects, there is a possibility you might be placed at a different location, but this does not always occur, so patience and flexibility are essential. I was delighted to get a post in Indonesia, but I certainly didn't restrict myself to one country in my application.
The State Department, Georgetown University, and the Regional English Language Office stress diplomacy at all times. As my post began during the presidential election cycle, I was bombarded with questions about the process and about the United State's perception of Muslims. It's not unusual to hear some pretty strong opinions about the U.S. Whether you agree or not, an ELF has to be prepared to listen to different viewpoints, which is can be much harder than it sounds—especially when it's 95 degrees and your house has run out of water again! Also, female ELF's on their own are often subjected to slightly more scrutiny than male ELF's; I've lost count of the times I've been asked where my husband is and why I do not have children, which is never an easy question to answer casually in any context!
There were a number of short essay type questions related to one's ability to shift gears. I highlighted my seven years living and teaching in the Arabian Gulf. As a fellow, you can't be too rigid and structured in your approach to the classroom. I was handed six writing classes two days after I arrived with virtually no curriculum or syllabus, let alone course description. Once I accepted that it would be impossible for me to prepare for class in the traditional sense, I was able to adjust my expectations and not have a complete stress meltdown. While professional experience is important, the ability to cope with the unexpected—and the sometimes crazy things that crop up in Indonesia (and I'm sure other Fellow host countries!)—is essential.  My host site has not been without some challenges and I've definitely had to recalibrate my initial expectations of what I'd accomplish in ten months. I mean this in the best possible way, though; getting local students to write poetry and do a reading was not something I'd initially planned, but it's been unexpectedly awesome.
Heather Corrigan Phillips is an English Language Fellow through the U.S. State Department and Georgetown University at the State University of Makassar in Sulawesi, Indonesia.  She has taught English in Indonesia, Thailand, and the United Arab Emirates. Originally from Connecticut, she graduated with an M.S. in Professional Writing from Towson University and has published essays in magazines and journals, such as North American Review, Connecticut Review, Southeast Review, Ascent, London's Litro Magazine, and Lowestoft Chronicle, among others. Following her English Language Fellowship, she will return to her husband and dog in the plains of South Dakota, where she'll begin a second Masters degree in TESOL.
Interested in this fellowship opportunity? Bookmark the English Language Fellow Program to your ProFellow account.
© Victoria Johnson 2017, all rights reserved.