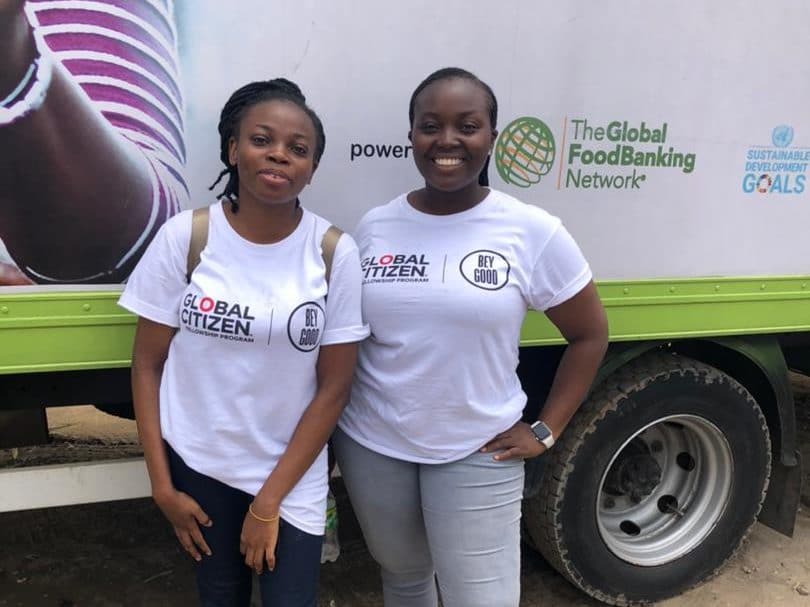 The BeyGOOD x Global Citizen Fellowship Program will unearth African youth with remarkable potential. Through the program, 15 young people will each engage in a paid, year-long fellowship aligned to one of Global Citizen's four pillars of activity: creative, campaigns, rewards, and marketing. Throughout the program, Fellows will be immersed in the use of digital technology for social change, storytelling tactics that shift attitudes, the importance of building lasting professional relationships, and the role of innovation in a constantly changing world. This dynamic program will take Fellows through a multi-phase curriculum, specifically designed to equip them with the skills and tools they need to thrive – not just during their time with Global Citizen but also in any future professional environment. 
We talked to Blossom Egbude, a BeyGOOD x Global Citizen Fellow and lawyer from Nigeria, to learn more about the program and get some application tips. 
1. What inspired you to apply for the BeyGOOD x Global Citizen Fellowship?
My grandmother did not get a formal education because it was believed in her community that it was preferable to train boys instead. It was believed that boys ultimately built successful careers but girls ended up married, making their education useless. Despite these challenges, she raised three children as a single mother through her work on her farm. 
Inspired by my grandmother, I became a strong advocate for education and women's economic empowerment. This led me to start a charity in 2018 focused on helping underprivileged children have access to education and educational materials. However, I knew there was more to be done and I needed to build more capacity to achieve my desired impact. This is why the Global Citizen x BeyGood Fellowship could not have come at a better time for me. Global Citizen is a prominent global advocacy organization renowned for its creative and engaging campaigns on local causes, which have sparked global interest and participation. The fellowship aligns with the causes and values that are important to me. I am also a proud member of the BeyHive so it was perfect.
I hoped to learn creative ways to tell the stories of these girls in rural communities and better advocate for female education. I was also very excited about using my skills to develop sustainable projects and initiatives to provide solutions to some of the world's most prevalent problems, especially in education. 
I was also at a point in my career where I decided to become more purposeful. I realized I had strong interests in international development, and I wanted to gain practical experience in it. The fellowship provided a great foundation for me to understand how international development works, the stakeholders involved and the sort of commitment and work it takes to achieve sustainable development in developing economies.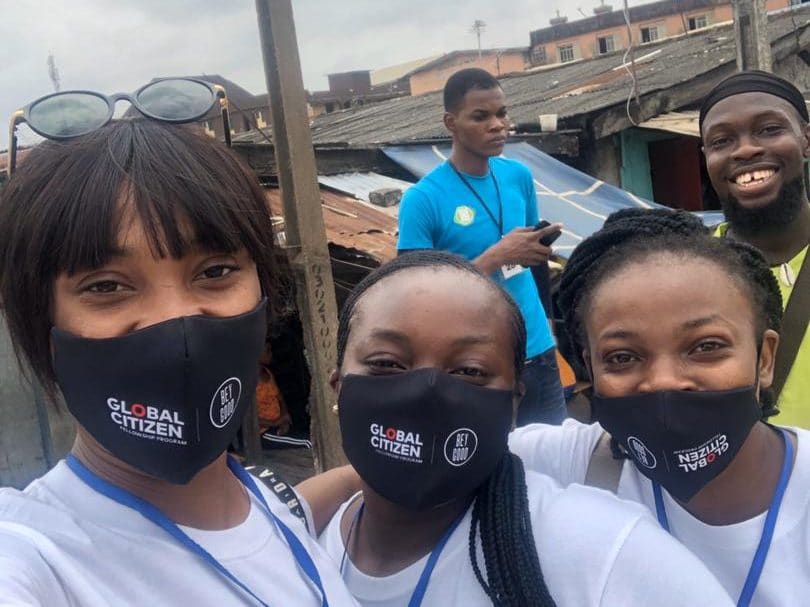 Blossom (center) with other fellows at an outreach organized by the Lagos Food Bank Initiative
2. What are the benefits of the fellowship?
Every day at Global Citizen is an amazing day full of pleasant surprises. We meet the most amazing people like Ivy McGregor, the Head of Social Responsibility at Parkwood Entertainment. Being among the pioneer set of Nigerians in the fellowship's history is even more exciting. It has really opened my eyes to prevalent development issues in Nigeria and how I can play a part in making the change I want to see.
Fellows are paid a generous stipend monthly sufficient for living and internet costs. We have a really impressive curriculum full of masterclasses on several subjects like project management and financial education with experts and great team bonding activities. We are also immersed in the use of digital technology for social change, storytelling tactics that shift attitudes, the importance of building lasting professional relationships, and the role of innovation in a constantly changing world, all while gaining work experience at Global Citizen.
What is most rewarding about working at Global Citizen is the quality of work I get to do and knowing that my work impacts millions of people around the world and makes their lives better. My work enabled me to interact with ministers across states in Nigeria on making commitments worth millions of dollars towards ensuring access to education in Nigeria, gender equality and promoting covid-19 vaccine equity. Some of my most proud achievements at Global Citizen include working on a team of international development experts on a policy roundtable at the United Nations Headquarters in New York to promote the sustainable development goals and promoting advocacy for the domestication of the Violence Against Persons (Prohibition) Act 2015 by all states in Nigeria. 
I have gotten to work with government officials, activists, nonprofits and some of the biggest corporate organizations to defend the planet and end global poverty. I really love that I get to use my skills as a lawyer to help promote international development. It has helped me achieve great fulfillment in my career.
The fellowship has improved my networking skills, corporate communication and broadened my perspective on what it truly takes to advocate for a better world for everyone. 
3. What tips would you give others applying to the BeyGOOD x Global Citizen Fellowship Fellowship? 
The application process involves an essay or video describing how you identify as a global citizen, the specific goal you are taking action on, why this action is important to you and how you are helping to assist your country. The next stage is a logic assessment test that the prospective fellow is supposed to compete. After this comes the HR interview with members of the Global Citizen team. The final stage is a video where you describe why you think you should be selected for the fellowship. 
My honest advice is to be authentic, this is what makes your application stand out from the first to the final stage. The fellowship is all about showing up as your most authentic self and contributing your own unique skills to helping others. They are interested in hearing your story, including wins and losses. These are the things that make us who we are and different from everyone else. So speak your truth, tell what inspires you to be the social impact leader that you are and how you are contributing to making the world a better place.
Blossom Egbude is a lawyer and social impact leader in Nigeria. Blossom obtained a law degree from Afe Babalola University College of Law, Nigeria where she served on the Student Representative Council and graduated in the top 1% of her class receiving several academic awards. In recognition of her commitment to promoting student welfare as a student representative, she received the Selfless Servant Award of the university. 
In 2018, she founded Blossom's Charity Drive, a non-profit organization to promote access to education for children in underprivileged communities in Lagos, Nigeria. Blossom loves to volunteer for charities in her local community.
Interested in applying? Bookmark the BeyGOOD x Global Citizen Fellowship to your ProFellow account.
© ProFellow, LLC 2021, all rights reserved.