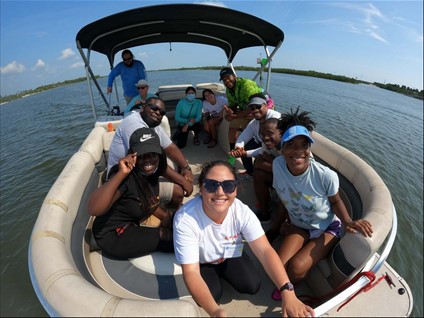 Through the Center for Coastal and Marine Ecosystems (CCME), a partnership led by Florida A&M University, the NOAA Center for Coastal and Marine Ecosystems Fellowship provides support for a limited number of graduate students pursuing applied research in National Oceanic and Atmospheric Administration (NOAA) mission-related scientific focal areas, including Coastal Resilience, Coastal Intelligence, and Place-Based Conservation. Each scholar will receive a monthly stipend, health insurance, tuition for a full load of classes, travel to conferences, professional development, and funding to cover certain research-related expenses. Preference is given to underrepresented minorities in selecting students for the program. 
We talked to DeMarcus Turner, an NOAA CCME graduate scholar studying at Florida A&M University, to learn more about the program and get some application tips.  
1. What inspired you to apply for the NOAA CCME Fellowship?
Applying for the NOAA CCME Fellowship first started with my job working as a valet for a Marriott Hotel in Norfolk, VA. It was at this job that I had the pleasure of meeting the wife of the Florida A&M President. I was assisting her with an issue, and we began discussing my plans for after I obtained my Bachelor of Science degree. She then insisted I meet her husband who was parking their car, and she informed me that he was a chemistry professor at FAMU but did not mention he was the president of the university. I was both shocked and intrigued when he introduced himself as such. I was shocked because previous to this encounter I had decided to receive my master's degree from an HBCU, but couldn't find one that offered a master's degree or program centered around environmental science. It was during this conversation that the president informed me about CCME fellowship, offered his card, and suggested that I apply for the program as he would do whatever he could to assist me. I am very grateful to Dr. Larry Robinson and his wife Mrs. Sharon Robinson. 
2. What is a typical week like for an NOAA CCME Fellow? 
The typical week for an NOAA CCME Fellow depends on what stage you are in your research. Your first year is centered around doing well in your core courses, putting together a committee, formulating the title of your thesis, and preparing your proposal with your faculty advisor. A week in this stage involves of course attending classes in addition to doing research for the decided project, and attending weekly seminars provided by the department of my degree. Other weeks could involve monthly meetings with NOAA CCME faculty to discuss updates or events or attending NOAA webinars or workshops. Now that I am in my second year, the only change to my weekly schedule is the incorporation of time spent in the lab for my ongoing research.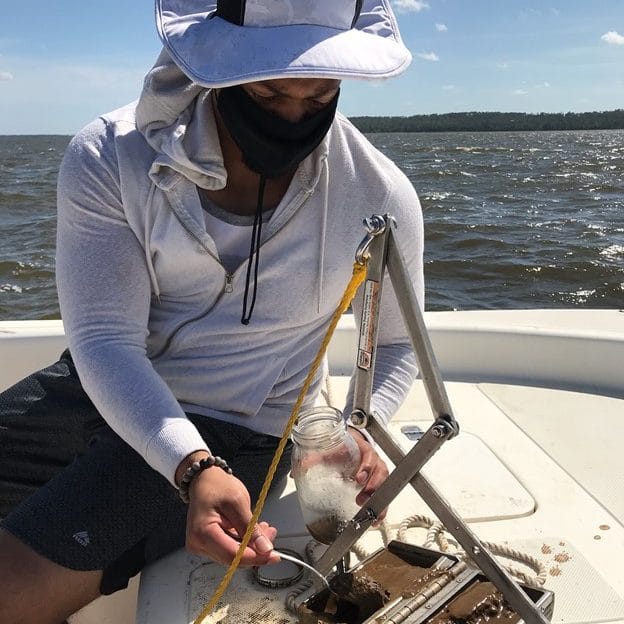 3. What tips would you give others applying to the NOAA CCME Fellowship?
I would encourage others interested in applying to NOAA CCME to research the past and present research that the students and professors are doing to see if they discover something they feel comfortable and passionate about pursuing. If they see that there is a project that intrigues them, they should reach out to the person who is leading it, whether they be a student or a professor. From my experience everyone at NOAA CCME is very approachable and willing to assist others to the best of their ability. It would also help if you have previous experience working in a lab setting, so attending internships either volunteered or paid will make you more marketable. It would also be wise to have a resume, professional profile (LinkedIn), and a personal statement and recommendation letters explaining why this opportunity is beneficial to ready to make the application process easier and effective. 
DeMarcus Turner is a NOAA CCME graduate scholar studying at Florida A&M University. He is in the second year of his Master of Science degree and his major is Environmental science. His CCME area of focus is Coastal Intelligence, and he is currently researching microplastics in the Apalachicola Bay Watershed. He is from Norfolk, VA where he obtained by Bachelor of Science degree in Biology from Norfolk State University. 
Interested in applying? Bookmark the NOAA CCME Fellowship to your ProFellow account.
© ProFellow, LLC 2021, all rights reserved.