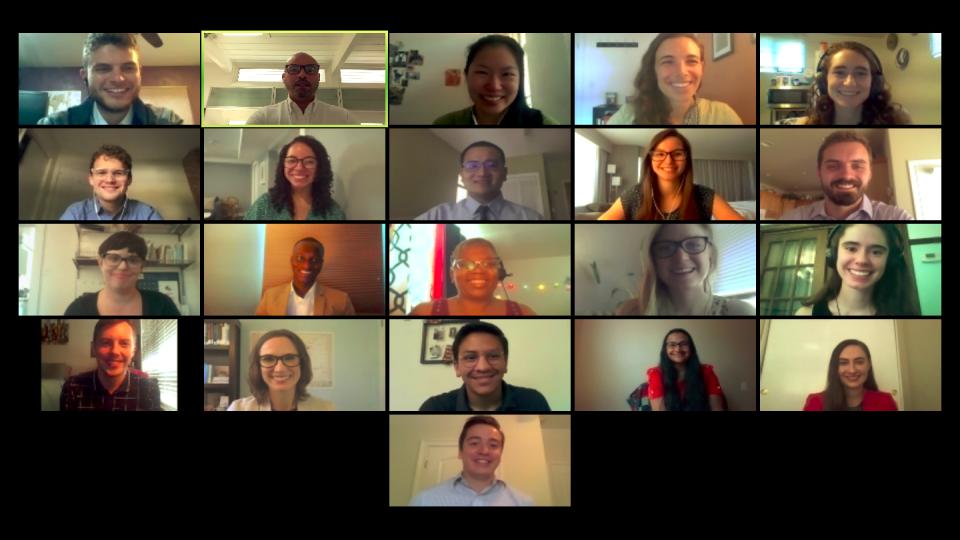 The Urban Leaders Fellowship (ULF) is a 7 week paid summer fellowship for early- to mid-career professionals who are already leaders in their own right and are looking to accelerate their leadership through a fellowship with a focus on policy and practice. Fellows work half-time on high-level policy projects with an elected official and half-time alongside partner organizations in cities across the country. The program is offered in 9 cities: Atlanta, Dallas, Denver, Indianapolis, KCMO, Nashville, New Orleans, Oakland, and Washington, D.C. Fellows receive a base stipend of $2,500. 
We talked to Aishwarya Joshi, LPC, NCC, a Urban Leaders Fellow, to learn more about the program and get some application tips.  
1. What inspired you to apply for the Urban Leaders Fellowship?
As an international doctoral student, and a licensed professional counselor, I often wondered how mental health stigma can be addressed systemically and be integrated within the public health systems. At the same time, being international and not being familiar with the public policy systems in the United States, it always felt like a far-fetched notion, till I was introduced to the Urban Leaders Fellowship. I came across the listserv email from ProFellow about the Urban Leaders Fellowship. 
What attracted me to the Urban Leaders Fellowship is that they worked in partnership with not only the State Senator but also collaborated with community organizations, addressing social inequities and disparities within the governing systems. By being an Urban Leader Fellow, I was able to not only work with an amazing senator who advocated for equity practices for the immigrant and nonimmigrant population but also was able to contribute to the Denver school community, in developing a trauma informed transitional curriculum. Urban Leaders Fellowship provided me with the opportunity and guidance on how to develop systemic policies to support the macro level changes I wish to see in the world. 
2.  What have been some of the most eye-opening moments during your fellowship?
Some of the most eye opening experiences as Urban Leaders Fellow, was recognizing the complexities of the governing systems, the significance of evidenced based research and collaborating with various stakeholders. Being an Urban Leader Fellow, amidst a pandemic and during the Black Lives Matter Movement had its own challenges and barriers, which I did not anticipate initially. As women of color, amidst a majority of White individuals, discussions around White privilege, supremacy and fragility became pertinent and at the same time remained superficial. It was during this time I was able to recognize the issue was not simply about learning something new–it was about difficulties of unlearning as that may result in losing some of the privilege. 
In addition working in a community based school system, I was left feeling starstruck as I saw first hand how amazing and effective community based school systems are in supporting refugee and marginalized student populations. The Aurora Charter Schools were excellent in demonstrating what a well rounded education system looks like, which includes not only work on providing knowledge to students, but also working in partnership with parents, social workers and other public health agencies that contributed to well rounded development of the child. 
3. What tips would you give others applying to the Urban Leaders Fellowship?
A tip that I would like to share to the prospective Urban Leaders Fellow is to trust that there is room and space for everyone who is passionate about making a difference. Don't let your area of expertise/ specialization deter you from applying to the Fellowship. 
In addition it is important to keep an open mind and be prepared to be challenged, unlearn and grow as future leaders!
Aishwarya Joshi is a state-licensed mental health counselor in Ohio and Idaho and a NBCC board certified counselor in the US with nine years of experience providing mental health services both nationally and internationally. In addition she currently serves as a diversity, equity and inclusion (DEI) director for Huruma Rescue Mission, Inc in Embu, Kenya; regional ambassador for Urban Leaders Fellowship and the Chi Sigma Iota, International Leadership Fellow. Aishwarya has previously served as an Urban Leaders Fellow, addressing public policy issues pertaining to racial disparities for the immigrant population in Denver, Colorado. She also has published articles that discuss oppression, social inequities experienced by various minority sub-groups in the US. 
Interested in applying? Bookmark the Urban Leaders Fellowship (ULF) to your ProFellow account.
© ProFellow, LLC 2021, all rights reserved.