Sponsored by E2 (Environmental Entrepreneurs)
ProFellow Founder Dr. Vicki Johnson recently gave a free workshop on how to competitively apply for the E2 1 Hotels Fellowship —  and if you didn't attend, you're in luck. We're sharing her top tips for how you can be selected for this incredible opportunity to launch and implement your very own environmental advocacy project through the support of the E2 (Environmental Entrepreneurs) network and a $20,000 funding award. You can watch the full replay of the E2 1 Hotels Fellowship application workshop at the video above!
About the E2 1 Hotels Fellowship
E2 (Environmental Entrepreneurs) is a national, nonpartisan group of business leaders, investors, and professionals from every sector of the economy who advocate for smart policies that are good for the economy and good for the environment. E2 is a project of the Natural Resources Defense Council (NRDC).
Now in its fourth year, the E2 1 Hotel's Fellowship provides funding to six Fellows each year to tackle the most pressing environmental issues across the country. Open to U.S.-based early and mid-career professionals and students, this yearlong, flexible fellowship provides $20,000 each to six selected fellows to support the execution projects that help advance climate action and a cleaner economy by engaging the power of businesses and making the economic case for the environment. Projects can incorporate any of E2's key focus areas including Climate Change, Clean Energy, Food & Agriculture, Healthy Communities, Oceans, Clean Water, and Nature & Wildlife. 
In addition to a $20,000 project grant, some of the benefits to participating in the E2 1 Hotels Fellowship include:
Mentoring from seasoned executives and entrepreneurs across the country in the fields of sustainability, clean energy and other areas;

Media exposure and press opportunities;

Inclusion in special E2 Emerging Leaders programs at E2's nine chapters nationwide; and

Invitations to monthly webinars with business leaders, environmental experts, and lawmakers
Through our ProFellow interview with Nicole Mendoza, a past recipient of this fellowship, you can learn more about whether this fellowship opportunity could be right for you!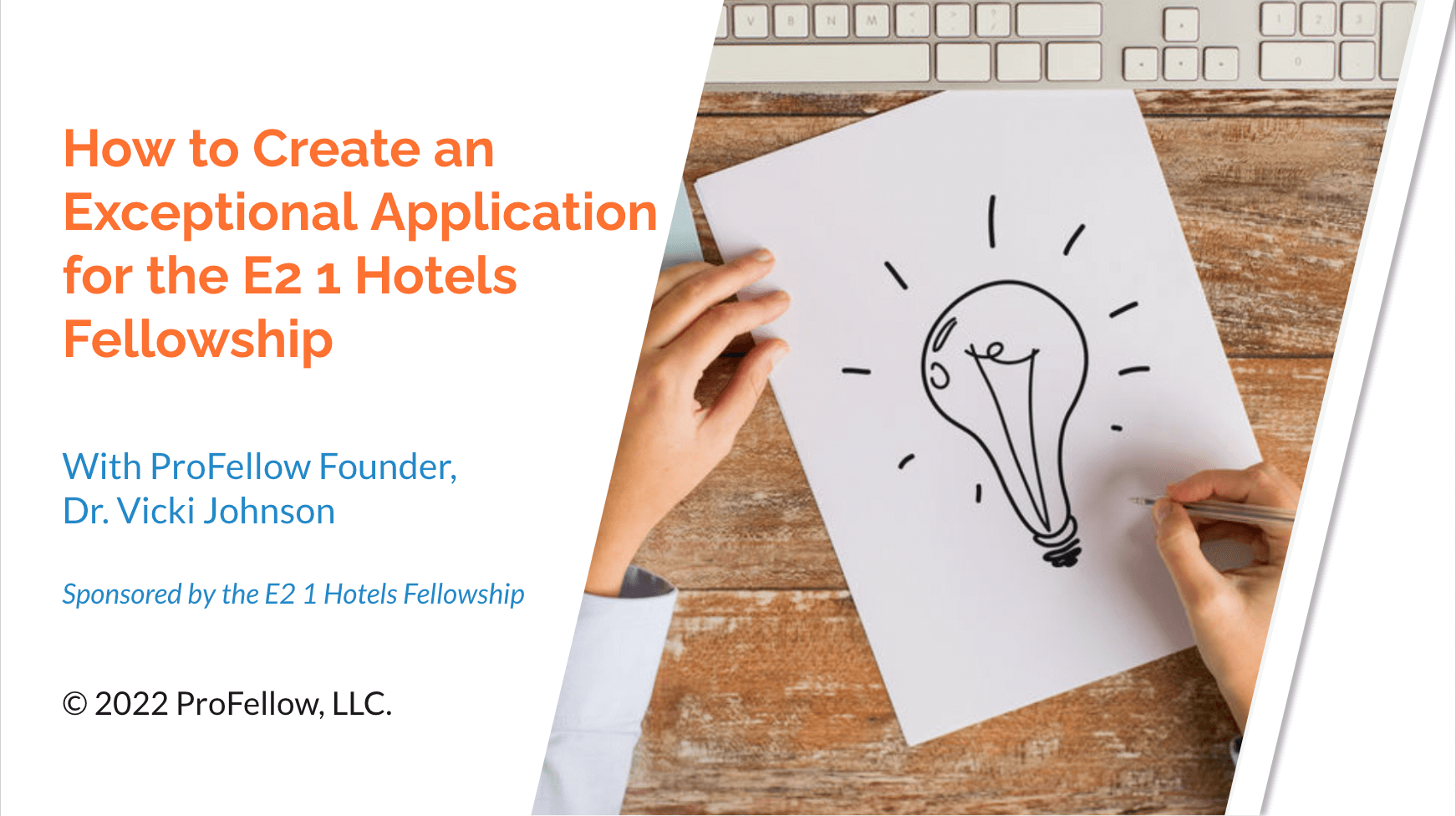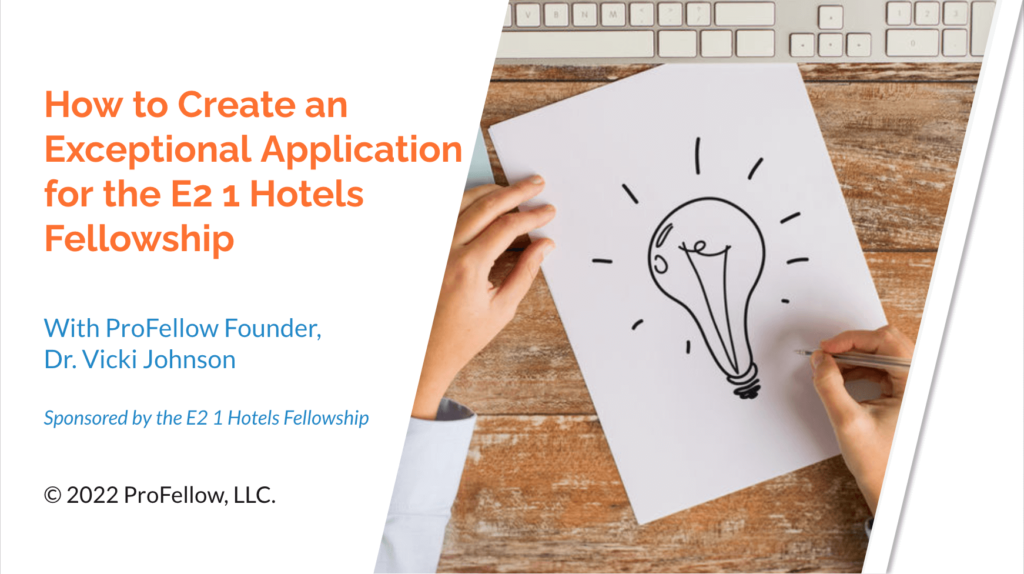 3 Keys to Developing a Winning E2 Project Proposal 
To be considered for the fellowship, applicants must submit a game-changing organizing, research, or communications project idea that makes the business case for smart environmental policies. 
Developing a project proposal that sets you apart from the rest can be daunting, but never fear! Here are Dr. Johnson's 3 keys for success to consider while completing your application. You can watch the full 1-hour workshop here. 
Tip #1: Align your Project with the E1 Mission (Video: 17:42)
The most important first step to any fellowship application is ensuring that you familiarize yourself with the organization's mission. In this case, you want to be absolutely sure your proposal communicates that you have the knowledge, confidence, passion, and skills to help further E2's mission of advocating for policies that are good for the economy and good for the environment.
E2 is also dedicated to supporting environmental justice by advocating for policies that ensure that the benefits of the clean economy are extended to all communities. If you have a project idea that could also help address environmental challenges posed to communities of color due to systemic racism or harmful policies, these are definitely project areas that are of interest to E2.
Check out our panel interview with three former E2 1 Hotels Fellowship winners to learn from past winning proposals. 
Tip #2: Identify Your Project's Tangible Social Impact (Video: 18:24)
Does your project idea have the potential to create lasting, sustainable change? This is what the fellowship committee is looking for! Your project may not be able to singlehandedly stop climate change or put an end to corporate pollution, but it certainly can make a targeted impact if your proposal is detailed and specific enough. When brainstorming ideas, always ask yourself: Could this project be measured in real terms for both short and long-term impact?
Another helpful ProFellow tip: don't just try to predict your project's tangible impact on your own. Have conversations with community members to determine the pressing issues that make a direct impact on their lives. This could include speaking with your business community, nonprofits you're involved with, and everyday citizens. One benefit to finding an idea that would address a pressing need identified by others is that you can include a letter of support from the business community in your application. This is a really compelling way to show that this isn't just a project that would be of interest to you, but a project with community buy-in that actually has the potential to directly impact a broader group.
Tip #3: Propose a Feasible Project (Video: 23:13)
We all want to wow the selection committee, but submitting a project proposal that simply can't be done within the scope of the fellowship will only lead to disappointment for everyone involved. While brainstorming potential projects, ask yourself: Can this be successfully completed within the fellowship's 1-year timeframe, part-time alongside my other commitments? Keep both resources and your skillset in mind when determining the answer to this question. For example, if you're proposing to build an app for your project but you're not a software engineer, that's probably outside of your skillset, and purchasing those skills may not be affordable with the $20,000 grant. Stick to what you know and focus on the talents you've already honed in your previous work. 
Remember: the goal of your project proposal is not to wow the committee with the most amazing project ever. The goal is to successfully prove them that you have the knowledge, confidence, passion, and skills to help further E2's mission through your project.
Have more questions about the E2 1 Hotels Fellowship?
Check out the Frequently Asked Questions page on the E2 website. You can also contact the E2 1 Hotels Fellowship team at [email protected].
Learn more and Apply Now
Applications are now open through May 9, 2022 for the 2022-23 E2 1 Hotels Fellowship! 
To be considered, please submit a resume and fill out the questions in the application portal describing your project, how it will advance environmental sustainability or clean economy policies, and how you plan to accomplish this project.
© ProFellow, LLC 2022, all rights reserved