ProFellow Founder Dr. Vicki Johnson recently gave a free workshop on how to launch your social impact career through professional fellowships —  and if you didn't attend, you're in luck. We're sharing her top tips for how you can search and apply for professional fellowships for research, graduate school, study abroad, and more. In this video, Dr. Vicki Johnson also provides a tutorial on how to use the ProFellow Fellowships Database to search for fellowships specific to your interests and goals. You can watch the full replay of the workshop in the video above!
What are fellowships? (Video: 7:11)
Fellowships are short-term, funded opportunities to do something exceptional. Fellowships are different from jobs because they are generally short-term opportunities. Fellowships can last anywhere from a couple of weeks to up to two years in length. A common length of a fellowship is one year. 
We bucket fellowships into two primary categories: professional fellowships and academic fellowships. Professional fellowships are funded opportunities that function like full-time work placements. Academic fellowships provide funding for graduate study and research (including postdoctoral research and even research for experienced scholars). There are also some fellowships that straddle the two, professional and academic, giving you a bit of both.
The application process for fellowships has more similar to applying to graduate school than it is to applying for a job. Fellowships often require a resume or academic CV. You often need to include a personal statement or personal essay talking about your goals, your motivations, and why are you applying. Many fellowships require two to three recommendation letters or references. And some fellowships will require a project or research proposal. 
Why apply to fellowships? (Video: 9:09)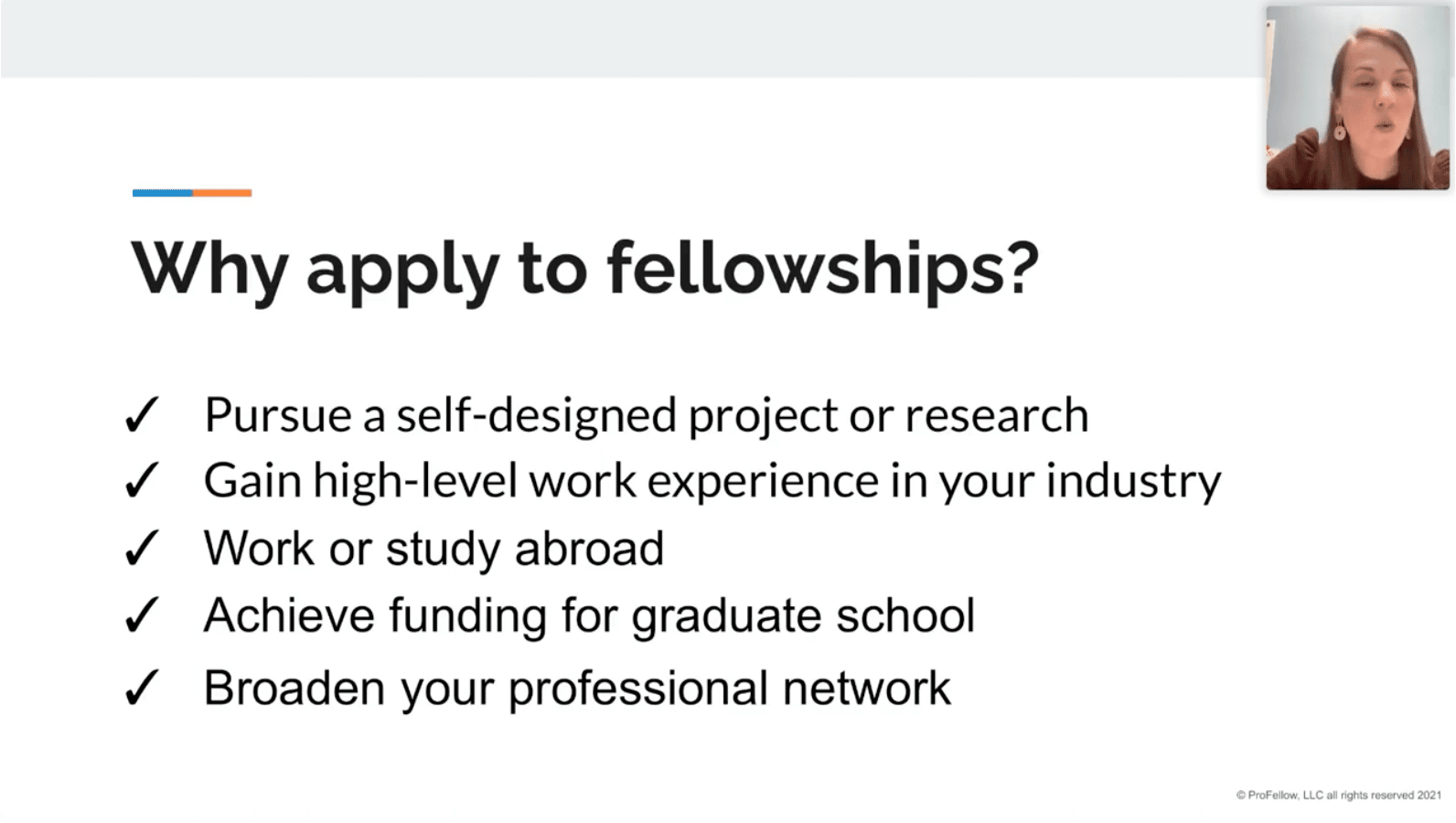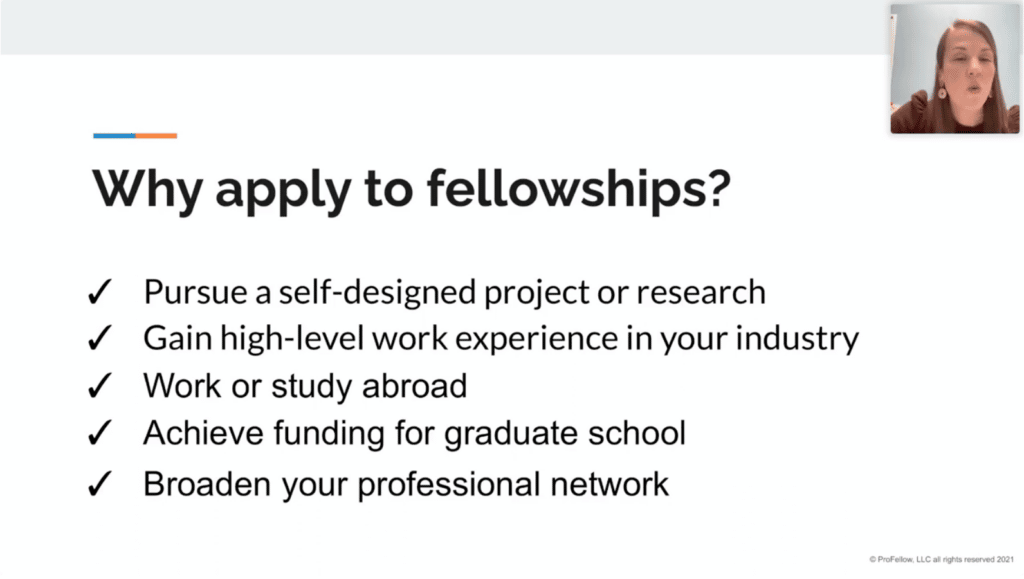 Now, why would you want to apply for fellowships? 
A lot of fellowships give you work experience or opportunities that you probably wouldn't find in a typical job at the same level. The fellowship might have special programming or they give you the autonomy to pursue a specific project. 
Fellowships have a competitive application process, and this is a merit-based application process. Fellowships are really looking for people in certain sectors for skills or talents or passions, and they are investments in people who are going to help solve big social challenges. They're picking people who are the best fit for the opportunity. 
Fellowships can give you funding to work or study abroad. There are often not many opportunities to go abroad other than if you do a self-funded volunteer project, pay for graduate school abroad, or try to get a job. All three of those are financially and logistically challenging. International fellowships provide you with the funding, infrastructure, visas, and cohort that you need to have a successful experience abroad. There are also fellowships that can help fund graduate school. 
In all cases, fellowships help broaden your professional network, which is very important as you progress in your career. Fellowships are a great way to meet not just leaders in your field but even connect with your peers who may end up going on to become leaders in certain fields. Your network is really important as you progress in your career. 
5 Secrets of Fellowship Winners (Video: 43:18)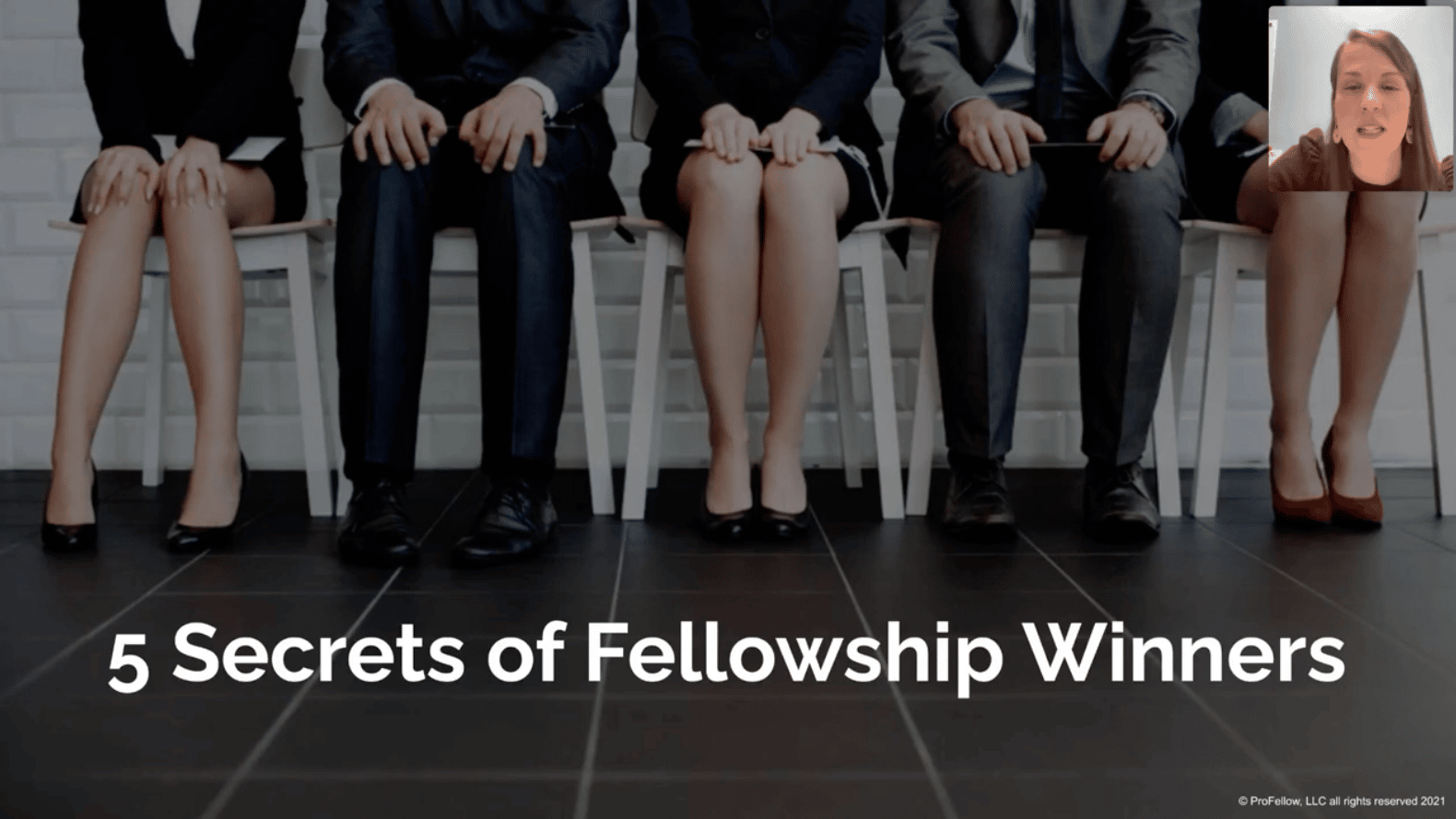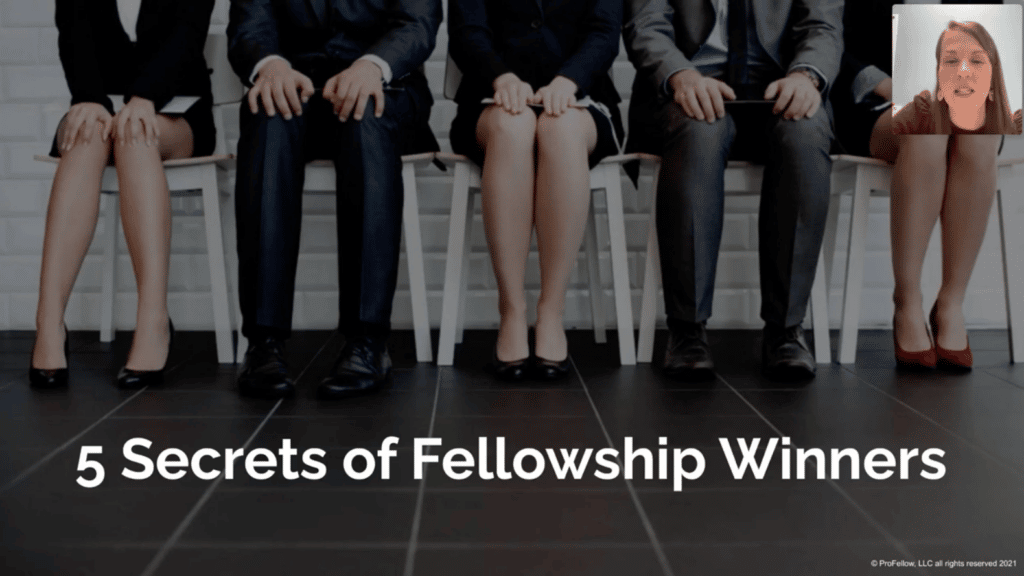 1. Align your goals with the Fellowships' mission (Video: 43:53)
As an applicant, make sure to align your goals with the missions of the fellowship. Fellowships are funded by organizations like nonprofits, philanthropic organizations, foundations, government agencies, corporations, and research institutes. When these organizations create a fellowship program, usually there is some broader social impact mission that they have. And it's important for you to know what that mission is to confirm that your goals align with the program and that you truly are a good fit for the program. You can also use the mission statement to make a compelling case in your application as to why you should be selected for the fellowship.
2. State a highly-specific career goal (and your future social impact) (Video: 47:42)
You should state a highly-specific post-fellowship goal and the future social impact that you want to make in your career. This is important because a lot of people don't state their goals in their applications. Some applicants are focused on getting the fellowship and do not include a future vision of how the opportunity helps them achieve something bigger and long-term.
It's important to state a career goal. What do you want to do after the fellowship? This is so you can say to the selection committee what you're going to get out of this fellowship to get to that goal.
Stating your goals in the application does not set your goal in stone forever. This is for the purpose of making it clear to the selection committee why you, why this program, and why now. And it's important that you make that case because you're going to be up against people who are also making that case.
3. Make the Fellowship the "hero" of your story (Video: 50:06)
The application story has a beginning, a middle, and an end. You have to tell the organization about the beginning of the story, which is your background and your motivations. The selection committee will want to know about your career trajectory. You can talk about what you previously studied, your professional experiences, and what motivated you to get where you are now. 
Then the middle of the story, or the hook, is how the fellowship is going to help you achieve that goal. And the key is to demonstrate that without fellowship, the goal may not be achieved. Think about what can you get out of this fellowship that you would not get in any other alternative opportunity. Hone in on that in your story.
The end of the story is the future, that is that highly specific post-fellowship career goal. So you have a vision for where you want to be in two to five years. You talk about where you want to be, why you want to be there, and the social impact that you want to make in your career.
4. Explain why you need the Fellowship now (Video: 53:07)
In your application, explain why you need the fellowship right now and not the following year. This is because all of these fellowship programs receive more qualified applications than they have spots. Often when applicants get to the finalist round, the selection committee chooses people based on small differences among candidates. One key difference that could help is to express urgency in your application. This can help give you an edge over other candidates who has less urgency to start the fellowship.
Look at big issues circulating in the news (such as climate change, political insecurity, educational inequality, the pandemic, social media, and technology). There are so many issues that we can draw on for a stronger application that conveys urgency.
5. Speak to 3 former Fellows (Video: 56:05)
Applicants who speak to former fellows increase their likelihood of success. You can often ask the fellowship organization to introduce you to a fellow or meet fellows through informational sessions. Former fellows may also appear on LinkedIn. You can find people by putting the name of the fellowship in. University alumni are a great way to find fellows. If you have no connections to the former fellow, you can ask your university.
When contacting former fellows, introduce yourself politely through email. Let them know that you're applying to the fellowship and that you'd love to speak to them briefly.
If you meet with a fellow, come prepared with some specific questions. Ask former fellows questions such as, "What do you think is the mission of this program? What have you noticed in the people that they've selected for it? What is the selection committee like? What did they ask you during the interview process? Hey, could you take a peek at my project proposal? Do you think this is feasible for what I'm proposing? Now that you've been to that country, do you think this is feasible?" There are a lot of specific questions you could ask former fellows, so make the most of your time with them.
Also – get into a winner's mindset! (Video: 58:07) 
My final tip is that you need to get into a winner's mindset. A lot of people become worried because of the competitiveness of the application process. But keep in mind a fellowship is not an award simply for winning awards. Fellowship committees are not picking people just because they have lots of accolades on their resumes or a 4.0 GPA. 
Fellowships are trying to pick people who are the most aligned with their social impact mission. You need to show a demonstrated commitment to the field, the service, or to the issue that they're focused on. If you can do that, not only will you be a great fit for the fellowship, no matter what kind of academic background you have, you will be deserving of this opportunity. Hone in on the interests that you're most aligned with. That's the best way to go about the fellowship process.
Interested in looking for potential fellowships? Sign up to discover and bookmark more than 2,400 professional and academic fellowships in the ProFellow database.
© ProFellow, LLC 2022, all rights reserved