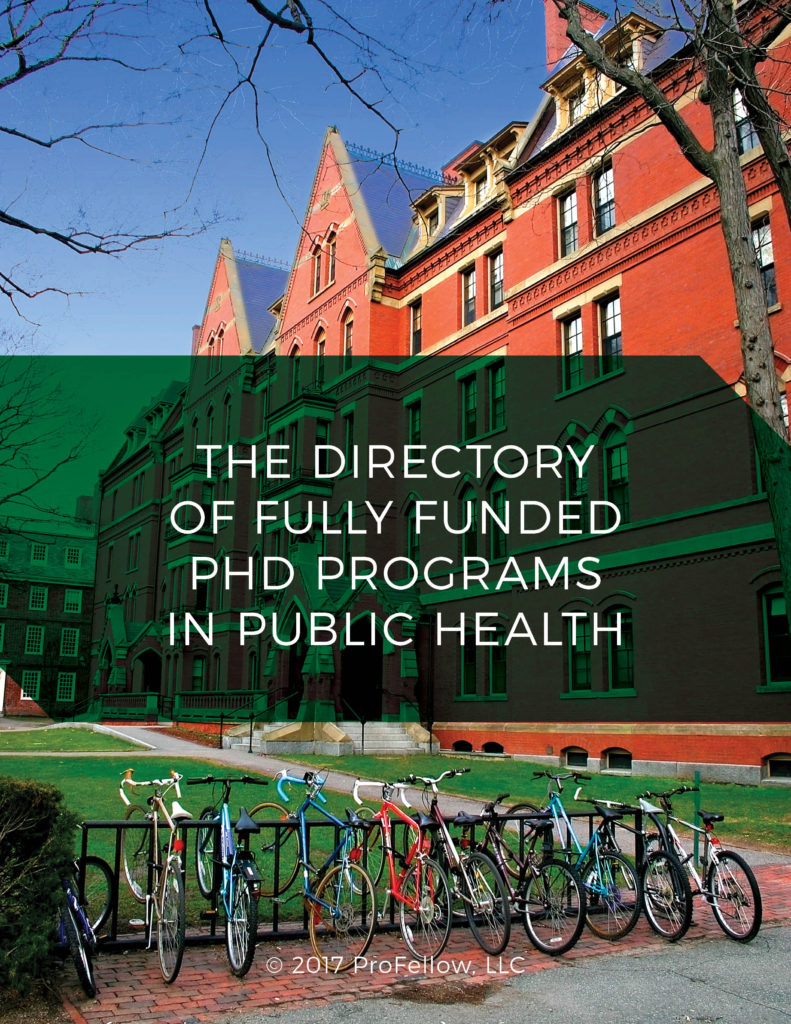 Get paid to complete your PhD!
In this 142-page digital Directory, can you discover and compare 25 accredited PhD programs in Public Health in the U.S. and Canada offering full funding – including full tuition scholarships and annual stipends up to $36,000 – to ALL accepted PhD students.
Compare programs (18 in the U.S. and 7 in Canada) with acceptance rates ranging from 2 – 55%, from small private colleges in affordable college towns to large public universities and Ivy Leagues.
Available PhD concentrations include Biostatistics, Decision Sciences, Environmental Health, Epidemiology, Evaluation, Health Education, Health Economics, Health Policy and Management, Health Services Research, Global Health, Nutrition, Occupational Health, Population Health, Reproductive and Maternal Health, Social and Behavioral Sciences, and Toxicology, among many more.
Each of the 25 university listings is a chapter with phone-verified information, including:
a detailed description of the program and concentrations available
the program acceptance rate (exclusive!), ranging from 2 – 55%
the cohort size
average GRE scores of accepted students
annual stipend amounts, up to $36,000 per year
and the full funding package offered to all accepted students.
The Directory also includes 3 exclusive chapters providing:
Guidance and templates for contacting potential PhD advisors, an important but little-known step in the PhD application process.
37 external fellowships and grants for doctoral study and dissertation research for both domestic and international PhD students in Public Health. These funding sources can be used to supplement your full funding package.
29 professional and postdoctoral fellowships that you can pursue after your studies.
Written by ProFellow founder Dr. Vicki Johnson, an expert on PhD and fellowship funding, this Directory is the only one of its kind on the market, prepared specifically for aspiring PhDs.
What others say:
"Dr. Johnson's Directory of Fully Funded PhD Programs was an essential guide for my PhD search and application process and proved an invaluable resource in the last 12 months! I am pleased to share that I was accepted to SUNY Albany's PhD program and was offered a full funding package with tuition scholarship." 
– Keith A. Preble, PhD Student, State University of New York
Special price of $50 USD