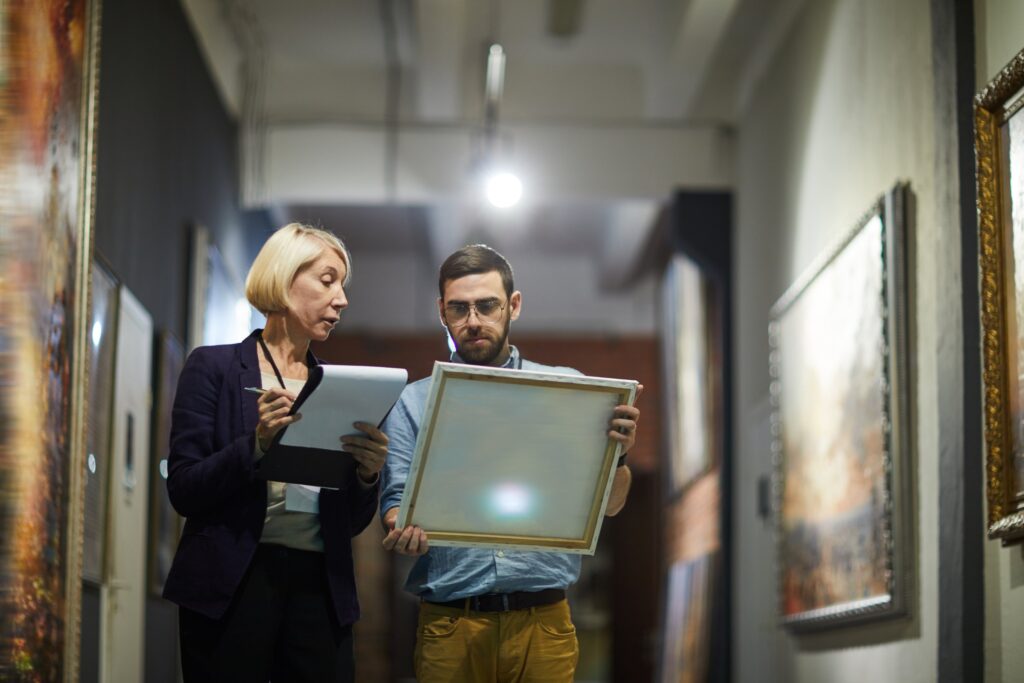 Calling all aspiring art and museum curators! This list of fellowships includes opportunities to gain hands-on experience in the fields of art & photograph conservation and museum curation at some of the finest institutions in the country, including the Metropolitan Museum of Art in New York.
Read on to learn more about these opportunities, available for early, mid, and late-career professionals. You can bookmark any fellowships that interest you to your free ProFellow account.
The Kress Conservation Fellowship provides post-graduate fellowship opportunities for emerging conservators. Initial training, typically at one of a handful of institutions in North America, provides basic qualifications that must be supplemented with an extended period of specialized concentration on paintings, objects, textiles, antiquities, and other objects. Nine Fellowships are awarded each year for one-year post-graduate internships. Fellows should have completed a masters-level degree in conservation.
The program is intended to encourage students to explore interpretive careers in art museums, whether as museum educators or curators. Six Kress Interpretive Fellowships are awarded each year for 9-12 month professional development opportunities. The application must be submitted by the art museum proposing to host a Fellow. Interpretive Fellowships are intended as an opportunity for individuals who have completed a degree in art history, art education, studio art, or museum studies and who are pursuing or contemplating graduate study or professional placement in these or related fields.
Offered by the Metropolitan Museum of Art, the fellowship has two types of opportunities: junior and senior. Junior Fellows work closely with Met staff to receive training in scientific research and conservation practices. Senior Fellows work on a specific research project that makes use of the Museum's collection and/or resources. Junior Fellows have recently completed graduate-level training, while Senior Fellows are well-established professionals with at least eight years of experience in the field and a proven publication record, or those who have earned a PhD.
The Metropolitan Museum of Art's Research Scholar in Photograph Conservation works on-site in the photograph conservation lab of the Sherman Fairchild Center for Works on Paper and Photograph Conservation. The research scholar is expected to have a graduate degree in conservation or equivalent experience and should be completely committed to the conservation of photographs as his or her area of specialization. Fellowships are for a 2-year period and include an annual stipend.
The Holt/Smithson Foundation Research Fellowship encourages new research on the work, ideas, and creative legacies of Nancy Holt and Robert Smithson, including topics addressing indigenous land rights and the ecological consequences of building earthworks. The Fellowship Program is open to graduate students, recent college graduates, doctoral and post-doctoral researchers, artists, early career museum professionals, and Holt and Smithson scholars working towards a specific publication, exhibition, or project.
The J. S. Lee Memorial Fellowship supports curators, museum professionals, and art history research academics taking part in Chinese art. The fellowship supports professionals in Chinese art history, curatorship, archaeology, conservation, museum management, and museum education. The program offers professional development opportunities through collaborative research projects and travel to overseas museums. Round trip airfare and all expenses are covered throughout the duration of the fellowship, which is anywhere between 4 and 12 months long.
This program, based in Newport, Rhode Island, offers scholars, emerging, and mid-career professionals the opportunity to conduct focused research and undertake projects within specified areas including, but not limited to curatorial practice, exhibition design, material culture, public history, collections management, education and public practice, interpretation, landscape design history, public horticulture, and preservation policy. Applicants must have a master's or PhD degree. There are residential and non-residential fellowships, as well as short-term and long-term options.
The Richard Morris Hunt Prize is an intensive and curated six-month fellowship that carries a $20,000 award for registered architects to pursue cutting-edge research on emerging trends in historic preservation. As part of the RMHP experience, the Fellow benefits from guidance and access to a network of the leading historic preservation professionals in France and the United States. U.S. design professionals study in France, and French design professionals study in the U.S. for alternating years.
Don't see what you're looking for? Sign up to discover and bookmark more than 2,300 professional and academic fellowships in the ProFellow database.
© ProFellow, LLC 2022, all rights reserved.