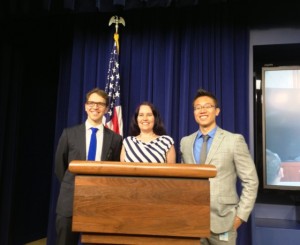 In 2012, The White House launched the Presidential Innovation Fellows (PIF) program to pair entrepreneurial leaders from the private sector, non-profits, and academia with top innovators in government. Selected from an applicant pool of more than 700 candidates, the first cohort of 18 Fellows spent 6 to13 months at Federal agencies in Washington, DC developing solutions that would save lives, save taxpayer money, and fuel job creation. Some of the projects included Blue Button for America, which aimed to help Americans easily and securely download their own health information online; MyGov, which worked on a prototype of a central online system of public services from across the Federal Government; and the Open Data Initiatives project, which focused on making government data more publicly accessible in "computer-readable" form.
In 2013, the Presidential Innovation Fellows program grew to include projects to develop innovations in disaster response and recovery, cyberphysical and financial systems and international development. According to the website, there are no age restrictions and there are no age preferences, but applicants should "simply be enormously capable of doing the job for which they are applying." To learn more about this extraordinary opportunity, we contacted 2013 PIF Jason Shen, who is a product manager, writer, startup founder and part-time athlete. During his fellowship, he helped the Smithsonian build and launch a crowd-sourced transcription website.
What inspired you to apply for the Presidential Innovation Fellowship?
When I first heard about the Presidential Innovation Fellowship, it was on Twitter: TechCrunch had tweeted the link. I was still working on Ridejoy, the Y Combinator backed company I founded in 2011 with two friends, but we were stalling out. We had been trying to come up with a new business for some time and not getting anywhere. The idea of moving to another city and jumping right into working on some important technology problems for the United States was really compelling, especially as an immigrant who realizes that a huge part of my success in life is due to the fact that I grew up in the U.S.
What are the benefits of the fellowship?
The program is incredible. I was one of 43 fellows working across government, and pretty much every single one of them was world-class in something, from design and back-end databases to sales, APIs and the intricacies of federal bureaucracy.  They were also really humble people who were fun to hang out with – I learned tons from them. I also was paired with amazing innovators in my sponsoring organization, the Smithsonian Institution, where I got to see how the world's largest research and museum complex operates. We helped start a new technology program, a crowd-sourced transcription of historic materials at the Smithsonian Transcription Center, that has the potential to offer massive benefits to the Smithsonian and the world's knowledge. Finally, the staff who run the Presidential Innovation Fellowship are amazing cat herders who fight for us day in and day out. We're lucky to have them.
What is a typical day/week like for a Presidential Innovation Fellow?
On Monday, I would plan out my week along with one of the other fellows in the program and send emails, write code, design apps, and work on presentations. Tuesday was our weekly "PIF" session, where instead of working at the Smithsonian, I went to the General Services Administration (GSA). I also sat in weekly Open Data meetings held at the White House Communications Center. During the rest of the week, in addition to focusing on my project, I might listen to a guest speaker at GSA, have a brainstorming workshop with other fellows, or hear a presentation on how some of the other fellows' projects are coming along. There were also Happy Hours with the fellows and networking events at the Smithsonian and externally.
What have been some of the most eye-opening moments during your fellowship?
Seeing a 150 year old preserved plant specimen collected in Alaska that has no digital record anywhere, and realizing that our software is literally going to enable certain types research for the first time in the history of science.
Listening to Todd Park, CTO of America, tell us about his optimism for the future of America because of the work that's happening through our program.
Learning about the incredibly rich history at the Smithsonian and how it painstakingly works to preserve, create and disperse knowledge across fields as vast as astrophysics, genetics, paleontology, ocean science, political campaigns, world cultures and ancient artifacts.
What have you enjoyed most about your fellowship?
I was inspired by the passion and dedication of the staff at the Smithsonian across all their 19 museums, libraries, and archives. But most of all, I enjoyed meeting and collaborating with the other fellows. For instance, I helped fellows focused on Open Data connect with Y Combinator companies that used government data. I also watched a brilliant fellow launch a new website in record time by perfectly "checking all the boxes" that allowed him to plow into and through the bureaucracy. I also enjoyed starting a project to create a "PIF Guidebook" for future fellows.
What do you think made your fellowship application stand out?
First off, I reached out to former fellows and other people who are familiar with the program to get a sense of what they were looking for before I even decided to apply. I think that's a smart idea.
I was really interested in one of the projects called RFP – EZ, focused on improving government procurement by making it easier for small businesses to apply for federal tech projects. I built a custom-made website called selltothefortune1.com to demonstrate the fact that I was technical, proactive, and understood the needs of project. Turns out they didn't need to convince more small businesses to sign up (which was what my site focused on), they needed to convince more government agencies to put in a project, so I got an interview with that project, but I didn't get selected.
Right before the application closed, I called up a mentor of mine who worked in Washington, DC. He happened to know one of the folks at the Smithsonian who had a PIF program that I hadn't planned to apply for, in part because the description was pretty vague. He told me to apply anyway. It turned out to be a perfect fit.
I guess the lesson there was twofold. First, relationships matter, so see if you can find some more connections into the program if possible. And second, broaden your application spectrum because the agency may not know exactly what they want, so of course, the descriptions are going to be a little vague.
Finally, I would say that they are really invested in bringing a broad and diverse group of fellows together. It was maybe 25% women and 75% men, with an age range between 23 to 73, including 40% from the San Francisco Bay Area and the rest from around the country. So focus on what makes you unique, and don't worry about trying to fit the mold, as if there ever could be a mold for something like a "innovation fellow."
How has the fellowship influenced your professional interests and career path?
First, I learned that my skills as an entrepreneur can be valuable in launching a new product in a large organization. I also learned the importance of presentations, meetings, and mockups as a way to help people see the vision for a new project, and get organizational buy-in. I really do love working on more "pure" technology products, especially ones that deal with software.
The application deadline for the 2014 Presidential Innovation Fellowship is March 24, 2014. Sign up here for application updates. 
Jason Shen now resides in New York City where he builds tech products and co-hosts Tectonic. Jason has two degrees from Stanford University, was the team captain for an NCAA championship-winning gymnastics team, is an active blogger and has written numerous books, including the Amazon best-selling book titled Winning Isn't Normal.
© Vicki Johnson 2014, all rights reserved.