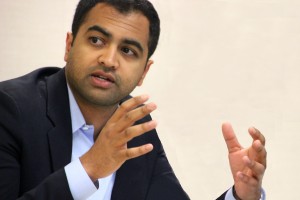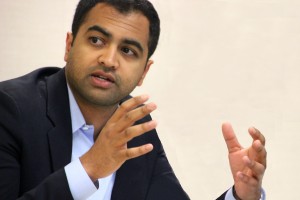 I met ProFellow Vivek Mohan when he was on the hunt for his next fellowship. Having carved a niche career in cybersecurity and technology policy and research, Vivek pursued a series of fellowships that gave him a wide range of exposure to leaders in public policy, law, government and academia in Washington, DC and beyond. As a current Science, Technology and Public Policy Program (STPP) Fellow at the Harvard Kennedy School's Belfer Center for Science and International Affairs in Boston, Vivek has the opportunity to teach and contribute to the Project on Technology, Security, and Conflict in the Cyber Age, which investigates the impacts and consequences of new information and communications technologies for international security, political and economic development, and social welfare.
The Belfer Center offers one-year fellowships to doctoral students and post-doctoral researchers, and Fellows are expected to devote some portion of their time to collaborative endeavors, while completing a book, monograph, or other significant publication during their period of residence. The Science, Technology and Public Policy Program offers a wide range of research areas, from "Technology and Innovation" to "China & Environmental Sustainability." We asked Vivek more about some of the benefits to working as a Fellow at the Belfer Center.
1. What inspired you to apply for the Belfer Center Fellowship?
After graduating law school, I joined the Microsoft Innovation & Policy Center in Washington, DC, which at the time consisted of about thirty attorneys and government relations professionals.  I worked on cybersecurity, privacy, telecommunications, and antitrust law and policy, and dabbled a bit on other issues that were of interest to the company, such as immigration and children's online rights.  After six months at Microsoft, I realized that while I was passionate about the issues that I was working on, I wouldn't be able to grow if I remained exclusively in-house.  In DC in particular, a variety of experiences will help you go a long way, so I started to look for a logical next step.  I'd be lying if I said I did something more complicated or intelligent than Google "cybersecurity fellowship", but that's how I first found out about the Belfer Center Fellowship. I mentioned my interest in the fellowship to a professor of mine from Columbia University. Unbeknownst to me, my professor had mentioned me to the director of the Belfer Center and a couple months later, I received a call on my office number from someone at the Center.  Caught totally off guard, I quickly Googled (to the great and continued consternation of my Microsoft colleagues) the man who was on the phone with me, and realized that he was a retired US Army general.  You don't know fear until you've been cold-called by a general. He encouraged me to apply to the fellowship. Since the deadline had just passed, I had to do so quickly.  One thing led to another, and here I am.
2. How has the fellowship impacted your career path and interests?  
The two years I've spent at the Belfer Center have fundamentally reshaped my career path. My time at Microsoft allowed me to get hands-on experience in DC working on cybersecurity and privacy, but with Harvard's academic imprimatur, I was able to meet people that otherwise wouldn't have given me the time of day.  Some of the incredible people associated with the Belfer Center include Ash Carter, the current Deputy Secretary, John Holdren, head of Office of Science and Technology Policy at the White House, and Eric Rosenbach, the current Deputy Assistant Secretary of Defense for Cyber Policy. The Belfer Center has historically been strong on defense-related issues but is making a big push into technology as well. Cybersecurity is at the natural intersection of these two fields, and that's why I joined.
My boss, Professor Venkatesh "Venky" Naranyamurti, strongly supports his fellows and encourages interdisciplinary collaboration.  I've worked extensively with an esteemed Harvard Law professor in cyber law, Jack Goldsmith, and organized a seminar for Professor Joe Nye, a former Assistant Secretary of Defense for International Security Affairs.  Through them, I've met the most influential and important people in the field and had the chance show them my work (I might even believe some of them read it).  The Belfer Center's (relatively) rare latitude and encouragement to work across institutional boundaries has allowed me to work with Harvard's Berkman Center for Internet and Society on a number of projects, including advising the Federal Communications Commission (FCC) on net neutrality and the European Union on cyber insurance markets.  I'll be leaving the Belfer Center this fall to join Sidley Austin LLP's DC office in their Privacy, Data Security, and Information Law group. I know for a fact that the only reason that I got that job was an introduction by contacts I made during the fellowship.
I'll readily admit that I came into the fellowship with more of a consumer-facing and private sector point of view – I started off thinking about privacy and surveillance from the context of law enforcement and big data.  But being at the Belfer Center has made me appreciate how important cyber is to defense, and I've learned a lot about the national security side of things.  I don't think this would have happened if I had stayed in DC, and I'm immeasurably grateful that I had the opportunity to do so.   I'll remain an Associate on the project (which is code for "unpaid but you get to keep the email address") for the next year, so feel free to reach out to me if you're thinking about applying to the Belfer Center Fellowship.
3. What do you think made your fellowship application stand out?
Well, if I were to generalize from my Belfer experience, for starters, having the right references is important.  It's also helpful to serendipitously have exactly the background that the hiring manager is looking for.  Neither of those, I recognize, are particularly useful pieces of advice. That said, the best piece I've advice I've ever received is to tailor your resume for each position you're applying for, and to make sure your resume makes sense.  Someone may be quickly glancing over it, so make sure that each transition makes sense to them from a career perspective – as in,  "oh, he or she went to this job because they wanted to build X or Y skill."  If there really is a broad jump in terms of field or career path, make sure there's some explanatory language there, or find a way to draw a common thread through the various things you've done.
For people working in cyber, privacy and/or tech policy, it's good to develop a solid understanding of the different verticals within the field.  The media tends to conflate disparate issues (for example, surveillance as it pertains to law enforcement v. surveillance as it pertains to national security), and there are distinct communities – companies, NGOs, and government bodies – for each of them.  For all the attention that is paid to it, especially in recent weeks with the NSA leaks, the field of cybersecurity is relatively new – and there aren't that many players. Getting to know some of the leaders in the field – by meeting one on one over coffee, by attending any of the growing number of free talks or seminars in DC, or even by unsolicited email introduction – is easier than it may seem.  Despite the influx of security-minded people, most people working in cyber are extremely approachable and responsive.
Vivek Mohan is a Fellow in the Science, Technology and Public Policy Program's (STPP) and Project on Technology, Security, and Conflict in the Cyber Age ("The Cyber Project") at the Harvard Kennedy School's Belfer Center for Science and International Affairs.  Vivek's writing and teaching have spanned a broad range of topics that touch on the intersection of technology, law, and policy.  Particular areas of focus include privacy, surveillance, cybersecurity, net neutrality, ISP regulation, telecommunications and regulatory reform, and Internet governance.   Prior to joining the Belfer Center, Vivek was an attorney with Microsoft's Innovation & Policy Center in Washington, D.C.  Vivek received his J.D. from Columbia Law School, where he served as an Articles Editor for the Columbia Science and Technology Law Review, and his B.A. from the University of California, Berkeley.
© Victoria Johnson 2013, all rights reserved.