The mission of the Atlas Corps is to address critical social issues by developing leaders, strengthening organizations, and promoting innovation through overseas fellowships in the U.S. and Latin America. The Atlas Corps offers 6 to 18 month fellowships three times a year for skilled nonprofit professionals from around the world. Applicants from the U.S. have the option of two fellowships in Latin America – a Nonprofit Fellowship or a Volunteers Colombia English Teaching Fellowship. Applicants from outside the U.S. can apply for a Nonprofit Fellowship to work at social sector organizations in the U.S. All Fellows serve full-time at Host Organizations working on issues that complement their expertise. Fellows develop their leadership skills while sharing best practices and supplement daily knowledge with theoretical topics presented in the Atlas Corps Global Leadership Lab. Fellows commit to returning to their countries to work for at least one year in the nonprofit sector, sharing new skills, best practices, valuable experiences and a global network of changemakers.
Currently, the Atlas Corps is seeking applicants with two or more years of relevant experience in the social sector and 35 years or younger when the fellowship begins. Benefits of the fellowship include a living stipend, health insurance, and training. Atlas Corps considers applications on a rolling basis for fellowships that begin in January, May, and September.
To learn more about this fellowship, we interviewed Nurangiz Khodzharova from Russia, who spent her fellowship year at Net Impact, a San Francisco based nonprofit that empowers a new generation to use their careers to drive transformational change in the workplace and the world.
1. What inspired you to apply for the Atlas Corps?
Atlas Corps reached out to me on Devex, a social enterprise and media platform for the global development community, while I was still in grad school in 2010. The program sounded immediately appealing to me as I had been looking for a post-grad school opportunity at that time. The chance to experience the day-to-day operations and contribute to the work of a nonprofit in the U.S. is a very unique opportunity in my opinion. There are many fellowships and exchange programs out there, but the idea of Atlas Corps is different because it creates a mutually beneficial process, where both the fellow and the Host Organization exchange knowledge and best practices. Scott Beale, the Atlas Corps CEO, always says: "Talent is universal but opportunity is not." Atlas Corps strives to correct that through their program and does so successfully.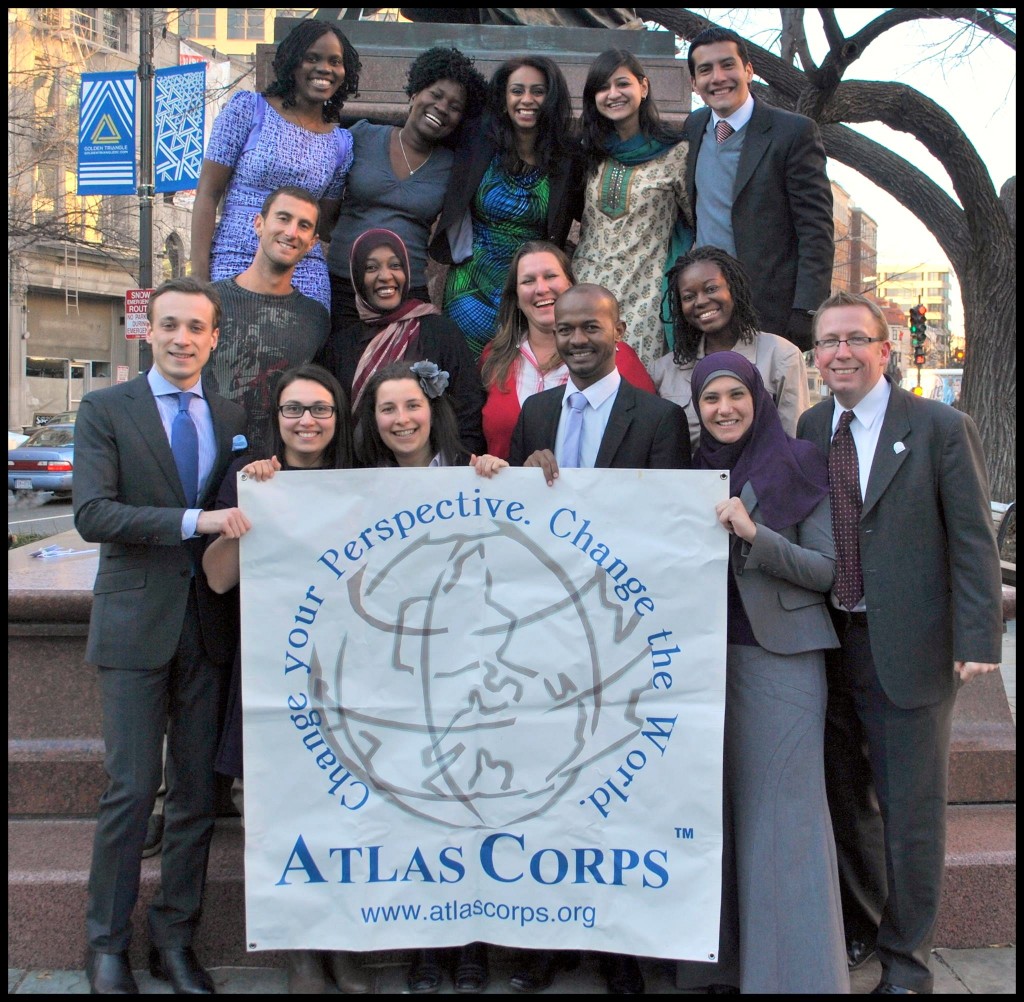 2. What have been some of the most eye-opening moments during your fellowship?
I'd have to say that meeting all of the amazing, talented fellows from around the world was an eye-opening and life-changing moment. Also, I'd studied in the U.S. before, so I just assumed that this year would be similar to that, but was quickly proved wrong. I definitely had to deal with some unexpected challenges and was off to a pretty rough start, but I was very lucky to be placed at a wonderful host organization, Net Impact. Net Impact is a network of more than 50,000 next-generation leaders that wish to use their business skills to create positive social and environmental change in the workplace and beyond. My job during the fellowship was to create innovative and interesting content for their flagship event, the Net Impact Conference. I learned a great deal working on the 2013 Net Impact Conference, which convened in the heart of the Silicon Valley, California that year. The conference itself was simply amazing, with many sleepless nights leading to it, but at the same time a deeply gratifying experience. Besides my time serving at Net Impact, some of the most memorable moments of that year  were attending President Obama's inauguration and hiking Half Dome in Yosemite National Park. Now that's an eye-opener!
3. What tips would you give others applying to Atlas Corps?
My biggest advice would be to be flexible, open-minded and ready for a bit of an adventure. I'm on the Atlas Corps Selection Board, so I interview prospective fellows and every year I am very impressed by the accomplished pool of candidates. To make your application stand out, really think about what skills you can bring to the table and why you think Atlas Corps is the right program for you. Also, be ready to answer the question regarding what you want to do when you return to your home country, as that is the central tenet of the Atlas Corps fellowship.
Nurangiz is from Moscow, Russia and has five years of international experience in the nonprofit sector, and earned a Master's of Science in International Development and Management from Lund University, Sweden. Prior to completing the Atlas Corps Fellowship, she worked for the Migration and Law Integration Center in Moscow coordinating a project on providing assistance to Moldovan children and families in Russia, in partnership with the Terre des hommes Foundation. She is now doing freelance consulting work and co-leads an English public speaking club in Moscow. 
© Victoria Johnson 2014, all rights reserved.
---
Interested in applying? Bookmark Atlas Corps to your ProFellow account!