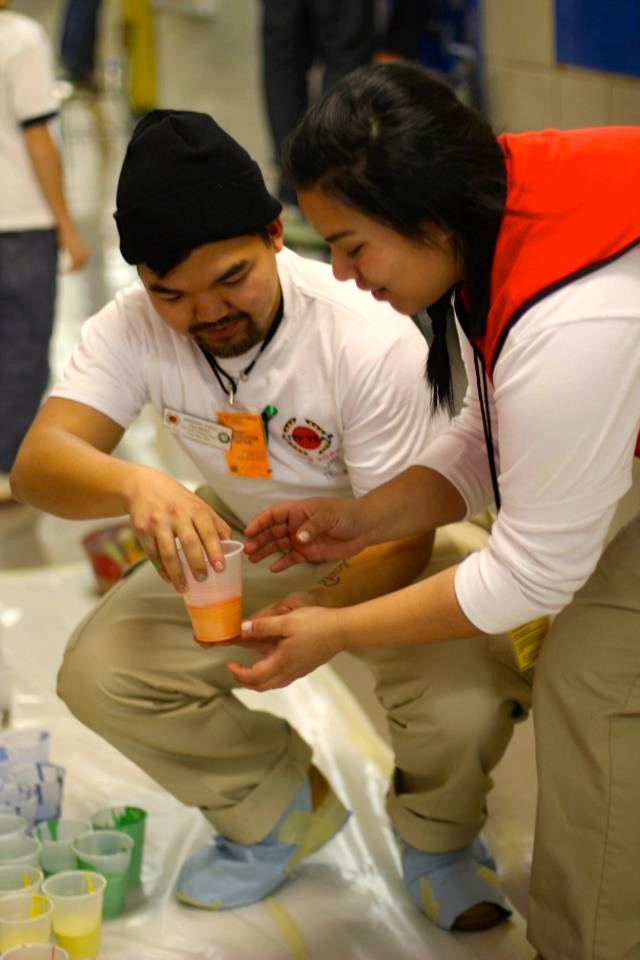 City Year's motto is give a year, change the world – and that's exactly what Jill Leahy did. As a member of City Year New York's 2011-12 corps, Jill dedicated a year to helping at-risk New York City students stay in school and on track to graduation. According to City Year's website, one million students drop out of school each year, and half of those dropouts come from just 12% of schools. City Year aims to challenge the status quo and dramatically increase the graduation pipeline by providing paid, professional fellowships to motivated people aged 17 to 24 who are dedicated to City Year's mission. City Year corps members spend a year working in under-resourced schools providing support to 3rd through 9th graders. They also organize and lead activities, celebrations and projects to improve the community and school environment. City Year operates in 24 U.S. locations and with two international affiliates in Johannesburg, South Africa and London, England.
While most of the corps experience is focused on delivering service to students in high-need schools, throughout the year corps members receive training and peer support, including a three to four week orientation in City Year's Basic Training Academy and a Basic Training Retreat, which offers two to three days of team building, reflection and training. Now a Senior Corps Member at City Year New York, Jill Leahy helps train the next generation of City Year corps members. As the City Year application is approaching on February 15, we asked Jill more about her year of service.
1. What inspired you to apply to City Year and what did you do during your year of service?
Growing up, service and giving back were extremely important to my family. I knew I wanted to take a gap year after college, and I began looking into various programs that focused on education. I have worked with students and children extensively in the past and I was passionate about educational equality. When I discovered City Year, I knew that a program like this would be the perfect fit for me. City Year's mission, values and goals directly aligned with my own beliefs, especially the idea of "service to a cause greater than self." After researching City Year and having the opportunity to shadow a team, I was able to see the positive impact corps members were having on students every day. It was apparent to me that a position at City Year would be a life changing experience and would allow me the opportunity to grow as a leader and a professional as I worked within the education system in New York City.
Throughout the course of my corps year in 2011-2012, I had the opportunity to work on a team with ten other corps members in an elementary school in East New York, Brooklyn. We began our day every morning at 7:40 A.M., welcoming students into the school. Throughout the day, we worked with third, fourth, and fifth graders who were considered below grade average or "Tier 2" students. We provided academic support In English and math to students as well as behavior and attendance coaching.  Monday through Thursday, we ran an after school program that provided students with extra help in homework, as well as enrichment clubs. Throughout the year, our team planned events for various students and the whole school to create a more positive school atmosphere. City Year also provides corps members time to work on individual leadership. On Fridays, we were provided additional trainings, professional development opportunities and time to reflect on the change that we had been making throughout the year.

2. What was the most eye-opening aspect of the City Year experience?

Before starting City Year, I researched the communities the organization served in New York City and I had a glimpse at the struggles and issues that students in the neighborhoods faced daily. Coming from a town where attending college is the norm, I found it hard to imagine that it could be so different elsewhere. Every day, students are dealing with issues within their community and at home, as well as within their school, that distract them from their academic work. Over one million students drop out of school every year, and working in an elementary school, I was surprised to hear students speak about the poverty, violence and crime that occur every day outside their door. Sadly, things that were happening outside of school lead them to believe that school is not important. Being able to work with these students I was able to better understand where they were coming from and help them understand the importance of education. It was there that I learned that all they truly wanted was a chance to succeed.  Overall, having the opportunity to work in such a culturally diverse neighborhood I was able to understand that although our backgrounds and experiences are very different, these students want the same opportunities and the same future that I have been provided.
3. What tips would you give others applying to City Year? 
Be serious about dedicating ten months to service. This work is not easy, and the days can be long. Take the time to research the organization, learn more about what a typical day looks like and decide whether City Year is a good fit for you. Corps members are people who have passion and skills including being able to work in teams, being flexible, having strong communication skills and being willing to give all you have to provide the best service for the students and communities that you'll serve.
City Year is continually growing and is becoming a more competitive program. Take your application seriously and prepare for multiple interviews while upholding yourself in the most professional way. City Year values diversity- use your experiences, your knowledge, and your skills to figure out ways that you can make a difference in a student's life and why you would make a great corps member. City Year wants young people who are motivated, dedicated and ready to make a difference in schools and in underserved communities. If this sounds like you, you're already on the right path!
Jill Leahy is originally from Hanover, Massachussets.  She is a 2011 graduate of Hofstra University where she graduated with a business degree with a concentration in management and finance. Jill previously served as a Corps Member with City Year New York in 2012-13. She stayed on as a Senior Corps Member and currently serves as a Team Leader providing training and mentorship to City Year Corps Members. After City Year, she hopes to continue working within the education system while utilizing her business skills.
© Victoria Johnson 2013, all rights reserved.