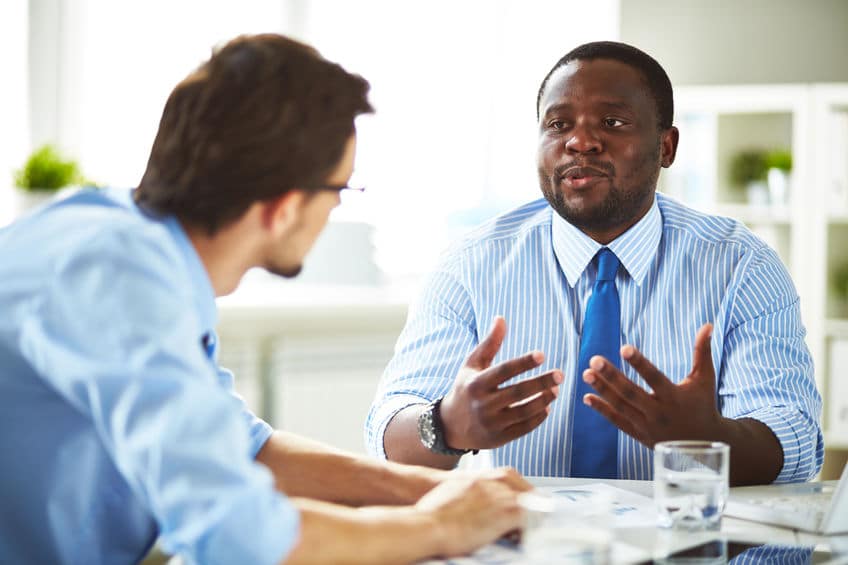 By Jonathan Cantarero
Ask anyone the most stressful part of applying for a fellowship and chances are they'll say the interview. Whether it's a one-on-one, a panel of department heads, or multiple rounds over several months (Yes, I've done each of these!), interviewing is a nerve-racking experience. My own ups and downs in navigating these high-stakes meetings have taught me simple but useful ways to improve anyone's interview performance. This article discusses five pointers that will help you succeed in virtually any interview setting.  
1. Be Happy — Seriously.
Who doesn't like a happy person? That's why I tell everyone to approach interviews with a positive attitude and mindset. This isn't just pep talk—happiness is a powerful and contagious emotion that not only gives you confidence heading into the interview room but also makes you a more likable candidate. Showcasing this type of positive energy during an interview will set you apart by making you appear calm, collected, and approachable—sound like someone you'd want to work with? Here are a few ways to live and breathe happiness during an interview: 
Smile, smile, smile!: Every committee is looking for someone who's easy to work with. Smiling when you meet these decision-makers is an easy but effective way to create this sense of comfort immediately. Beyond that, smiling throughout an interview sends a subtle but powerful message that you have a real passion for the work and would be the right person for the job. It also doesn't hurt that your interviewers usually smile back!
Speak in a positive tone: Nothing turns off an interviewer more than a candidate who speaks negatively about themselves or others. A few "no-no's" in this area include: speaking poorly of your skills; dwelling on past bad experiences; and throwing others under the bus. Instead, keep the happy vibes going by speaking positively throughout your interview. Highlight your skills and talents. Mention what you admire most about the organization. Maybe even tell a joke that showcases your personality in a way that applies to your expected job duties. And remember, don't forget to smile!
Send a thank-you note:

Sending a simple letter or email thanking someone for taking the time to interview you is one of the best ways to add an upbeat and positive touch to your application. This often-overlooked gesture is also a great way to express genuine gratitude for being considered for the position. As an added plus, sending a thank you note a few days after your interview is a sure-fire way to keep your application fresh in the minds of those making the final decisions.  
2. Think Through Your Answers.
Coming up with good answers to hard questions is key to any successful interview. Most of us respond way too quickly when put under this kind of stress. More often than not, we end up stumbling on our words with "ums" and "ahs," and taking longer to answer than if we had just paused for a second to collect our thoughts. Some of this is nerves, and some might be the need to show that you can "think on your feet." Either way, rest assured that interviews are the one place where a late response is much better than a bad one.   
One great way to practice answering hard questions is through mock-interviewing. Doing a few of these will give you a sense of your timing and delivery, and allow you to get some valuable feedback from others. If your school doesn't offer them, ask a friend or family member to help you out. One common scenario you might consider practicing is addressing weak spots in your application. For example, you might try to spin any perceived defects in a positive light by casting them as opportunities to learn something new. Another great tip for mock interviews is to practice repeating questions in your head before answering. Aside from giving you a few extra seconds to respond, this will help you internalize questions to ensure that you actually understand what's being asked. If you ever find yourself having to ask someone to repeat a question, that's a good cue that you should be taking a few extra seconds to listen and digest what's being asked.
Lastly, but not least, do your best to remain calm during both the practice and real interviews. Just as nerves and anxiety make most of us speak faster and sometimes stumble on our words, a calm and collective demeanor during an interview usually translates into a slower—more thoughtful—delivery.  
3. Remember Your Prep-Work.
It's no secret that pre-interview preparation is essential to a great interview performance.  Once you've gone over your application, developed some talking points, and anticipated possible questions, make sure you have a way to draw on those resources during the actual interview. While this may seem obvious, I cannot tell you how many friends over the years have told me about all the effort they put into their interviews only to say that they threw "everything out the window" come game time. Again, interviews are stressful and it's easy to forget these things in the moment. Here are a few things you can do: 
Practice specific interview scenarios: Now that you've done all your prep and research, try to think of ways to bring up the important details in a natural and organic way during the interview. Whether it's a unique connection to the organization or an anecdote that might resonate with your audience, make sure to think through how to mention these gems of information in ways that don't seem awkward or choreographed. This could mean preparing segues from questions you might be asked, or having a thirty-second pitch ready about why you're the perfect candidate. In the end, the more you practice and develop a game plan, the more likely you are to draw upon your prep work in ways that will make you stand out. 
Bring a Folder: If you're one of those people who worry about forgetting something during an interview, bring a folder. Besides making you look more professional, taking a folder gives you a place to put application materials, notes, and any prep work you might want to review before your name is called. Depending on what you're interviewing for, some things you might want to bring are: bios on your interviewers; a writing sample; questions you might be asked; and questions you have for the organization. Also, feel free to bring an updated resume or transcript to show that you've continued to improve since you first applied for the position. It's not uncommon for some interviewers to ask whether you brought any supplemental materials.
4. Make it Personal.
Mentioning a personal connection to an organization can really seal the deal to securing a fellowship. Once, I applied for a fellowship in environmental justice and found out, while doing prep work, that my interviewer had done some amazing advocacy work in my own hometown. I was very familiar with the environmental issue but had no idea about this person's involvement. During my interview, I mentioned this connection to my own interest in environmental justice, and how the interview's advocacy work had a real impact on my community. The interviewer's face lit up and within a few days, I was offered the position!  
While my story may seem like a one-in-a-million case, you'd be surprised how often these helpful "coincidences" happen. Taking the time to do some research on an organization and craft a narrative like this can add a huge personal touch to set you apart from the crowd. The goal here is to do more than just name drop (though even that may help); it's about telling a story that paints a picture of how an organization or issue has impacted your life. When used correctly, making your interview personal in a positive way will add a huge boost to your application. 
5. Ask the Right Questions.
Nearly every interview ends with: "do you have any questions for me?"  This is a golden opportunity to: (1) show that you know a lot about the organization; (2) convey that you have a strong interest in a particular area or issue; and (3) prove that you've thought through the responsibilities that go along with the position.  Common questions you should ask are:
What type of training do you provide?

What does a typical day look like?

Who would I be working with and reporting to? 

What expectations are there for fellows? 

Are there opportunities to work in X, Y, Z area?

What's the most common question you get?
All of these questions tell an interviewer that you're serious about working with them, you're thinking ahead about what to expect, and that you're motivated to go above and beyond.  Asking just one or two of these questions will show the decision-makers that you are engaged and should be taken seriously. With any luck (not that you need any) you'll walk away with an offer in hand and a fellowship to add to your resume. Good luck!  
Jonathan Cantarero is an attorney based in New York City.  He is a former Graduate Fellow at the City University of New York School of Law (2013-16) and Schulte, Roth, and Zabel Fellow for New York Lawyers for the Public Interest (2014-15).  Whenever he is not reading legal briefs or posting on ProFellow, Jonathan, who is also a seminary student, enjoys writing on the intersection of law and religion. 
© Victoria Johnson 2020, all rights reserved