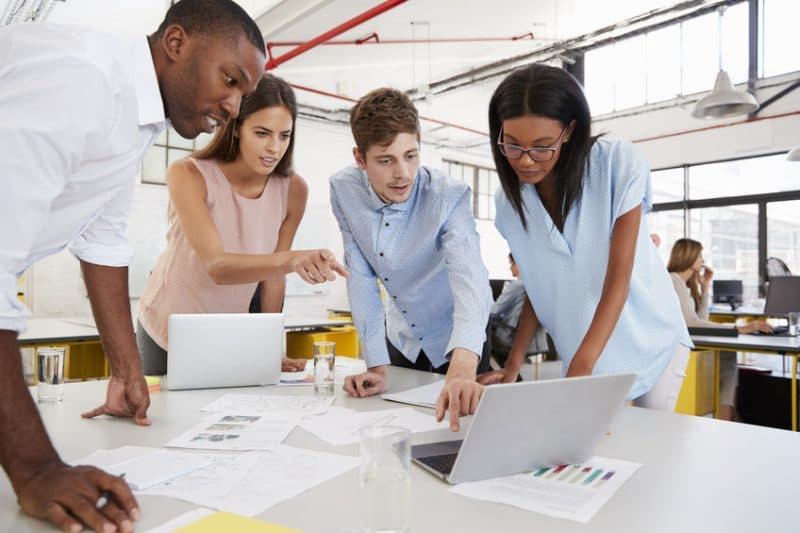 If you are passionate about making a difference in your community through entrepreneurship, these fellowships are for you! The opportunities they provide are wide-ranging and give you practical experience in your field. Whether you want to serve communities through the arts, compete for a $100,000 investment in your company, or work with a team to reduce poverty, these fellowships have the potential to be transformative in your work as a social entrepreneur. The programs listed below are divided into two categories: fellowships for U.S. entrepreneurs and then global fellowships.
U.S. Fellowships
The Baltimore Community Fellowships program seeks dynamic activists and social entrepreneurs interested in implementing projects that address problems in underserved communities in Baltimore city. Fellowship awards are in the amount of $60,000 over 18 months. Fellowships are for initiatives that take place in Baltimore City. Applicants may come from any field, including—but not limited to—business, management, the arts, law, medicine, education, architecture, and engineering. Individuals from underserved communities and people of color are strongly encouraged to apply.
The Creative Community Fellows program is for leaders working at the intersection of culture and community. All Fellows enter the program with an idea for a cultural project that responds to a problem they want to solve in their communities. The program consists of a 6 month online course starting with a 1 week residence in a breathtaking, farmhouse-style estate in Vermont. Eligible applicants are cultural entrepreneurs igniting change through arts and culture in their community. Tuition, including room and board, is completely underwritten for all Fellows. Fellows are only responsible for their travel costs to any in-person events.
The DRK Foundation seeks to dramatically improve the lives of people and the world around us through innovative strategies, systems changing approaches, and disrupting technologies. To do this, the DRK Foundation partners with entrepreneurs to build strong and capable organizations. DRK grants provide significant funding, mentorship and an unparalleled network of entrepreneurs. Candidates must be experienced, dedicated social entrepreneurs with a developed, early-stage idea for a non-profit organization based in the United States. The DRK Foundation provides $300,000 in unrestricted startup funding, paid over 3 years.
The Halcyon Incubator program equips early-stage social entrepreneurs with the support they need to transform audacious ideas into scalable and sustainable ventures, and change the world. Fellows learn many aspects of running a business, receive mentorship throughout the entire process and make connections that will benefit them as they move forward with their idea. The fellowship includes a 5-month residency at the Halcyon house, workspace after the initial training and a stipend. Available to social entrepreneurs from around the world who are fluent in English and have legal work status in the U.S. during the time of the fellowship.
The Kauffman Knowledge Challenge: Insight to Impact supports activities aimed at improving the basic understanding about entrepreneurs and the levers, tools and methods that can advance entrepreneurship in the United States. The goal of the Knowledge Challenge is to produce tangible insights for entrepreneurs,  entrepreneurship program and policy design, ecosystem builders and researchers.  The Knowledge Challenge may grant up to $400,000 annually for project teams, up to $150,000 annually for individual researchers and up to $30,000 annually for students or student teams and/or doctoral researchers for projects up to 4 years in duration.
The BMA fellowship is for social entrepreneurs who are starting up new and innovative social entrepreneurship organizations dedicated to improving the life outcomes of black men and boys in the U.S. The fellowship is for 18 months and provides fellows with stipend amounts of $90,000 for a partnership and $80,000 for an individual Fellow. Fellows received access to technical support and pro bono partnerships and a community of like-minded social entrepreneurs and public service leaders. While your organization must focus on issues affecting black men and boys, the BMA Fellows are not required to be part of this population and will be chosen regardless of race, gender or ethnicity.
The Global Social Benefit Fellowship provides a comprehensive program of mentored, field-based study and action research within the GSBI worldwide network of social entrepreneurs. The fellowship is for juniors at Santa Clara University and combines a fully funded summer field experience in the developing world with two quarters of academically rigorous research, a program of practical social justice. A 9-month fellowship for that provides a comprehensive introduction to the social enterprise movement. Each fellow receives a support package to cover all  international travel, in-country expenses, and research costs, plus a modest summer stipend.
The Tory Burch Foundation Fellows Program is a nation-wide competition for women entrepreneurs. Each Fellow will participate in a one year program which includes: mentoring, networking and business guidance for one year, a $10,000 grant to further their business education, and a 3-day trip to New York City to the Tory Burch headquarters that will include the opportunity to participate in a pitch competition. The winner of the pitch competition will receive $100,000 grant investment. Your company must be registered and operated in the United States.
Each year, Wild Gift selects a small group of "better world entrepreneurs" for a 12-month Fellowship that includes mentoring, fundraising support, and wilderness-based programs that teach leadership and business skills while building a lifelong support network. Each Fellowship begins with a 20-day team expedition in the Idaho wilderness. The expedition challenges each Fellow physically and emotionally and connects them to the natural world on a very personal level. After a year of monthly video calls and mentoring, Fellows return to Idaho to reconnect and float the Salmon River. At the conclusion of the Fellowship, Fellows are welcomed into an active group of alumni and supporters.
The Young Leaders of the Americas Initiative (YLAI) empowers entrepreneurs to strengthen their capacity to launch and advance their entrepreneurial ideas and effectively contribute to social and economic development in their communities Professional Fellows from Latin America and the Caribbean will expand their leadership and entrepreneurial experience through fellowships at businesses and organizations across the United States, learning skills to bring back to their home countries. The fellowship is for 4 weeks which includes skill development workshops, covers all expenses and offers support in obtaining a J-1 visa.
Global Fellowships
The Acumen East Africa Fellows Program is a one-year, fully-funded leadership development program that gives 20 individuals from across East Africa the training they need to accelerate their social impact and leadership potential. Fellows participate in five seminars and travel and accommodations are covered. During each seminar, Fellows receive world-class trainings on topics ranging from design thinking to adaptive leadership. Candidates are entrepreneurs who started their own organization, or individuals who are influencing change within an existing organization.
Ashoka Fellows are leading social entrepreneurs who we recognize to have innovative solutions to social problems and the potential to change patterns across society. Ashoka Fellows work in over 70 countries around the globe in every area of human need. From nomination to election as a Fellow, candidates go through an extensive series of in-depth interviews, a judging panel, and a final executive board vote. There are no age limits, education, class, race, or other such bars to election. The three year fellowship includes a living stipend to cover all expenses (customized for each Fellow). Applications accepted all year round on a rolling basis.
The BHSI Fellowship was designed and created in 2011 by Leslie Bluhm and David Helfand as a way of advancing the next generation of social innovators, entrepreneurs and change agents. The BHSI Fellows are hosted in Chicago for Chicago Ideas Week, which is in October each year. All expenses are paid. Fellows gain exposure for their organization, establish a community of support, and receive a $10,000 financial contribution to their venture. All applicants must be 35 years of age or younger. Applicants may be from anywhere in the world and ventures may be for-profit or not-for-profit entities.
The Cansbridge Fellowship seeks to build future leaders through a program that fosters growth through creating new ideas and using a powerful network for change. Leaders and entrepreneurs who think outside the box and who have a past as risk-takers are invited to apply. Fellowship includes international work experience in Asia, a conference in San Francisco and access to the Cansbridge Global Network. Applicants must be undergraduates currently enrolled in a Canadian college or university and pursuing a degree in business, science, design or technology.
Cordes Fellowships provide exceptional social entrepreneurs and nonprofit leaders engaged in poverty alleviation and economic justice enterprises the opportunity to participate as Delegates in the Opportunity Collaboration, a four-day problem-solving, strategic retreat. Cordes Fellows attend the full Opportunity Collaboration and take part in all Delegate sessions. The all-inclusive Cordes Fellowship includes all on-site costs for housing and meals (5 nights lodging, 3 meals per day), gratuities, airport shuttle, etc. All Fellows are responsible for their own roundtrip airfare. Financial need is a primary consideration.
The Echoing Green Climate Fellowship, built in partnership with the ZOOM Foundation, was launched for leaders committed to mitigation and adaptation to climate change. Echoing Green is interested in applications from social entrepreneurs interested in the full spectrum of mitigation and adaptation responses. This can be anything from a US-based technological solution to a developing world-based community organizing solution. Fellows receive a stipend paid in four equal installments over two years ($80,000 for individuals; $90,000 for two-person partnerships), in addition to health insurance and professional development stipends.
Echoing Green's world-renowned, and highly competitive, two-year Fellowship program provides more than $2 million in seed funding to a diverse group of the world's most promising social entrepreneurs. Fellows receive up to $90,000 in funding to launch new organizations, health insurance and professional development stipends, access to Echoing Green's robust network (500+ alumni), leadership development opportunities, and one-to-one support and counseling. Applicants must be fluent in English, have an independent social entrepreneurship organization in the startup stage (2 years or less), and be committed full-time to their venture.
The Global Good Fund accelerates the development of high potential young leaders tackling the world's greatest social issues through entrepreneurship. We achieve this by investing both targeted human and financial capital in these leaders through our 15 month fellowship program. We support our Fellows in their natural work environments, craft personalized Leadership Development Plans, and pair Fellows with personalized executive coaches through implementation with up to $10,000 in funding. We additionally provide fellows with leadership assessment resources, a network of peer leaders, and sector expertise.
Miller Center provides capacity-strengthening services to leaders of business for good. For social entrepreneurs addressing women's economic empowerment and climate resilience who want to scale their impact, Miller Center offers pro bono programming with executive mentorship and a structured curriculum to help develop robust business plans for investment and growth. 100% of program participants leave with a more robust, integrated, and credible plan for scaling. Applicants are the senior leaders (e.g., CEO, Executive Director, Managing Director) who have the availability to participate in the program's 6-month duration, requiring an average of 4-6 hours/week.
Rainer Arnhold Fellows are social entrepreneurs with particularly promising solutions to the big problems in health, poverty, and conservation in the Third World. Fellows are recruited through our network of leaders, thinkers, and doers in the social and private sectors. The Fellows course brings Fellows and faculty together for a week to work on design for maximum impact and scalability. Held in a mountain nature preserve, the course gives Fellows the rare opportunity to focus completely on their ideas and a systematic way to apply them. Fellowships are for two years and include a discretionary stipend of $10k/year.
Resolution Fellowships recognize young leaders for their initiative and innovation in addressing social challenges through social entrepreneurship. Resolution provides Fellows with access to a full ecosystem for a new social entrepreneur. This includes seed funding of up to $3,000 per team to launch the venture proposed for a Social Venture Challenge, along with ongoing mentorship, pro bono services, robust support and access to the Resolution network. You must be a current undergraduate student in college or university and a Founder of the Social Venture you are proposing. Please check the websites for upcoming Challenges.
The Thiel Fellowship is unlike anything you've ever experienced. The Fellowship brings together some of the world's most creative and motivated young people (under age 20), and helps them bring their most ambitious ideas and projects to life. Thiel Fellows are given a no-strings-attached grant of $100,000 to skip college and focus on their work, their research, and their self-education. They are mentored by our network of visionary thinkers, investors, scientists, and entrepreneurs, who provide guidance and business connections that can't be replicated in any classroom. Rather than just studying, you're doing.
The Voqal Fellowship is an investment in a new generation of social entrepreneurs working for social justice, progressive politics or transformative media and technology. Voqal Fellows will receive a $30,000 stipend and will be expected to complete a project in six months. Candidates must have 3-5 years of work experience and may not be currently enrolled in a graduate program. The fellowship is intended to provide an opportunity to build out an idea or concept that would not be possible to accomplish with a full-time job. Qualifying fellows may also be eligible to receive an additional stipend to help offset the cost of personal health insurance. Ideal candidates for the fellowship are driven, tech-savvy social change agents who thrive under self-direction.
© Victoria Johnson 2018, all rights reserved