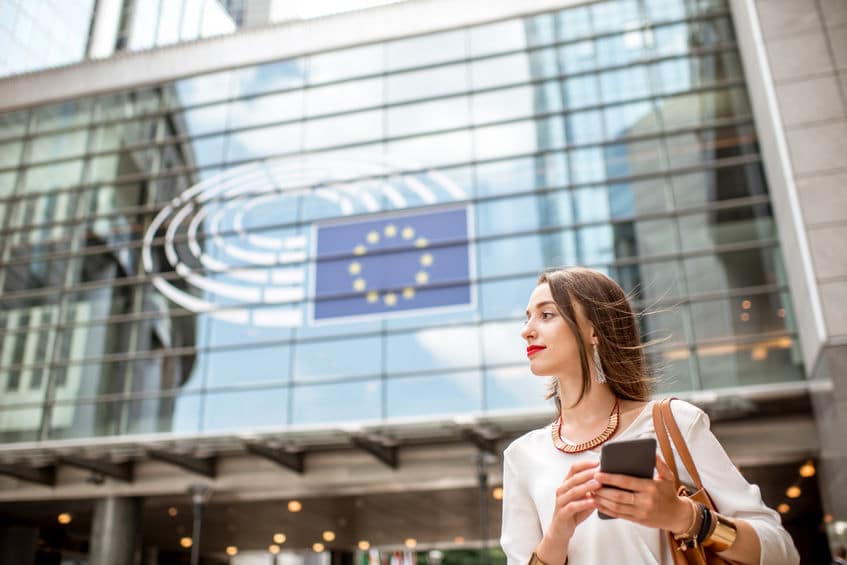 Fellowships can give journalists resources to focus on an important story or get hands-on experience in their field in a new location. This list includes a wide variety of short and long-term journalism fellowships in Europe for broadcast, print, radio, and digital media journalists. This list also includes journalism fellowships for recent graduates and journalism students.
Sign up to bookmark these fellowships to your ProFellow account!
A distinguished international initiative that each year offers up to 18 accomplished young Americans and Britons and three Germans the opportunity to complete a high-level professional development program in Russia. Fellows complete work placements at leading institutions, attend professional seminars, and receive intensive language training. Fellows receive a monthly stipend, language training, program-related travel costs, housing and insurance. Russian proficiency is preferred; qualified candidates with fluency in another second language may be considered. 
Alicia Patterson Fellowships are one-year and six month grants awarded to working journalists to pursue independent projects of significant interest and to write articles based on their investigations for The APF Reporter, a web published magazine by the Foundation. The fellowships are open only to U.S. citizens who are full-time print journalists, or to non-U.S. citizens who work full-time for U.S. print publications, either in America or abroad. Reporters, writers, photographers and editors are all eligible to apply. The fellowship stipend is $40,000 for twelve months and $20,000 for six months and must cover your travel and research costs.
The Academy welcomes applications from emerging and established scholars, writers, and professionals who wish to engage in independent study in Berlin. Approximately 24 Berlin Prizes are conferred annually. Past recipients have included historians, economists, poets and novelists, journalists, legal scholars, anthropologists, musicologists, and public policy experts, among others. Fellowships are typically awarded for an academic semester or, on occasion, for an entire academic year. Bosch Fellowships in Public Policy may be awarded for shorter stays of 6-8 weeks. Benefits include round-trip airfare, partial board, a $5,000 monthly stipend, and accommodations at the Academy's lakeside Hans Arnhold Center in the Berlin-Wannsee district. Fellowships are restricted to individuals based permanently in the U.S.
The ArtsEverywhere Fellowship for Artistic Journalism is a year-long program of support for any individual whose work exhibits a commitment to integrating creative practice with rigorous journalistic research, writing and multimedia production. The fellowship will be a continuation of a line of inquiry and body of work ArtsEverywhere has been developing for the past two years — The Curse of Geography. Accepted fellows will receive support from professional artists, journalists and producers. Projects focused on locations in Africa, Asia, Australia, the South Pacific, South America and the Caribbean, or in under-reported parts of North America and Europe, will be given preference. The fellow will receive 15,000 CAD as a fee and 5,000 CAD for travel, equipment and other project costs.
The Rockefeller Foundation Bellagio Center's mission is to promote innovation and identify impact-oriented solutions to critical global problems. The Center offers residencies in Italy to policymakers, nonprofit leaders, journalists, and public advocates in fields and institutions relevant to the Rockefeller Foundation's work and its current issue areas of Advance Health, Revalue Ecosystems, Secure Livelihoods, and Transform Cities. We seek practitioner applicants with demonstrated leadership qualities. Room and board are provided to all residents and their spouses/partners. Residencies last between 2-4 weeks.
The Bicentennial Fund awards grants up to SEK 30,000 in support of intensive research trips to Sweden of 2-4 weeks in length. Applicants should have well-developed projects within the prioritized fields of politics, public administration, working life, human environment, mass media, business and industry, education or culture. The grant is specifically intended for professional enrichment and is thus not applicable to work related to academic degrees, programs or conferences. Only U.S. citizens or permanent residents are eligible.
The Bringing Home the World Fellowship sends U.S. minority journalists overseas to cover stories that resonate with their local communities. Selected fellows arrive in Washington, D.C., for orientation that includes story workshopping, safety training, multimedia storytelling, and advice on working with fixers/interpreters. The program provides mentors and support for fellows to report in-country overseas for up to two weeks, including costs for travel, lodging, and interpreters. The fellowship is open to English-speaking minority journalists working at a U.S. news organization or as freelance journalists in the United States.
Moment's Daniel Pearl Investigative Journalism Initiative (DPIJI) allows young journalists to do in-depth reporting on anti-Semitism and other deeply ingrained prejudices around the world. Open to journalists ages 22–38. Each cycle, Moment—with the help of an advisory board of journalists—selects one DPIJI Fellow, who receives $5,000 ($2,500 upfront and $2,500 upon publication) to produce a story. Fellows work closely with Moment editors and selected mentors to publish their completed project in Moment as well as partner media outlets.
The Pulliam Fellowship awards $75,000 to an outstanding editorial writer or columnist to expand their journalistic horizons and knowledge of the world. The annual award can be used to cover the cost of study, research and/or travel in any field. Candidates must hold a part-time or full-time editorial writing or columnist position at a news publication in the United States and have at least 3 years relevant work experience. Fellows must publish their work in the form of editorials and other writings, including books, within 18 months of receiving the fellowship.
The FASPE Journalism Program examines the role played by German and foreign journalists from 1933 to 1945, underscoring the reality that moral codes governing journalists can break down or be distorted with devastating consequences. Having demonstrated the power held by journalists in a modern society, FASPE addresses ethical issues now facing individual journalists and media institutions at large. Fellows from journalism schools, as well as early-career journalists, are invited to spend two weeks in Berlin and Poland where they will visit key historical sites and participate in daily seminars as they consider many different topics in ethics.
Based at Masaryk University, Fellows will teach two 90-minute courses per week at advanced undergraduate and graduate levels, consult on curriculum development and conduct research in the area of specialization. Applications are sought in all appropriate specializations, including energy studies, international relations, media studies and political economy. Open to academics and appropriately qualified professionals outside of academia. Monthly maintenance allowance of $4,850 for Distinguished Chairs.
The Fulbright/National Geographic Digital Storytelling Fellowship is a new component of the Fulbright U.S. Student Program that provides opportunities for U.S. citizens to participate in an academic year of overseas travel and digital storytelling in up to three countries on a globally significant social or environmental topic. In addition to receiving Fulbright benefits (for travel, stipend, health, etc.), Fellows will receive instruction in digital storytelling techniques and will be paired with one or more National Geographic editors. Applicants may submit proposals for grants to 1-3 foreign countries.
The German-Israeli Journalists' Fellowship is a travel and work fellowship for young journalists from Israel to spend a 2-month period in Germany. At the same time, the fellowship is being offered to journalists in Germany, who can apply to spend a 2-month period in Israel. The fellowship is intended to enable young journalists to familiarize themselves with political issues in Germany (or Israel) at an early stage of their career and raise awareness in aspects of German-Israeli relations in the future. The fellowship carries a single payment of 4,000 Euro per person to cover expenses throughout the project.
The Google News Lab Fellowship offers students interested in journalism and technology the opportunity to spend the summer working at relevant organizations across the world to gain valuable experience and make lifelong contacts and friends. Fellows receive a stipend and a travel budget during the 10-week program, which runs from June-August. Available in the U.S., U.K., South Korea, Germany, Australia, Denmark, Finland, Sweden, Norway and Ireland. Deadlines and eligibility requirements vary by country, check site.
The Lénaïc Fund for Quality Journalism provides a fellowship for up to two recently graduated young female students (under the age of 28) from an EU country interested in kick-starting their career in the important profession of EU journalism. Each selected participant will benefit from a financial bursary of up to 5.000 € and a fellowship placement of up to 6 months in one of a number of Brussels-based media organizations with a focus on EU affairs. There will be two 5 month fellowship placements per year. The first runs March until July, the second from October to February.
The fellowships allow American and German experts from journalism, the public sector, think tanks, nonprofits, law, and cultural organizations to research and assess the most pressing topics on the transatlantic agenda while engaging with their counterparts overseas.Proposals must address one of the following global trends: climate change and sustainability, demographics and social change, technological breakthroughs, and urbanization. The fellowships allow Americans to travel to Germany and Germans to travel to the United States for at least 3 weeks to conduct research. Fellows receive a $5,000 stipend, which covers transatlantic airfare and domestic travel, as well as room and board, for a minimum of 21 days. Candidates are 45 years of age or younger at the time of the application deadline and have a minimum of 5 years of relevant, full-time work experience.
The MJ Bear Fellowship identifies and supports digital journalists under 30 whose work represents the best of digital news. Six fellows from around the world who are up-and-coming journalists and leading innovative digital journalism projects participate in a yearlong program. Program components include a speaking opportunity at ONA's annual conference (with an expenses-paid trip); coaching sessions; complimentary membership to ONA for three years; and other opportunities to showcase work and expertise with the ONA community and broader industry.
Two awards are on offer: one, for a British or Irish applicant, will consist of a 3 month fellowship in continental Europe at The Economist; the other, for an applicant from elsewhere in the European Union, will be in London at the Financial Times, also lasting 3 months. Both winners will receive a bursary of £6,000 to cover accommodation and travel. The fellowship is intended for aspiring or early-career journalists (EU citizens only) with bold ideas and a lively writing style. The fellow should have a particular interest in European affairs.
The fellowship funds work that will enrich public understanding of those challenges and stimulate far-reaching and probing conversations within the Open Society Foundations and in the world. A fellowship project might identify a problem that has not previously been recognized, develop new policy ideas to address familiar problems, or offer a new advocacy strategy. Project themes should cut across at least two areas of interest: human rights, government transparency, access to information and to justice, and the promotion of civil society and social inclusion. The Open Society Fellowship accepts proposals from anywhere in the world. Stipends are either $80,000 or $100,000.
As a Reuters Institute Journalist Fellow, you'll spend one, two or three terms at the University of Oxford. The Institute offers fully funded Fellowships to established mid-career journalists from throughout the world. Applicants must have a minimum of 5 years' experience in any branch of journalism and demonstrate sufficient proficiency in English to be able to participate fully in the life of the Programme and write a research paper in English of publishable quality. Fellowships may be for 3, 6 or 9 months covering one or two terms or a full academic year (October – June) respectively. Awards may include travel expenses (including air travel economy class) and a modest living allowance.
The Richard Beeston Bursary provides two £6,000 journalism fellowships annually. One fellowship is for an aspiring British foreign correspondent to spend 6 weeks abroad, researching and reporting a foreign news story for The Times newspaper. The other fellowship is for a young Israeli, Lebanese or Palestinian journalist to spend six weeks on secondment to The Times in London, England. Applicants must have at least 2 years journalistic experience, be under the age of 30 and have a professional command of the English language.
A joint program of German Universities of Applied Sciences (UAS7) and DAAD, this program offers students a full academic semester of study abroad at one of the UAS7 universities in Germany followed by a one-semester professional internship experience in a company or research institute in Germany. Must be currently enrolled as sophomores or juniors in one of these fields – engineering, science, life sciences, business, management, economics, architecture, art, design, journalism, social work. If selected, you will receive a full tuition waiver for both semesters and are also eligible for a DAAD Scholarship or a UAS7 Travel Scholarship.
Uncomfortable Revolution is offering 4 paid media fellowships to support up-and-coming media talent, and give them a launchpad for their future careers. Fellowships last for a total of 6 months, during which fellows receive a €2,000 stipend to develop a creative work on the theme of awkward conversations that arise from chronic illness or disability. The 4 fellowship options include projects in writing, the visual arts, podcasts and videos. Authentic stories about any health condition from cancer, HIV/AIDS, and heart disease to mental illness, addiction or eating disorders and MS or other mobility-affecting illnesses are welcome.
The Winston Churchill McNeish Writer's Fellowship is offered every two years to New Zealand writers. The fellowships are awarded to young and/or emerging writers to travel overseas to experience immersion in other cultures. Projects may or may not have a research component to them. Ideal applicants are emerging writers or journalists aged between 25 and 40 years old who have a track record of publications, propose to travel to non-English speaking, developing countries. New Zealanders, either citizens or people normally resident in New Zealand, may apply.
© Victoria Johnson 2020, all rights reserved.