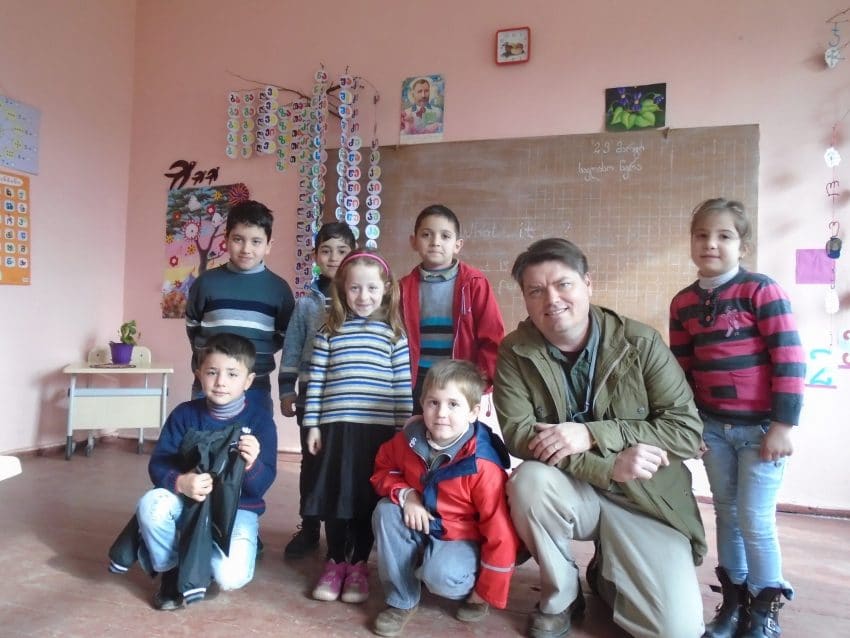 The Fulbright Teachers for Global Classrooms Program (Fulbright TGC) is a year-long professional development opportunity for U.S. elementary, middle, and high school teachers to develop skills for preparing students for a competitive global economy. Fulbright TGC equips teachers to bring an international perspective to their schools through targeted training, experience abroad, and global collaboration. The fellowship includes an online professional development course, a Global Education Symposium held in Washington, DC, and a 2 to 3-week international field experience, working with another country's education system.
We talked to James Dittes, a teacher and Fulbrighter who traveled to the Republic of Georgia, to learn more about the program and get some application tips.  
1. What inspired you to apply for the Fulbright TGC Program? 
I grew up in small towns in Ohio and Tennessee, and when a study-abroad opportunity opened for me in college, I jumped at the chance. Living in England for a year and hitchhiking around Europe brought out in me a desire to teach–to convey what I was learning about art, language, history, and other cultures (as well as my own). I just couldn't keep it all to myself.
Throughout my twenties, I balanced two desires: teaching and exploring the world. I taught for four years in rural Arizona but left teaching for the chance to work as an aid worker. Initially hired to work in Pakistan–but denied a work visa–I ended up distributing World Food Programme rations in Albania for refugees from the NATO-Serb War in Kosovo. Later I would work with resettled refugees in the Nashville area, teaching the American financial system and helping them open savings accounts through a partnership with a local bank. A few years later, I returned to teaching at a high school in the county where I grew up.
When I learned about Teachers for Global Classrooms, I saw a way to merge these two interests. The program offered training in Global Education, and the best part was a two-week trip, sponsored by the U.S. State Department, to visit another country and spend time in the schools there. I hoped to give my teaching a more international focus, and I hoped to meet like-minded American teachers.
2. How has the fellowship experience influenced your current work? 
The fellowship experience had a huge influence. The fall semester provided an online course in Global Education. Through this course, I explored methods of seasoning my teaching with international perspectives, and it also encouraged me to examine global opportunities (or the lack thereof) in my local district. It was this research that led me to learn that businesses in my county did over $100 million of trade with other countries. Sadly, I also learned that a recent district policy had radically reduced the number of exchange students placed in district high schools.
I set about trying to increase the exposure of our students to international students through exchange programs. A year after the fellowship, I was contacted by a German teacher interested in setting up a school-to-school German American Partnership ProgramGAPP exchange. It took some heavy lobbying–both of my district and of the school board–but I was able to get the program approved in 2017, and I have run the exchange every year since. This April, 16 German students and two teachers will attend my school for three weeks, living with host families in the area. After school gets out in May, I will lead 16 of my students to Germany to live there, also for three weeks. It is a dream come true.
Another gift from the program was a penpal unit I developed as a capstone project. That year (2014) I implemented a penpal exchange in my German 1 class, helping students to find penpals in other countries and, then tying those friendships in with the standards of the class. I made the final exam a presentation, introducing a foreign penpal to the class, using only the German language.
I would be remiss if I didn't mention the teachers with whom I visited the Republic of Georgia during the travel portion of the exchange. We bonded as a group and made lifelong memories exploring Tblisi and trying exotic new foods. During half of the fellowship I was paired with a teacher from New York City, and we spent a week in the town of Lanchkhuti, helping with English lessons and gaining a deep understanding of the Georgian school system.
3. What tips would you give others applying to the Fulbright TGC program? 
It is a very competitive fellowship. Last year I evaluated applications for IREX (the agency that manages the program), and I was really amazed by the experience and knowledge of the applicants.  I write this not to discourage applicants, but to emphasize that they need to really demonstrate an interest in Global Education and be ready to offer ways to disseminate what they learn in the program, not just within the school but also through professional associations.
My second suggestion is to understand the program as an investment by the U.S. State Department. The costs for training and travel runs well over $10,000 per delegate (there is also a winter conference in Washington, DC). What does the State Department hope to get out of it? Easy. They are looking for ambassadors. The short goal is better relations and broader connections with the countries that host American teachers (Uganda, the Philippines, Colombia, and Morocco were among the other destinations the year I went). Long-term, the State Department believes our country will be more prosperous if students know more about the world, and it sees teachers as the key.
One final suggestion is pretty easy. Demonstrate a passion for kids, and a love for our country. This made my time in Georgia really productive and meaningful for the local students, teachers, and school administrators–and an unforgettable encounter for myself.
James Dittes teaches German and English at Station Camp High School in Gallatin, TN, a suburb of Nashville, where he also leads a German exchange program and sponsors the Model UN club.
---
© Victoria Johnson 2020, all rights reserved.