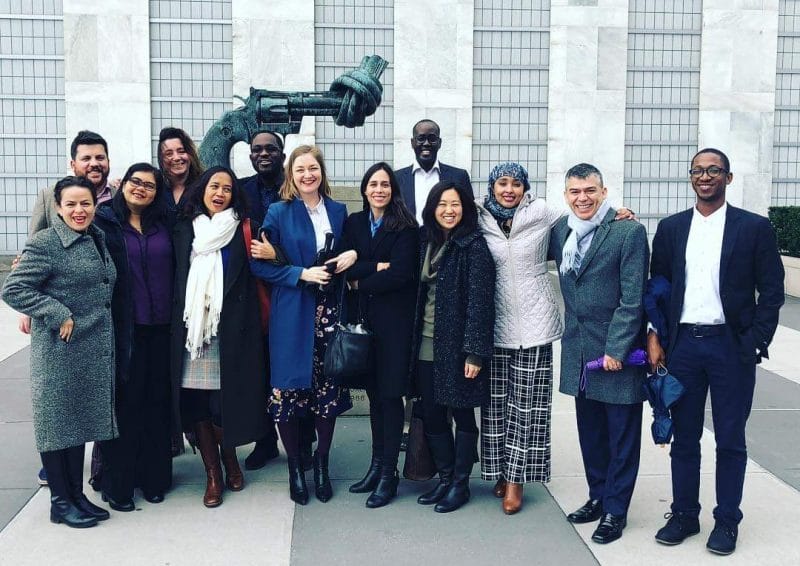 The Yale World Fellowship is a four-month residential program at Yale University for mid-career professionals who have a demonstrated commitment to leadership and making an impact at the international level. The program offers a cutting-edge global issues curriculum, individualized skill-building opportunities, and access to prominent thinkers and practitioners. Participants, who come from all disciplines, enjoy trips to the United Nations, coaching in writing and leadership, and serve as a fellow within a Yale College. Fellows must be citizens and residents of a country other than the United States and fluent in English.
We talked to2018 Yale World Fellow Ibrahima Amadou Niang of Senegal to learn more about the program and get some application tips.
1. What inspired you to apply for the Yale World Fellowship?
I have been working to advance democratic governance across Africa since 2007. I have worked on social justice issues as an NGO activist and have been a democracy and electoral assistance provider, a grant maker, and a political writer and poet. As a result, I have a good understanding of the social justice ecosystem (actors and their interests, power dynamics and structures, and the funding and resources allocated to that system). I have always been a change maker who believes that complex local issues are best resolved if the response draws upon the sum of diverse transformative experiences.  
My desire to expand on these experiences abroad in an environment of mutual exchange that would both challenge my assumptions and help me reach my potential as a leader is what attracted me to the Yale Maurice R. Greenberg World Fellowship. Through building relationships with other Fellows and by connecting with students and academics who share my passion for social justice, I hoped to step out of my comfort zone and expose myself to new ideas, carving a clearer vision of where I stand as a world leader now and in the years to come.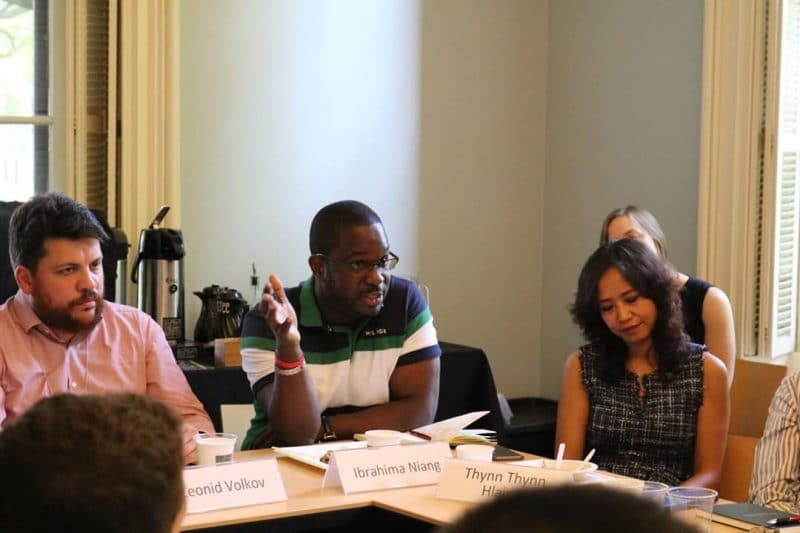 2. What is a typical week like for a Yale World Fellow?
A typical Maurice R. Greenberg Yale World Fellow's week kicks off with a dine-and-discuss session where we engage with changemakers who share their insights on global issues. Good society seminars are held every week and provide a space for each fellow to present their work and have meaningful conversations with their peers. World fellows have the opportunity to audit classes taught at Yale and to come up with their own initiatives to promote experience sharing. This year, one of the fellows started a weekly reading class every Friday which provided a positive learning environment for everyone who attended.
Other important activities include
engaging with Yale colleges (each fellow is also appointed as a fellow in one of Yale's colleges)

the world Fellows night

a writing class

sessions with a communication coach

leadership sessions with two wonderful specialists

mentoring Yale students

organizing roundtables on campus for the Yale community

trips to New York and Washington DC

a visit to the United Nations (UN) Headquarters and the US Congress

being invited as speakers in classes

a retreat and many social activities organized by fellows. We went to the Hamilton show, visited the African American Museum, and enjoyed hiking, going to the theater, and networking events.
We also had the opportunity to meet various inspiring people including the President of Yale University, various UN officials, Mr. Howard Dean, Secretary John Kerry, and the President of Ghana. The fellowship also provides an opportunity for fellows to spend some time working on personal projects. I seized this opportunity to work on a book on the pacification of political conflicts in Africa, a tale about a boy and a pelican to promote human rights, and a new poetry collection. I also recorded two new audiobooks thanks to Morse College at Yale University.
3. What tips would you give others applying to the Yale World Fellowship?
The application process usually lasts from the end of September until the first week of December and is entirely online. Prior to the deadline, applicants may work on their application at any time and submit it when they are ready. After creating an account and accessing the online application, they can upload materials and request letters of recommendation. Applicants are required to submit a résumé/curriculum vitae (maximum 3 pages), essays, and three letters of recommendation. Applicants also have the option to submit a brief video statement.
Applicants should make sure that they fulfill the requirements of the fellowship. These are available here.
Generally, the World Fellow Committee  looks for people with an established record of extraordinary achievement and integrity; commitment to engagement in crucial issues and to making a difference at the local, national, or international level; promise of a future career of leadership with  notable impact and special capacity for critical, creative, entrepreneurial, and strategic thinking. I think that my capacity for creative and strategic thinking, demonstrated in my work as a creative writer and a political scientist, greatly helped my application process.
Ibrahima Amadou Niang, "Ibou", is the Head of the Open Society Initiative for West Africa (OSIWA) Guinea country office and a creative activist, researcher, and published author. For over ten years he has been striving to advance democracy and human rights across Africa. A native of Senegal, he has worked on social justice issues as an NGO activist, a democracy and electoral assistance provider, a grantmaker, a political writer, and translated poet. Ibou holds a Ph.D. in Political Science, an MA in International Governance and an MA in International Public Law from Cheikh Anta Diop University in Dakar, Senegal. He also holds a BA in International Relations and Economics from the University of Reading, England. As a creative activist, he uses his power of words and imagery to move people from awareness to action. These messages are disseminated across the world to a diverse audience through his books and performances at international festivals. In 2016, he was awarded a certificate from the School of Creative Activism in Brooklyn, New York. In 2017, he was invited to perform at two major literary festivals: Festival Voix Vives de Méditerranée en Méditerranée (Sètes, France) and Festival Paroles Indigo (Arles, France). Ibou is a 2018 Yale Maurice R. Greenberg World Fellow and a 2018 Stanford Drapers Hills Fellow.
Interested in applying? Bookmark the Yale World Fellowship your ProFellow account.
© Victoria Johnson 2019, all rights reserved.