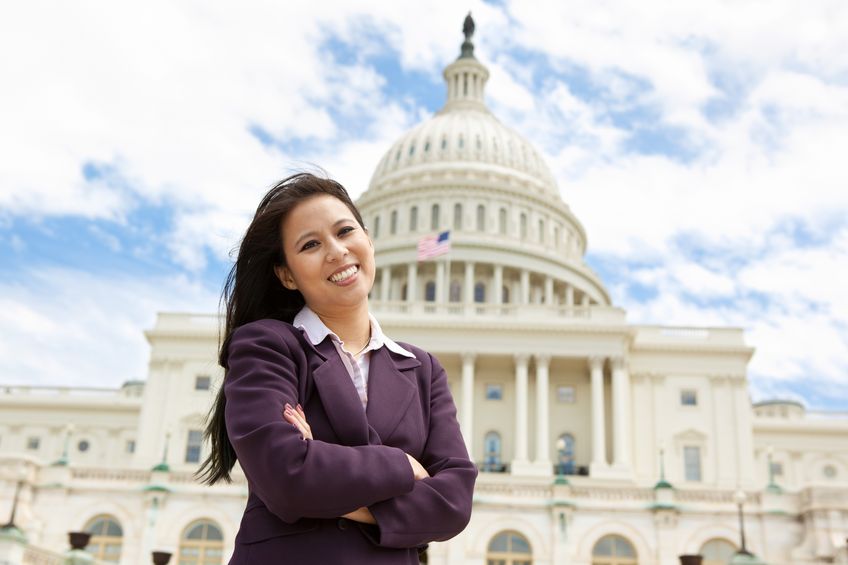 By Brittany Mihalec-Adkins
For many high-potential change-makers, students, and professionals, working in a federal or state public service agency is the dream. However, making your way into the rather elusive government hiring scene can be daunting. But getting the government job of your dreams may just be a fellowship away! Fellowships are a great way to get familiar with an organization (and government work, more generally), as well as build a network of mentors and colleagues who work within government and can help you navigate the process of becoming a government employee. Here are three ways you can use a fellowship experience to open the door to a career in government.
1. Participate in a summer fellowship at a government agency
There are many opportunities to land a summer fellowship with a government agency while you are still a student. For instance, the Chicago Mayor's Office Fellowship accepts policy-minded graduate students interested in research, development, and engagement at the city-government level. Fellows work directly with Mayor's Office staff – getting hands-on experience in multiple areas of city government, including finance, programming, and legislative efforts. Many fellowship alumni go on to have successful careers in academia, law, business, social services, and – yep – government agencies.
Not a student, but still looking for a short-term, summer fellowship opportunity? Check out the Urban Leaders Fellowship. This program targets early- and mid-career professionals who are looking to advance their leadership skills and hone their interests in community and public policy. During 7 weeks in the summer, fellows develop policy research and work at an organization or company committed to community advancement and leadership development.
ProFellow Search Tip: To find more summer fellowships, filter the ProFellow database by Type: Summer Fellowship.
2. Pursue a professional fellowship in public service or public policy
There are also many opportunities for early and mid-career professionals to enter government through a professional fellowship of one to two years. The New York City Urban Fellows Program offers fellows 9 months of experience working for the City of New York on public policy initiatives. The experience is enhanced by a seminar series that runs alongside the fellowship, and includes opportunities to hear from and interact with higher-ups in city government as well as alumni of the fellowship. Both the employment and seminars provide fellows with invaluable opportunities to establish ties with local government officials, giving them a crucial foot-in-the-door to permanent positions in New York City government.
Another example is the Presidential Management Fellows program, which offers a pathway for graduate students to land full-time positions in federal agencies, many of which are based in Washington, D.C. The experience includes the opportunity to work in a federal government capacity, complete professional development projects, and receive constructive feedback. There is even the option for rotations in multiple federal agencies if you're still shopping around for your dream position.
ProFellow Search Tip: To find other professional fellowships like these, filter the ProFellow database by Type: Professional, and enter keywords like "public service," "public policy," and "DC" in the keyword search field.
3. Use a graduate fellowship to fund a master's degree in public administration or public policy (MPA/MPP)
If you'd like to pursue a graduate degree to enter the field of public service, there are fellowships for that, too! The National Urban Fellows Program is a 14-month degree program that will culminate in a Master's degree in Public Administration (MPA). The program includes four semesters of full-time coursework and a 9-month mentorship experience with a government agency. Upon graduation, fellows are competitive applicants for prestigious positions in government.
There is also Harvard University's Zuckerman Fellows Program, which equips people from the fields of medicine, law, and business with funding to pursue a public service degree at the Harvard Graduate School of Education, Harvard School of Public Health, or Harvard Kennedy School. This year-long, cohort-based fellowship provides access to one of the top universities in the world, and includes full tuition support and a living stipend. Undoubtedly, this fellowship opens doors to positions in government agencies at the local, state and federal level.
ProFellow Search Tip: To identify graduate fellowships, filter the ProFellow database by Type: Graduate Study.
Whether you are still in school, just getting your professional career off the ground, or looking to make a shift toward policy or get a graduate degree after years of experience in another sector, there is a fellowship for you. Browse the ProFellow database to find more fellowship opportunities like these offering a path to a career in government.
Brittany Mihalec-Adkins is a first-year National Science Foundation Graduate Research Fellow and second-year Ph.D. student in Human Development and Family Studies at Purdue University. 
© Victoria Johnson 2017, all rights reserved.