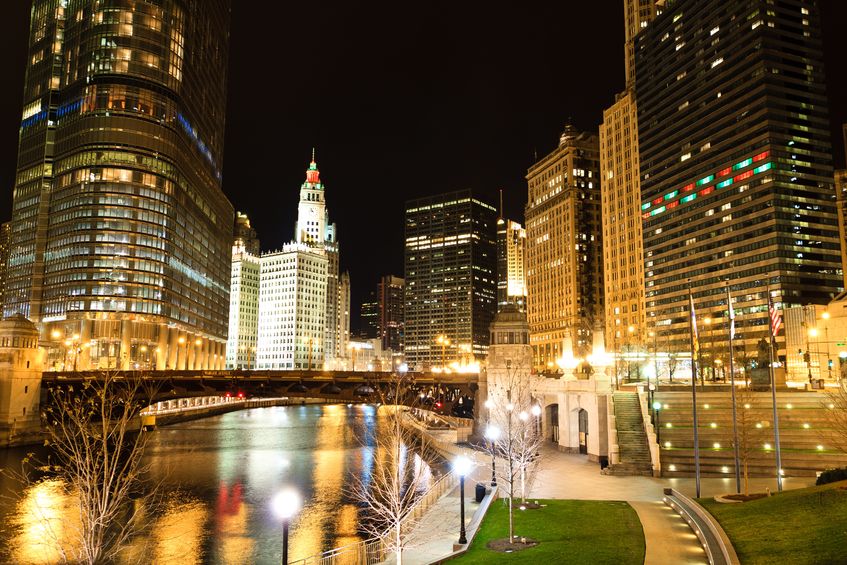 Interested in living, working, or studying in the Windy City? The iconic metropolis of Chicago has abundant resources for scholars and working professionals alike. Home to major institutions such as the American Bar Association headquarters, the University of Chicago and the Newberry Library, individuals looking for an enriching academic or professional fellowship experience will find all of the tools they need to meet their career goals in Chicago. A variety of fellowship programs and funding opportunities are available to recent graduates, non-students, and early and mid-career professionals in a range of fields such as journalism, law, and education. Check out these 10 exciting fellowships for work, study, or research in Chicago!
The American Bar Association (ABA) Center for Innovation encourages and accelerates innovations that improve the affordability, effectiveness, efficiency, and accessibility of legal services. Recent law school graduates (within the last 5 years) will spend one year in-residence at the ABA headquarters in Chicago, IL. These fellows will receive a stipend of $45,000, along with benefits, during their time in the program.
The BHSI Fellowship was designed and created in 2011 by Leslie Bluhm and David Helfand as a way of advancing the next generation of social innovators, entrepreneurs and change agents. The BHSI Fellows are hosted in Chicago for Chicago Ideas Week, which is in October each year. All expenses are paid. Fellows gain exposure for their organization, establish a community of support, and receive a $10,000 financial contribution to their venture. All applicants must be 35 years of age or younger. Applicants may be from anywhere in the world and ventures may be for-profit or not-for-profit entities.
The Mayor's Office Fellowship Program attracts bright, highly motivated individuals, gives them a broad overview of municipal government, and provides a unique, "hands-on" experience. Fellows participate in budgetary, legislative, and programmatic areas of city government and work directly with Mayor's Office staff. Mayoral Fellows are afforded an unparalleled opportunity to learn about public service and policy-making by directly contributing to the executive office of the City of Chicago. The Mayor's Office encourages graduate students from all disciplines to apply.
The Data Science for Social Good Fellowship is a 13-week summer fellowship at the University of Chicago that provides aspiring data scientists with training, mentorship, and work experience solving key social impact issues in government through data mining, machine learning, and big data projects. Fellows receive a fixed stipend of up to $16,000, based on education level. Applications from all education levels and citizenships are accepted. Ideal candidates have some programming, statistics, and data analysis skills and are current students or recent graduates. However, non-students may apply.
Every year, Avodah recruits young adults ages 21-26 from across the United States to spend a year in our Jewish Service Corps working at leading nonprofits in Chicago, New Orleans, New York, and Washington, DC. Our Corps Members live together and learn together in a supportive, pluralistic community at the crossroads of social activism and Jewish life. The placement organization pays a monthly stipend, a portion of which is paid to Avodah to cover basic housing costs like rent and utilities.
JMC is partnered with four of America's foremost independent research libraries: the Newberry Library in Chicago, the Huntington Library in San Marino, the John D. Rockefeller Library in Colonial Williamsburg, and the American Philosophical Society in Philadelphia. In collaboration with these libraries, JMC provides 1 to 3-month research fellowships primarily for early and mid-career scholars engaged in projects that advance the study of American political thought and history. JMC research fellowships provide scholars the rare opportunity to explore unparalleled collections of documents and manuscripts from the Founding era.
During the 10-month residential fellowship at the NORC Center for Public Affairs Research at the University of Chicago, the selected journalist will develop the analytical research skills needed to create a series of news reports dealing with the economics of the aging workforce in the United States. The final reports will be distributed by the Associated Press to its global worldwide audience of thousands of subscribers and customers across all media platforms. The fellow will be selected through a national competition open to journalists with at least five years of experience. Journalists working in text, radio, television, and online are eligible to apply.
The New Sector Residency in Social Enterprise (RISE) is an 11-month professional development program designed for emerging leaders with up to 5 years of professional work experience. In addition to full-time employment at one of our partner host-sites, Fellows receive monthly professional development training, mentorship, and individual career coaching to support their long-term careers in the social sector. RISE operates in the Boston, Chicago, San Francisco, and Twin Cities areas. Salary and benefits are provided by the host site partner and range from $28K – $38K. (Program currently suspended, check back in 2018).
The Teaching Policy Fellowship is a highly selective program for teachers interested in having a voice in decisions that affect their profession. The program offers excellent teachers the opportunity to expand their influence without leaving the classroom. During the program, the Fellows receive extensive training on topics such as policy, advocacy, and storytelling. Fellowships are offered in California, Colorado, Illinois, Indiana, Maryland, Massachusetts, and New Mexico, including local-level fellowships in Chicago, Boston, Indianapolis, and Los Angeles. The program is rigorous and selective, admitting only 25-30 teachers each cycle. Fellows are provided a stipend.
U.S. PIRG Fellows work on big problems: whether it's stopping the overuse of antibiotics on factory farms, checking the influence of billionaires and Super PACs over elections, giving consumers the right to know if GMOs are in their food, passing new recycling laws, or promoting smart transportation options for a 21st-century economy. Fellows learn how to become an experienced organizer and advocate for the public interest. This is a two-year program, expressly designed to prepare future leaders within PIRG. Fellows receive a salary of $26,000 in the first year and competitive benefits package for positions in Washington, D.C., Boston and Chicago. Applications accepted on a rolling basis.
© Victoria Johnson 2017, all rights reserved.