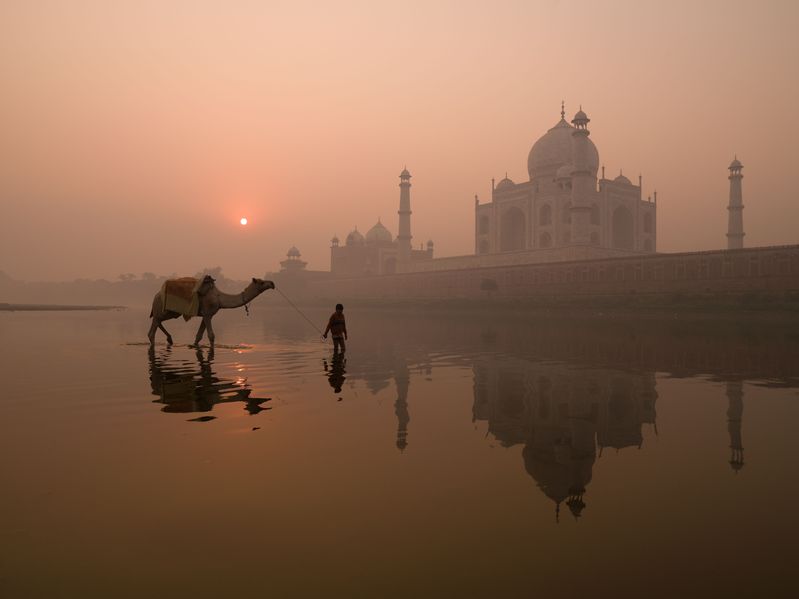 From the majestic Himalayas and vast Rajasthani desert to the bustling Mumbai city streets and the iconic Taj Mahal, India's cultural and geographic diversity offers something for everyone. Working, studying, and researching in India can be both challenging and extremely fulfilling for Indian citizens and foreigners alike. There are many exciting programs and funding opportunities to support professional and scholarly experiences in India. Check out these 22 fellowships available to both Indian and U.S. citizens with varying academic backgrounds. Make sure to bookmark these unique opportunities to your ProFellow account!
The Regional Fellows Program is a one-year leadership development program that equips 20 extraordinary individuals from across India with the knowledge, support system and practical wisdom to unlock their full potential and drive positive change in society. Over the course of a year, Fellows remain in their jobs while taking part in five week-long seminars, where they receive the tools, training and space to innovate new ideas, accelerate their impact, build a strong network of social leaders from across their region and around the world. All costs associated with participating in the program are covered. Candidates are Indians of all ages and education levels.
Senior Research Fellowship and Senior Scholarly/Professional Development Fellowships are available to scholars with a PhD or its equivalent. The postdoctoral research fellowships are designed to enable scholars who specialize in South Asia to pursue further research in India and to establish formal affiliation with an Indian institution. Awards are available for up to 4 months or for 6-9 months. Scholarly/Professional Development are available both to established scholars who have not previously specialized in Indian studies and to established professionals who have not previously worked or studied in India. Awards may be granted for periods of 6-9 months. Non-U.S. citizens may apply as long as they are full-time faculty at colleges and universities in the United States.
AIIS Senior Performing and Creative Arts Fellowships are available to accomplished practitioners of the performing arts of India and creative artists who demonstrate that study in India would enhance their skills, develop their capabilities to teach or perform in the U.S., enhance American involvement with India's artistic traditions or strengthen their links with peers in India. Awards will normally be for periods of up to four months, although proposals for periods of up to nine months can be considered.
AIIS Junior Research Fellowships are available to doctoral candidates at U.S. universities in all fields of study. These grants are specifically designed to enable doctoral candidates to pursue their dissertation research in India. Junior Research Fellows establish formal affiliation with Indian universities and Indian research supervisors. Awards are available for up to 11 months. Non-U.S. citizens may apply as long as they are either graduate students or full-time faculty at colleges and universities in the United States.
The AIIS Language Program offers nine-month academic year, summer and semester courses at elementary to advanced levels in many languages, including several that are rarely taught outside of India. The eligibility requirements vary depending on the particular program. Academic-year program students may compete for full fellowships funded through the U.S. Department of Education; summer program applicants should seek funding from their home institutions or through the Critical Language Scholarships program (for Hindi, Punjabi, and Urdu), but may also be considered for a limited number of partial scholarships from AIIS.
Critical Language Scholarship (CLS) institutes provide fully-funded group-based intensive language instruction and structured cultural enrichment experiences for 7-10 weeks for U.S. citizen undergraduate, Master's and Ph.D. students. Countries may include: Azerbaijan, Bangladesh, China, Egypt, India, Indonesia, Japan, Jordan, Morocco, Oman, Russia, South Korea, Tajikistan, Tunisia, Turkey, or others where the target languages are spoken. Apply in November for a fellowship the following summer.
The International Education Administrators (IEA) seminars help U.S. higher education administrators establish lasting connections within the social, cultural and higher education systems of other countries. Selected administrators have the opportunity to gain in-depth knowledge about the host country's higher education system and establish networks of U.S. and international colleagues during a two-week fully funded visit abroad. The IEA Seminars are open to experienced international education administrators and senior administrators. Deadlines vary by country.
Through the Fulbright Distinguished Awards in Teaching Short-Term Program, U.S. K-12 teachers and international educators can apply for long-term grants (3-6 months for U.S. teachers or 4 months for international teachers) or short-term grants (2-6 weeks) abroad to study at a university, observe classes and complete a project pertaining to their field of educational inquiry during their time abroad. The program is open to teachers from the United States and selected countries in multiple world regions. U.S. teachers have a December deadline for long-term grants, February deadline for short-term grants.
The Critical Language Enhancement Award (CLEA) is a feature of the U.S. Student Fulbright Program, which provides an opportunity for some Fulbright U.S. Student grantees to receive 3-6 months of intensive language study as an enhancement to their Fulbright grants. They must be approved by local Fulbright Commissions/Foundations or U.S. Embassies in the host countries. CLEA is offered to students once they have been awarded a Fulbright U.S. Student grant which requires that they use one of the eligible languages for their Fulbright project and beyond. Eligible countries include China (mainland China program only), Egypt, India, Indonesia, Jordan, Morocco, and Russia.
The Gandhi Fellowship Program is a two-year Fellowship program for talented youngsters from India's top colleges. As a catalyst for school change, each fellow brings change in 5 schools by being a resource person for the school principals and by potentially impacting the lives of 1,000 children. Fellows assist teachers and identify when and where Headmasters (Principals) need extra support. You shall be entitled to an all-inclusive monthly grant of Rs. 14,000, a fixed monthly phone allowance of Rs. 600 and rent-free accommodation and other allowances as applicable.
The International Innovation Corps (IIC) is a new, unique opportunity for graduates to play an active role in building and implementing innovative solutions to some of India's toughest social problems. Fellows will work at Indian public sector enterprises for paid, one-year assignments that tackle important social challenges. The Fellowship is open to recent and forthcoming University of Chicago graduates of the college and any graduate degree program as well as other US-based institutions. Each IIC fellow receives a stipend, health insurance, and RT airfare to India.
As a strategic initiative of LGT Impact Ventures, the LGT Impact Fellowship aims to provide additional know-how and capacity to social enterprises and offers professionals the opportunity to apply their skills in a meaningful. Eligible candidates have an undergraduate degree and at least two years of full-time work experience in diverse business areas such as consulting, finance, operations, data analytics, IT, M&E, sales, product development or marketing. Fellows work full-time for one year based on a monthly living stipend with our portfolio companies or regional investment teams in Africa, Brazil, China, India, the Philippines or the UK.
The Luce Scholars Program is a nationally competitive fellowship program. It was launched by the Henry Luce Foundation in 1974 to enhance the understanding of Asia among potential leaders in American society. The program provides stipends, language training, and individualized professional placement in Asia for 15-18 Luce Scholars each year, and welcomes applications from college seniors, graduate students, and young professionals in a variety of fields who have had limited exposure to Asia. Candidates must be U.S. citizens who would not have reached their 30th birthday by July 1st of the year they enter the program.
Through GROW, NSF Graduate Research Fellows are provided an opportunity to engage in international collaborations with investigators in partner countries around the world. GROW offers funding for international stays of 2-12 months, with the duration varying by country and partner organization. GROW is offered in Australia, Brazil, Chile, Colombia, Denmark, Finland, France, India, Indonesia, Ireland, Japan, Korea, Netherlands, Norway, the Philippines, Senegal, Singapore, South Africa, Sweden and Switzerland. GROW is open to active NSF Graduate Research Fellows who have completed at least one year of their graduate program.
SBI Youth for India (SBI YFI) is a rural fellowship programme which selects outstanding young professionals and graduates from India to volunteer for a year on challenging grass root development projects. The programme is not restricted to any specific area and offers you a wide variety of projects to choose from as well as the flexibility to design a feasible project of your own liking within the focus areas of the partner NGO's work. The fellowship covers living, transport and medical insurance costs of stay in rural India, and supports project costs on case basis. Applicants must be Indian citizens age 21-32.
Shastri Indo-Canadian Institute supports doctoral students, post-doctoral scholars and students enrolled in degree programmes in recognized Indian & Canadian universities or institutions to undertake research in fields in which scholars may desire research experience in Canada or India. Doctoral students and post-doctoral scholars are provided $590 per week for up to 6 months of research. There are also awards for undergraduate and graduate students of $500 per week for up to 12 weeks of research.
This opportunity is targeted to provide medical students, residents, fellows and/or faculty with practical training in global health reporting using a variety of media platforms including: print, television, social networking and fundamentals in journalism and communications. The Fellow will complete training programs through the Stanford University Graduate Program in Journalism and will work at the World Health Organization's South East Regional Office (SEARO) in New Delhi, India. The Fellow receives a competitive stipend. The Fellowship starts in June of each year and lasts for 12 months.
The Teach For India Fellowship program is a 2 year full-time paid commitment in which we place the most promising graduates and professionals as full-time teachers in under-resourced and low-income schools. Students and professionals with a Bachelor's Degree at the time of joining the Fellowship are invited to apply. Applicants need to be either of Indian citizenship or of Indian origin. Teach For India Fellows will be paid a salary of Rs. 17,500 per month. Four deadlines check website.
The AIF William J. Clinton Fellowship for Service in India is a 10-month volunteer program that pairs a select number of young professionals from the U.S. and India with NGOs and social enterprises in India in order to accelerate impact and create effective projects that are replicable, scalable, and sustainable. Applicants must be U.S. or Indian citizens or U.S. permanent residents between the ages of 21 and 34 and have completed an undergraduate degree. AIF provides a living stipend, insurance coverage, and program-related travel to each Fellow.
The Young India Fellowship (YIF) seeks to prepare young women and men who will lead India through the 21st century. The YIF will bring together 300 emerging leaders from around India in a one-year residential post-graduate programme in Sonepat (Delhi, NCR). The YIF programme is open to all Indian citizens age 28 and younger with a recognised undergraduate or postgraduate degree and no more than two years of work experience. YIF has conceived the Experiential Learning Module, or ELM, to complement the academic work with real work experience. The Young India Fellowship covers, in full or in part, tuition, board and lodging.
The Young Professionals Programme for Legal Empowerment (YPPLE) anchored by Centre for Social Justice (CSJ) is designed to equip young legal professionals from India to become powerful change agents. A group of 6-8 young legal professionals will be placed for minimum period of one year in the field areas where CSJ is implementing its programmes. Each individual will spend 2-3 weeks every month in the field areas and the remaining time will be dedicated towards reflections, writing, inputs and capacity building. The Programme is open to young law graduates/legal professionals in India who wish to pursue a career in the field of human rights as lawyers, practitioners, researchers or academics. A fellowship of Rs. 25,000 per month will be paid to the selected candidates.
© Victoria Johnson 2016, all rights reserved.