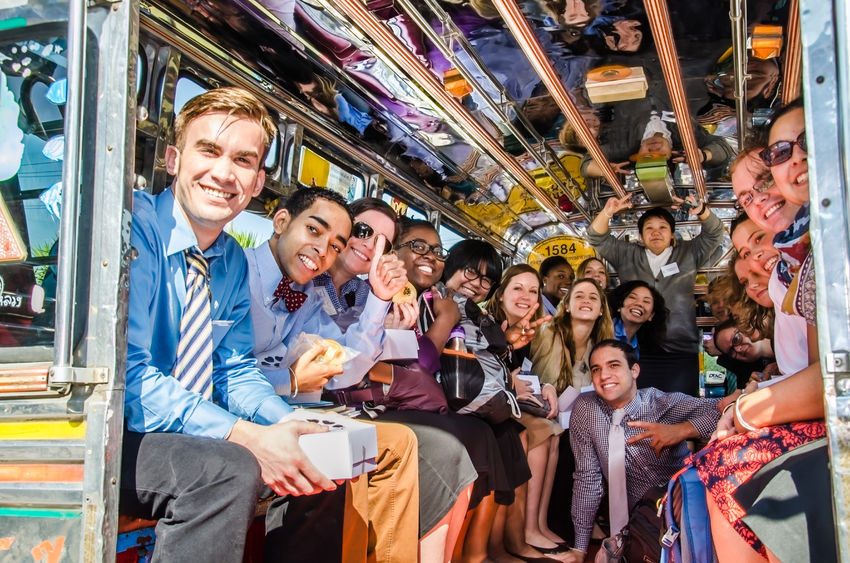 Have you been searching for an opportunity to work on a project that is fulfilling and life-changing for you and for others? The 40 fellowships listed below provide professional opportunities to contribute to social issues as an established changemaker or a new career changer. These fellowships are divided into two sections, one for U.S. applicants and the other for global applicants. Fellows can secure funding to work on issues in their own communities or work abroad in education reform, social justice, public health, social entrepreneurship, and international development. Click the links to bookmark these opportunities to your ProFellow account.
Fellowships for U.S. Applicants
FUSE Executive Fellows are mid-career professionals with 15+ years of private sector experience who are looking to transition their careers for greater social impact. Each carefully crafted fellowship focuses on achieving lasting impact and exposing local government to innovative approaches. Each Fellow is paired one-on-one with an experienced executive coach and a "host champion" within local government. In addition, FUSE Fellows participate in an elite leadership training program that was developed in partnership with McKinsey & Company, Stanford Institute of Design (d. school) and Harvard Kennedy School. Fellows receive a $90,000 stipend in their FUSE Corps placement.
Diana Davis Spencer Fellowship
The Diana Davis Spencer Fellowship Program provides mentorship and funding to U.S.-based entrepreneurs whose enterprises are creating jobs for Americans over 50 years of age.  The entrepreneur can be any age. Each Fellow will be paired with a business executive mentor and receives leadership assessment resources, a peer network, sector expertise, and $20,000. The duration of The Diana Davis Spencer Fellowship is 15-months and participation is largely virtual.
ServiceCorps Fellowship
The ServiceCorps Fellowship selects, trains, and empowers top college graduates to launch a career and make an immediate social impact by securely deferring their positions at leading corporations for one year of service. After a year of service and rigorous leadership development training, alumni return to awaiting jobs at Corporate Partners with a deeply ingrained commitment to social responsibility and a lifelong Ethic of Service. The most common sectors we work with are:  Civil Society, Economic Opportunity (Poverty), Education, Environment, Health, International, and Veterans. Fellows receive a living stipend and benefits. Applicants must be nominated by one of our Corporate Partners.
The Wellstone Fellowship for Social Justice
The Wellstone Fellowship for Social Justice is designed to foster the advancement of social justice through participation in health care advocacy work that focuses on the unique challenges facing many communities of color. Through this fellowship, Families USA hopes to expand the pool of talented social justice advocates from underrepresented economic, racial and ethnic minority groups, including American Indian & Alaska Native, Asian American, Black/African American, Latino, and Native Hawaiian & Pacific Islander communities. The fellowship lasts for one year and includes a stipend of approximately $38,000 USD and health benefits.
Grameen Foundation Fellowship
The Grameen Foundation Fellowship provides 12-month placement opportunities for talented business and technology professionals seeking in-depth, hands-on field experience in the social sector. Fellows are placed in local field offices in Latin America, Africa, the Middle East and Asia. Fellows receive monthly stipends for living and health insurance, relocation assistance, group orientation and ongoing professional development. Candidates with diverse skill sets are desired, including business development, consulting, financial analysis, product development, and marketing.
Peace Corps Volunteers work abroad for a period of 24 months after 3 months of training. Volunteers work with governments, schools, non-profit organizations, non-government organizations, and entrepreneurs in education, hunger, business, information technology, agriculture, and the environment. Peace Corps Volunteers serve in 75 countries in Africa, Asia, the Caribbean, Central America and Mexico, South America, Europe, the Pacific Islands and the Middle East. PCVs receive a living allowance, free travel and transition reward after completing 27 months of service.
Dalai Lama Fellows cultivates and supports a global movement of next generation leaders applying universal values to solve global challenges. Fellows work on social change projects in local communities to address one or more of the following areas: mitigating economic disparity, diminishing violence, gender inequity, improving cross-cultural and interreligious cooperation, and enhancing environmental sustainability. As part of a year-long Fellowship, we provide each Fellow with (1) Immersion in our distinctive yearlong Head, Heart, Hands leadership curriculum, (2) One-on-one coaching to support their projects in social change, and (3) LifeLong affiliation in our global learning community and support system. In order to be eligible, applicants must be next-generation leaders between ages 20-35.
The Autry Fellowship is a competitive fellowship program for talented and ambitious recent college graduates. It provides an opportunity to work for one year as a full-time, paid staff member at MDC in Durham, NC. The Autry Fellowship supports the mission of MDC – to help organizations and communities in the South close the gaps that separate people from opportunity – by developing a cadre of young leaders who have experience promoting economic development, increasing equity and excellence in education, and building inclusive civic cultures. Candidates must be in their final year of undergraduate studies or have graduated within two years.
WKKF Community Leadership Network fellows will spend 3 years enhancing leadership skills and sharing their experiences as a cohort of developing leaders. We are looking for existing or emerging leaders who can be transformative social change agents in their communities so that vulnerable children and their families can achieve optimal health and well-being, academic achievement and financial security. Fellows will meet quarterly on an annual basis – once as a full class and three times within their place-based cohorts. The $60,000 three-year grant is inclusive of a stipend, support for learning opportunities and travel to required seminars. The fellowship supports both emerging and existing leaders in the foundation's four U.S. priority places – Michigan, Mississippi, New Mexico and New Orleans. It also supports a national cohort of leaders focused on racial equity.
Hilliard P. Jenkins Fellowship
Frontline Solutions designed the Hilliard P. Jenkins Fellowship for emerging leaders interested in the intersection of social justice, entrepreneurship, and consulting in the non-profit sector. The program is structured as a summer internship with supplemental professional development opportunities. HPJ Fellows are placed at one of Frontline's three offices in Durham, NC, Philadelphia, PA or Washington D.C. Fellows receive introductions to organizations in their base office and around the country, and also work on a variety of high-impact projects. Fellows are paid $15/hour.
PGI's MBA Fellowship is a highly selective,10-week paid opportunity that matches Fellows with one of our high-impact partner organizations that use business as a force for good. The Fellowship also gives participants the opportunity to learn from social & environmental impact industry experts and gain access to over 50+ hours of learning, reflection, and practice to grow purposefully during their career path.
ProInspire Fellowship
Our flagship program, the ProInspire Fellowship, recruits top business professionals with 2-5 years of business experience who want to use their skills for social impact and to invest in a growing community of ProInspire fellows. Fellows spend 1 year working in an analytical or strategic role at a nonprofit organization. ProInspire provides Fellows a robust professional development program to support their transition into the social sector. After the Fellowship, Fellows engage with other alumni to continue investing in the sector. ProInspire has programs in Washington, DC and San Francisco. 3 deadlines – check website.
Encore Fellowships are designed to deliver new sources of talent to organizations solving critical social problems. These paid, time-limited Fellowships match skilled, experienced professionals at the end of their midlife careers with social-purpose organizations. During the Fellowship period (typically six to 12 months, half to full time), the Fellows take on roles that bring significant, sustained impact to their host organizations. Applications open in U.S. cities and London, U.K. with varying deadlines. Please check the website for details.
The International Innovation Corps (IIC) is a new, unique opportunity for graduates to play an active role in building and implementing innovative solutions to some of India's toughest social problems. Fellows will work at Indian public sector enterprises for paid, one-year assignments that tackle important social challenges. The Fellowship is open to recent and forthcoming University of Chicago graduates of the college and any graduate degree program as well as other US-based institutions. Each IIC fellow receives a stipend, health insurance, and RT airfare to India.
ABOG Fellowship for Socially Engaged Art
A Blade of Grass (ABOG) provide resources to artists who demonstrate artistic excellence and serve as innovative conduits for social change. The ABOG Fellowship for Socially Engaged Art is an active, year-long funding relationship. Fellows will become active members in a cohort and participants in a program that features a range of services, including project support of $20,000 with minimal restriction. Proposed projects will be judged on artistic excellence, capacity to enact social change, viability in everyday life, and fit with fellowship resources.
Education Pioneers launches and advances the careers of professionals who are eager to discover opportunities to use expertise in data, operations, policy, and more to make a difference for students and families from outside the classroom. The Fellowship's summer track is a 10-week summer experience that exposes you to high-potential career paths and the impact you could make as an education leader. The Fellowship's career track is an on-ramp to meaningful full-time jobs and long-term roles at leading organizations throughout the education sector (rolling deadline). Check the website for multiple deadlines.
ARC Innovators
ARC Innovators provides experienced professionals with opportunities to apply and expand their skills in a nonprofit setting through pro bono projects with our partner organizations in New York City, New Jersey, and Washington, DC. Innovators are professionals who have significant experience and are ready to contribute to organizations that need their particular skill set for an advanced, short-term project. By bringing their expertise and a fresh perspective to bear on persistent challenges faced by our nonprofit partners, Innovators create lasting change while gaining valuable experience in a nonprofit setting. Innovators commit to working with organizational leadership on well-defined projects for a period of 2-6 months, usually for a few hours each week. Many projects can be done remotely.
Coro Pittsburgh seeks to engage the next generation of diverse leaders who have a passion for working across sectors to build a stronger democracy. The Coro Fellowship is a 9-month, full-time intensive training program designed for young leaders (age 21-35). Pittsburgh Fellows are placed for 6 to 30 weeks in local nonprofit, government, labor, business, and community-based organizations. All applicants selected into the Pittsburgh program receive a full tuition scholarship and a monthly living stipend of $1,300.
PULSE cultivates a community of young servant leaders to transform Pittsburgh by inviting talented university graduates to partner with Pittsburgh nonprofits for a year of service and leadership. Participants serve in a wide variety of different nonprofits, ranging from the arts to community development, social service to environmental. Fellows are provided lodging, fully covered utilities, monthly stipends for food and transportation, some reimbursable health insurance expenses, and a monthly personal stipend. They also receive Education Funds and are eligible for student loan deferment.
Virginia G. Piper Charitable Trust Resident Scholars Program
Virginia G. Piper Charitable Trust Resident Scholars Program provides a dynamic opportunity for promising early professionals to work at a place-based philanthropic organization. Piper Trust supports organizations that enrich health, well-being, and opportunity for the people of Maricopa County, Arizona; it concentrates its efforts in six areas: arts and culture, children, education, healthcare and medical research, older adults, and religious organizations. The Resident Scholars Program is a two-year, full-time commitment at Piper Trust in Phoenix, Arizona/Maricopa County. Scholars will receive a stipend of $45,000 per year, plus full health benefits, professional development support, and work-related travel expenses.
Bush Fellows receive a flexible grant of up to $100,000 that can be used over 12 to 24 months to pursue the education and experiences they need to become more effective leaders in their community. Bush Fellows may use the grant to pursue a self-designed leadership development plan. Fellows may not direct grant funds to another person, organization or project. They may also use the grant to start or complete a degree-seeking program, anything from an undergraduate degree to a PhD. Applicants to the Bush Fellowship Program must be a U.S. citizen or permanent resident, at least 24 years old and must have lived for one continuous year immediately prior to the application deadline in Minnesota, North Dakota, South Dakota or one of the 23 Native nations that shares the same geographic area.
Spiritual Ecology Fellowship Program
The Spiritual Ecology Fellowship is an initiative of Kalliopeia Foundation, developed to support its mission to create a future where universal spiritual values form the foundation of how we care for our common home. Funding is provided to emerging young leaders and innovators (age 22-30) for the development and implementation of pilot projects that have the potential to be catalysts for change. The fellowship is open to people of all faith backgrounds as well as people without any direct religious or spiritual affiliation. The fellowship follows a 9-month program and covers program tuition and a $10,000 stipend to assist with project development.
New America CA Fellow
The goal of the New America Fellows program is to find bold, iconoclastic California-based thinkers and to provide financial support for one year. This tenure is designed to be long enough so that they can improve their ability to tell compelling stories about their work, expand their capacity to reach targeted audiences through media, determine if their idea is replicable in other locations or nationally, and long enough to be able to build a real community among the fellows. Fellows receive a financial stipend of $30,000 per year.
The Environmental Fellows Program (EFP) is a national program that seeks to diversify the environmental and conservation philanthropic sector by supporting the career aspirations of graduate students from traditionally underrepresented groups. Fellows are placed in a 12-week paid internship with one of our partner philanthropic organizations. Applicants must be U.S. citizens, permanent residents, or DACA/DREAMers (Deferred Action for Childhood Arrivals). International students are ineligible.
The Soros Justice Fellowships support outstanding individuals—including lawyers, advocates, grassroots organizers, writers, print and broadcast journalists, artists, filmmakers, and other individuals with distinctive voices—to undertake full-time projects that engage and inform, spur debate and conversation, change policy or practice, and catalyze change around the U.S. criminal legal system at the local, state, and national levels. Fellowships can be either 12 or 18 months in duration and may be undertaken with the support of a host organization
Fellowships for Global Applicants
The AsiaGlobal Fellows Program at the University of Hong Kong (HKU) is a 13-week interdisciplinary program designed to nurture future leaders. AsiaGlobal Fellows are promising mid-career professionals from around the world and across a spectrum of occupations, including policymakers, policy advisors, business, and civil society. They share a common policy interest in Asia, have demonstrated strong leadership potential, and are committed to making a positive impact on society. The program provides Fellows a monthly stipend to help with living costs, accommodation, round-trip travel, site-visit travel expenses, and insurance.
Jeanne Sauvé Public Leadership Program is a unique two-year fellowship opportunity: Year one consists of a full-time intensive residential phase in Montreal, Canada. The Program is structured around a key global challenge for each cohort. Year two is a part-time field phase tailored to each individual Fellow's activities in their respective communities and countries. Fellows are highly motivated independent thinkers between 25 and 30 years of age with demonstrated skills as agents of change. The Program provides housing, a monthly allowance to cover meals and incidental expenses, and RT transport to Montreal.
Bluhm/Helfand Social Innovation Fellowship
The BHSI Fellowship was designed and created in 2011 by Leslie Bluhm and David Helfand as a way of advancing the next generation of social innovators, entrepreneurs, and change agents. The BHSI Fellows are hosted in Chicago for Chicago Ideas Week, in October each year, all expenses paid. Fellows gain exposure for their organization, establish a community of support, and receive a $10,000 financial contribution for their venture. All applicants must be 35 years of age or younger. Applicants may be from anywhere in the world and ventures may be for-profit or not-for-profit entities.
FirstGEN is a 10-week summer fellowship for undergraduate students who are the first in their immediate families to attend an institution of higher education and are passionate about pursuing careers in social justice. FirstGEN Fellows gain hands-on experience working on civil rights matters as full-time Public Policy & Social Justice or Education Opportunities interns and participate in weekly advocacy training. Fellows receive a $1,500 stipend.
Through the Advanced Leadership Initiative, Harvard is seeking to tap the experience of a socially conscious generation of leaders and help redirect and broaden their skills to fill critical leadership gaps in solving major social issues. Each year, a select group of Fellows from diverse sectors with a track record of achievement and accomplishment come to Harvard to transition from their primary income-earning careers and prepare for their next phase plan as change agents for society. ALI provides support commensurate with AL Fellows' status and stage of life, including shared office suite space, provision for spouse or partner to enroll in AL Partner Program, and special invitations to join other Harvard events. 4 deadline for expression of interest each year.
Westpac Bicentennial Foundation is partnering with Australia's leading research universities to offer Westpac Research Fellowships valued at up to $460,000 over three years. This unique fellowship supports outstanding early career researchers whose ground-breaking work has the potential to make a difference in one of the Foundation's focus areas: Technology and innovation; Strengthening Australia-Asia ties; Enabling positive social change. Funding is available for a maximum of three years.
Open Society Presidential Fellowship
The Open Society Presidential Fellowship is awarded yearly to recent JD, LLM, MPA, MPP, and MBA graduates from accredited law, public policy, and business schools. Based in New York City, fellows pursue work related to human rights, good governance, and justice through an 11-month residence within the Office of the President at the Open Society Foundations. Fellows receive a salary of $65,000 plus benefits. Check website for varying deadlines.
Her Voice Fellowship
The "Her Voice Fellowship" is a 2-month professional engagement in Kampala, Uganda for young East African women, aged 18-30, passionate about creating a difference in the lives of other women by giving a voice to social challenges they face. Selected participants will be taken through a series of sessions on how to take social impact photos (photography training), digital storytelling, social media engagement, as well as the creation of a social enterprise. Applicants must be able to commit 2 months for the fellowship (3 days/week for 3 hrs/day) and possess a camera (phone camera, point-n-shoot or professional camera).
Cordes Fellowships
Cordes Fellowships provide exceptional social entrepreneurs and nonprofit leaders engaged in poverty alleviation and economic justice enterprises the opportunity to participate as Delegates in the Opportunity Collaboration, a four-day problem-solving, strategic retreat. Cordes Fellows attend the full Opportunity Collaboration in Ixtapa, Mexico, and take part in all Delegate sessions. The all-inclusive Cordes Fellowship includes all on-site costs for housing and meals (5 nights lodging, 3 meals per day), gratuities, airport shuttle, etc. All Fellows are responsible for their own roundtrip airfare. Financial need is a primary consideration.
Launched by U.S. President Barack Obama, the YALI Regional Leadership Centers in Africa provide high-quality training, mentoring, and networking support to exceptional young African leaders between the ages 18 and 35. Four Regional Leadership Centers in Ghana, Kenya, Senegal, and South Africa. Selected cohorts of participants engage in innovative leadership training across three tracks of study: (1) Business and Entrepreneurship, (2) Civic Leadership, and (3) Public Management. The program covers the cost of travel, housing and meals and the customized academic and leadership course. Deadlines vary by Center, check website.
The Regional Fellows Program is a one-year leadership development program that equips 20 extraordinary individuals from across India with the knowledge, support system and practical wisdom to unlock their full potential and drive positive change in society. Over the course of a year, Fellows remain in their jobs while taking part in five week-long seminars, where they receive the tools, training and space to innovate new ideas, accelerate their impact, build a strong network of social leaders from across their region and around the world. All costs associated with participating in the program are covered. Candidates are Indians of all ages and education levels.
The Regional Fellows Program is a one-year leadership development program that equips 20 extraordinary individuals from across Pakistan with the knowledge, support system and practical wisdom to unlock their full potential and drive positive change in society. Over the course of a year, Fellows remain in their jobs while taking part in five week-long seminars, where they receive the tools, training and space to innovate new ideas, accelerate their impact, build a strong network of social leaders from across their region and around the world. All costs associated with participating in the program are covered. Candidates are Pakistanis of all ages and education levels who are able to participate in a program conducted in English.
The Rockefeller Foundation Bellagio Center's mission is to promote innovation and identify impact-oriented solutions to critical global problems. The Center offers residencies in Italy to policymakers, nonprofit leaders, journalists, and public advocates in fields and institutions relevant to the Rockefeller Foundation's work and its current issue areas of Advance Health, Revalue Ecosystems, Secure Livelihoods, and Transform Cities. We seek practitioner applicants with demonstrated leadership qualities. Room and board are provided to all residents and their spouses/partners. Residencies last between 2-4 weeks.
Halcyon Arts Lab Fellowship
The Halcyon Arts Lab Fellowship is a nine-month program established to provide emerging artists with time and space to explore new ideas and ambitious projects in an environment of independent learning, study, and collaboration. The fellowship is designed to provide support and resources to emerging artists who desire to develop projects (at any stage) that promote meaningful social impact, and for those who wish to follow the path of leadership in the field of socially-engaged art. Halcyon Arts Lab accepts six national or international fellows and two DC-resident fellows in each year of the program. Fellows receive a dedicated studio, competitive financial scholarship, offsite residential accommodation and other benefits.
© Victoria Johnson 2017, all rights reserved