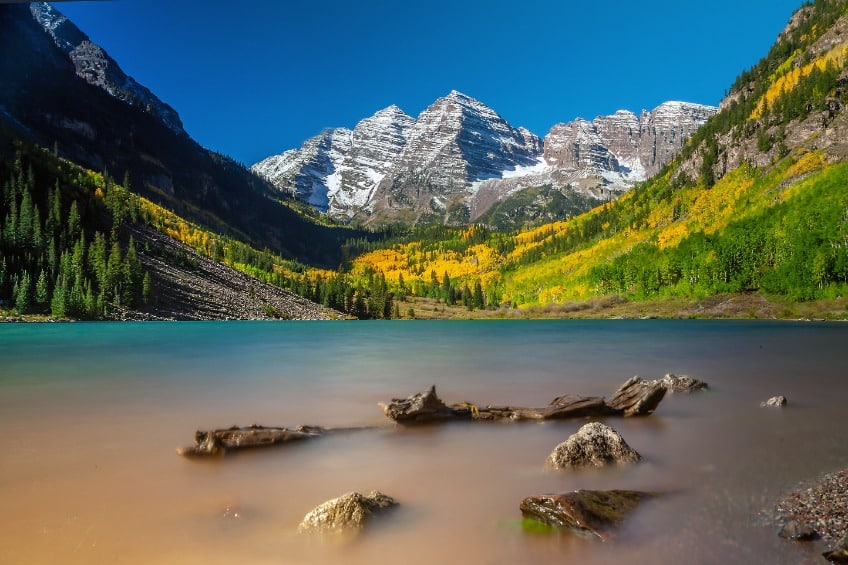 Colorado is a popular location to study and work! With the state's beautiful landscape and outdoor amenities, it's no surprise people may find themselves interested in moving to The Centennial State. 
Many fellowships fund travel and study opportunities in various cities across  Colorado. These programs are for people interested in fine arts, early childhood education, history, health, and more. There are opportunities for everyone from current students, recent graduates, and postdocs, to professionals. 
Embark on your professional and educational adventure in Colorado through this list of fellowships in universities, nonprofits, and private companies. If any of these fellowships interest you, bookmark the fellowship to your free ProFellow account!
These fellowships are awarded annually to three incoming in-resident Master of Fine Arts (MFA) Creative Writing and Poetics students at Naropa University in Boulder, Colorado. Allen Ginsberg, Anne Waldman, and Anselm Hollo fellowship recipients receive full funding including tuition and fees, plus an additional $5,000 scholarship and a $3,600 stipend. 
History Colorado offers a fall fellowship for individuals to work at the Center for Colorado Women's History of the Byers-Evans House Museum. Eligible applicants are scholars, musicians, writers activists, and/or artists who are focused on Colorado's history in the interdisciplinary fields of women's studies, gender studies, and ethnic studies. Each fellow completes a project they will present within 60 days of the completion of the fellowship. Fellows receive a $5,000 stipend.
Children's Hospital Colorado provides educational opportunities to students graduating with a master's degree in health administration. The Administrative Fellowship is a year-long program in which fellows gain valuable exposure to system and departmental operations through projects, organizational rotations, participation in meetings, and other professional experiences. The projects and rotations are customized toward the fellow's interests and the needs of the senior-level management team. Qualified applicants have a master's degree (MBA, MHA, MHSA) or equivalent coursework completed from a U.S.-based university.
Colorado State University offers the Water Center Student Fellowship to collaborate with students interested in supporting underrepresented groups within the water sector. The fellows will help elevate and serve groups that have been historically excluded and underserved in the water sector. Each cohort of CoWC Student Fellows partners with CSU faculty, staff, and community members to explore topics in water sustainability and environmental justice, and equity. The Fellows work with community members to support projects that benefit the environment and improve livelihoods. The CoWC Student Fellowship provides a platform for previously excluded voices in conversations and decision-making around water. Fellows receive a $1000 stipend per academic year.
The El Pomar Fellowship is a paid, two-year professional development program. The fellowship aims to develop high-achieving, service-minded recent college graduates and early career professionals into dynamic community leaders primed to make an impact across multiple sectors in Colorado. Fellows obtain valuable learning opportunities through direct exposure to Colorado's philanthropic and nonprofit arenas, targeted professional development, peer management, program oversight, and connection with an engaged network of nearly 300 alumni. Fellows are expected to report to work in person a minimum of three days a week at the Foundation's office in southwest Colorado Springs and have the option to work virtually for the remaining two days.
Generation Teach offers six-week summer teaching fellowships to undergraduate students (freshman, sophomore, junior, and seniors) in six cities in Colorado, Massachusetts, and Rhode Island. Fellows complete pre-summer preparation and a week of in-person training, learn core instructional strategies, practice key teaching skills, and receive daily coaching from a professional teacher. Fellows complete an AmeriCorps term of service and receive a $3,600 taxable scholarship. Fellowships are filed on a rolling basis, apply immediately.
The Meridian Institute Ruckelshaus Fellowship Program offers a two-year paid fellowship, contingent upon performance and the needs of the organization, for recent college graduates to work on varied and highly complex public policy issues, learn about the field of multi-party collaborative problem solving, and engage with leaders from a variety of sectors. Fellows will provide research, writing, and other types of support for projects focused on natural resources, agriculture policy, and ocean and coastal policy, among other topics. Fellows begin work each summer at either Meridian's Dillon, CO, or Washington, D.C. offices.
The Teaching Policy Fellowship is a selective program for teachers interested in having a voice in decisions that affect their profession. Fellows receive extensive training on topics such as policy, advocacy & storytelling. Fellowships are offered in California, Colorado, Illinois, Indiana, Massachusetts, New Mexico, Rhode Island & Texas. Fellows engage directly with key education stakeholders & policymakers, shaping & advocating for policies that meet the needs of their students. Stipend provided. Each state has different deadlines.
This flexible, non-degree program allows fellows to tailor these resources to meet their needs and interests. Fellows deepen their knowledge of the environment through courses, weekly seminars, and field trips. Fellows will receive a total of $50,000 for the 9-month academic year the program covers tuition, recreation, and computer fees. The program is open to all full-time U.S. print or broadcast journalists interested in deepening and broadening their knowledge of environmental issues. Applicants must be U.S. citizens, have a minimum of 5 years of full-time professional journalism experience, and have completed an undergraduate degree.
The Bank of the West Fellowship is for diverse social entrepreneurs and sustainability leaders selected from the Bank of the West's 4 regions. The Bank of the West Fellows will form a tight-knit cohort within Watson Institute's flagship Accelerator program in Boulder, Colorado. The Fellows join the program with an early-stage venture ready to scale. Fellows participate in the Watson Accelerator, which includes:  award-winning training, seed funding, tailored mentorship, and a global network to accelerate their social ventures. This Fellowship is designed for changemakers, innovators, and leaders from, or leading change within, Bank of the West priority regions.
Are you interested in finding more fellowships?

Sign up

to discover and bookmark more than 2,400 professional and academic fellowships in the ProFellow database.
© 2023 ProFellow, LLC, all rights reserved.