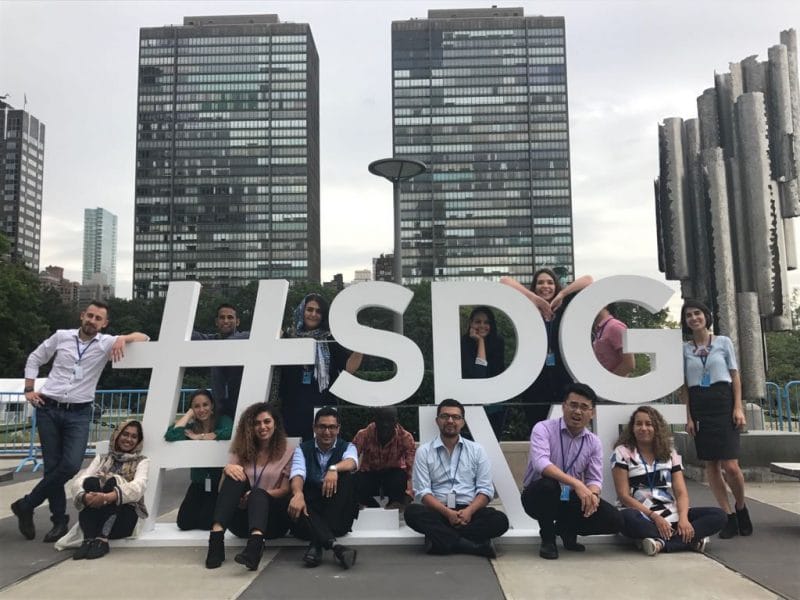 Founded in 1981, the Reham al-Farra Memorial Journalism (RAF) Fellowship is a three-week program that brings early-career journalists from many different developing countries – some developing and some with economies in transition – to New York City for the opening of the General Assembly at the United Nations. The fellowship provides opportunities to observe the UN, interact with and interview many senior officials, visit many news organizations based in New York, and network with other journalists and colleagues from all over the world. The fellowship covers travel to New York as well as a daily allowance for accommodation and other travel-related expenses. At the completion of the fellowship, fellows continue working in journalism to build a greater understanding of the United Nations in their home countries.
To learn more about this fellowship and get some application tips, we talked to Zoya Anwer, a recent RAF fellow at the United Nations.
1. What inspired you to apply for the Raham Al Farra Memorial Journalism Fellowship?
I have been associated with journalism for almost four years now and have spent more than two years reporting about various issues in the city I live in, Karachi. I started off in entertainment news at Dawn.com and later moved on to a city desk at The News International, where I am currently employed. I came across the RAF Memorial Fellowship under DPI, United Nations, last year and I felt the need to apply after reading the details. I wanted the opportunity to report on the United Nations General Assembly, one of the most important global events. As someone who had never stepped out of Pakistan, I expected the fellowship to open many avenues for me by giving me exposure to journalists from diverse backgrounds.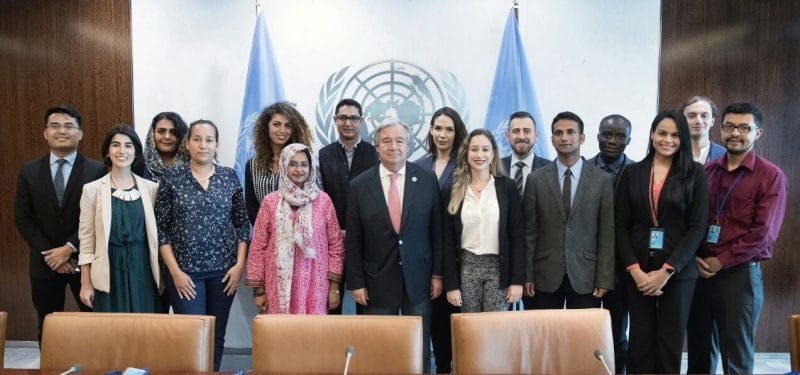 2. What have been some of the most eye-opening moments during your fellowship?
From over 700 applicants all across the world, only 15 journalists made it to the programme and I was the only one chosen from Pakistan. I was one of the youngest there, having only three-years worth of experience under my belt. I was expected to not only represent the journalist community from my country, but also report for United Nations General Assembly. I was thrilled to be there because I was working with journalists from places like Argentina, The Dominican Republic, Brazil, Georgia, Ukraine, Egypt, Iran and India, just to name a few. We exchanged ideas and many journalists shared stories. I was able to form strong ties with women because back home, our struggles as reporters out in the field are the same.
While I was at UN Headquarters in New York City, I met General Secretary Antonio Gutteres and was able to ask him and Deputy Secretary-General Amina Mohammed questions pertaining to the immigrant crisis and honour-based crimes. I got acquainted with the Department of Public Information and had fruitful discussions with their representatives, including Maher Nasser, Bayann Hamid, and Kathryn Good. Alison Smale, the Under-Secretary-General for Global Communications, was also present on various occasions. I worked alongside an Indian journalist, Devjot Goshal, the editor of Quartz India, and conducted an interview with Pakistan's ambassador to the UN, Maleeha Lodhi. Ms. Lodhi later attended the farewell ceremony and shared her remarks with those heading the programme. Our visit to the office of Committee of Protection of Journalists (CPJ) was also very informative as we got acquainted with the representatives from our respective regions, and we were given a briefing about the CPJ's work to ensure a secure environment for journalists.
Apart from these experiences, I witnessed the zeal and spirit of the United Nations General Assembly and got a chance to hear country representatives address the annual session followed by press conferences. We visited various departments of UN, including UNICEF, and attended a session on child trafficking. Apart from this, each day was filled with new experiences because there were various speakers explaining journalistic practices, the workings of the UN, and how they can help us understand issues in our own countries. We also visited Democracy Now and had a short meeting with Amy Goodman, which was among the highlights of the fellowship.
3. What tips would you give others applying to the Raham Al Farra Memorial Journalism Fellowship?
The RAF Fellowship for journalists usually opens in April and has a deadline in May. The application form is not very technical and comprises of a few questions with a certain word limit. The questions are about the applicant's background, their interest in the program, the work they are planning to do in New York and the challenges faced by journalists in their country. There are no interviews as of now, and only the successful candidates are informed. The candidates are chosen from various countries across the world, so only a few countries have fellows in any given year. One fellow is chosen from his or her respective country, so all those who are not chosen mustn't feel disheartened because of the tough competition.
I feel that the answers should be concise and coherent especially with regard to the story pitch and expectations from the fellowship. The applicants need to provide work samples that can be seen important to the UN. I report on social issues, which range from minorities to gender to culture, so I was able to support my answers with my work. For example, two of my stories addressed the plight of minorities while the other was about a blast attack on a shrine in Sehwan, Pakistan last year. In the third, I spoke with the family members of a few injured children and a young man who had been shifted to Karachi to receive better medical treatment.
The applicants also need to understand that the reviewer might not be aware of the issues faced by their country. They need to keep it simple and back their answers with evidence to strengthen them. For instance, if they are interested in reporting on conflict, a key area under the UN, then instead of writing just that, they should delve deeper and bring out examples from their reporting to not make it vague.
Zoya Anwer was a 2017 Reham al-Farra Memorial Journalism Fellow. She has worked in entertainment and city news for Karachi, Pakistan where she lives. Her work focuses on social issues, such as minorities, gender, and culture, and she seeks to give voices to those who may have been overlooked.
Interested in applying? Bookmark the Reham al-Farra Memorial Journalism Fellowship to your ProFellow account.
© Victoria Johnson 2018, all rights reserved