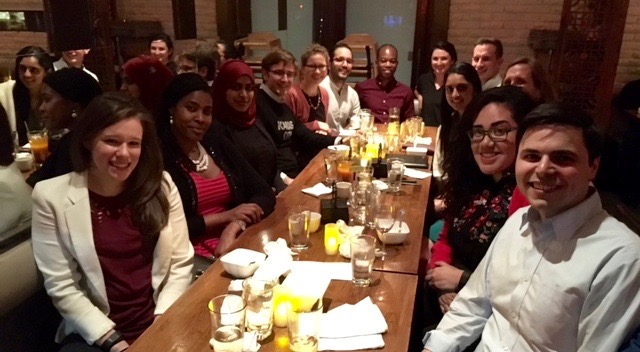 On Monday, the International Fellows Network held a dinner at Lantern Thai Kitchen in New York City for current and former fellows. Co-hosted by former Fulbright fellows Ayushi Gummadi and Yaron Schwartz, the dinner brought together a cross-disciplinary group of leaders in their fields. Fellows discussed their interests and experiences, including the process for becoming a Foreign Service Officer, summer travel plans, other networking groups in NYC and graduate school experiences. Melis Tusiray also shared her experience launching her company, Hey Ladies, which provides mentorship services to professional women.
The International Fellows Network is a professional networking organization of more than 1,000 current and former fellows from all over the world. We have also held events in Washington, DC, New York City and Berlin, Germany. Through the IFN, current and former fellows can connect for advice and information on fellowships, jobs, events, graduate programs and collaborative opportunities. If you are a current or former fellow and would like to join, please sign up for our fellowships database, and we'll be in touch by email!
May 2016 attendees:
Amy Larsen: Fulbright ETA to South Korea
Ayushi Gummadi: Fulbright Fellow to South Africa
C.J. Stanfill: Luce Scholar to Laos
David Kemper: New York City Urban Fellow
Irina Razumovskaya: Fulbright Scholar to the U.S. from Russia
Melis Tusiray: Robert Bosch Fellow
Pam Campos-Palma: Research and Policy Fellow at the Women's City Club of New York
Patricio Martínez Llompart: New York City Urban Fellow
Sidrah Mirza: Dr. Sol J. Heiligman Scholar for Environmental Science
Stanislas Phanord: U.S. State Department Rangel Fellow
Susanna Williams: Marshall Memorial Fellow
Taylor Jo (TJ) Isenberg: Herbert Scoville Jr. Peace Fellow
Victoria Cantrella: New York City Urban Fellow
Yaron Schwartz: Fulbright Scholar to the United Kingdom
© Victoria Johnson 2016, all rights reserved.