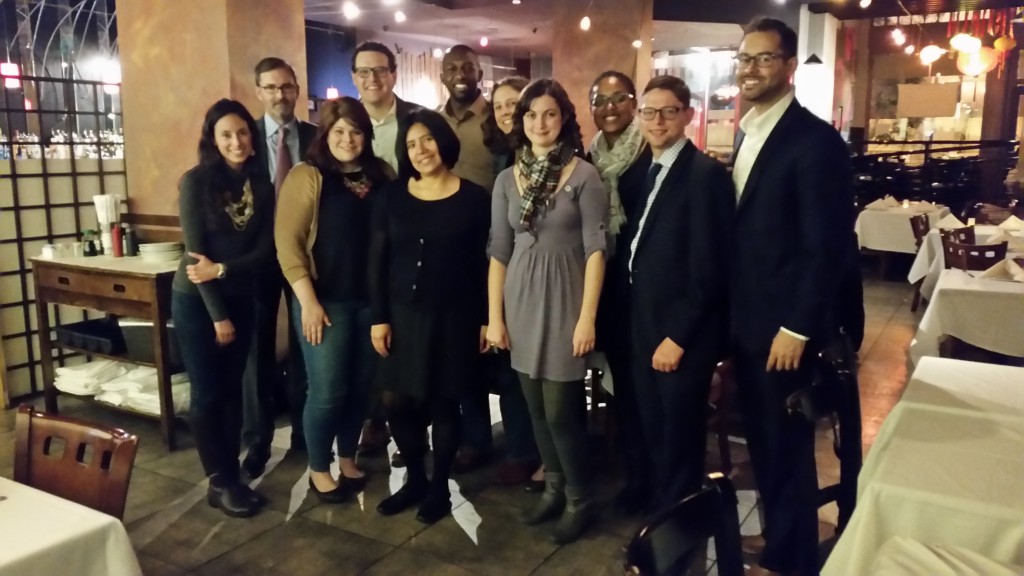 On Wednesday, the International Fellows Network held a dinner at Asia Nine Restaurant in Washington, DC for current and former fellows. Co-hosted by Gabr Fellow Haroun Habib and Presidential Management Fellow Jayson Browder, the dinner brought together a cross-disciplinary group of leaders in their fields. Fellows discussed their interests and experiences, including their fellowship programs, work with the federal government, some fellows' travels and misadventures in sub-Saharan Africa, finding housing in DC, and other networking opportunities in the city. Unexpectedly, two fellows discovered they were from the same town in Connecticut!
The International Fellows Network is a professional networking organization of more than 1,000 current and former fellows from all over the world. We have also held events in Washington, DC, New York City and Berlin, Germany. Through the IFN, current and former fellows can connect for advice and information on fellowships, jobs, events, graduate programs and collaborative opportunities. If you are a current or former fellow and would like to join, please sign up for our fellowships database, and we'll be in touch by email!
May 2016 attendees:
Doreen El-Roeiy: Presidential Management Fellow, DHS
Haroun Habib: Gabr Fellow to Egypt
Jared Stancombe: William J. Clinton Fellow for Service in India
Jayson
 William Browder: Presidential Management Fellow at the White House, OMB
Jim Black: Robert Bosch Fellow to Germany
Lya Astonitas: Fulbright Scholar to the U.S. from Peru
Madison Marks: Boren Scholar to Jordan
Meghan Hussey: Mosaic Fellow in Tanzania
Noaquia Callahan: Doctoral Fellow in African American History at the German Historical Institute
Ryan Orgera: Dean John A. Knauss Marine Policy Fellow
Sarah Flammang: EDF Climate Corps Fellow
Shiyana Gunasekara: Fulbright Scholar to Sri Lanka
© Victoria Johnson 2016, all rights reserved.