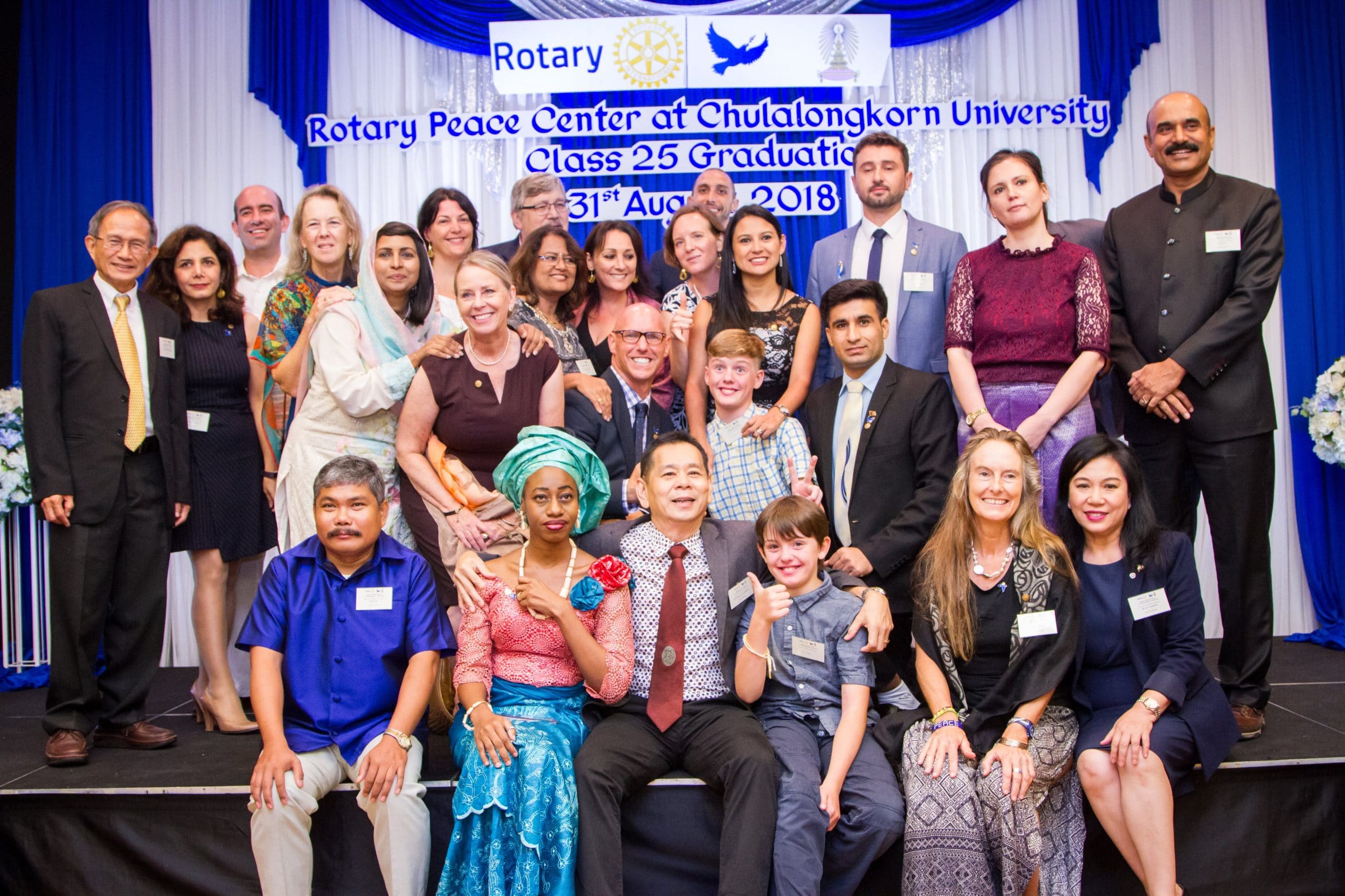 Each year, the Rotary Peace Fellowship provides up to 100 individuals from around the world fully funded academic fellowships at one of their peace centers in Australia, England, Japan, Sweden or the United States. These fellowships cover tuition and fees, room and board, and transportation. Two types of fellowships are available. There are 15-24 month master's degree fellowships at premier universities in fields related to peace and conflict prevention and resolution as well as 3-month fellowships for experienced professionals working in peace-related fields at Chulalongkorn University in Thailand. 
We talked to Kathy Doherty, who leads the Gender Unit at LeMaiyan Hospital, Kenya. She completed her Rotary Peace Fellowship at Chulalongkorn University in Thailand in 2018. She told us about her experience and gave us some helpful application tips.
1. What inspired you to apply for the Rotary Peace Fellowship?
Living in Chicago for the last 20 years, my work focused on ending sexual and gender-based violence (SGBV) in a city where ongoing urban violence creates countless victims – many disproportionately women. I have been committed to creating the social change needed to alter the lives of the 1 in 3 women worldwide who are impacted annually by SGBV. As the former Executive Director of Chicago's Metropolitan Battered Women's Network, we heard from over 26,000 survivors every year on our Hotline and worked with 40 NGOs across the city to change attitudes, beliefs, and behaviors to end violence against women. After completing the Rotary Peace Fellowship in 2018, I became the Head of the Gender Unit at LeMaiyan Hospital in Kitengela, Kenya, where I developed a hospital-based program to identify and treat victims of SGBV.
I am often asked, How does ending sexual and gender-based violence relate to peace? The safety of women should be as central to the discussion of world security as is power, democracy, religion, culture, resources and economic growth. Did you know that when women are involved in peace processes, it's 35% more likely that an agreement will be reached, implemented, and sustained for at least 15 years?
How does SGBV impact peace? The greater the gender gap in a country, the more likely the country is to go to war, use force during conflicts, or to be involved in a violent international crisis. SGBV is one manifestation of this gap, and is used to exert power and control over women and girls. Such violence does not stop when the war ends, thereby undermining the long-term stability and security of a country even after it has transitioned out of violent conflict. In countries including the U.S., SGBV suppresses political and civic participation of women and other marginalized groups—suppressing their participation in voting, protesting, campaigning, or mobilizing within civil society. Therefore, addressing sexual and gender-based violence is paramount to security. Until it is confronted, we will not be able to tackle peace holistically or sustainably in any community. 
The Rotary Peace Fellowship was an opportunity for me to engage with leaders in the field of peace and conflict resolution from all corners of the world – to learn about conflict analysis and the practices leading to conflict resolution. The experience brought me new ideas and solutions and joined me to an influential, international network of experts.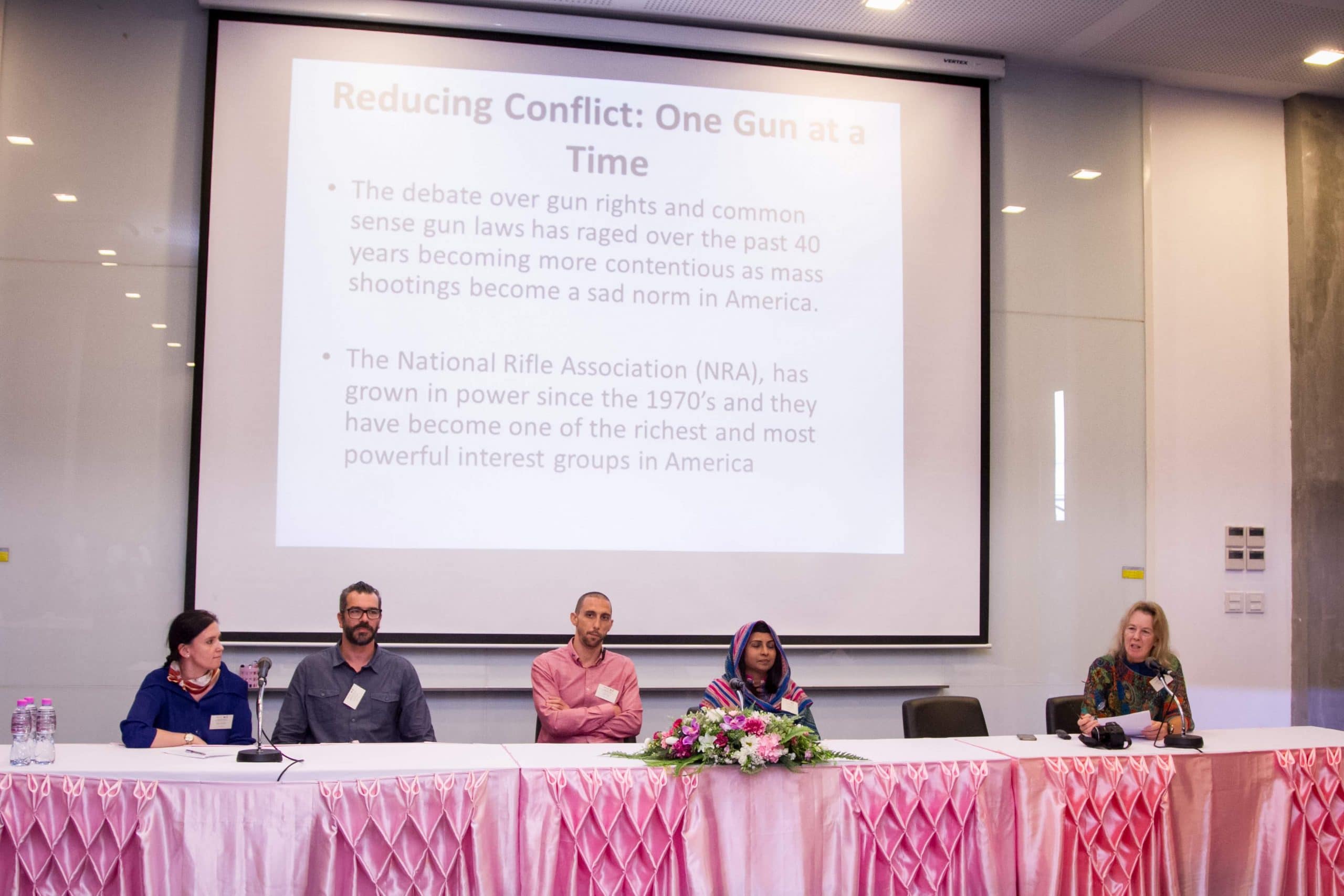 2. What have been some of the most eye-opening moments during your fellowship?
In Class 25, there were 24 Peace Fellows from around the world who stayed at the Chulalongkorn University campus in downtown Bangkok, Thailand, where we attended classes daily during the 3-month fellowship. We came from 17 different countries and had experience working in NGOs, governmental agencies, academia, and the military, so we had diverse backgrounds and skills. Our instructors were international leaders in the field of peacebuilding who covered the following topics: 1) Causes and types of conflict; 2) Conflict analysis models, frameworks, and tools; 3) Mediation, negotiation, and facilitation; 4) The impact of gender, culture, identity, and religion in conflict/peace; 5) International and humanitarian law; 6) The role of the media; 7) How to create successful peace processes, 8) Disarmament, demobilization, and reintegration (DDR) and security sector reform (SSR) processes; 9) Truth commissions and social justice; 10) The monitoring and evaluation of peace programs, and 11) Post-conflict reconstruction
At the beginning of the programs, fellows each identified a topic for our Individual Conflict Analysis Practicum (ICA). The ICA served as a report providing the background and analysis of a conflict relevant to our community, our recommendations to address this conflict, and an action plan to achieve these goals once we returned home. My ICA highlighted the impact of gun violence on domestic violence victims and solutions for reducing this violence in the United States. 
We also participated in two field trips throughout the 3-month fellowship. The first was to Krabi, Thailand where we studied an ongoing environmental conflict, and the second was to the island of Sri Lanka where we studied the impact of their peace and reconciliation efforts after the civil war ended in 2009. These studies in the field breathed life into the concepts we were learning in the classroom. This opportunity was priceless!  
In Thailand, we met civil actors at the grassroots level who had been successfully organizing for the past 4 years to stop the government from building a "clean" coal plant in an environmentally sensitive part of the country where people and wildlife depended on the pristine waters of the Andaman Sea. We saw how conflict begins and grows, the strategies used by the Thai to protect their environment, and how the government responded. We also had the chance to visit businesses developing true clean energy options for the region.      
The Sri Lankan civil war between the Tamil Tigers in the north and the Sinhalese controlled government ended in 2009. We met with the Tamil community and government officials to understand the origin of the conflict, highlights of the war, the defeat of the Tamils, and the status of subsequent peace and reconciliation efforts. Although the war ended in 2009, it was clear the communities we visited had not healed. We felt the Tamils' ongoing unease and heard first-hand their stories depicting the trauma they had experienced. We met with the head of the military and other government officials to learn about their efforts to heal the country. Unfortunately, not enough had been done since the end of the war, leaving both Sinhalese and Tamils in need of much reconciliation. Again, coming out of the classroom brought all the concepts to life in a way that wasn't always comfortable. The experience gave us real-life examples about how reconciliation efforts worked, and if not, the consequences of their failure! 
Outside of the classroom and field studies, fellows were able to use all the university facilities. This included the gym, pool, tennis courts, and the best Zumba classes ever! Fellows were also given a number of days to travel to other parts of Thailand and Asia. I went to Cambodia to learn more about the ancient Hindu temples of Angkor Wat, and on two different occasions, I traveled to Vietnam. In Vietnam, I visited the four caves of the amazing Tu Lan Cave System in the Quang Binh Province. We trekked, caved, climbed and swam through river caves and spent the night in the tropical jungle! I also went to Hoi An, the beautiful "Lantern City" and traveled to My Lai to learn more about the US massacre of South Vietnamese civilians during the Vietnam War. It was another critical learning experience, seeing the trauma caused and still reverberating today as a result of our actions.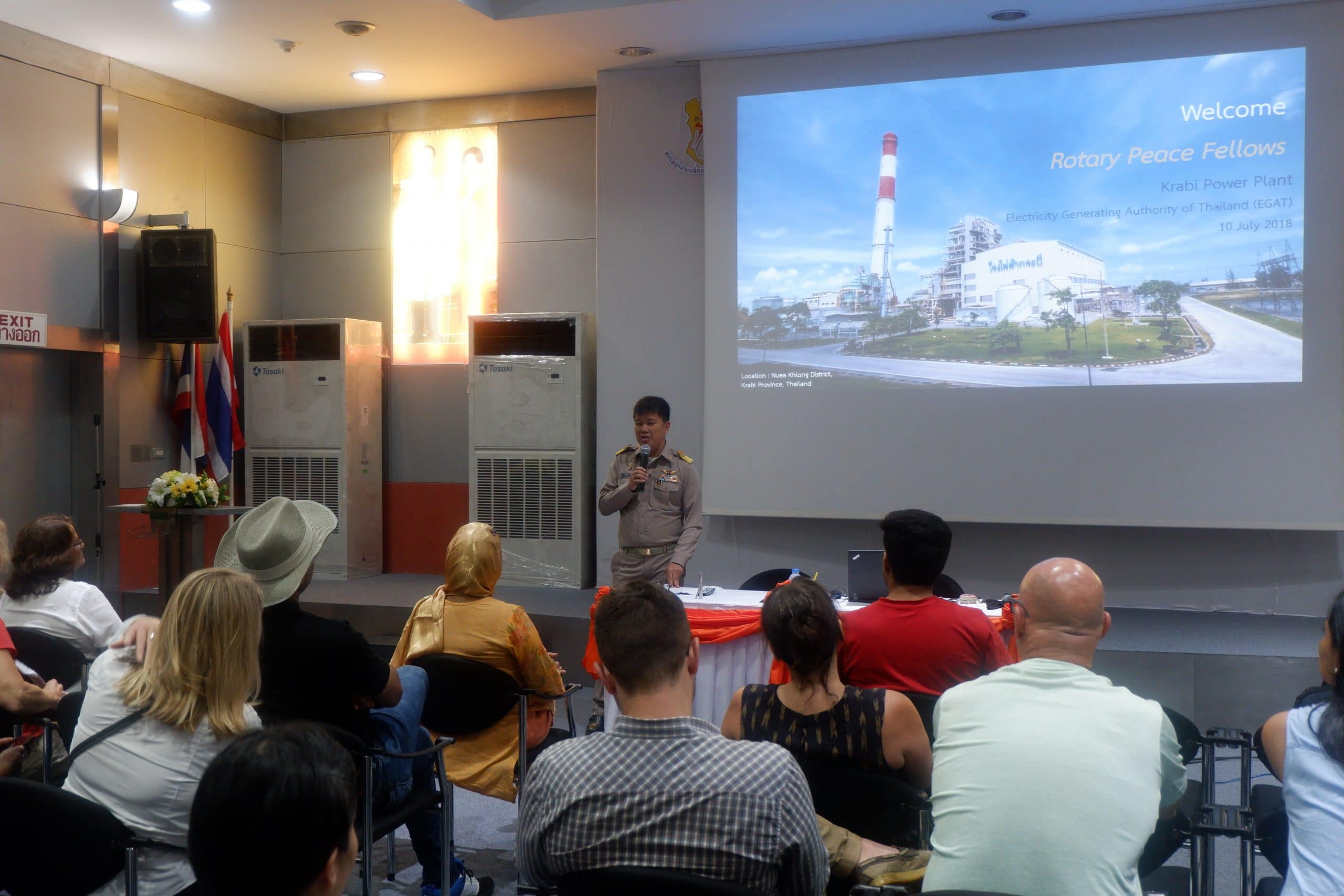 3. What tips would you give others applying to the Rotary Peace Fellowship?
Unless applicants are already familiar with Rotary, it is important to get to know the organization: who they are, and what they do. Rotary's mission is to provide service to others, promote integrity, and advance world understanding, goodwill, and peace through their fellowships for business, professional, and community leaders. Rotary chooses Peace Fellow applicants who live according to their values and principles. Service above self is a key value of Rotarians, and applicants must show how they have put service above self in improving the world around them.
In terms of the Peace Fellowship – "Rotary Peace Fellows are social change leaders who are chosen for their ability to have a significant, positive impact on world peace throughout their careers. Through rigorous academic training, field experience, and global networking opportunities, the Rotary Peace Centers program develops leaders who become catalysts for peace and conflict prevention and resolution in their communities and around the globe." Applicants should illustrate how they are social change leaders, how they have already made an impact in their community or field, and how this fellowship will allow them to do more. 
Applicants do not need to be working directly in the areas of peace and conflict. There are many fields that contribute to conflict resolution, and create and sustain peace. Look at the eight indicators of Positive Peace as described by the Institute for Economics and Peace, and make sure you can illustrate how your work contributes to peacebuilding.
The top 200 applications are forwarded to Rotary International where the final 100 applicants and alternates are chosen. In 2019, there were over 1,000 applicants for these fellowships! I believe that I was selected as a Peace Fellow because of my work as a social change leader in the field of sexual and gender-based violence showing a clear connection to peacebuilding. I also outlined how this fellowship would allow me to have a greater local, national, and international impact. Finally, I was able to illustrate how my professional and volunteer work was in line with key Rotary values. 
Kathleen Doherty heads the Gender Unit at LeMaiyan Hospital in Kitengela, Kenya, to develop a Gender Violence Recovery Unit coordinating screening, intervention, and prevention for individuals experiencing sexual/gender-based violence. In 2018, she was selected as a Rotary Peace Fellow, and completed the intensive peace and conflict studies certificate program at the Rotary Peace Center at Chulalongkorn University in Bangkok, Thailand. She has 30 years of experience in the fields of health, youth development, and sexual/gender-based violence.  
Interested in applying? Bookmark the Rotary Peace Fellowship to your ProFellow account.
© Victoria Johnson 2019, all rights reserved.