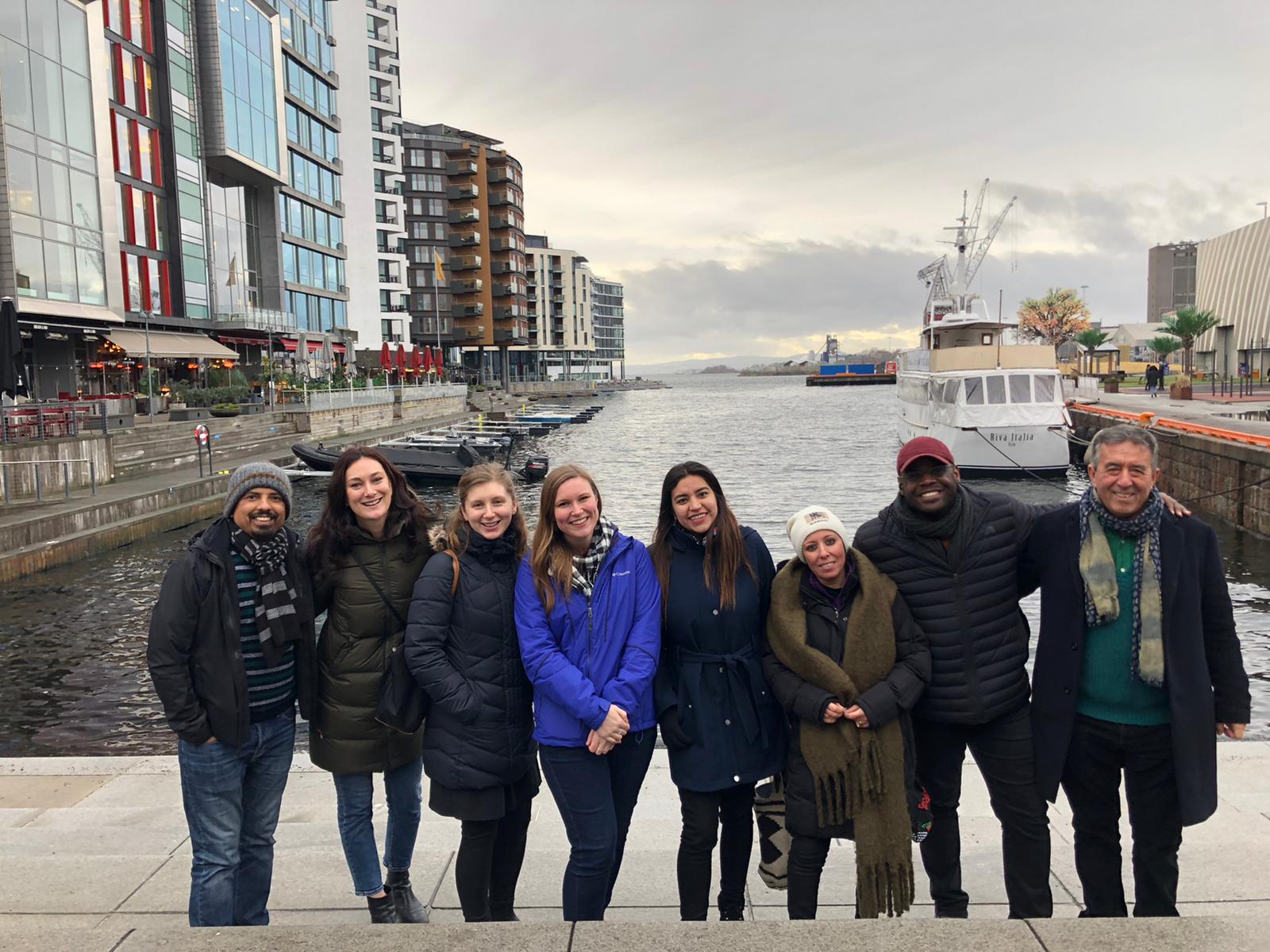 Each year, the Rotary Peace Fellowship selects up to 100 individuals from around the world to receive fully funded academic fellowships in the field of peace studies. Two types of fellowships are available. There is a 15-24 month master's degree fellowship at premier universities in fields related to peace and conflict prevention and resolution and a 3-month fellowship for experienced professionals working in peace-related fields at Chulalongkorn University in Thailand. These programs cover tuition and fees, room and board, and transportation.
We enjoyed talking to Rachel Brooks, a current Rotary Peace Fellow pursuing her MA in international relations and security studies at the University of Bradford in the United Kingdom, who told us about her experience and gave us some helpful application tips.
1. What inspired you to apply for the Rotary Peace Fellowship?
I first encountered the field of peace studies while living on South Korea's Jeju Island as a Fulbright English Teaching Assistant. From the Jeju 4.3 Peace Park to the Jeju Peace Institute, my life on Jeju was an entryway to learning more about the promotion of peace on the Korean peninsula and beyond. 
While I had been a longtime admirer of Rotary International's work and an officer for my school's Interact Club back in the day, I cannot remember where I first learned about the Rotary Peace Fellowship. I do know that the fellowship excited me when I found out about it and that the program's mission spoke to my personal mission and values. The Rotary Peace Fellowship is designed for leaders with work experience in peace and development to pursue funded master's degrees and professional certificates in peace studies at premier universities. Not only did it align with my academic background in public policy and work experience in international education and social impact, but the fellowship seemed to dovetail my longer-term professional goals. Before applying, I remember reading an article by a Rotary Peace Fellow at International Christian University in Japan on ProFellow. 
As the first person in my family to go to college, I loved my undergraduate years at William & Mary and aspired to eventually go back to school. I hoped to earn a master's after a few years of work experience to pay off student loans and grow some savings. In the back of my mind, though, I knew I'd have a challenging time choosing to take on more loans and forgo a salary for more education. The Rotary Peace Fellowship was an unparalleled opportunity to pursue graduate work at a top peace studies program, the University of Bradford in the United Kingdom, alongside a diverse, global cohort without the financial strain of other programs I was considering. 
The Rotary Peace Fellowship develops the capacity of peace and development professionals to become more effective catalysts for peace by supporting their educational journey with fully-funded master's or certificate programs in Australia, Japan, Sweden, Thailand, Uganda, the United Kingdom, and the United States. The fellowship seeks diverse applicants from around the world, and my cohort of Bradford fellows comes from Canada, Colombia, Ethiopia, Georgia, Liberia, Nepal, Palestine, and the United States.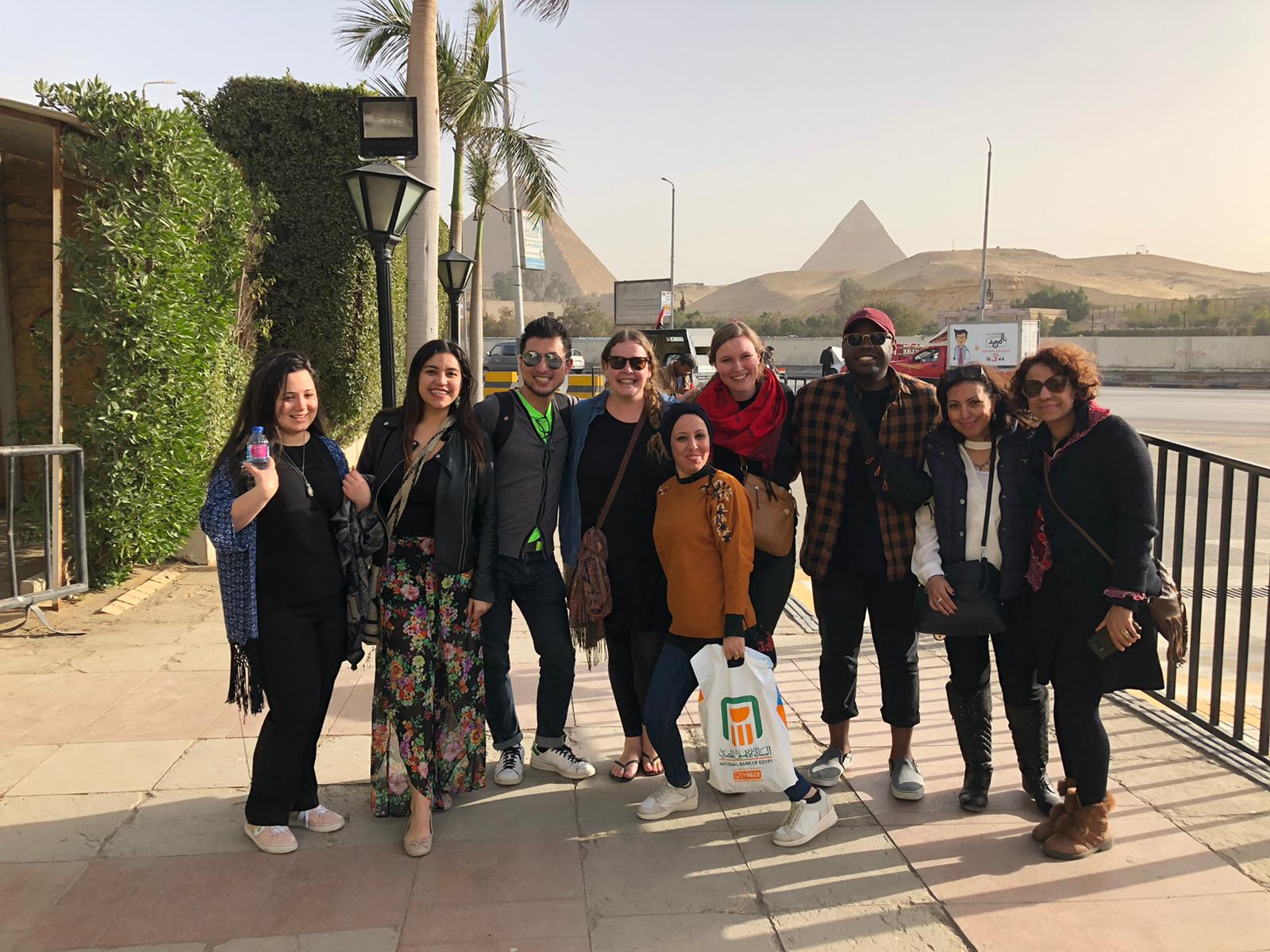 2. What have been some of the most eye-opening moments during your fellowship?
I've been amazed at the array of topics I have been able to do deep dives into during my time at Bradford. I have gotten to work closely with faculty and research topics from green finance in India and Indonesia to gender mainstreaming to disaster risk reduction. The electives to choose from are so diverse that I had trouble selecting from the vastly different topics, but luckily I've been able to audit courses within and outside of the department that I could not formally take. I am planning to write my dissertation on disinformation and social media information flows, so the ability to sit in on cybersecurity-focused classes has been useful. While the Peace Studies and International Development (PSID) department is large and robust, my interactions with faculty have been personal and meaningful. Despite the pandemic-induced remote learning and time zone difference, department leadership and professors at Bradford remain in close contact, reaching out to me when they see certain postings related to my participation in classes or broader passions I've shared with them. 
More broadly speaking, I've found it eye-opening just how large the peace studies space can be, as peace is often seen as this amorphous concept. A couple of my peers and I have been participating in the Accelerated Student Entrepreneurship Program (ASEP) to create a social enterprise bridging the peace and business spaces, and it has been really interesting to give pitches and learn about how people perceive peace in their own work and lives. 
Another unique experience and a highlight of the fellowship so far has been getting the opportunity to participate in Rotary Peace Fellows study visits to Oslo, Norway and Cairo, Egypt. From being in the decision room at the Norwegian Nobel Institute to reflecting on lessons learned while walking around the pyramids, seeing peace in various global contexts has been transformative and something I will carry with me for a long time.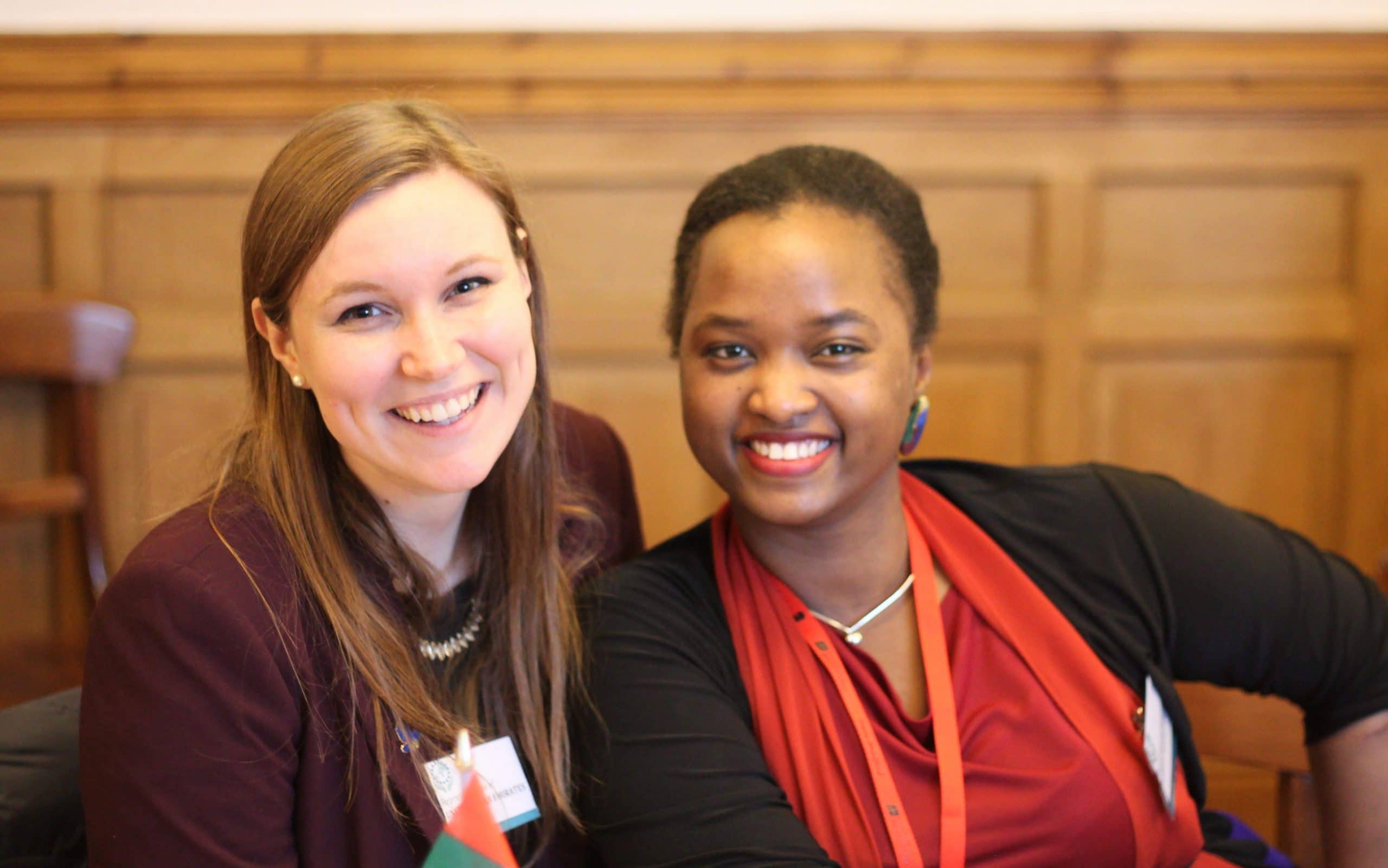 3. How has the pandemic affected your fellowship experience? 
The pandemic has drastically and unsurprisingly shifted the fellowship experience, and I am grateful to Rotary for its continued support during this uncertain year. Two other University of Bradford peace fellows and I were evacuated back to North America in mid-March after the State Department issued its global travel advisory. I felt supported by my amazing Rotary host family in Bradford and the team of people navigating the shifting circumstances. I had about twelve hours to pack up and say goodbye to Bradford, and the Rotary International Travel Services did an amazing job sifting through flights and getting me on the last of an airline's flights out of Manchester before its pandemic-induced hiatus. 
One aspect of the fellowship is that fellows get the opportunity to do a summer Applied Field Experience (AFE). Under normal circumstances, this experience should be outside of the fellow's home country. This obviously changed when the pandemic struck and many of us were now unexpectedly in our home countries for the foreseeable future. The Rotary Peace Fellowship has a robust alumni association and more than 1,300 fellows working in more than 115 countries, and I am immensely grateful to the network of Rotary Peace Fellow alums who were willing to connect with me virtually as I switched my Europe-based search to remote US-based opportunities. I feel lucky to be working on remote summer Applied Field Experiences through research fellowships with the Digital Threats to Election Integrity team at the Carter Center's Democracy Program and AI for Peace, a venture started by a Duke/UNC Rotary Peace Fellow alumna. 
One positive aspect of the shift to remote learning is that many traditionally in-person resources have been mobilized online for the first time. This opens up sometimes previously cost-prohibitive opportunities that would have involved travel to more people at no or low cost, so people can now engage virtually from their homes. Three opportunities I have enjoyed participating in virtually from my plant-filled porch in New England are RightsCon, the Climate Reality Leadership Corps Global Training, and the Young Professional in Foreign Policy (YPFP) Emerging as a Global Leader Experience (EaGLE) Workshop. 
I also got to serve as a facilitator for the technology and peace panel of the Global Cyber Peace Conference organized by the Rotary Peace Fellowship Alumni Association (RPFAA), which was an amazing mobilization of fellows and alumni to envision the world after the great pause.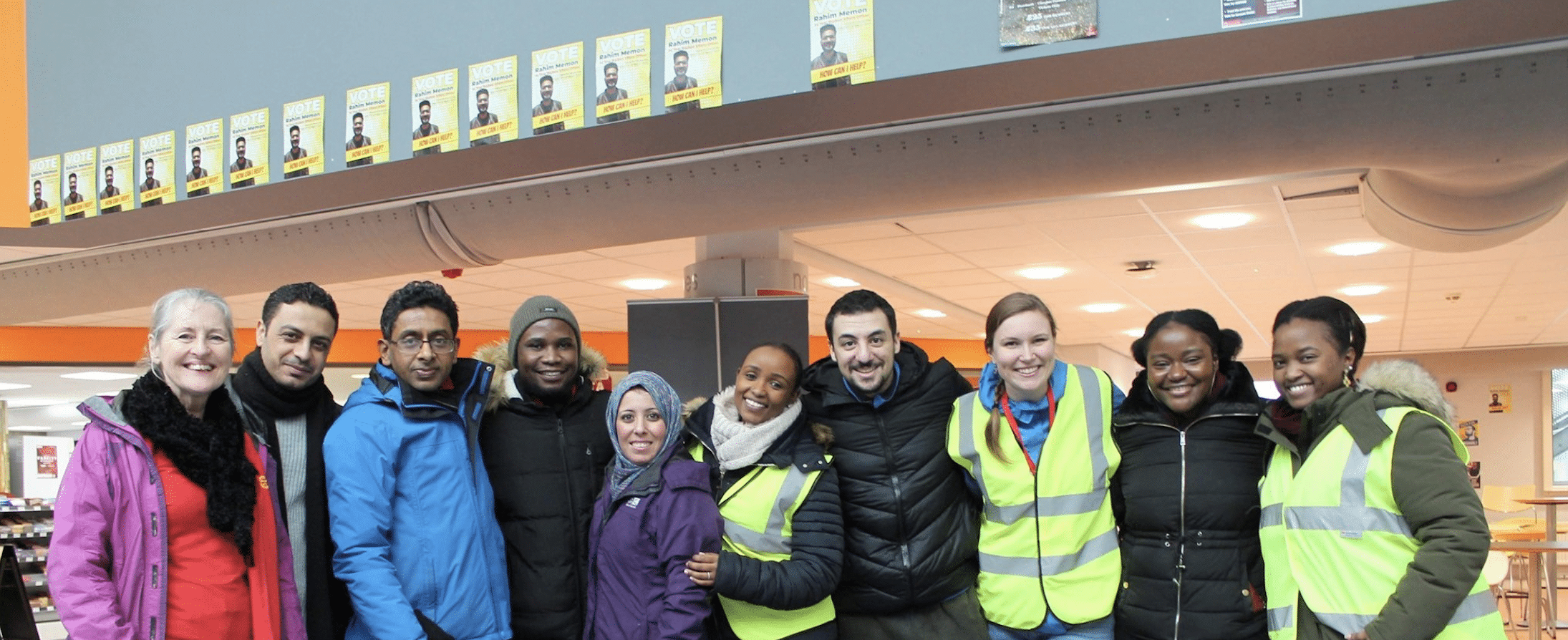 4. What tips would you give others applying to the Rotary Peace Fellowship?
One great aspect of the fellowship is that it brings together a global cohort with professional experience in peace and development and backgrounds as changemakers in that work. In my cohort, fellows' expertise includes areas like international humanitarian law, gender equality, migration, crisis management, and development economics, and each fellow brings unique additions to the group. I think taking time during your pre-fellowship years of working in the peace and development space to reflect on your personal motivation and mission — your "why?" — is helpful in both crafting a compelling application and in getting the most out of your fellowship experience. 
Candidates for the master's degree fellowship must be proficient in English, have a bachelor's degree, possess a strong commitment to cross-cultural understanding and peace as shown through professional and academic achievements and personal or community service, demonstrate the potential for leadership, and have at least three years of full-time experience in peace or development work. More information can be found online. 
In terms of the application process, I appreciated that applicants connect with a local Rotary District (and that resources like the District Finder tool make it easier for applicants to reach out). Coming from a community-based research background, I was excited to meet local Rotary leaders in my community as part of the application and think through how to best serve the communities in which I operate. Through the application process, I found a mentor and champion in my local district, and it's been a joy to stay connected with her and speak at virtual Rotary Club meetings together. As a fellow, I have spoken to a number of Rotary Clubs in the UK and US as well as in different forums, so it helps for applicants to enjoy public speaking about their research and experiences. If you can, try to connect with your local Rotary District early in the application process! 
If you are passionate about peace and development, I highly recommend checking out the Rotary Peace Fellowship graduate and certificate programs. I am eternally grateful to have been afforded this opportunity through Rotary International and for the classmates, professors, practitioners, Rotarians, and lifelong community the fellowship has introduced me to in Bradford and beyond. 
Rachel Brooks is a Rotary Peace Fellow pursuing her MA in international relations and security studies at the University of Bradford in the United Kingdom. She is spending the summer as a research fellow with the Digital Threats to Election Integrity team at the Carter Center's Democracy Program and AI for Peace. Her work centers around democracy, corporate social responsibility, and technology policy, particularly the fight against disinformation. She previously taught English on Jeju Island, South Korea with the Fulbright Program and now serves as a Fulbright US Student Alumni Ambassador. A Sharpe community scholar and honors fellow, Rachel earned her BA in public policy from William & Mary. 
(All photos taken prior to the COVID-19 pandemic) 
Interested in applying? Bookmark the Rotary Peace Fellowship to your ProFellow account.
© Victoria Johnson 2020, all rights reserved