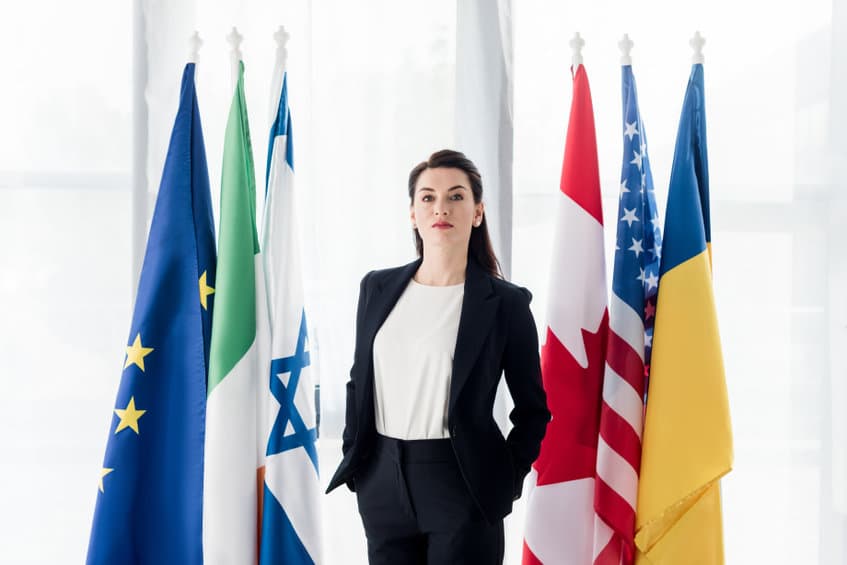 Women remain underrepresented in the field of peace and security. According to the United Nations, about 70% of peace processes between 1992 and 2019 failed to include a single woman mediator or signatory. We see the consequences of this extreme gender imbalance play out each day in international news of conflict and war. 
Building peace and security can't be achieved by men alone. Viewing women as victims of conflict and not active participants in its prevention ultimately creates systems that overlook the needs of women in post conflict reconciliation and reintegration. But that's not all. Having women in positions of power can actually prevent conflict. Research shows that the size of a country's gender gap directly corresponds to how likely that country is to both be involved in conflict and use violence as its first response. 
So how can we get more women involved in peacebuilding? We can start by helping more women learn about and access fellowships for peace and security. These opportunities fund policy work, scholarly research, and training programs both domestically and abroad that can lead to a lifetime of peacekeeping work. 
Here's what some past female peace and security fellowship recipients had to say about their experiences in these programs.
"I was able to find out how four of my strongest passions can be combined in a meaningful way: doing impactful work, empowering women, sustainability, and tourism. I left [my fellowship experience in] Timor-Leste with a knowledge of development work no textbook could have ever prepared me for, a more deeply entrenched resilience, and a clear sense of how I want to fit into the world. This Projects for Peace grant challenged me and helped me grow both personally, professionally, and civic mindedly, and gave me skills related to development work, grassroots peace, and critical thinking about change-making from which I will draw upon for the rest of my life." 
"Working in partnership with Nicaraguans during [a] time of crisis led me to examine my definition of peace, facilitating personal growth that I've carried into my next role … challenging the way I think about a concept that is as central to my work as peace has encouraged me to examine other inherent biases in my work."
Projects for Peace is a global program that awards $10,000 grants to 100 or more student leaders each summer so they can implement a "Project for Peace" anywhere in the world. Grantees must attend a Projects for Peace partner institution.
"I applied to this fellowship because I saw it as a great opportunity to get started in the peace and security field after having done my graduate work outside of Washington, DC. It can be difficult to become connected to the organizations with which I wanted to work from outside the city, and the Scoville foundation prioritizes bringing people from outside the area into DC to work on these issues."
The Herbert Scoville Jr. Peace Fellowship is a  6-9 month fellowship for recent graduates in Washington, DC that allows fellows to serve at participating policy think tanks and organizations that address peace, international security, and nuclear non-proliferation.
"A highlight of the fellowship [was] getting the opportunity to participate in Rotary Peace Fellows study visits to Oslo, Norway and Cairo, Egypt. From being in the decision room at the Norwegian Nobel Institute to reflecting on lessons learned while walking around the pyramids, seeing peace in various global contexts has been transformative and something I will carry with me for a long time."
The Rotary Peace Fellowship provides master's degree fellowships at premier universities in fields related to peace and conflict prevention and resolution as well as professional development certificates for experienced professionals working in peace-related fields.
How can I find fellowships in Peace and Security?
Finding the right peace and security fellowship for you is easy by taking advantage of the ProFellow database. It's free, available to everyone, and contains over 1,500 funding opportunities. To find peace and security fellowships, follow these simple steps:
1. Create your free ProFellow account here OR if signed in, click on "Funding Database" at the top of the webpage
2. On the left-hand side of the database, you'll see the option to filter search results. To find opportunities for professionals, filter Type: Professional Fellowships. To find opportunities for students, filter Type: Graduate Fellowships, Doctoral Fellowships and/or Summer Fellowships. 
3. For fellowships in peace and security opportunities, we suggest using the filter Discipline: Public Service, International Affairs.
4. You can also use the Keyword search bar at the top of your results. Try keywords (one at a time) like: peace; national security; foreign policy 
5. When you find a program that interests you, click the link, then click "Add to Favorites" on the right-hand side of the page. This fellowship is now bookmarked in your ProFellow account to access later!
Also check out 15 Fellowships for Peace Activists, Scholars and Students.
How can I successfully apply to Peace and Security fellowships?
Now that you've found some exciting new opportunities, it's time to create a winning application! Many peace and security fellowships will ask you to submit a policy essay, so it's important to start pinpointing a topic you're interested in, conducting research, and drafting an outline.
All fellowship programs will also ask you to explain why you're the right fit for the program and why they should invest in you. Check out our many articles on personal statement tips written by current and former fellows. 
It's never too early to start brainstorming how you can stand apart from other applicants. Fellowship application deadlines are typically between September and January. Happy searching!
© 2022 ProFellow, LLC all rights reserved.