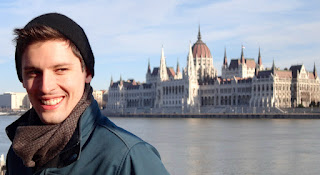 Jason Tashea does not miss any opportunity to go abroad. During and after studying law at the University of Oregon in Eugene, Jason won three fellowships that allowed him to work abroad in places like Armenia and Austria on rule of law development. These fellowships include the Nick Begich Scholarship for Alaskans, the Savage Endowment for International Relations and Peace Student Fellowship, and the Northwest Institute for Conflict Resolution Fellowship. His latest and current fellowship, a 2012-13 Fulbright Grant, has sent him all the way to Kosovo where he is analyzing and studying judicial and juvenile law reform in the region. Jason is working with the Kosovo Law Institute in Pristina and speaking with judges to better assess judicial reform in developing legal systems. He is also teaching two courses at the American University of Kosovo. We caught up with Jason to learn more about his Fulbright fellowship and his tips for success. 
1. What inspired you to apply for the Fulbright Grant in Kosovo?
There are very few opportunities out there that allow you to create your own project to pursue in a foreign country. There are even fewer that then pay you to implement it. Fulbright is one of those opportunities, and it would have been foolish to not take a chance at such a unique opportunity. Also, I had an interest in the Balkans years before the Fulbright Grant crossed my radar.
2. What do you think made your application stand out?
I'll be the first to tell you that I don't know why I was chosen for a Fulbright. However, I was given advice from previous Fulbright fellows, which I think helped my application dramatically. Below I'll sum up the four recommendations I received and how I applied them. Those recommendations include: 1) the right country, 2) name dropping, 3) concise background information, and 4) immediacy.
I was interested in a research Fulbright from the rule of law perspective, specifically judicial reform. I could have done this proposal in a number of countries; however, Kosovo specifically called for law-focused Fulbright proposals. Also, Kosovo was one of the few country programs without an advanced language requirement. I speak German, but that wasn't helpful in the countries I wanted to work. So, this combination of matching topic and no language requirement, plus my interest in the Balkans, more or less picked Kosovo for me.
Regarding name dropping, I contacted relevant legal reform groups in Kosovo – individuals that previously worked in Kosovo legal reform, as well as individuals that had done similar Fulbright research in other Balkan countries.  Speaking with these people allowed me to better assess what my research proposal would look like and provided credibility to my own project. In essence, I presumed that the more connections I could show to the region in my area of research, the more likely I was to hit the ground running.
Another aspect that helped my application I think, was the concise use of pertinent background facts on judicial reform in Kosovo that may not be familiar to the panelists who judged my proposal. I was told that the average reviewer might not have any expertise about the country or the proposed research topic. By injecting lots of concise points about the ongoing changes in the legal system in Kosovo, the reader would gain an adequate understanding of the current state of affairs in Kosovo.
Last, I gave a sense of immediacy to my application. The above two points answer the "Why you?" question. Creating a sense of immediacy for this project answered "Why now?" Since Kosovo's independence in 2008, the nation has literally remade their judiciary from scratch. All of the people involved with these reforms, including the politicians, NGOs, and judges, are still accessible in Kosovo, which allowed me the opportunity to study and understand the reform process since 2008. I indicated in my application how there was a small window of time left to interview these people while their memories were fresh. I think that this sense of immediacy illustrated why this project was important to do now.
3. How has the fellowship influenced your career path?
It's hard to know yet how the Fulbright Grant will influence my career path; however, even in the first few weeks of this project, people from all over have helped me acquaint myself to Kosovo and have offered professional insight to the legal reform world. Considering how enriching these first few weeks have been, I know that I'll only find more connections and benefits by being involved with Fulbright now and as an alumnus.
Jason was born and raised in Anchorage, Alaska. He earned a Bachelor's in History at Linfield College in McMinnville, Oregon, and his Juris Doctor from the University of Oregon in Eugene. Jason is currently a Fulbright Grant Recipient (2012-2013) in Pristina, Kosovo, researching recent judicial reforms and their effect on morale. Jason can be followed on Twitter @jtashea and through www.legallynorthofbabylon.com.
© Victoria Johnson 2012, all rights reserved.