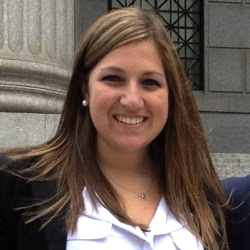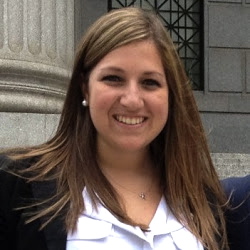 I recently met Stephanie Kozofsky, a Pace University student studying in Manhattan, who is participating in a unique, competitive summer fellowship program called the Jeannette K. Watson Fellowship. The Jeannette K. Watson Fellowship provides internships, mentoring, and enriched educational opportunities to promising New York City undergraduates with the goal of increasing their life choices and developing their capacity to make a difference in their own and others' lives.  Each year 15 students are chosen for the fellowship and provided a variety of paid 10-week internships in the nonprofit, government and private sectors for three consecutive summers. Fellows also convene regularly with their peers to discuss their internship experiences and talk about important issues with distinguished New Yorkers. Excited to learn more, we asked Stephanie about her fellowship experience thus far.
1. What inspired you to apply to the Jeannette K. Watson Fellowship and what did you do during the course of the fellowship?
I was inspired to apply for the Jeannette K. Watson Fellowship because of the amazing opportunities it offered. I loved the idea of three summers of meaningful internships. The fact that the third summer was going to be in an international setting was the icing on the cake!
I never realized how much I would gain from the fellowship. During the course of the fellowship so far, I have had two amazing internships. Fellows spend the first summer in a nonprofit institution. My internship was at the New York Historical Society in the Education Department. I had the opportunity to co-facilitate the high school internship program, which was a huge learning process for me. Fellows typically spend the second summer at a governmental or private sector entity. I was employed by Hughes Hubbard & Reed law firm, working with their pro bono Criminal Trial Program. While interning there, I helped prepare litigation members for court appearances. I also did legal research and gathered information for new cases on the rise. This summer will be my third and final summer with the fellowship. I will be interning in Berlin, Germany at the International Summer University of Freie Universität Berlin.
2. What are the biggest advantages of participating in the Jeannette K. Watson Fellowship?
The biggest advantages of participating in the Jeannette K. Watson Fellowship are hard to explain because there are so many! The main advantage is the supplemental program to the internship program. Throughout the summer, fellows participate in weekly speaker seminars to hear stories and advice from industry professionals. There are also weekly cultural events, to help the fellows bond with one another and learn more about the five boroughs that make up New York City.
3. What tips would you give other applying and interviewing for the fellowship?
For those applying to and interviewing for the fellowship, I would say be yourself! Each year, the Watson committee looks for a diverse group of innovative thinkers to make up the fellowship class. They are always looking for people who can think on their feet, have goals and dreams, and are passionate about social change.
Also the Watson committee believes that people should go outside their "comfort zone" and have the courage to put themselves in situations where they may be uncomfortable, in order to grow. Don't let this topic intimidate you. Demonstrate your perseverance and willing to participate in such activities by describing a situation where your values were challenged or when you were in a situation that you had never experienced before. The application process itself is a new and challenging situation, so I would certainly encourage you to apply!
Stephanie Kozofsky is a senior at Pace University studying English Literature and Criminal Justice. She is originally from Hampton Bays, New York. She is actively involved in her school's Student Government and she works as a Resident Advisor. She also teaches action civics two mornings a week through Generation Citizen. During her free time, she enjoys spending time with her friends and family and seeking out New York's hidden gems. She is currently in her final year of the Jeannette K. Watson Fellowship. 
© Victoria Johnson 2013, all rights reserved.