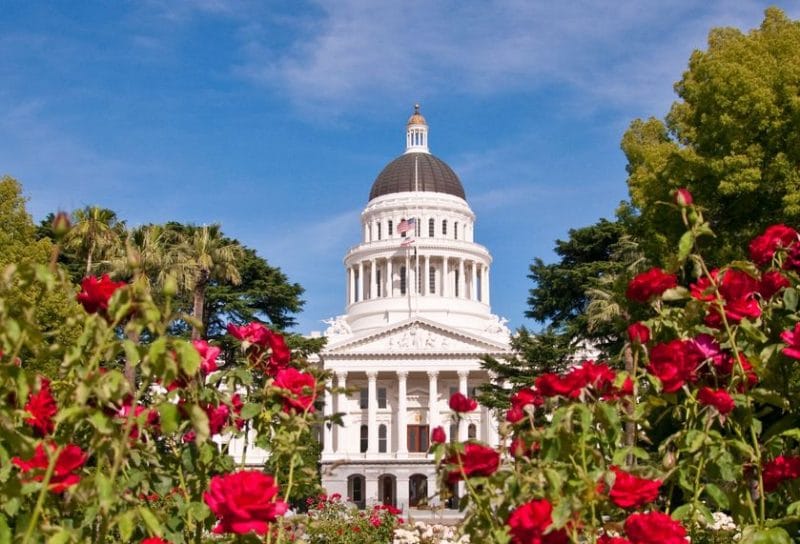 Imagine yourself working for senators, representatives, and other important officials in your state government while getting valuable first-hand experience! These opportunities could be a springboard for your future career in politics, public policy, or something else. The fellowships listed provide opportunities for people at every stage in their careers, beginning with those for current undergraduates. Some fellowships require US citizenship, and others require that a fellow be a resident of a particular state. If one of these catches your interest, be sure to bookmark it to your ProFellow account!
Capital Fellows
The Center for California Studies at Sacramento State University administers four fellowship programs, known collectively as the Capital Fellows Programs. Capital Fellows are placed at some of the highest levels of California state government and assist state legislators, senior-level executive staff, and court administrators with a broad range of public policy issues and projects and are typically given assignments with a significant amount of responsibility and challenges. You can apply for the California Executive Fellowship, the Jesse Marvin Unruh Assembly Fellowship, the California Senate Fellowship, and the Judicial Administration Fellowship,
The Senate Undergraduate Session Assistants Program offers approximately 30 talented undergraduate students from accredited New York State universities and opportunity to experience state government and the legislative process, through their participation in an on-site, academic enriching, and career building work experience. The Program runs about 4 months, beginning in early January and ending in late April. Majors in all accredited disciplines are accepted and encouraged. Typically, 15 credit hours are awarded by most participating SUNY, CUNY, and independent colleges and universities, and students receive a $5,025 stipend.
The Florida Gubernatorial Fellows Program is a non-partisan program that immerses students from public and private universities in key areas of state government. During their 9-month tenure in Tallahassee, fellows receive advanced on-the-job training as well as an invaluable front-line view of the inner workings of government. This program is open to full-time undergraduate (juniors and seniors) and graduate students in Florida State. In order to maintain full-time status, students take courses at Florida State University, online courses, or fulfill internship and directed independent study requirements.
The Dunn Fellowship Program provides bright, highly motivated college graduates a unique opportunity to experience the operations of the Illinois state government firsthand for one year. Dunn Fellows are recruited from public and private colleges and universities throughout the nation. Qualified applicants must hold a bachelor's degree at the program's commencement and must have demonstrated a commitment to excellence through academic honors, leadership ability, extracurricular activities and community/public service involvement. Dunn Fellows are paid $31,332 annually and receive full state benefits.
Alaska Sea Grant, located at the University of Alaska Fairbanks, is offering graduate students, or those who recently completed their degree, the opportunity to acquire on-the-job-training in Alaska-based federal and state agencies for one year as part of ASG's State Fellowship Program. This is a paid fellowship ($3,500 per month for a total of $42,000) for highly motivated and qualified applicants who are focused on science or policy that affects Alaska's marine and freshwater resources. Applicants must be U.S. citizens. Alaska residents and students completing their degrees at Alaska institutions will be given preference.
The fellowships provide a one-year placement for recent graduates in the office of an elected member in Albany, NY. While duties vary depending on the needs of the member, Fellows generally perform in-depth policy research, take part in meetings. In most cases, Fellows must be full-time matriculated graduate students in an accredited university during the immediate previous spring and fall semesters. Fellowships are not financial aid for academic work, on-campus or classroom study. Applications from a wide range of interests and disciplines are welcome and encouraged. Provide a stipend of $33,000.
The science policy fellowship program helps early-career scientists hone their skills by putting them to practice for the benefit of Gulf Coast communities and ecosystems. Fellows gain first-hand policymaking experience as they spend a year on the staff of federal or state environmental, natural resource, oil and gas, or public health agencies in the Gulf of Mexico region. Fellows who have completed an MA, MS, or MPH degree or who are currently enrolled in a doctoral program will receive an annual stipend of $45,000. Fellows who have completed a PhD, ScD, MD, or DVM will receive an annual stipend of $55,000. Stipends will be paid directly to the fellow in monthly disbursements.
State Policy Fellows spend two years with an influential state-based policy organization or with the Center on Budget and Policy Priorities in Washington, DC. Fellows research and write analyses on current policy issues; brief policymakers, journalists, and others on these issues; and serve as a resource for advocates and community groups. Candidates must have received a graduate degree in public policy, public affairs, economics, social work, public health, or a related field within the past year. Fellows receive a salary (approximately $45,000-$50,000) and benefits.
The California Science and Technology (CCST) Policy Fellowships place professional scientists and engineers in the California State Legislature for one-year appointments. The fellowships are ideal for qualified applicants who are interested in improving the interface between science and legislative decision-making and who want to learn the public policy decision-making process. To be eligible for the Fellowship, candidates must possess a PhD or equivalent level degree OR an MS degree in an engineering discipline, plus at least three years post-degree experience. The base stipend is $45,000 plus benefits.
The Open Society Foundations' Leadership in Government Fellowship Program was founded in 2016 to support former senior-level government staff in the United States and its territories who have recently left public service and have played a significant role in advancing social change from within government in the U.S. and its territories at the local, state, or federal levels. Fellows propose a project, which must relate to one or more of U.S. Programs' four central goals: justice system reform (including drug policy), strengthening democratic practice, equality for racial minorities and immigrants, and economic advancement. Fellows will receive a stipend ($90,000 to $130,000) depending on work experience, seniority, and percentage of time committed to the project, which will range from 12-18 months in duration.
© Victoria Johnson 2018, all rights reserved