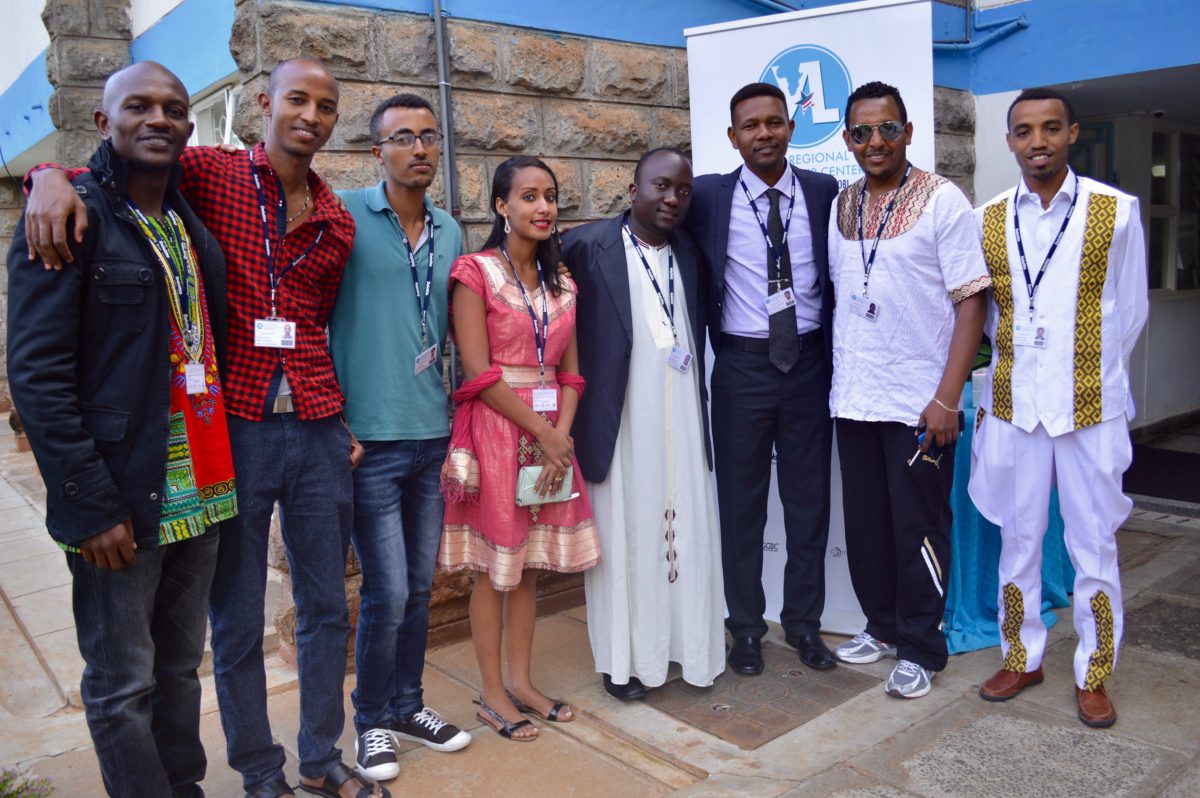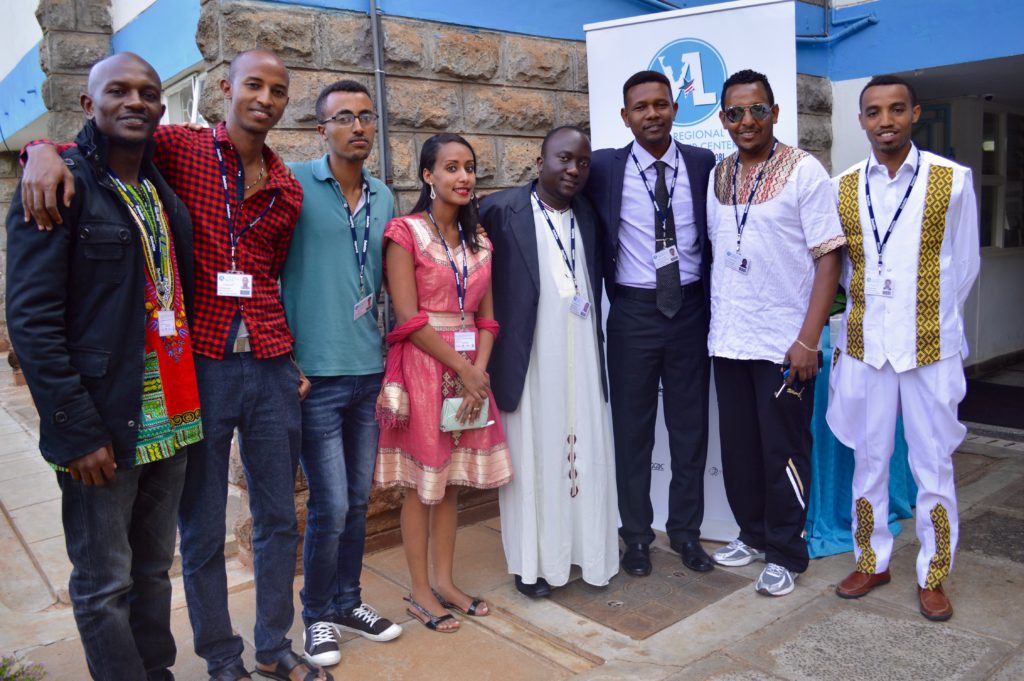 The Young African Leaders Initiative (YALI) was launched by President Barack Obama as a signature effort to invest in the next generation of African leaders. In addition to the Mandela Washington Fellowship, which brings emerging African leaders to the U.S., YALI sponsors a fellowship at Regional Leadership Centers in Kenya, South Africa, Ghana and Senegal. The Regional Leadership Center selects exceptional young leaders and entrepreneurs between the ages 18 and 35 from across Africa who aim to transform their countries. Through a unique 12-week program, across three tracks of study – Business and Entrepreneurship, Civic Leadership, and Public Management – fellows are provided high quality training, mentoring, and networking support.
To learn more about the competitive YALI fellowship , we interviewed Muwonge Alex Stephine of Uganda who was selected for a YALI fellowship at the Regional Leadership Center East Africa, located at Kenyatta University in Nairobi, Kenya. Alex provides his insights and application tips.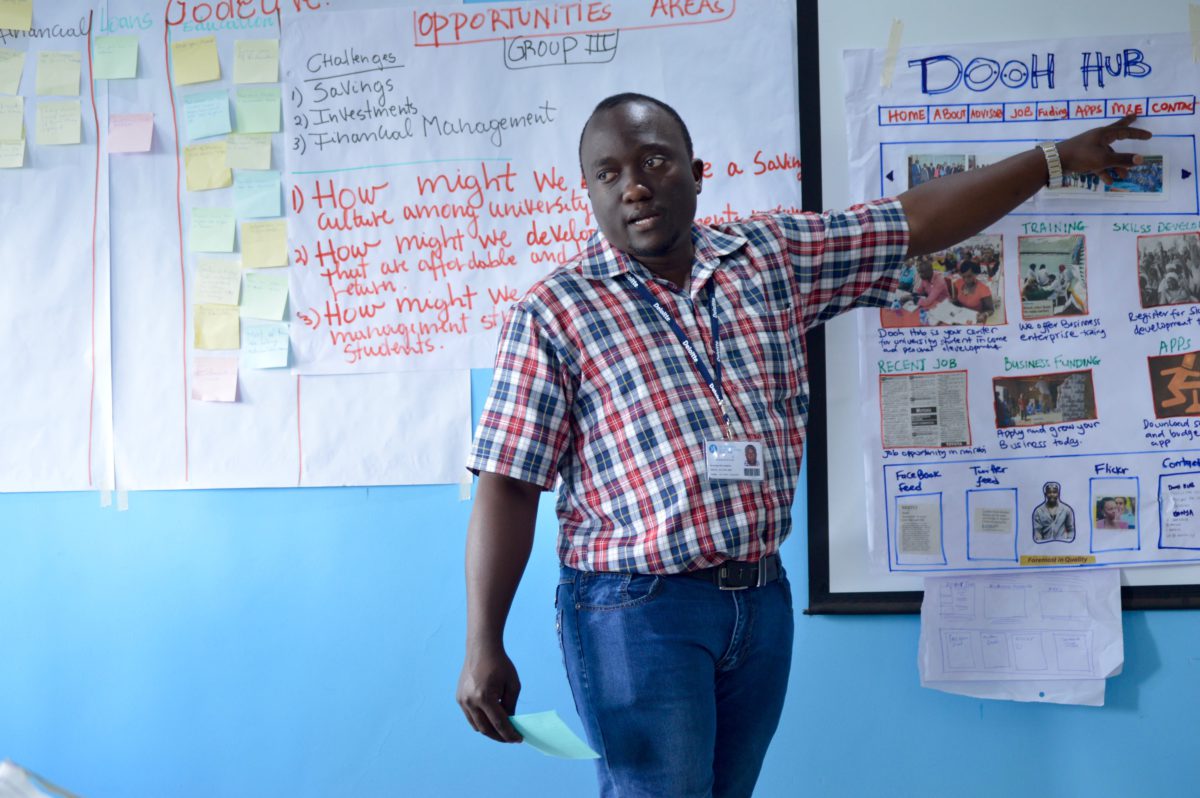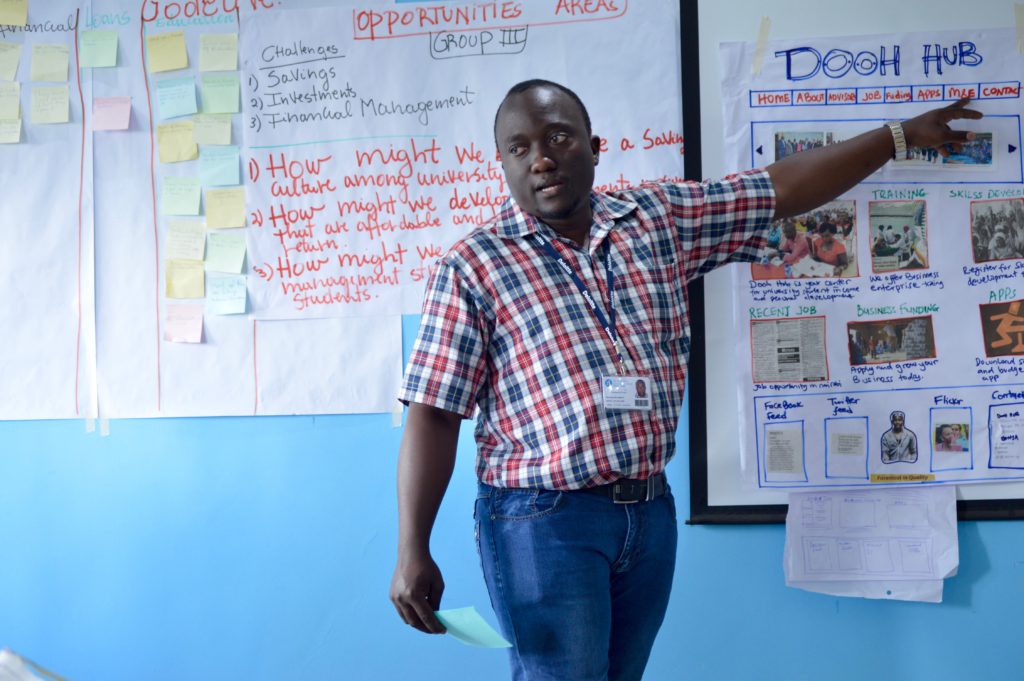 Alex presenting his business concept
1. What inspired you to apply for the Young African Leadership Initiative (YALI) Regional Leadership Center fellowship?
For the past seven years, I have worked in the nonprofit sector with a focus on youth and women empowerment in information and communications technology (ICT), business skills development, social entrepreneurship and leadership. I trained 100 youth from slums in employable ICT and entrepreneurship skills at Kampabits, and mentored 50 field facilitators (interns) that later reached out to 8,800 youth and women in their communities with entrepreneurship and ICT skills for improved livelihood while I worked with Digital Opportunity Trust (DOT).
With a background of having held several leadership positions both in school and at my local church that involved leading teams of other young people, I was inspired to apply for the YALI fellowship so I could build my leadership acumen, build my social networks with other East African young leaders, and share my experience with them.
Having enrolled for the Business track, I hoped to be equipped with the relevant business knowledge that would help take my startup to the next level of growth while creating a positive impact in my community.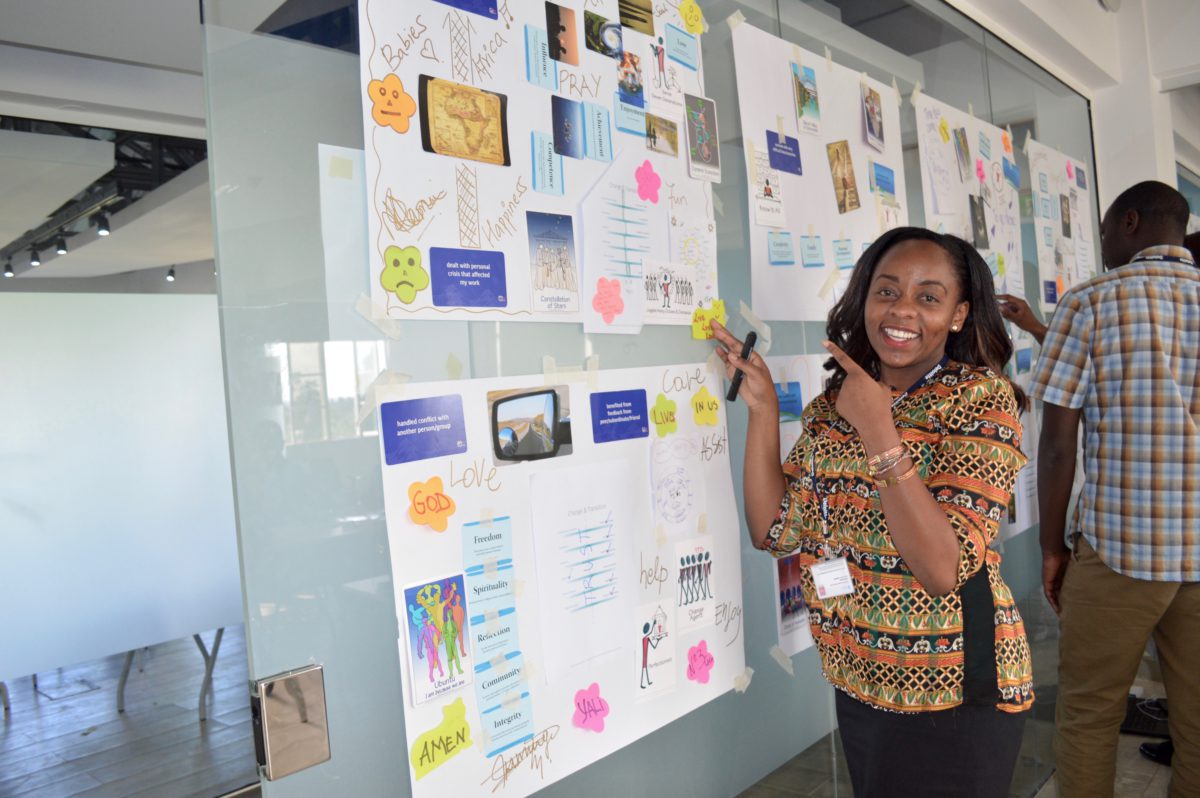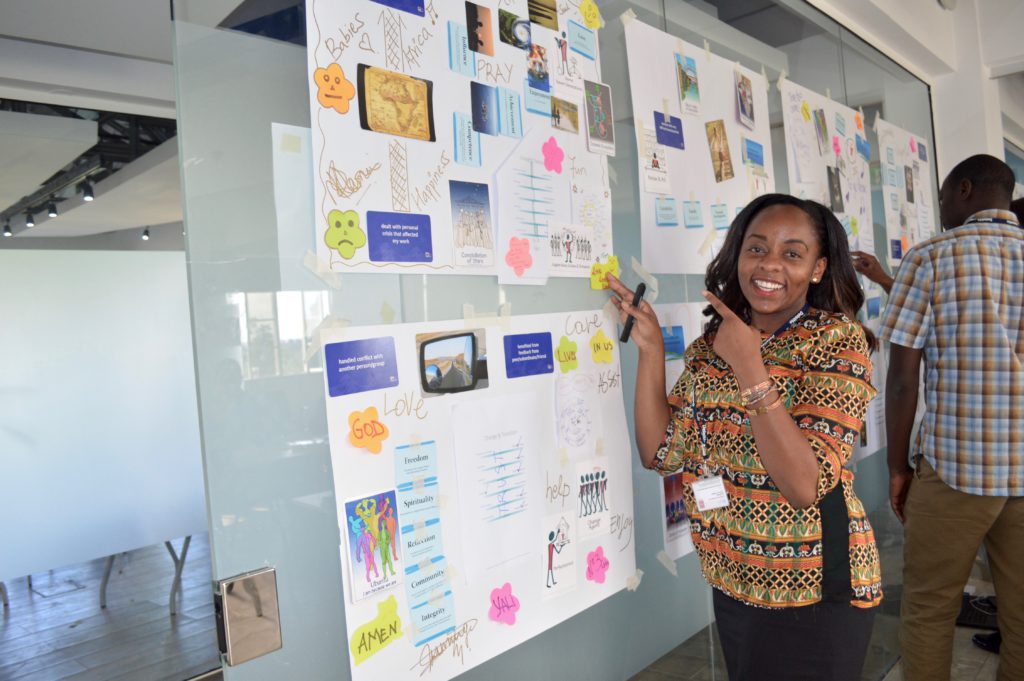 A YALI Fellow presents her life chart during the Self-Awareness Session
2. What is a typical week like for a YALI Fellow?
The YALI fellowship began in Nairobi with an opening cocktail reception that helped us start making connection with other East Africans. It was an opportunity to break the ice with the other fellows participating in the 3-week residential fellowship. Week one focused on intensive leadership training on the "7 habits of highly effective people" by Steve Covey. In week two, we had a session on self-awareness where we explored how to discover our inner selves and how that can influence how we lead. In the design thinking session we learnt how to build solutions to community challenges while being relevant to the target audience and engaging the target audience in building the solution. Finally, we had a session on "This is Africa" which was geared towards building Pan-Africanism among the participants. It dealt with cross-border stereotyping and enabled us to know we are the solution to the many challenges that Africa faces today, to which we are obliged to contribute. In the third week we were placed into the specific tracks –  civic leadership, business and entrepreneurship, and public management – where specialized training and activities were passed on.
After the 3 weeks of engagement, we had an 8-week online engagement within our home countries where each track was given a challenge to solve in groups of 5 across the region.  During the 8-week period, we were also tasked to complete management courses online via the Africa Management Institute (AMI) portal. In the final twelfth week, we reconvened in Nairobi where we now had a chance of refining our group solutions and then pitched them before judges to which the best ideas were selected for potential implementation.
During the course of the fellowship we had a chance to meet successful entrepreneurs, businessmen, leaders and change makers. We visited several innovation and social development hubs and also engaged in local community activities.  The fellowship gave me the opportunity of meeting people from 12 East African countries: Uganda, Kenya, Rwanda, Burundi, Sudan, South Sudan, Ethiopia, Somalia, Central African Republic, Congo Brazzaville, Democratic Republic of Congo and Tanzania.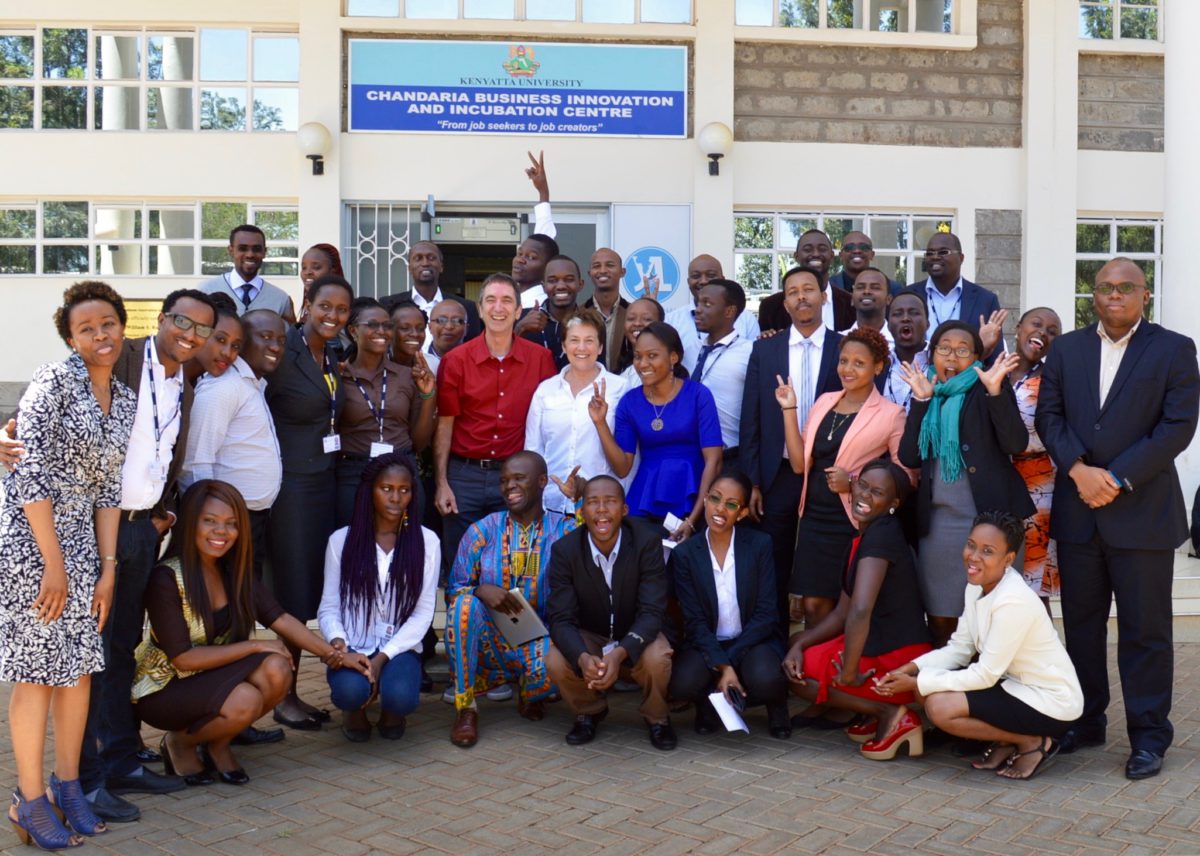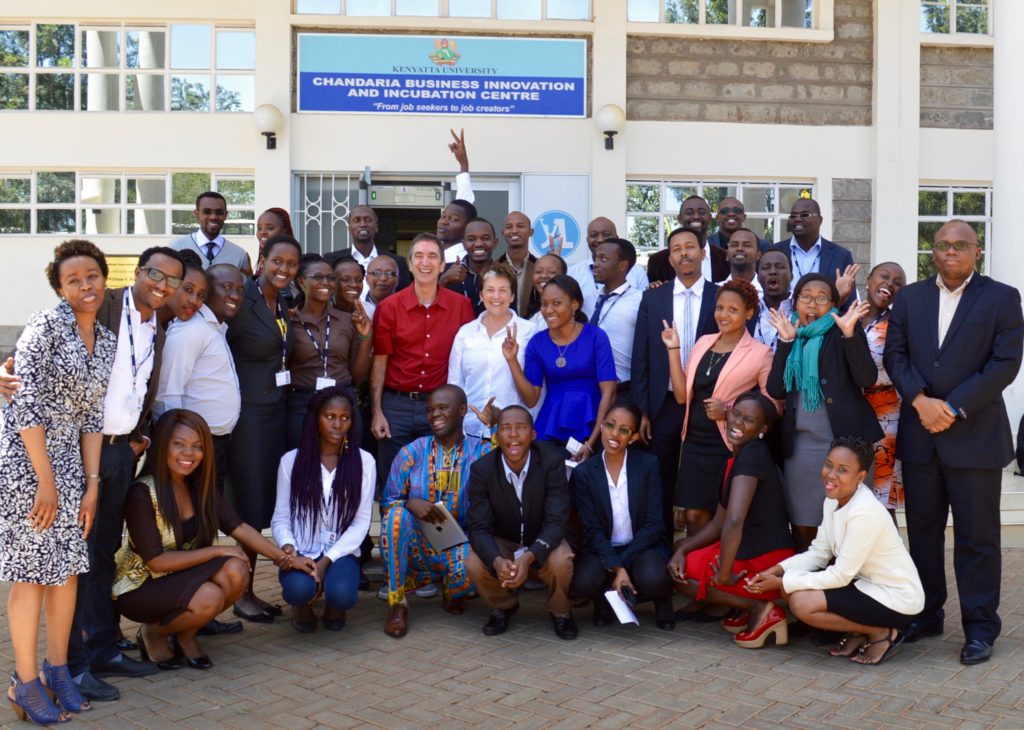 The Business Track participants at the YALI Regional Leadership Center East Africa
3. What tips would you give others applying to the YALI Fellowship?
Key tips I would share to someone applying for YALI fellowship include:
Answer the questions asked in the simplest way, ensuring that if someone read your response they do not need to call you for an explanation.
Demonstrate your community impact and engagement.
Share clearly how other people in your community would benefit from your participation in the fellowship.
Be your self and share your story as a leader in business, civil and public management arenas.
Muwonge Alex Stephine is passionate about young people, media, and innovation. He currently works with Digital Opportunity Trust – Uganda as the Intern Support Manager. In this role, he establishes operational relationships with community partners and engages in proposal writing and fundraising. He is a web and graphics designer, photographer, and social entrepreneur with specialty in brand strategy development. He earned his Post-graduate Diploma in Project Planning and Management from Uganda Technology and Management University. He also earned a Bachelor of Science degree in Textiles and Clothing Technology from Kyambogo University, Uganda. Alex was selected for both the Young African Leadership Initiative (YALI) fellowship and Tony Elumelu Entrepreneurship Programme (TEEP).
© Victoria Johnson 2016, all rights reserved.