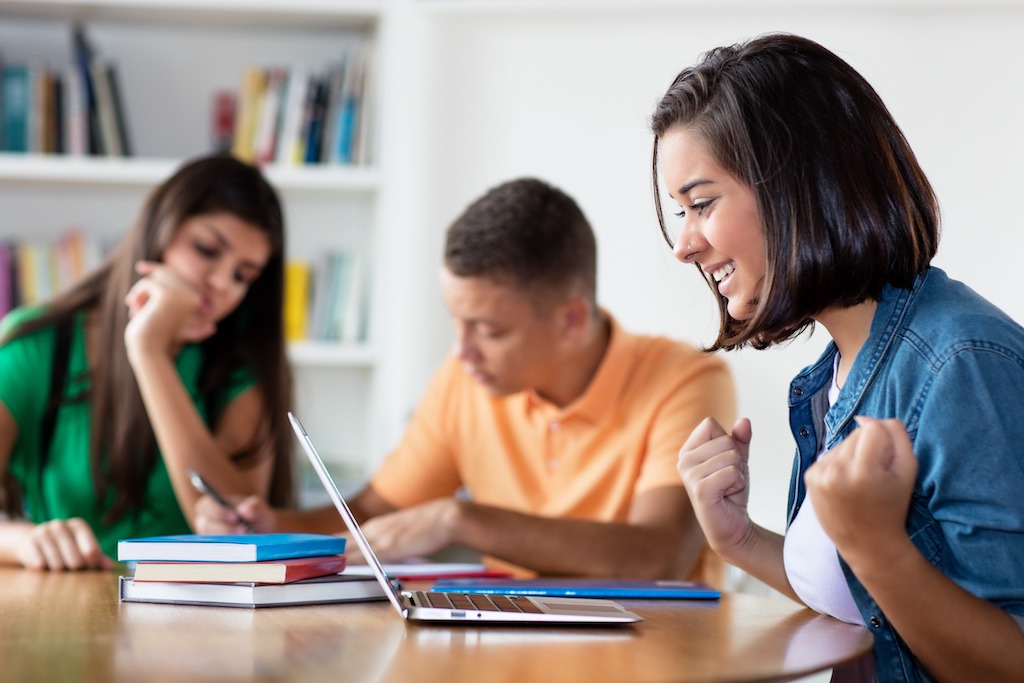 DACA recipients and undocumented students and professionals in the United States often have difficulty funding their studies because they are not eligible for federal student aid. DACA (Deferred Action for Childhood Arrivals) is a U.S. immigration policy enacted in 2012 that allows some individuals brought to the U.S. without authorization as children and meet several guidelines to receive deferred action from deportation and become eligible for a U.S. work permit. Fortunately, there are a number of fellowship organizations that welcome applicants whether or not they have U.S. citizenship. We are pleased to provide a list of fellowships for DACA recipients and undocumented students and professionals.
These fellowships listed below explicitly offer funding for DACA recipients and undocumented people in various career stages, including undergraduate students, graduate students, and professionals across disciplines, including STEM, sociology, art, medicine, environmental research, community development, public policy, government, civil rights, and more!
You can bookmark any of the following opportunities that interest you to your free ProFellow account.
The ASA Minority Fellowship Program (MFP) is designed for underrepresented minority students currently enrolled in a program that grants a PhD in sociology and advanced in their program by the time of application. ASA provides a stipend of $20,000 for each annual award and works with departments to arrange for the payment of tuition for the academic year. Fellows must be U.S. citizens or permanent residents, or be eligible under DACA. MFP Fellows are selected on the basis of their commitment to research, the focus of their research experience, academic achievement, scholarship, writing ability, research potential, financial need, and racial/ethnic minority background.
The Foundation for Community Association Research (FCAR) awards its Byron Hanke Fellowship to selected graduate students to implement research projects related to the development, management, and governance of common interest communities and their community associations (e.g. condominiums, coops, retirement communities, vacation timeshares, and other housing developments). Applicants must be enrolled, at the time of application and through the research period, in a graduate-level program (master's, doctoral, legal) at an accredited higher education institution in the United States or Canada. The Hanke Fellowship stipends range from $3,000-$5,000 over one year, or as determined by the Foundation.
The CHCI Graduate Fellowship offers emerging Latino leaders hands-on experience in a Congressional office or committee to strengthen their leadership abilities and professional skills. The 9-month paid fellowship program is open to Latino leaders who have earned at least a master's degree within three years of the program start date. Topic areas include Higher Education, Secondary Education, Health, Housing, Law, and STEM (Science, Technology, Engineering, and Math). Fellows receive a salary, benefits, and roundtrip airfare to Washington, DC.
The CHCI Public Policy Fellowship (PPF) offers Latino recent graduates with an interest in public policy the chance to strengthen their leadership abilities and professional skills. The goal is to accelerate young Latinos' careers in public policy so that more Latinos attain higher levels of policy leadership. The 9-month, paid fellowship offers talented Latinos, who have earned a bachelor's degree within two years of the program start date a paid, hands-on experience at the national level in the public policy area of their choice.
The Environmental Fellows Program (EFP) seeks to diversify the environmental and conservation philanthropic sector by supporting the career aspirations of graduate students from traditionally underrepresented groups.  The program is open to students from across the United States pursuing a graduate degree with an environmental focus. Fellows are placed in a 12-week, paid internship with one of our partner philanthropic organizations. Applicants must be U.S. citizens, permanent residents, or DACA/DREAMers (Deferred Action for Childhood Arrivals). International students are ineligible.
FirstGEN is a 10-week summer fellowship for undergraduate students who are the first in their immediate families to attend an institution of higher education and are passionate about pursuing careers in social justice. FirstGEN fellows gain hands-on experience working on civil rights matters as full-time interns and participate in weekly advocacy training. Fellows receive a stipend.
The Govern For America (GFA) Fellowship is a 2-year paid fellowship for recent graduates to serve in high-impact roles in governments across the country as a part of a diverse community of engaged leaders. Roles include data analyst, fiscal analyst, and program manager. The program actively seeks applicants from traditionally underrepresented in government leadership, including people of color, first-generation college students, women, and gender non-binary individuals, members of the LGBTQIA community, and individuals from low-socioeconomic backgrounds. Applicants must have an undergraduate degree before the fellowship begins and be a US Citizen, Permanent Resident, DACA Recipient, or have US Sponsorship for 2 years.
The Latino Museum Studies Program (LMSP) Graduate Fellowship is a summer fellowship hosted by the National Museum of the American Latino, in partnership with various Smithsonian museums and centers. LMSP is a professional development program for graduate students interested in museum careers, with a focus on the fields of Latina/o/x art, culture, and history. Each fellow works closely with a Smithsonian content expert on an ongoing Smithsonian project. All applicants must be currently enrolled in a master's or doctoral program in the United States at the time of application. Applicants must be authorized to work in the United States. This includes US Citizens, Green Card holders, DACA recipients, and international students. Roundtrip economy airfare and a monthly stipend are provided. 
The Mellon Mays Undergraduate Fellowship aims to increase diversity in the faculty ranks of institutions of higher learning. Faculty members and academic administrators on the MMUF program's 42 member campuses select their institution's undergraduate fellows, typically in the sophomore year. Fellows have demonstrated academic ability and an aspiration to pursue a doctoral degree in selected humanities, social sciences, and physical sciences. The fellowship provides fellows with mentoring and financial support as they prepare for entry into Ph.D. programs and eventual careers as scholars and faculty members. This support includes regular, structured programming; faculty mentoring; term-time stipends for research activities; support for summer research; and repayment of undergraduate loans up to $10,000.
The mission of the 10-week summer program is to strengthen law students' long-term commitment to justice and equality for vulnerable immigrant groups. The fellowship will be awarded to one law student yearly to work on a project with a host organization in the United States. Students must submit a project proposal to an organization willing to host the student for 10 weeks and provide a $1,500 stipend. The Maggio Immigrants' Rights Fellowship will provide an additional $2,500 stipend for a total award of $4,000. Fellows also receive registrations for several conferences and a stipend to attend the National Lawyers Guild Annual Convention.
The Paul and Daisy Soros Fellowships honor immigrant tradition in the U.S. by providing up to $90,000 over 2 years to 30 new Americans who will be pursuing a full-time graduate degree program or are in their first two years of a graduate degree in any field at an American institution in the United States. To be eligible, you must be 30 or younger, either born in the U.S. to two immigrant parents or have been born outside the U.S. (as a non-citizen) and, as of November 1 of the year you apply, be a DACA recipient, naturalized citizen or in possession of a green card (i.e., be a resident alien). If none of these apply, applicants can qualify if they have graduated from high school and college in the US. 
The Pisacano Scholars Leadership Program provides medical students focused on family medicine access to educational programs, leadership training, and funding for a four-year period beginning in the final year of medical school and through three years of residency training in Family Medicine. Upon selection, each Pisacano scholar will receive an annual scholarship of $5,000 during their final year of medical school and their first three years of Family Medicine training (four years total, regardless of residency length). Applicants must be full-time students in a U.S. medical school.
The PPIA Junior Summer Institute Fellowship Program is a rigorous academic graduate-level preparation summer program for undergraduate juniors committed to public service careers. The program prepares students with the knowledge and network to succeed in the field of public service. The purpose of the JSI Fellowship is to prepare students to obtain a Master's or joint degree, typically in public policy, public administration, international affairs, or a related field. If you are accepted to attend a Junior Summer Institute the host university will help you pay for all costs and give you a stipend to cover incidental costs throughout the summer.
The Roddenberry Fellowship is a 12-month program for activists from across the country who are working to protect the most vulnerable and to make the US a more inclusive and equitable place to live. Selected fellows will receive $50,000 each, as well as tailored support and coaching, to help implement a project or initiative in one of five areas: Civil Rights, Environmental Protection, Immigration & Refugee Rights, LGBTQIA & Women's Rights, and Health & Wellness. Fellows are free to try different approaches to achieve impact and the organization provides 1-on-1 coaching as well as other mentoring resources.
The Trinity Fellows Program of Marquette University is a graduate fellowship dedicated to developing urban leaders with a commitment to social and economic justice. Up to 12 fellows per year will be selected to participate in a 21-month study/work program while earning a master's degree in one of 15 disciplines. The fellowship includes a full-tuition scholarship and a monthly stipend. In addition, applicants must have completed a full-time service program, such as Peace Corps, Jesuit Volunteer Corps, AmeriCorps, or other comparable programs, OR have worked 2+ years full-time in a nonprofit organization. To be eligible for the Trinity Fellows Program, applicants must be U.S. citizens, Permanent Residents, and DACA recipients of the United States.
Interested in finding many more opportunities like these? Sign up for the ProFellow database, which includes more than 2,500 funded opportunities for professional development and graduate school.
© 2023 ProFellow, LLC all rights reserved.