Recently we discovered one of the coolest digital media fellowships on the market – the Cooney Center Fellows Program at the Joan Ganz Cooney Center at Sesame Workshop in the heart of New York City. The Cooney Center was named after Joan Ganz Cooney, one of the creators of Sesame Street, which is now the single largest informal educator in the world, reaching some 100 million children and families in more than 140 countries. Founded in 2007, the Cooney Center serves as an independent research and innovation lab that develops original research on emerging technologies that can support children's learning. The Cooney Center Fellows Program offers a year-long fellowship that attracts a wide range of applicants with expertise in digital media and/or in the fields of communication, child development, education, learning sciences, psychology, computer science, design, and public policy. Fellows participate in the day-to-day operations of the Center including publication production, annual leadership forum planning, and contributions to the website and newsletter. Fellows also have the opportunity to undertake an independent research project.
Anna Ly, a current Cooney Center Fellow, recently completed a Master's degree at Stanford University's Learning, Design and Technology program. At Stanford, her work focused on User Experience Research and Design, educational Tangible User Interfaces, and socio-emotional learning for children with autism spectrum disorders. We caught up with Anna to learn more about the fellowship and get her tips for the application process.
1. What inspired you to apply for the Cooney Center Fellows Program? 
While I was in graduate school, Lori Takeuchi (Director of Research at the Cooney Center) came to speak to my class about her work. She talked about various Cooney Center initiatives including a project called Story Visit, a research collaboration between Nokia Research Center and the Cooney Center. The project examined the role that technology can play to support family communication and foster children's literacy development. When I saw this project, I knew immediately that I wanted to learn more about the Center. It touched upon my passion for tangible user interfaces, well-researched product design and education innovation. After doing some due diligence, I realized that the Center was (and still is) the perfect combination of child education, media and technology. I found it extremely appealing that advancing children's learning through digital media is the primary focus.  Moreover, the Cooney Center is housed in Sesame Workshop, a leader in educational media for young children! Who wouldn't want to work alongside such creative minds?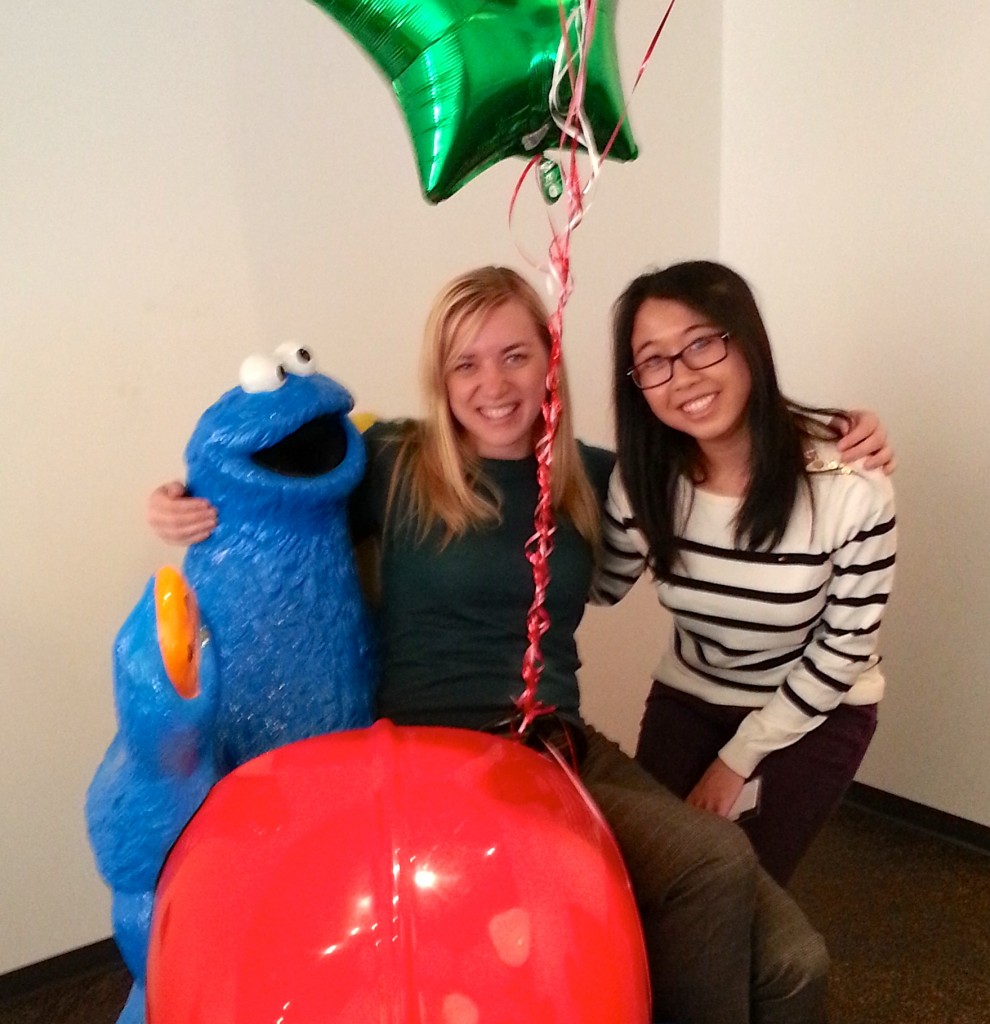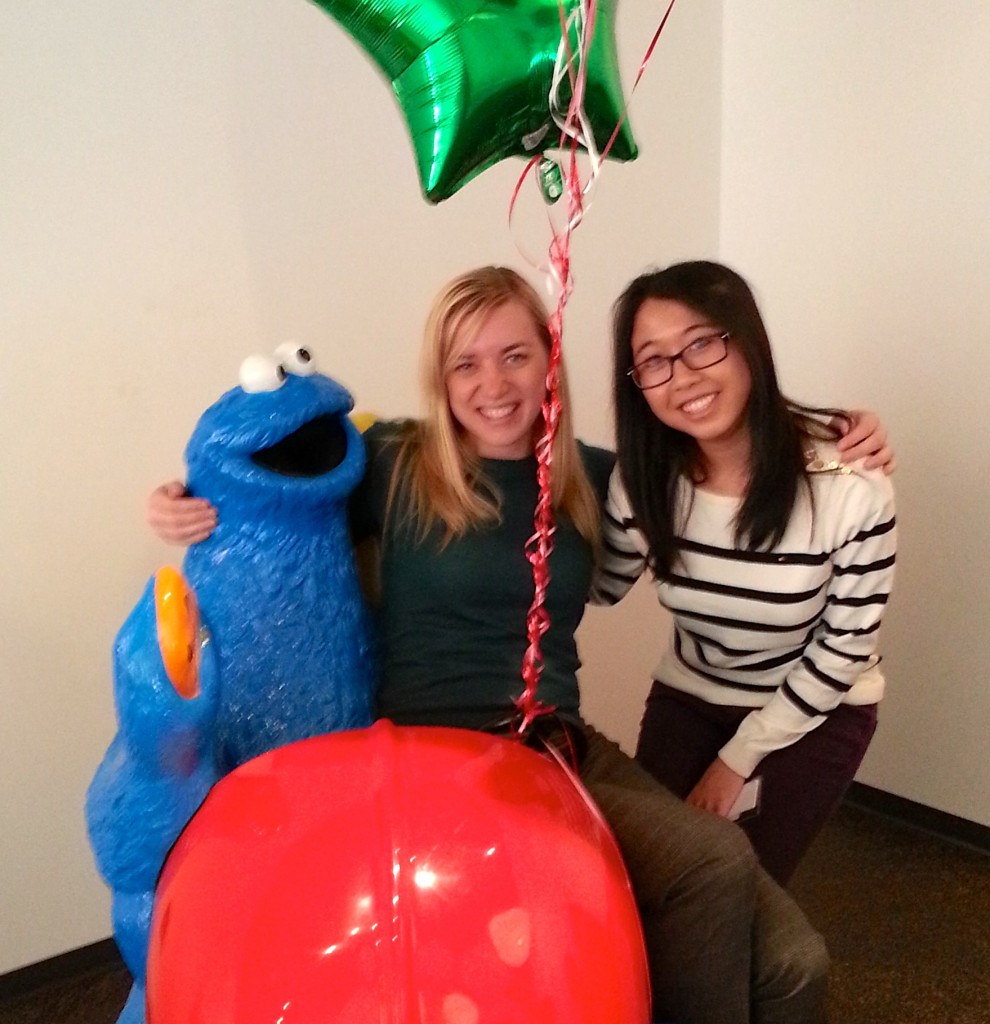 2. What is a typical day like at the Cooney Center? 
Since I work on both industry and research initiatives, I usually have a packed schedule that starts right when I come in. What fills my schedule also changes every day. I sometimes have status update meetings with different industry project teams to discuss what needs to be done. For example, I am working on the National STEM Video Game Challenge, which is a video game design competition for middle school and high school students inspired by Obama's "Educate to Innovate" campaign. For that project, I helped launch the challenge and the challenge's website so I have meetings with the web team and our partners on a daily basis. I get pulled into partnership development meetings as well to figure out if they are good fit and what potential projects we could do with them. I have research meetings with the research team to plan out our studies. On some days, I am interviewing kids about their media use and other topics. This past week, I was at two conferences (SXSW Interactive and the Digital Media and Learning Conference) to attend relevant sessions, track trends and develop business relationships. Each day is different from the other, which is what makes this job so exciting.
3. What is the application process like, and what do you think made your application standout?
There is a written application that includes submitting a resume/cv, a personal statement describing your background and why you would be a good fit, a writing sample, and references. There is a first round interview that happens in April. Finalists then go on to interview again in May and the final selection is announced in June. It is a fairly organized and straight-forward process. For both interviews, there are usually several Cooney Center members present including the Executive Director, Michael Levine and the Director of Research, Lori Takeuchi. I had the opportunity to talk to the current and past fellows during my interview process.
I think what made my application stand out was my industry and design experience. On the website, they mentioned they were looking for scholars in Computer Science, Human-Computer Interaction (HCI), and related fields. I fall in that HCI category. I'm also familiar with the educational technology trends and have built my own educational applications with the help of my graduate education and past work experiences. What also helped was my ability to independently manage projects. I have a business and finance background so I enjoy managing workstreams and regularly communicating with partners and stakeholders.
The next deadline for the Cooney Center Fellows Program is April 1, 2013! Learn more and apply now.
Anna Ly is an industry and research fellow at the Joan Ganz Cooney Center at Sesame Workshop where she supports their efforts in areas such as "Games and Learning" and "Learning Together." During her time at Stanford, Anna worked for Intel as a User Experience Specialist in the PC Experience Planning Group where she focused on design in education. She has previously worked for IBM in the Global Business Services sector as a strategy consultant. Anna completed her undergraduate degree at Carnegie Mellon in Business and Human-Computer Interaction. 
© Victoria Johnson 2013, all rights reserved.