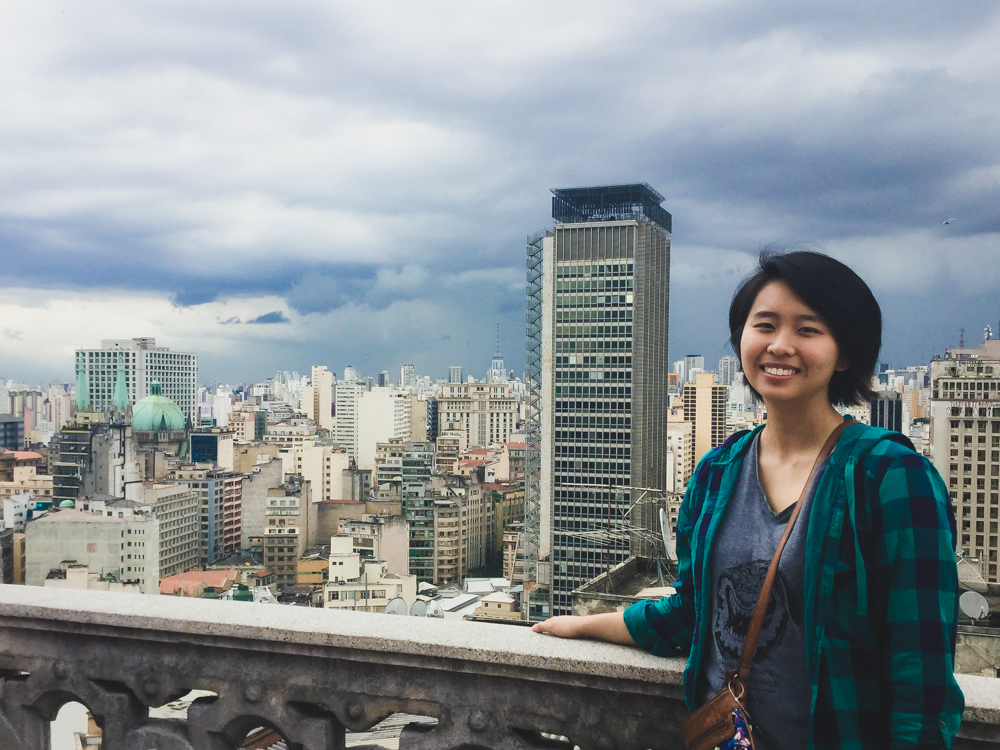 Fulbright ETA Eileen Zhu in São Paulo
It has never been more imperative than the present to increase mutual understanding between the people of the United States and the people of other countries. This is the mission of the Fulbright Program, America's flagship international educational exchange initiative. One of Fulbright's many grant opportunities is the Fulbright English Teaching Assistant (ETA) program, which places young leaders in classrooms abroad to provide assistance to the local English teachers. ETAs help teach English language while serving as cultural ambassadors for the U.S. The age and academic level of ETAs' students varies by country, ranging from kindergarten to university level. To learn more about this unique teaching fellowship, we interviewed Fulbright ETA Eileen Zhu who is currently based in Brazil.
1. What inspired you to apply for the Fulbright English Teaching Assistant (ETA) grant in Brazil?
Two years ago, I spent a summer break in Porto Alegre, the capital of the southern-most Brazilian state, learning about various social movements related to public spaces and the right to the city. When I first arrived, I spoke very little Portuguese and knew almost nobody. But very quickly, I found myself feeling surprisingly at ease in the new culture. I was especially enamored by the communal ritual of drinking chimarrão (the Brazilian name for the strong Yerba Mate tea) and the way that this sense of sharing and interdependence is still prominent in Brazilian and Latin culture in general.
At the end of my stay, I knew that I had to somehow find my way back here and that's why I decided to apply for the Fulbright. I knew that the ETA program would give me ample amount of time to pursue my interests and be involved in the local community. When it came to placements this time around, I wanted to be in a small town in a different part of Brazil. I wanted to get to know rural Brazil and escape the hustle and bustle of large metropolises.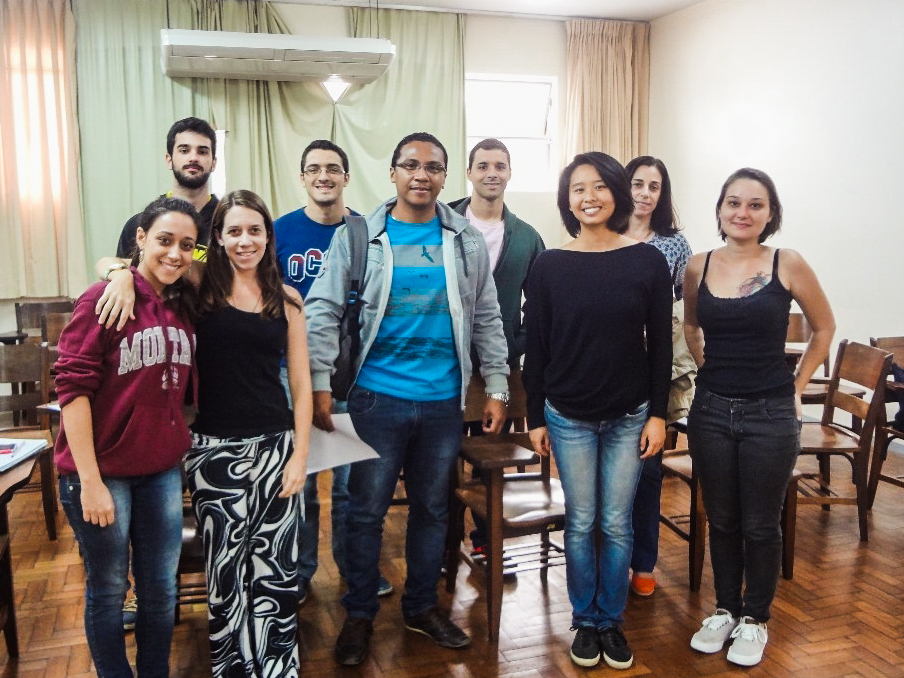 Eileen with her English students
2. What is a typical week like during your fellowship?
Every country's ETA program is a little different. In Brazil, all of us are placed in public universities and work with the government's English Without Borders program. For my main role as an English Teaching Assistant, I spend around 15 – 20 hours a week leading English conversation clubs, culture talks, and language workshops for the students and faculty at the university. The placement really makes a huge difference in the amount and type of work that we engage in. I feel very lucky with my placement, because we have a supportive coordinator professor, a very reasonable workload and a lot of autonomy to plan our own workshops and events.
I believe that the time and flexibility allowed for our side project are some of the best things about the ETA program. The Federal University of Viçosa has one of the best agriculture programs in the country, which is one of the reasons why I chose to be placed here. I take part in a couple of university extension programs working in agroecology and solidarity economy to help local small-scale producers commercialize their products and build more democratic organizations. I've also begun learning about agroforestry through a student group that manages a plot of land according to principles developed by Ernst Gotsch, who is a pioneer in agroforestry in Brazil. I also train regularly with the capoeira angola group, where I have found a strong sense of community in an otherwise quite transitory college town.
I am also taking this year as an opportunity to deeply reflect on my priorities in life. I think many of us who come from a privileged educational background are so conditioned to chase after prestige and achievement that it becomes very difficult to slow down and really think about what's important in life.
Finding myself back in a predominantly university environment has its challenges and benefits. Through the various agroecology groups, I am meeting a lot of wonderful people who see the limits of theoretical knowledge and understand that so much learning lies in immersive practical experiences. This is also what I am trying to do, both personally and professionally.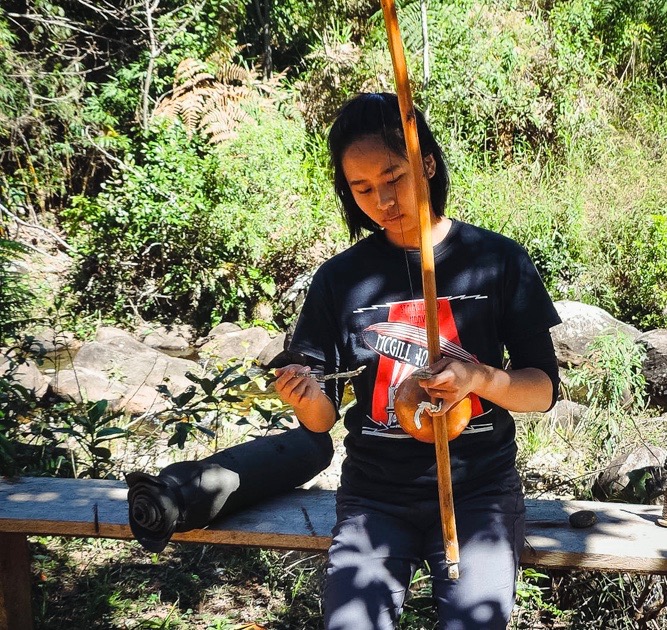 Learning to play the berimbau
3. What tips would you give others applying for a Fulbright English Teaching Assistant grant?
Running personal statement workshops for my Brazilian students here has made me realize that telling compelling personal narratives is a craft that needs to be learned and practiced. The Fulbright commission wants people who are good at navigating unfamiliar and challenging cross-cultural situations. They also want people who have had some experience teaching others and sharing your own culture. So make sure to highlight that in the application essays.
In my personal statement, I talked about struggles and insights from growing up between two cultures. While I was born in the US, I spent most of my childhood in China. This experience of growing up bicultural has greatly influenced who I am, shaping my sensibilities to cultural differences and abilities to live with ambiguity.
Of course, with any good piece of writing, the key is to revise, revise, revise. I went through many drafts and had a lot of people give me feedback on them.
Eileen Zhu grew up in Shanghai and the sleepy suburbs of St. Louis. She recently graduated from Vanderbilt University with a degree in neuroscience. While studying and living in Nashville, Eileen got involved with Worker's Dignity, a low-wage worker center fighting against wage theft, and the Nashville Fair Foods, which supports the Coalition of Immokalee Workers's Campaign for Fair Food. She is very thankful for the way anthropology has completely changed her worldview and continues to help her navigate the complexities of this world. She is on a journey to find roots, community and meaningful work. In her free time, Eileen enjoys spending time outside planting things, hiking, rock climbing or just sitting still. Email Eileen or find her on LinkedIn.
© Victoria Johnson 2016, all rights reserved.