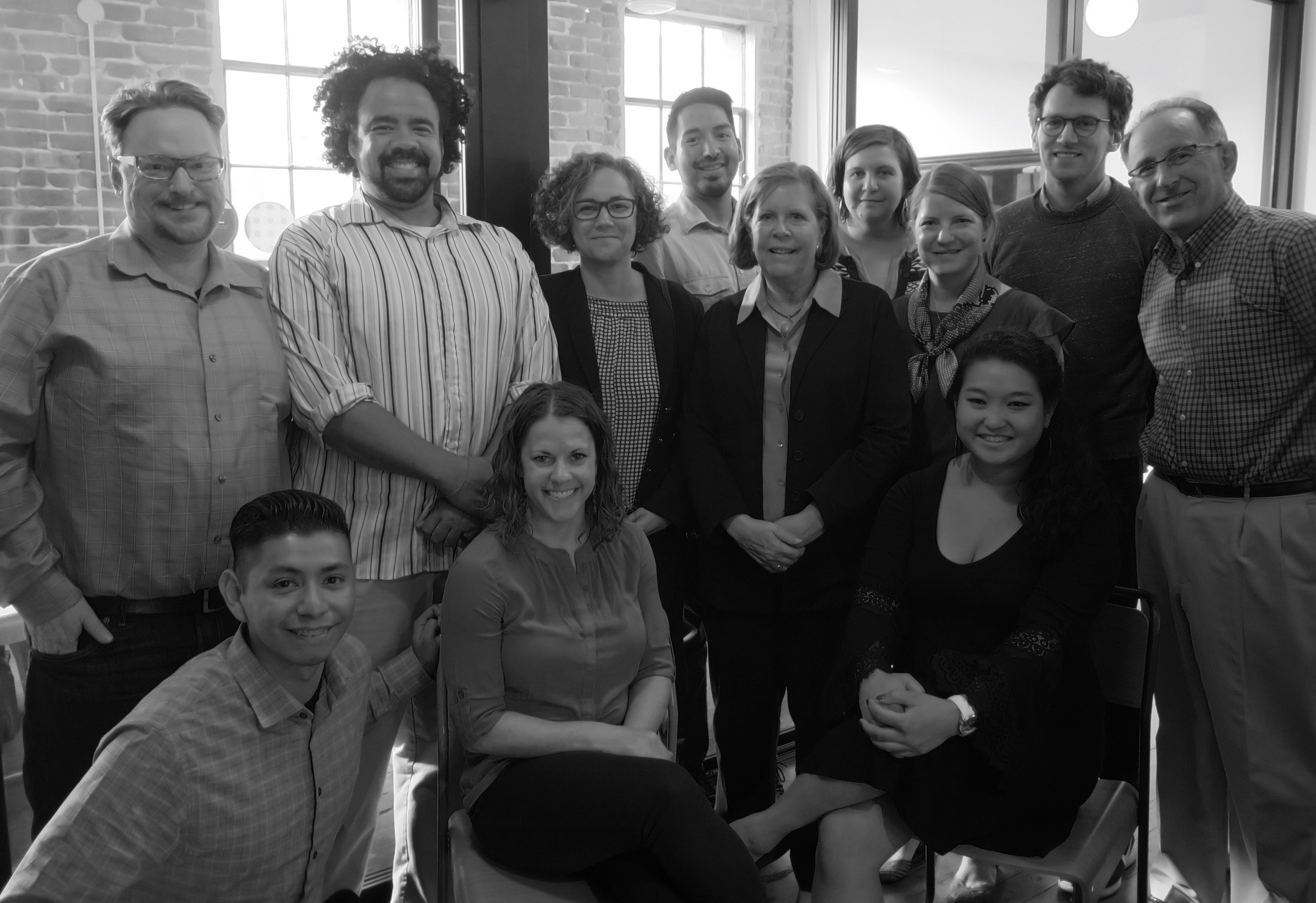 Top row: Tom Rielly of TED Fellows, Patrick Brown of Greenlining Institute, Risa Sandler of San Francisco Fellows, Joshua Delfin of Greenlining Academy, Pam Jones of CORO, Nicole Neditch of Code for America, Kate Brumage of Butler Koshland Fellowships, Patrick D'Arcy of TED Fellows, Mike Rocco of ProInspire; Seated row: Christian Garcia of TOLA Fellows, Gianna Bruno of Education Pioneers, Adena Ishii of TOLA Fellows
Last week, ProFellow and Butler Koshland Fellowships hosted a roundtable event for leadership of San Francisco Bay Area fellowship organizations. The event was an opportunity for leadership to share details about their professional fellowship programs and discuss areas of mutual interest including applicant recruitment, diversity, program evaluation and alumni coordination. This event is the first in series of events coordinated by ProFellow to build stronger ties among fellowship organizations and identify best practices within the industry.
This initiative was inspired by findings of ProInspire's 2015 fellowships industry report "Social Impact Fellowships: Building Talent in the Social Sector." Forty-six fellowship organizations, including several from the Bay Area, participated in this research, which found that social impact fellowships are a rapidly growing industry. 76% of the responding fellowship programs were established in just the last 15 years. Some of the report's key findings regarding industry collaboration include: 1) opportunities to collaborate at the program level and industry level; 2) the desire to better coordinate and leverage alumni networks; 3) the need to understand the value and cost of fellowships and; 4) the desire to better understand the needs of organizations that host fellows.
The Bay Area Fellowship Network discussed these topics as well mutual challenges, such as providing fellows an adequate living stipend, ensuring diversity in the selection of fellows, and establishing and sustaining mentoring programs for current and former fellows.
The Network invited representatives from: Butler Koshland Fellows, Code For America, CORO Fellows, Dalai Lama Fellows, Education Pioneers, Fuse Corps, Greenlining Institute, the Institute of International Education, New America California, New Sector Alliance, ProFellow, ProInspire, San Francisco Fellows (formerly known as the City Hall Fellows), the San Francisco Foundation and The Organizing and Leadership Academy (TOLA). The roundtable event also included special guests from the TED Fellows program based in New York City. The Network's next event will take place in summer 2016.
© Victoria Johnson 2016, all rights reserved.