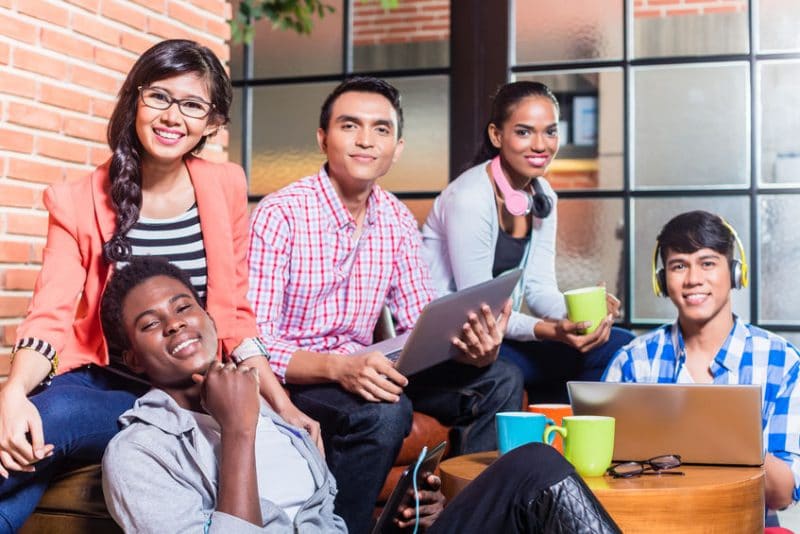 These fellowships offer lots of exciting opportunities for undergraduates who are part of an underrepresented minority. They seek to reconcile the lack of gender or racial diversity that persists today in a number of fields by training and preparing members of minorities to succeed. Some of the fellowships are designed to promote diversity in the fields of science, technology, engineering, and mathematics, while others work toward equality in government, entrepreneurship, education, and philanthropy. The list begins with programs for underclassmen (pre-college, freshmen, and sophomores) and finishes with those for upperclassmen or graduate students. If one of the fellowships sparks your interest, be sure to bookmark it to your ProFellow account!
The Cultural Vistas Fellowship provides up to 15 U.S. university students the opportunity to enrich their academic learning through professional internship and immersion experiences in Argentina, Germany or India. It includes a 6-week virtual seminar, 8-week internships abroad, orientation and reentry seminars in NYC, and post-program service projects. The fellowship awards covers the cost of travel, housing and emergency medical insurance. Strong preference will be given to students historically underrepresented in international exchange.
The Fund II Roots & Shoots National Fellowship has been designed to provide an opportunity for young people of color to complete community-focused projects that help foster respect and compassion for all living beings, promote understanding of all cultures and beliefs, and inspire individuals to take action to make the world a better place for people, other animals, and the environment. The program welcomes part-time or full-time undergraduate, graduate, or gap year students ages 18-24. Fellows will be mentored throughout the 10-month term as they develop professional skills and receive a stipend of $3,000 to support their project.
Watson offers five full-ride fellowships each semester that include full tuition and housing. The Enlight China Fellowship is for applicants from greater China, including Taiwan and Hong Kong; the Enlight Women's Fellowship is for applicants working to increase access and quality of education for women and girls; the Luff Peace Fellowship is for applicants working to promote peace globally; the Lakota Fellowship is for Lakota youth applicants; and the Middle East Fellowship is for applicants from the Middle East or of Middle Eastern descent. Fellowships are available for beginning in both the fall and spring semesters.
The Aspen Institute Program on Philanthropy and Social Innovation (PSI) in Washington, DC offers the William Randolph Hearst Endowed Fellowship to one student three times annually. Candidates for this fellowship are highly motivated graduate or undergraduate students from underrepresented communities of color. The fellow must be able to work as an intern for 12-15 weeks in the Washington, DC office of the Aspen Institute during the academic semester in which the fellowship is awarded. Fellows will be compensated on an hourly basis in the fall, spring and summer.
The Mickey Leland Energy Fellowship (MLEF) Program provides undergraduate, graduate and doctoral students with opportunities to gain hands-on research experience with the Department of Energy's (DOE) Office of Fossil Energy (FE). The goal of the MLEF program is to improve opportunities for women and minority students in STEM majors, however, all eligible candidates are encouraged to apply. Selected candidates will train under the mentorship of program officials and scientists on focused research projects. During the 10 weeks, Fellows will receive a stipend and some may be eligible to receive housing and a travel allowance.
HBCU.vc is an experience-based learning opportunity in venture capital and tech entrepreneurship. The student investor program works with students attending historically black colleges and universities (HBCUs) to teach investment fundamentals and entrepreneurship. Fellows will be empowered to act as investors to fund local tech entrepreneurs and build startup communities in and around their campuses. The two-year leadership development and training program is open to students of any major and includes many mentoring opportunities. Full-time sophomores, juniors, and incoming grad students are welcome to apply.
The Walton-UNCF K-12 Education Fellowship is a leadership and talent development initiative aimed at building a robust pipeline of high-achieving African Americans engaged in education reform in America. The program selects undergraduate juniors from select historically black colleges and universities (HBCUs) to participate in a leadership development and paid intern placement program that partners with innovative K-12 educational reform enterprises. All majors welcome.
The PPIA Fellowship Program is designed to prepare college juniors or rising seniors from diverse backgrounds for graduate studies in public and/or international affairs and grooms them for professional roles in public service. The fellowship is a series of educational and developmental programs that span from the end of a student's junior year in college to the completion of a Master's degree in public policy, public administration and/or international affairs. Fellowships include full tuition to attend PPIA Junior Summer Institute, plus a stipend up to $1,500. Minimum of $5,000 toward graduate school tuition.
Dr. Robert Russa Moton was an African American educator and author. The Moton Fellowship Program, named after Dr. Moton, offers a select group of highly motivated undergraduate and graduate students the opportunity to experience one-on-one coaching and mentoring from some of the leading experts and practitioners in business, government and nonprofit organizations. Fellows are paid a $1,500 stipend over the course of the summer. The program recruits exceptional students to a fellowship designed to produce the next generation of world-class leaders. Fellows are selected to work at the Gloucester Institute's Moton campus in downtown Richmond, Virginia.
The fellowship is an opportunity for currently enrolled undergraduate and graduate from the United States and Puerto Rico, with a strong interest in the U.S. Hispanic community, to spend one semester (12-15 weeks) working with Congress and other respected corporations in Washington, D.C., and earn academic credit hours. Fellows work on project-based programs that provide hands-on experience working in public policy. The fellowship provides round-trip airfare, lodging, books and research expenses, a monthly transportation stipend, and a $2,000 living stipend. Candidates must be U.S. citizens or permanent residents.
This 10-week career accelerator works with Black and Latinx college-level computer science students from around the country in an intensive summer in San Francisco, Silicon Valley, and New York City. Students intern at top tech companies, participate in a series of career building session, and engage in racial equity advocacy work. To be eligible, applicants must: Be an undergraduate or graduate student planning to return to school in the fall semester following the internship, have experience coding, attend a U.S. college or university, demonstrate leadership potential, self-identify as Black and/or Latinx, and be interested in advocating for racial equity in the tech industry.
The Mellon Mays Undergraduate Fellowship aims to increase diversity in the faculty ranks of institutions of higher learning. The MMUF program is coordinated on each of its member campuses by faculty members and academic administrators who select their institution's undergraduate fellows, typically in the sophomore year. Fellows have demonstrated academic ability and an aspiration to pursue a doctoral degree in selected humanities, social sciences, and physical sciences. The fellowship provides fellows with many forms of support, including regular, structured programming; faculty mentoring; term-time stipends for research activities; support for summer research; and repayment of undergraduate loans up to $10,000.
© Victoria Johnson 2018, all rights reserved