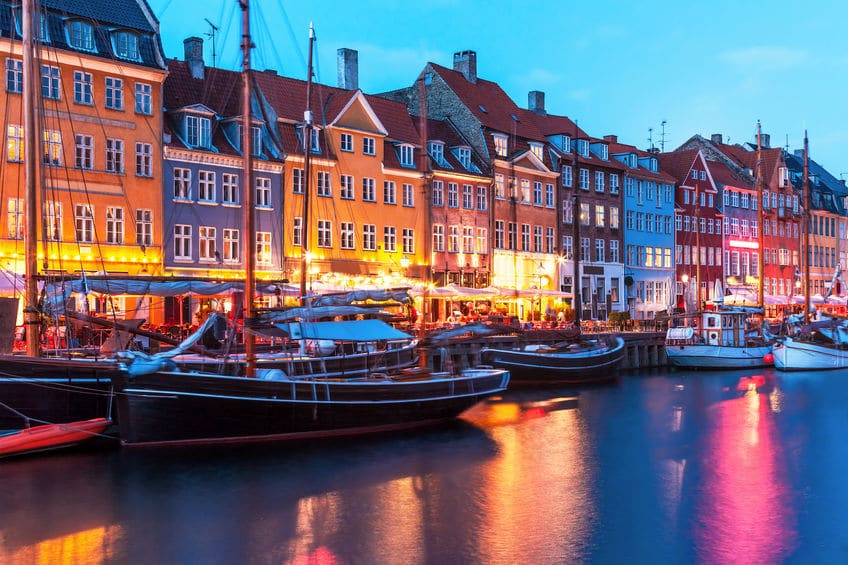 If you're looking for a change of scenery this summer, these fellowships for all disciplines and career stages might be a great fit for you! With locations all over Europe, there are opportunities for fine arts, theater, leadership, music, and language study (among others). If one of these catches your eye, make sure to bookmark it to your ProFellow account!
Each year, the AAF/Seebacher Prize for Fine Arts offers U.S.-based fine arts graduate students, or those who have completed their graduate studies within the past 2 years, the opportunity to study at the International Summer Academy of Fine Arts Salzburg in Austria. Up to 5 Fine Arts Fellows are selected annually by a jury of artists and arts professionals. Fellows are invited to attend a specific course at the Summer Academy and participate in daily classes for 2-5 weeks. The fellowship covers tuition to one Summer Academy course, $1,000 for travel expenses, accommodation and a small stipend.
The Fulbright Commission American Institute for Foreign Study (AIFS) Summer Institute at Shakespeare's Globe Theatre in London is a three-week cultural and academic program for US college freshman and sophomores. This program focuses on both acting and understanding Shakespeare texts. Students' studies are supplemented by workshops focusing on combat and sword play, movement, dance and design. Students will also have the opportunity to watch performances and take part in a question and answer session with the Globe actors. Travel expenses, tuition and fees and food and lodging are provided.
AJC's Goldman Fellowship Program develops future leaders in the areas of international and domestic politics, diplomacy, public relations, and management. This competitive summer fellowship gives undergraduate and graduate students the unique opportunity to work in AJC offices in the U.S. and throughout the world—from New York City to Melbourne, Australia. Fellows will receive a minimum $3,300 stipend (before withholding tax), and all major travel expenses will be covered. The program is open to undergraduates in their junior or senior years and to students in graduate and professional schools from a broad range of academic backgrounds.
The American-Scandinavian Foundation (ASF) offers year-long fellowships of up to $23,000 and short-term (1-3 months) fellowships of up to $5,000 to graduate students (preferably conducting dissertation research) and academic professionals interested in pursuing research or creative-arts projects in the Nordic region (Denmark, Greenland, Faroe Islands, Finland, Iceland, Norway, Sámpi, and Sweden). ASF's award program for study and research abroad has been the Foundation's most long-standing commitment to educational exchange. Awards are made in all fields.
This fellowship provides promising young conductors the opportunity to spend up to 4 weeks at the Salzburg Festival observing the world's leading conductors and artists at work during rehearsals and performances. The chance to observe and actually meet the maestros is an unforgettable experience for any young conductor. Qualified young conductors who have recently finished their academic studies or who are working toward graduate diplomas in conducting at top-ranking American music schools, up to the age of 30, may apply. Proficiency in English is required; working knowledge of German is desirable. Non-US citizens are welcome to apply.
The American Research Institute in Turkey will offer 15 fellowships for advanced students for participation in the summer program in intensive advanced Turkish language at Boğaziçi University in Istanbul. This intensive program offers the equivalent of one full academic year of study in Turkish at the college level. The fellowships cover round-trip airfare to Istanbul, application and tuition fees, and a maintenance stipend. Applicants must be a citizen, national, or permanent resident of the United States and be currently enrolled in an undergraduate or graduate level academic program, or be faculty.
Boren Scholarships provide funding to U.S. undergraduate students to study abroad in areas of the world that are critical to U.S. interests and underrepresented in study abroad, including Africa, Asia, Central & Eastern Europe, Eurasia, Latin America, and the Middle East. Boren Scholars represent a variety of academic backgrounds, but all are interested in studying less commonly taught languages. Max scholarship awards are $8K for a summer program (special initiative for STEM students only), $10K for a semester and $20K for a full academic year. Boren Scholars commit to working in the federal government for at least 1 year after graduation.
Critical Language Scholarship (CLS) institutes provide fully-funded group-based intensive language instruction and structured cultural enrichment experiences for 7-10 weeks for U.S. citizen undergraduate, Master 's and Ph.D. students. Countries may include: Azerbaijan, Bangladesh, China, Egypt, India, Indonesia, Japan, Jordan, Morocco, Oman, Russia, South Korea, Tajikistan, Tunisia, Turkey, or others where the target languages are spoken. Apply in November for a fellowship the following summer.
The Cultural Vistas Fellowship provides up to 15 U.S. university students the opportunity to enrich their academic learning through professional internship and immersion experiences in Argentina, Germany or India. It includes a 6-week virtual seminar, 8-week internships abroad, orientation and reentry seminars in NYC, and post-program service projects. The fellowship awards covers the cost of travel, housing and emergency medical insurance. Strong preference will be given to students historically underrepresented in international exchange.
EMGIP (Émigré Memorial German Internship Program) offers internship opportunities for US and Canadian students in the German parliament, the Bundestag. The internships are 2 months long in positions matching the student's interest and experience. In addition to contributing to the respective offices, interns have the opportunity to study legislative and administrative procedures in the German parliament. Participants should be advanced undergraduates or graduate students in fields such as political science, international relations, law, history, economics or German. Students must be fluent in German.
FASPE Business offers an approach to ethics and professionalism that differs from the usual experience at business schools by providing a holistic curriculum that looks beyond rules and norms to focus on ethical problems faced by individual leaders in the contemporary corporate setting. Current business school students and early-career MBAs are invited to spend two weeks in Berlin and Poland where they will visit key historical sites and participate in daily seminars as they consider many aspects within business ethics. Fellows will travel with journalism and law students allowing for interdisciplinary discussion and collaboration.
The FASPE Journalism Program examines the role played by German and foreign journalists from 1933 to 1945, underscoring the reality that moral codes governing journalists can break down or be distorted with devastating consequences. Having demonstrated the power held by journalists in a modern society, FASPE addresses ethical issues now facing individual journalists and media institutions at large. Fellows from journalism schools, as well as early-career journalists, are invited to spend two weeks in Berlin and Poland where they will visit key historical sites and participate in daily seminars as they consider many different topics in ethics.
The FASPE Law Program examines the role played by German lawyers from 1933 to 1945, underscoring the reality that moral codes governing the practice of law can break down or be distorted with devastating consequences. Having demonstrated the power held by the legal profession in a modern society, FASPE addresses ethical issues now facing individual lawyers, the legal profession and its institutions at large.  Current law school students and early-career lawyers are invited to spend two weeks in Berlin and Poland where they will visit key historical sites and participate in daily seminars while considering the many factors of ethics in law.
The Foreign Language and Area Studies (FLAS) Fellowships program provides allocations of academic year and summer fellowships to institutions of higher education or consortia of institutions of higher education to assist meritorious undergraduate students and graduate students undergoing training in modern foreign languages and related area or international studies. Eligible students apply for fellowships directly to an institution that has received an allocation of fellowships from the U.S. Department of Education. Each fellowship includes an institutional payment and a subsistence allowance. Apply through your university.
The France-Stanford Center for Interdisciplinary Studies (FSCIS) Visiting Junior Scholar Fellowship provides funding up to $7,000 for a project of 2-4 months. available to (1) Scholars who have completed a PhD no more than three years from the date of applying for the fellowship and who hold a tenure-track/permanent (rather than post-doctoral) position. These may be Stanford-based scholars seeking a research visit at a French institution or scholars based in a French institution seeking a research visit at Stanford, and (2) Postdoctoral students. These may be Stanford-based postdocs seeking a research visit at a French institution or postdocs based in a French-institution seeking a research visit at Stanford.
The Fulbright Distinguished Chairs Program comprises approximately forty distinguished lecturing, distinguished research and distinguished lecturing/research awards ranging from three to 12 months. Awards in the Fulbright Distinguished Chairs Program are viewed as among the most prestigious appointments in the Fulbright Scholar Program. Candidates should be eminent scholars and have a significant publication and teaching record.
The Fulbright Specialist Program is a unique opportunity for U.S. academics and established professionals to engage in two- to six-week, project-based exchanges at host institutions in over 150 countries. Specialists, who represent a wide range of professional and academic disciplines, are competitively selected to join the Fulbright Specialist Roster based on their knowledge, skill sets, and ability to make a significant contribution to projects overseas.  Specialists receive full funding to participate in Fulbright Specialist projects, including travel, stipend and lodging.
The Core Fulbright Scholar Program offers over 500 teaching, research or combination teaching/research awards of 2-12 months in over 125 countries. Opportunities are available for college and university faculty and administrators as well as for professionals, artists, journalists, scientists, lawyers, independent scholars and many others. In addition to several new program models designed to meet the changing needs of U.S. academics and professionals, Fulbright is offering more opportunities for flexible, multi-country grants. Only U.S. citizens are eligible to apply.
This specialized DAAD program offers up to ten German Studies Research Grants to highly qualified undergraduate and graduate students who are nominated by their department/program chairs. The grant may be used for short-term research (1-2 months) in either Germany or North America. The program is designed to encourage research and promote the study of cultural, political, historical, economic and social aspects of modern and contemporary German affairs from an inter- and multidisciplinary perspective.
The Google News Lab Fellowship offers students interested in journalism and technology the opportunity to spend the summer working at relevant organizations across the world to gain valuable experience and make lifelong contacts and friends. Fellows receive a stipend and a travel budget during the 10-week program, which runs from June-August. Available in the U.S., U.K., South Korea, Germany, Australia, Denmark, Finland, Sweden, Norway and Ireland. Deadlines and eligibility requirements vary by country, check site.
The HIA Fellowship programs bring together international groups of college students and recent graduates to explore national histories of discrimination and resistance, as well as examples of issues affecting different minority groups today. This 4-week summer fellowship in Europe is highly interdisciplinary, and features daily lectures and discussions with renowned academics, journalists, and activists. Eligible applicants are students and recent graduates (including international students) of universities in Bosnia and Herzegovina, Denmark, France, Germany, Greece, the Netherlands, Poland, Ukraine and the United States. HIA covers the costs of participation and accommodation. Deadlines vary by country.
Mobility Grant for Norwegian Language and Literature shall facilitate shorter study/research stays in Norway for foreign students. The grant must be used for fieldwork in Norway in connection with the thesis for a Master or PhD in Norwegian language and/or Norwegian literature.  The scholarship is awarded for study stay of 1-3 months at a Norwegian higher education / research institution. The grant will cover expenses in connection with the research stay in Norway. The grant is currently NOK 10 092 per month. Fieldwork in one of the three northernmost counties in Norway will in addition imply an extra travel grant of NOK 1,000.  Grants for travel to and from Norway are not awarded.
Summer Stipends support individuals pursuing advanced research that is of value to humanities scholars, general audiences, or both. Recipients usually produce articles, monographs, books, digital materials, archaeological site reports, translations or editions. Summer Stipends provide $6,000 for two consecutive months of full-time research and writing. Recipients must work full-time on their projects for these two months and may hold other research grants supporting the same project during this time. Summer Stipends normally support work carried out during the summer months, but arrangements can be made for other times of the year.
The Pamela Harriman Foreign Service Fellowships provide funding for students interning over the summer in the U.S. Embassies in London or Paris, or the Secretary of State's Office in Washington, DC. The Harriman Fellowship is nationally competitive and highly selective, offering a $5,000 stipend for travel and living expenses. Candidates must be chosen by the Department of State for internships in London, Paris, or Washington, DC, a US citizen, and a current undergraduate junior or senior at a US university. Note that the deadline for completion of State Department online internship applications is in October.
Partnerships for International Research and Education (PIRE) is an NSF-wide program that supports international activities across all NSF supported disciplines. The primary goal of PIRE is to support high quality projects in which advances in research and education could not occur without international collaboration. PIRE seeks to catalyze a higher level of international engagement in the U.S. science and engineering community. The PIRE competition is open to all areas of science and engineering research which are supported by the NSF. The Principal Investigator (PI) must be an employee representing a U.S. Ph.D granting institution. U.S. citizenship of the PI and other researchers on the U.S. team is not required.
The Research Experiences for Undergraduates (REU) program supports active research participation by undergraduate students in any of the areas of research funded by the NSF. An REU Site consists of a group of ten or so undergraduates who work in the research programs of the host institution. Each student is associated with a specific research project, where he/she works closely with the faculty and other researchers. Students are granted stipends and, in many cases, assistance with housing and travel. Students must contact the individual REU sites for information and application materials. Two deadlines: end of August and May.
RISE stands for Research Internships in Science and Engineering. RISE Professional offers summer research internships in Germany to Master's and Ph.D. students from North America at companies and non-university research institutions with strong relations to industry. The program is open for students in the field of biology, chemistry, physics, earth sciences, engineering or a closely related field. All participants receive a scholarship from DAAD and an additional stipend from their host company/institution to help cover living expenses. Funding is possible for a period of three months in summer or fall. Geman language requirements vary according to the internship placement.
The US-UK Fulbright Commission offers special Summer Institutes for US citizens to come to the UK. These summer programs provide the opportunity for US undergraduates with at least 2 years of undergraduate study left to complete, to come to the UK on a 3-6 week academic and cultural summer program. Participants will get the opportunity to experience an exciting academic program at a highly regarded UK University and explore the culture, heritage and history of the UK. The fellowship covers RT airfare from the US to the UK, tuition and fees at the host university/institution, accommodation and meals and in some cases a small daily allowance.
The Terra Summer Residency in Giverny, France provides eight-week fellowships for emerging artists and predoctoral scholars to pursue individual work and research within a framework of interdisciplinary exchange and dialogue, and senior advisor positions for established artists and scholars to serve as mentors and seminar leaders. For visual artists with a master's degree (or its equivalent); doctoral candidates researching a subject on American art and visual culture pre-1980 or its role in the context of international artistic exchange. All fellows are provided with 8 weeks of lodging in Giverny, a stipend of $5,000 and travel costs.
Projects for Peace is a global program that encourages young adults to develop innovative, community-centered, and scalable responses to the world's most pressing issues. Along the way, these student leaders increase their knowledge, improve skills, and establish identities as peacebuilders and changemakers. Every year 100 or more student leaders are awarded a grant in the amount of $10,000 each to implement a "Project for Peace," anywhere in the world, typically over summer break. Projects for Peace are grassroots activities that address root causes of conflict and promote peace. Grantees must attend a Projects for Peace partner institution.
Funded by the U.S. Department of State's Program for Research and Training on Eastern Europe and the Independent States of the Former Soviet Union (Title VIII), the CRLT Program serves graduate students and scholars who, in addition to support for research in the independent states of the former Soviet Union, require supplemental language instruction. Applicants must conduct research and language study for 3-9 months in the field. Participants must have at least an intermediate level of language proficiency. Fellowships range from $5K-$25K.
This program provides scholarships to attend a broad range of 3- to 4-week summer language courses at German universities which focus mainly on German language and literary, cultural, political and economic aspects of modern and contemporary Germany. Extensive extracurricular programs complement and reinforce the core material. Undergraduate and graduate students are invited to apply. A number the University Summer Course Grants are made possible by the DAAD Alumni Association of the US, including one that is specially earmarked for an applicant in the fine arts.
© Victoria Johnson 2019, all rights reserved