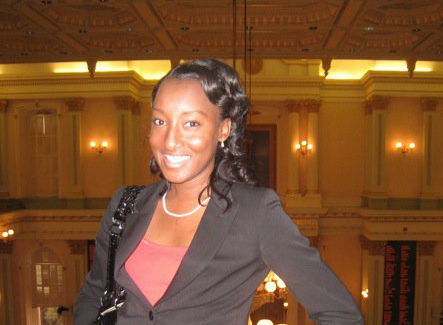 After graduating college, Miracle McClain knew she wanted to do something meaningful and she found that opportunity through a fellowship. Coro Fellows Program in Public Affairs in Los Angeles is a full-time, nine-month, graduate-level experiential leadership training program that prepares diverse, talented and committed individuals for effective and ethical leadership in the public affairs arena. Unconventional by traditional academic standards, the Fellows Program is rigorous and demanding, an unparalleled opportunity for personal and professional growth. Miracle talks about her experience applying for the Coro Fellows Program in Los Angeles and how it has been an avenue for her current career.
1. Why did you decide to apply for the Coro Fellows Program in Public Affairs? 
After graduating from the University of San Francisco with a degree in Philosophy I knew at the time that I wanted to learn more about the public affairs arena in order to make a difference in my community. At that time, my sister was pursuing her Master's in Public Policy from Pepperdine and suggested I apply for the Coro Fellows Program in Public Affairs. She thought it would be a good option for someone with my interests and would help me gain a better understanding of complex public issues.
At the heart of Coro is the experiential learning environment the program provides. Having the opportunity to engage in monthly field placements allows each Fellow to work closely with leaders at companies and organizations that influence and shape the public, non-profit and private arenas.
2. What do you think made your application stand out?
For Coro, I was able to effectively convey my passion about community issues and also talk about past life and work experiences that have deeply impacted how I respond to opportunities. I think the most important component of any application is to be authentic and self-reflective. I genuinely wanted to understand the social, political and economic experiences that influence and comprise Los Angeles.
3. What tips would you give others applying for the Coro Fellowship?
When applying to fellowships, it is important to try to demonstrate how the program will benefit you and the "bigger picture", the passion and ideas you are operating out of. There is no ideal applicant for Coro since the goal of the entire program is to understand issues from various points of view and devise solutions that can appeal to all parties. Applicants should understand current political and social environments and demonstrate how they have engaged and shaped them.
The Coro Fellows Program in Public Affairs is offered in Los Angeles, New York, Pittsburgh, San Francisco and St. Louis. To learn more about the Coro Fellows Program, please email [email protected].
Miracle McClain is currently Program Coordinator for PromaxBDA's Industry Development & Diversity Department where she is working to build a sustainable pipeline of talent working in and supporting the entertainment marketing industry by designing and executing professional development and education programs. Miracle has a B.A. in Philosophy from the University of San Francisco. 
© Victoria Johnson 2012, all rights reserved.