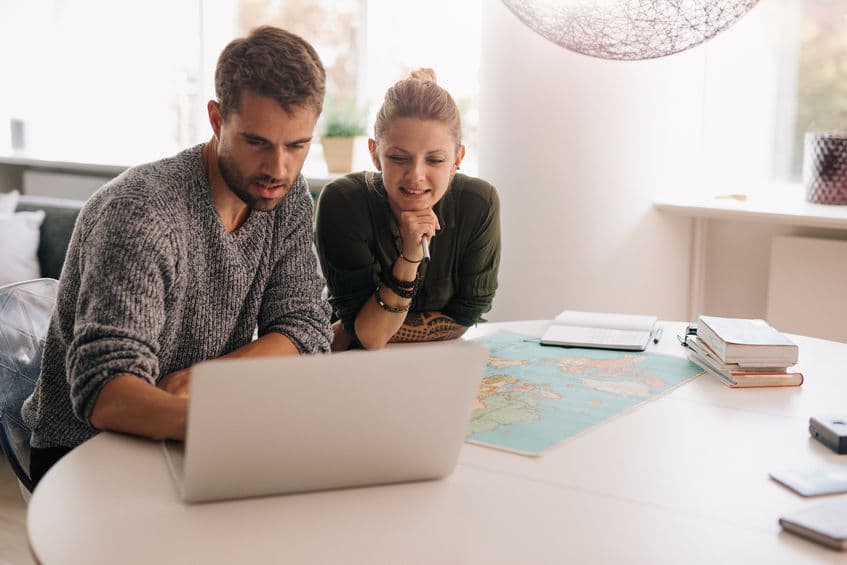 Every year, the international Fulbright Awards provide U.S. citizens, including recent graduates, young and experienced professionals, postgraduates and scholars, the opportunity to spend a period of time abroad studying, conducting research, teaching and developing professional networks. The Fulbright awards offer you a unique opportunity to immerse yourself in another culture, with the resources and support needed to be successful.
If you're not proficient in a foreign language, you might think your Fulbright options are pretty limited. It's true that some countries offering Fulbright awards require applicants to have moderate to advanced foreign language skills so they can effectively carry out a project or study program in that country.
However, you may be surprised to learn that there are more than 100 countries and regions where you can potentially conduct your Fulbright project in English!
English-speaking countries, such as the United Kingdom, Australia, India and South Africa, receive some of the highest numbers of applicants.
Yet, there are many other countries – some of which are historically undersubscribed by Fulbright applicants – where foreign language proficiency is recommended but not required. In some cases, Fulbright requests that applicants include plans for language study in their Fulbright projects and study the language during their fellowship. Check each country website for specific requirements.
Although foreign language proficiency is not required in these countries, it may be recommended, and your application will be in competition with candidates who do have some level of foreign language proficiency. If you're not yet studying the language of your Fulbright country of interest, you can certainly strengthen your application by doing so now and expressing a commitment to continue your studies during your Fulbright fellowship.
About the Fulbright Awards for U.S. citizens
There are four core awards open to U.S. citizens: the U.S. Student Program for Study and Research geared toward recent graduates, graduate students and young professionals; the English Teaching Assistantship program for young professionals to teach English and assist classrooms abroad; and the U.S. Scholars Program and the Fulbright Specialist Program for scholars, faculty and experienced professionals. In addition to these core awards programs, many countries offer special awards for people at different career levels that might be applicable to your goals.
Each region offers the core Fulbright awards mentioned above. We also highlight some specialty awards offered in two regions.
East-Asia Pacific
In the East-Asia Pacific region, you can pursue a Fulbright project in English in the countries of Australia, Brunei, Cambodia, Hong Kong, Macau, Malaysia, Indonesia, Laos, New Zealand, Philippines, Singapore, South Korea, Taiwan, Thailand, Timor-Leste and Vietnam. In the South Pacific Island Nations, which includes Fiji, Kiribati, Nauru, Papua New Guinea, Samoa, the Solomon Islands, Tonga, Tuvalu, and Vanuatu, novice foreign language proficiency is recommended but not required.
In addition to the main awards, Fulbright Australia also offers the Fulbright-Anne Wexler Master's Award in Public Policy for U.S. students with strong academic credentials and leadership potential to undertake a master's degree in Australia in a key area of public policy. The country also offers the Western Sydney University Award in the Arts, Environment, & Public Health, for U.S. students to undertake research of importance to the bilateral relationship between the U.S. and Australia.
Fulbright Singapore offers a special award for Urban Planning and Sustainable Design, which provides a U.S. student with the opportunity to better understand alternative and innovative approaches to urban planning and sustainable design practices.
Fulbright Taiwan provides a variety of special awards beyond the core programming. The National Chengchi University Award in Asia-Pacific Studies is open to those wishing to pursue a full-time international doctoral degree program. This is the first program in Asia-Pacific studies to be offered in English in Taiwan. A Master's degree in the same field can be pursued with the National Chengchi University Award in International Studies, Asia Pacific Studies and International Communications Studies. In addition, the National Taiwan Normal University Award in International Human Resource Development (MBA), the National Cheng Kung University Award in Creative Industries Design, and the National Taiwan University Award in Agricultural Economics all offer the opportunity to pursue a full-time Master's degree, taught in English.
Europe & Eurasia
The Europe and Eurasia region offers Fulbright programs in English in the countries of Albania, Armenia, Azerbaijan, Belarus, Belgium, Bulgaria, Cyprus, Denmark, Estonia, the European Union, Finland, Georgia, Greece, Hungary, Iceland, Ireland, Kosovo, Latvia, Lithuania, Moldova, Montenegro, Netherlands, Norway, Slovenia, Sweden, Turkey and the United Kingdom. For the countries of Bosnia and Herzegovina, Croatia, Macedonia, Malta, Poland, Romania, Serbia, Switzerland and Ukraine, foreign language proficiency is recommended but not required. For the Czech Republic, France, Germany, Luxembourg, Italy and the Slovak Republic, foreign language proficiency is required for certain study plans and projects, while for others it is recommended but not mandatory.
Beyond the standard awards, Fulbright Bulgaria offers the Bulgaria-Romania and the Bulgaria-Greece Joint Research Awards for trans-regional research and study. While open to all degree levels, preference is given to Master's and Ph.D. candidates. As a result of the partnership between the Bulgarian-American Fulbright Commission and the Balkan Heritage Foundation, a new award for Study/Research in Archaeology/History is now offered for individual research in Balkan archaeology, and museum and heritage studies.
The Fulbright Belgium/Ghent University Awards are offered to one PhD and Master's student to spend six to ninth months at Ghent University in Belgium. The Fulbright/University of Antwerp Awards are given to PhD students to spend six months at the university.
Fulbright Finland offers the Fulbright-Lappeenranta University of Technology Graduate Awards to pursue a Master's Degree in the field of business or technology at the Lappeenranta University of Technology. As well as this, and thanks to a partnership with the Finnish National Agency for Education (EDUFI) of the Finnish Ministry of Education and Culture, the Fulbright-EDUFI Fellowship offers up to five awards for doctoral research at any Finnish institution of higher education, research institution or other acceptable organization. The Fulbright-University of Helsinki Graduate Awards and Fulbright-University of Turku Graduate Awards are awarded for study or research at a Master's level for the former and at a Master's or Doctoral level for the latter. Fulbright notes that applicants do not necessarily need Finnish or Swedish in order to be able to study in Finland.
Fulbright Greece offers the Fulbright Bulgaria-Greece Joint Research Award and the Fulbright Greece-Turkey Joint Research Award for students to engage in trans-regional research, in addition to the main Fulbright awards.
Fulbright Hungary offers various special awards as part of its programming, as follows. The Fulbright/Antall József Fellowship Award at Corvinus University of Budapest gives the candidate the opportunity to be resident at The Antall József Knowledge Center of Political and Social Sciences, an independent, nonpartisan think tank. The Fulbright/Budapest Semesters in Mathematics-Rényi Institute offers the opportunity to study for one academic year (two semesters) at the Budapest Semesters of Mathematics (BSM). The Fulbright/Liszt Ferenc Academy of Music Award provides the recipient the chance to study at the Liszt Ferenc Academy of Music in Budapest, founded by piano virtuoso, Franz Liszt. Finally, in addition to the standard Fulbright English-teaching assistantships, the Fulbright English Teaching Assistant Award-Roma Student Initiative is purposed towards providing English training to the Roma student population, a group that has suffered discrimination, both socially and economically.
The Fulbright/National Science Foundation Arctic Research Awards are offered to students to conduct Arctic-related research in Iceland.
The Fulbright/Casten Family Foundation Award at the University of Gastronomic Science is awarded for a student to pursue a Master's in Gastronomy: Food in Italy, or a Master's in Gastronomy: Food in the World. The Fulbright/Master's in Public Administration at SDA Bocconi Award is offered by the SDA Bocconi School of Management. All of these degree programs are delivered in English.
Fulbright Netherlands holds a whole host of supplementary awards. Fulbright/American Friends of the Mauritshuis Award is aimed at providing advanced training and research in painting conservation. The new Fulbright/Delft University of Technology: Industrial Design Engineering Award is offered for a period of two years corresponding with the two-year MSc program offered by the university. The Fulbright/Erasmus University Rotterdam, Suzana Rodrigues Award, the Fulbright/Maastricht University Awards, the Fulbright/Vrije Universiteit Amsterdam Awards, and the Fulbright/Radboud Award are granted for one academic year at their respective institutions. Additionally, speciality research awards on offer include the Fulbright/NAF Fellowship in Flood Management, and the Fulbright/Pediatric Cancer Award. Finally, the Fulbright/TU Delft, Faculty of Applied Sciences Award is awarded to candidates admitted to a Delft University of Technology MSc programs.
Middle East & North Africa
The region of the Middle East and North Africa offers Fulbright programs in English in Egypt, Israel, Oman, Palestinian Territories and Saudi Arabia. For the country of Bahrain, foreign language proficiency is required for some, but not all, programs on offer.
In collaboration with the United States-Israel Educational Foundation (USIEF), Fulbright Israel is now offering a new MA Degree Award for a one-year Master's program at either Tel Aviv University or Hebrew University. The Master's programs disciplines include Conflict Resolution and Mediation, Social Work Crisis and Trauma Studies, Environmental Studies, Middle Eastern Studies, Security and Diplomacy Studies, Teaching English as a Foreign Language, Jewish Studies, Israel Studies, and an International LLM.
South & Central Asia
In the South and Central Asian region, you can pursue a Fulbright in English in the countries of India, Kazakhstan, Kyrgyzstan, Sri Lanka, and Uzbekistan. For the country of Nepal, foreign language proficiency is recommended but not mandatory. For Tajikistan, certain awards require foreign language proficiency, while others only recommend it.
The main Fulbright programs are on offer in the specific countries listed above. Please consult the webpage for the region for further details.
Sub-Saharan Africa
The Sub-Saharan Africa region offers Fulbright programs in English in Botswana, Ethiopia, Ghana, Kenya, Lesotho, Malawi, Mauritius, Namibia, Nigeria, Rwanda, South Africa, Swaziland, Tanzania, Uganda and Zambia.
The main Fulbright programs are on offer in the specific countries listed above. Please consult the webpage for the region for further details.
Western Hemisphere
In the region of the Western Hemisphere, you can pursue an English-language project in Barbados and the Eastern Caribbean (including Antigua and Barbuda, Grenada, St. Kitts and Nevis, St. Lucia, and St. Vincent), Canada, Jamaica, and Trinidad & Tobago.
The main Fulbright programs are on offer in the specific countries listed above. Please consult the webpage for the region for further details.
Now that you know what is on offer, it is time to choose the program that is right for you and begin your application process. Check out tips on how to choose the right country and grant program, the new 2019-2020 Fulbright U.S. Student Awards, and many other articles on Fulbright application tips.
Meaningful work and the opportunity to immerse yourself in a new culture may be just around the corner!
© Victoria Johnson 2018, all rights reserved.