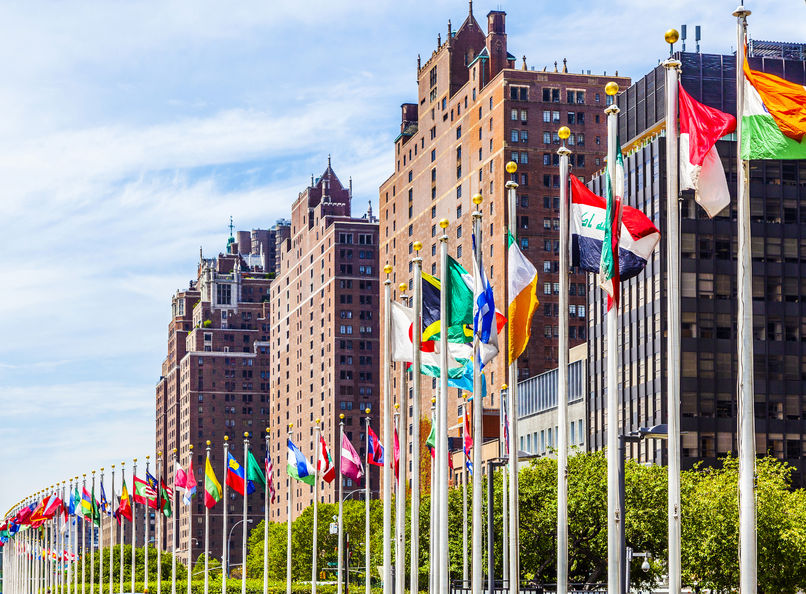 Updated May 2022
As the world becomes more interconnected, foreign policy holds more importance than ever before. This list includes 20 fellowships that support entry to foreign policy careers and the foreign service, research in international affairs, graduate study, and journalism.
See an opportunity that interests you? Click the links below to bookmark these fellowships to your free ProFellow account.
The Herbert Scoville Jr. Peace Fellowship is a highly-competitive national fellowship program that provides college graduates with the opportunity to gain a Washington perspective on key issues of peace and security. Twice yearly, the Fellowship's Board of Directors selects a group of outstanding individuals to spend 6-9 months in Washington. Supported by a salary, the fellows serve as full-time junior staff members at the participating organization of their choice. The program also arranges meetings for the fellows with policy experts.
2. Veterans in Global Leadership Fellowship
Veterans in Global Leadership is a one-year fellowship program that seeks to identify and guide talented, high-achieving student veterans who want to continue their public service by becoming foreign policy leaders. The program includes a structured 3-day course at New York University, formal mentorship, and events throughout the U.S. from think tanks to top universities. The program also includes specialized support for female members. The fellowship seeks a diverse group of fellows with a range of personal and professional backgrounds and service histories, including both former officers and enlisted personnel.
Launched in 1967, the International Affairs Fellowship (IAF) is a distinguished program offered by the Council on Foreign Relations (CFR) to assist mid-career scholars and professionals in advancing their analytic capabilities and broadening their foreign policy experience. CFR awards approximately ten fellowships annually to highly accomplished individuals who have a capacity for independent work. The IAF Program is only open to U.S. citizens and permanent residents. The duration of the fellowship is 12 months and the program awards a stipend of $95,000.
Through an international competition, the Woodrow Wilson International Center for Scholars offers 9-month residential fellowships to outstanding scholars, practitioners, journalists and public intellectuals to take part in its non-partisan dialogue. Fellows conduct research and write in their areas of interest. The Center accepts non-advocacy, policy-relevant, fellowship proposals that address key challenges of past, present and future issues confronting the United States and the world. Academic applicants must have a doctorate. For other applicants, an equivalent level of professional achievement is expected. Offers a max stipend of $85K.
For those who want to become Foreign Service Officers in the U.S. Department of State, the Rangel Graduate Fellowship Program provides benefits of up to $95,000 over two years toward a two-year master's degree, arranges internships on Capitol Hill and at U.S. embassies, and provides mentorship and professional development support. Fellows can use the fellowship to attend two-year master's programs in U.S. institutions to study any area of relevance to the Foreign Service. Applicants must be college seniors or graduates looking to start two-year graduate programs in the fall, must have GPAs of at least 3.2, and must be U.S. citizens.
ProFellow Tip: Hear directly from a Rangel Fellow about the fellowship experience in this guest article by Rangel Fellow Tiffany Brown. 
The Pickering Foreign Affairs Graduate Fellowships are supported by the U.S. Department of State and administered by the Woodrow Wilson National Fellowship Foundation. Pickering Fellowships provide funding to graduate students as they prepare to join the U.S. Foreign Service as diplomats. Fellows are funded $37,500 per year to help cover tuition costs first then room and board, books, mandatory fees, and travel. Graduate-level Fellows receive stipends during participation in one 10-week domestic summer internship, and one 10-week summer overseas internship following the second year of graduate school.
Foreign Policy Interrupted's Fellowship program aims to amplify the voices of women in the foreign policy space. The program has two core components: a 6-week online educational module that includes media training, a guide to understanding the media, and a non-resident 1 – 3 month "externship" with a major media outlet. Fellows are matched with an editor and/or producer with whom she'll work to develop her expertise for print and/or on-camera appearances. FPI's Fellows Program is open to women 26 and older experienced in foreign policy and international affairs. U.S. citizens and non-U.S. citizens fluent in English are eligible.
ProFellow Tip: Check out this list of 10 Fellowships That Help Women Break into Male-Dominated Fields. 
The Pamela Harriman Foreign Service Fellowships provide funding for students interning over the summer in the U.S. Embassies in London or Paris, or the Secretary of State's Office in Washington, D.C. The Harriman Fellowship is nationally competitive and highly selective, offering a $5,000 stipend for travel and living expenses. Candidates must be chosen by the Department of State for internships in London, Paris, or Washington, D.C., a U.S. citizen, and a current undergraduate junior or senior at a U.S. university.
The World Politics and Statecraft Fellowship program is an annual grant competition to support PhD dissertation research on American foreign policy, international relations, international security, strategic studies, area studies, and diplomatic and military history. The fellowship's objective is to support the research and writing of policy-relevant dissertations through funding of fieldwork, archival research, and language training. In evaluating applications, the Foundation will accord preference to those projects that could directly inform U.S. policy debates and thinking. The Foundation will award up to twenty grants of $7,500 each.
The East-West Center (EWC) accepts applications from scholars and analysts who wish to undertake policy-relevant research and writing in one of the following areas: International relations in Asia; Political and economic change in Asia; U.S.-Asia relations; and/or Economic integration and architecture in the Asia-Pacific. The fellowship finances a 3-month residence at the East-West Center in Washington, D.C. The fellowship includes a monthly stipend of $2,500 to $4,500 (dependent upon experience) and RT economy airfare to Washington, D.C. Applicants must be nationals of a country within the scope of their fellowship.
This program offers support for graduate students, faculty, PhD candidates, post-doctorate, and independent scholars to conduct policy-relevant research for 3-9 months in Central Asia, Russia, the South Caucasus, Ukraine, Southeast Europe and Moldova. The total value of Title VIII Research Scholar fellowships ranges from $5K to $25K each. Typical awards include international roundtrip airfare from the scholar's home city to his/her host city overseas, academic affiliation at a leading local university, visa, the opportunity for housing with a local host family, and a living stipend. Scholars in the social sciences and humanities are eligible.
The Council of American Ambassadors (CAA) International Affairs Fellowship program enables six undergraduate students per year to come to Washington, D.C. and participate in a prestigious summer program that combines mentoring by former U.S. ambassadors, practical training through internships at the Department of State, and academic studies in international affairs. To qualify, students first must be selected for a D.C.-based summer internship at the Department of State. Candidates must have completed their junior year of undergraduate study and be enrolled as a senior in the semester immediately following the fellowship.
The fellowship supports promising American scholars and students whose research bears special significance for German economic and international policy within the wider European context. Fellows receive a $7,500 stipend, which covers transatlantic airfare and domestic travel, as well as room and board, for a minimum of 28 days. Fellows are required to work closely with the ACG to organize a detailed itinerary. Applicants must be in the relatively early stages of their career, in the final stages or have recently completed a PhD, and have a sincere commitment to furthering the transatlantic relationship.
The Asia Foundation Development Fellowship provides highly qualified young professionals from Asia the unparalleled opportunity to strengthen their leadership skills and gain in-depth knowledge of Asia's critical development challenges. The year-long professional advancement program is designed to be a multifaceted experience, involving intensive learning modules – short courses, conferences and study tours in Asia and the U.S. – to enhance leadership skills, Asian development knowledge, professional networks, and international exposure. Fellows are highly talented individuals under age 40 with a track record of accomplishments.
The Central Asia-Azerbaijan Fellowship Program (CAAFP) is intended for young professionals from Central Asia and Azerbaijan who want to enhance their research and analytical skills and seek to become public policy leaders in their respective countries. Fellows will spend 5 months in residence at the GW Elliott School and/or SIPRI North America. They are offered a series of tailor-made programs and introduced to U.S. policy and expert communities in both Washington, D.C., and New York. Fellows received a monthly stipend of $3,000 and travel expenses. Applicants must be between 25 and 40 years old.
The fellowship provides grants for scholars and policy thinkers on American foreign policy, international relations, international security, military policy, and diplomatic and military history. The purpose of the program is to strengthen the U.S. community of scholars and researchers conducting policy analyses in these fields. There will be at least three research grants of $60,000 each to enable the recipients to research and write a book. This program supports junior or adjunct faculty, research associates, post-docs who are engaged in policy-relevant research, and writing and think tank affiliates who are focused on U.S. strategic and foreign policy issues.
IEEE-USA is seeking IEEE U.S. members who are interested in spending a year working in Washington as an IEEE-USA Engineering and Diplomacy Fellow. IEEE-USA fellows serve a one-year fellowship starting in September. The fellowship offers an opportunity for the science, technology, and engineering community to provide technical expertise to the U.S. State Department. Fellows receive a stipend of $65-75,000, depending on education level and experience, plus $5,000 for travel and relocation expenses.
Founded in 1997, the International Affairs Fellowship in Japan (IAF-J), sponsored by Hitachi, Ltd., seeks to strengthen mutual understanding and cooperation between the rising generations of leaders in the United States and Japan. The program provides a selected group of mid-career U.S. citizens the opportunity to expand their professional horizons by spending a period of research or other professional activity in Japan. The IAF-J is only open to U.S. citizens. The duration of the fellowship is 3-12 months. The program awards a stipend in yen which covers travel and living expenses in Japan.
The Fellowship Program for Advanced Social Science Research on Japan is a joint activity of the Japan-U.S. Friendship Commission (JUSFC) and the National Endowment for the Humanities. Awards support research on modern Japanese society and political economy, Japan's international relations, and U.S.-Japan relations. Fellowships support continuous full-time work for a period of 6-12 months. Successful applicants receive a stipend of $4,200 per month. The maximum stipend is $50,400 for a twelve-month period.
The Luce Scholars Program is a nationally competitive fellowship program intended to enhance the understanding of Asia among potential leaders in American society. The program provides stipends, language training, and individualized professional placement in Asia for 15-18 Luce Scholars each year, and welcomes applications from college seniors, graduate students, and young professionals in a variety of fields who have had limited exposure to Asia. Candidates must be U.S. citizens up to age 30, and candidates must be nominated by one of 75 participating colleges and universities.
Learn how foreign policy fellowships can launch your international affairs career in

this guest article

by four-time fellowship winner Nicholas Shafer.
© ProFellow 2022, all rights reserved