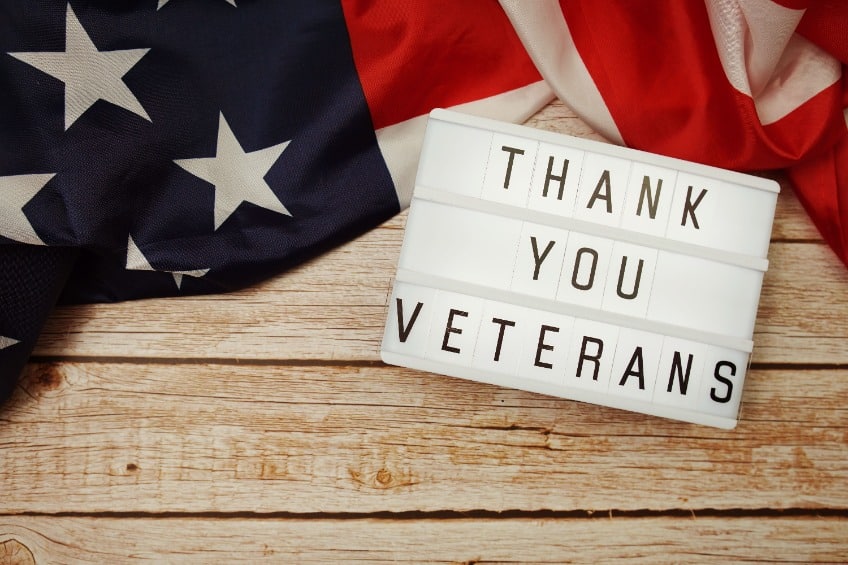 There are a number of fellowships for Veterans, service members, and military scholars that offer a great avenue to advance their education and career, as well as aid their transition to civilian life.  There are fellowships that offer funding for graduate school, including a Master's or PhD, fellowships for post-graduate research, fellowships for professional development, including leadership, international affairs, and national security, fellowships that offer a pathway to employment, including within the private sector and local and federal government, and fellowships that offer unique experiences for Veterans and their family members and caregivers. In addition to the tangible benefits, fellowships also help Veterans find a sense of purpose after their military service.
This list of fellowships includes opportunities to learn how to fly fish in Montana, intern and earn a job at numerous private sector companies, fund a graduate degree with a path into the Foreign Service, earn a two-year full-time job at a federal government agency, pursue a Master's in Government while living in Israel and learning about Middle East security, fund pre-doctoral and post-doctoral research at Harvard University, spend a year at CFR's headquarters in New York to learn more about international relations, and much more.
If any of these opportunities spark your interest, be sure to bookmark them to your ProFellow account!
The Anna Sobol Levy Fellowship at the Lauder School of Government, Diplomacy & Strategy at IDC Herzliya. The Purpose of the fellowship is to provide future US leaders considering a military or government career, an opportunity to learn first-hand about Middle East regional politics, culture, and security affairs. Fellows gain direct exposure to Israel's unusually challenging defense and security situation and to Israel's approaches to counter-terrorism and low-intensity conflict. Become a candidate for an MA in Government with a specialization in Counter-Terrorism and Homeland Security or Diplomacy and Conflict Studies. ALS Fellows participate in educational and informative field trips and attend lectures that are tailor-made to their program.
The Belfer Center at Harvard University offers both pre-doctoral and post-doctoral research fellowships for one year, with a possibility for renewal. Applications for fellowships are welcome from recent recipients of the Ph.D. or equivalent degree, university faculty members, and employees of government, military, international, humanitarian, and private research institutions who have acquired appropriate professional experience. The Center seeks applications from political scientists, lawyers, economists, those in the natural sciences, and others of diverse disciplinary backgrounds. The Center offers 10-month stipends of $20K-$34K.
Each year, outstanding U.S. Army, Air Force, Coast Guard, Marine Corps, and Navy officers are nominated for the CFR Military Fellowship. The program enables selected officers to broaden their understanding of international relations by spending a year at CFR's headquarters in New York. Education in international relations is provided through individual study, research and reflection, and participation in CFR meetings and events. Interested officers should speak with their human resource officer to learn more about the application process.
Dog Tag Inc. (DTI) runs a living business school for transitioning Veterans with service-connected disabilities, military spouses, and caregivers, empowering them to rediscover purpose through an entrepreneurship-focused fellowship program. Throughout the five-month program, fellows gain business skills in both the classroom and in practice at Dog Tag Bakery. The Fellowship program combines coursework, workshops, wellness techniques, guest speakers, and experiential learning to help fellows find what they want to do next beyond their military-connected service. Fellows graduate with a certificate in business administration from Georgetown University and receive a monthly stipend.
The War Studies Program, run by the Institute for the Study of War, aims to educate undergraduate students about the theory, practice, organization, and control of war and military forces. Over the course of the seven-week summer program in Washington, DC, students will learn from and interact with distinguished senior leaders in the national security and military communities, including retired generals and leading intellectuals. Fellows receive a stipend in addition to housing and some meals. College juniors, seniors, and very recent graduates are eligible.
Since its inception, HillVets has helped hundreds of Veterans in their pursuit to become involved in their SecondService to our Nation. The program supports fellows, who are Veterans, as they find full-time positions, especially on Capitol Hill. Fellows attend classes on the legislative process, assist in constituent relations and correspondence, and work with staff on specific issues including the budget and appropriations process. They work closely with Member office staff on projects and to develop and advance legislation. Housing in Washington D.C. and a stipend are provided for up to eight months.
The Hiring Our Heroes (HOH) Corporate Fellowship Program (CFP) is a work placement program for active-duty military members within 180 days of transitioning from military service. HOH CFP Fellows are carefully matched with one of the hundreds of participating host companies based on their skills and experience. Fellows participate in a six to twelve-week paid internship and receive exclusive on-the-job training, experience in the private sector, and weekly educational sessions with their cohort. The goal of the program is for Fellows to earn a full-time job at their host company upon the conclusion of their internship.
In addition, Hiring Our Heroes Fellows Programs also offer work placement programs for military spouses and caregivers of wounded Warriors.
The Hoover Institution Veteran Fellowship Program (VFP) is a nonresidential, year-long program for 10 military Veterans. The program seeks participants who desire to address critical challenges in the public sector with actionable solutions. Focus areas should align with Hoover's research priorities and seek to inform the formation and implementation of policy. The program is building an effective and enduring network of successful Veteran practitioners who confront real-world challenges alongside Hoover fellows with support networks at the Hoover Institution and Stanford University.
Each year, Lincoln Laboratory provides fellowships to active-duty U.S. military officers from all Service branches to work as full-time research fellows or summer interns. Summer interns spend 3-6 weeks contributing to sponsored projects, and other fellows do thesis research at Lincoln Laboratory. Fellows are undergraduate students at the United States service academies, graduate students working on a thesis, or advanced education students at Senior Service Schools. While the military fellowships cover tuition and fees for graduate students, other fellows are sponsored by Training with Industry or their service for Senior Service School.
The NBCC Foundation is pleased to announce military scholarships for service members, Veterans, and their spouses pursuing a career in professional counseling. These scholarships provide financial support to students who are currently enrolled in a Council for Accreditation of Counseling and Related Educational Program (CACREP) accredited master's-level counseling program; are on active duty, have served in the military, or are military spouses; and who commit to serving military personnel within one year of graduation for the duration of a minimum of at least two years post-graduation. Three scholarships in the amount of $8,000 are available for the 2023 award year.
Fellowships of $20,000 for students pursuing a doctorate in counseling. Eligible applicants must demonstrate knowledge of and experience with racially and ethnically diverse populations, or those who are Veterans or are from military families and commit to providing mental health and/or substance abuse and addictions counseling services to underserved minority populations through direct practice or the training of direct practitioners. U.S. citizens and permanent residents are invited to apply with special consideration given to underrepresented minority group members. Eligible applicants must be enrolled in an accredited doctoral-level counseling program at the time of application.
Master's fellowships of $10,000 for students studying for a master's degree in mental health counseling. Eligible applicants must demonstrate knowledge of and experience with one or more of the following: underserved minority communities, child/adolescent and geriatric groups, minority communities in inner cities and rural areas, minority persons (including LGBTQIA2S+), or those who are Veterans or are from military families. Eligible applicants must commit to teaching, administering services, conducting research, and/or providing direct mental health counseling to at least one of the above-listed populations. Eligible applicants must be enrolled in an accredited counseling master's program at the time of application.
Master's fellowships of up to $15,000 for addiction counseling students studying for their master's degree. Eligible applicants must commit to obtaining an addictions counseling credential, demonstrate knowledge of and experience in addictions/substance abuse services to one or more of the following: underserved minority communities, child/adolescent and geriatric groups, minority communities in inner cities and rural areas, minority persons (including LGBT), or those who are Veterans or are from military families. U.S. citizens and permanent residents are encouraged to apply, especially those from underrepresented minority groups.
The Presidential Innovation Fellows (PIF) program is a highly competitive 1-year fellowship that seeks to attract top innovators into government, capable of tackling issues at the convergence of technology, policy, and process. Although this fellowship is not specifically for military Veterans, it does offer the opportunity to work on two projects at the Department of Veterans Affairs focused on improving services for Veterans and transforming the Veteran experience. This is a unique opportunity to improve the lives of all U.S. military Veterans. PIF Fellows are embedded within federal agencies to collaborate on challenges and devise innovative solutions to overcome them. Fellows are based in Washington D.C. for the duration of the Fellowship and are considered full-time employees of the federal government. Fellows receive a GS15 salary, typically between $120-150,000.
Interested in applying to the Presidential Innovation Fellows Program? Read this article by 2013 PIF Fellow Jason Shen, which shares his application tips and fellowship experience.
The Presidential Management Fellows (PMF) program is a prestigious 2-year program for recent graduate students seeking employment opportunities in federal government agencies. PMF Fellows receive a paid, full-time job at a federal government agency. The fellowship offers Veterans' preference for military Veterans, which must be claimed at the time of application and requires an online assessment to be completed. The be considered, applicants must be nominated by their university followed by a rigorous assessment process. Graduate students from all academic disciplines who expect to complete an advanced degree from a qualifying college or university by August 31 of the academic year in which the competition is held, are eligible to become Fellows.
Interested to apply to the Presidential Management Fellows Program? Read this article by PMF Fellow Miriam Kochman on How to Apply for the Presidential Management Fellows Program.
The John Jay Institute's Saratoga Fellows Program is the leadership "top-off" that best prepares young military officers to live out their faith in a thoughtful, compelling, and winsome way while serving their country in uniform. The summer fellowship-in-residence is at our campus in Langhorne, Pennsylvania, where Fellows grapple with readings and topics from interdisciplinary studies in theology, philosophy, ethics, history, politics, culture, and jurisprudence. Criteria for selection are based upon demonstrated Christian commitment and leadership potential. Saratoga Fellows, if not paid by the military during their time with us, will be paid a meal/living stipend of $125/week and receive free housing.
The fellowship provides grants for scholars and policy thinkers on American foreign policy, international relations, international security, military policy, and diplomatic and military history. The purpose of the program is to strengthen the U.S. community of scholars and researchers conducting policy analysis in these fields. There will be at least three research grants of $60,000 each to enable the recipients to research and write a book. This program supports junior or adjunct faculty, research associates, post-docs who are engaged in policy-relevant research, and writing and think tank affiliates who are focused on U.S. strategic and foreign policy issues.
Interested in pursuing a Foreign Policy Fellowship? Read this list of Foreign Policy Fellowships for Emerging Leaders and Aspiring Diplomats, Students and Scholars.
The Stand-To Veteran Leadership Program is a five-month program, offered by the George W. Bush Presidential Center, for accomplished leaders (active duty military service members, veterans, military spouses, and civilians) from a wide range of sectors who are working to improve outcomes for veterans and military families through professional and/or community engagement. This program helps individuals who have made an impact in the military-connected community, their place of employment, or society at large, take their leadership experience to the next level. During the program, participants will complete five modules, each that lasts two-to-four days per month, and will hear from a variety of nationally known and distinguished professionals, educators, and experts in veteran and military family transition issues. Tuition, housing, meals, and travel during the modules are fully funded.
The Tillman Scholars Program unites and empowers remarkable military Veterans and spouses as the next generation of private and public sector leaders committed to service beyond self. The premier fellowship supports Tillman Scholars with academic scholarships, a national network, and professional development opportunities, so they are empowered to make an impact in the fields of medicine, law, business, policy, technology, education, and the arts. Active duty service members, Veterans, and military spouses are eligible for the fellowship which covers academic expenses, including tuition and fees, books, and living expenses.
The Veterans Innovation Partnership (VIP) will help build and deploy strategic partnerships between the United States Government and the Private Sector to mobilize resources and build networks to promote foreign affairs career opportunities for Veterans. The Partnership will assist Veterans with educational opportunities to study international relations, open doors to work with foreign affairs agencies, and help facilitate employment opportunities for Veterans. Fellowships are for 1-year and Veterans holding a master's degree or higher in international affairs/business, public policy, or public administration are invited to apply.
The Veterans Local Government Management Fellowship (VLGMF) is a 12-to-25-week Department of Defense SkillBridge Program that provides transitioning service members with management training and hands-on experience in the local government environment to prepare them for smooth transitions into local government careers. This program will match eligible Fellows with local government sponsors based on skills, education, experience, and the preferences of both parties. The VLGMF offers three Cohorts per year and the application process traditionally begins three months prior to the beginning of a cohort.
Interested to land a job in government? Read 3 Ways to Land a Government Job Through a Fellowship.
Fellowships for VFW members who are currently enrolled at a college or university with an active SVA chapter and pursuing a degree in political science, government, communications, history, law, or a related field. Fellows will be flown to Washington, DC to participate in the VFW National Legislative Conference with the opportunity to advocate alongside VFW staff and represent their states. This is an opportunity to share issues facing today's student Veterans alongside mentors from the VFW National Legislative Committee. The conference opens many doors for fellows and all expenses for attending the conference are covered by the fellowship.
The Warriors & Quiet Waters Fishing Experiences (FX) are an incredible opportunity for Veterans at any stage of transition. The program is designed to help post-9/11 combat Veterans learn new skills and experiences to make meaning of their service and life going forward as a Veteran. WQW's first-time Fishing Experiences bring six Warriors together for a week of camaraderie and world-class fly fishing in Bozeman, Montana. Over the course of the week, Warriors learn how to fly fish and enjoy a setting for positive growth and connection. FXs are free to participants and include travel to Quiet Waters Ranch in Montana, food and lodging, and gifted equipment for participants to take home with them.
The White House Fellows program is one of America's most prestigious programs for leadership and public service. White House Fellowships offer exceptional young men and women first-hand experience working at the highest levels of the federal government. Fellows typically spend a year working as full-time, paid fellows to senior White House Staff, Cabinet Secretaries, and other top-ranking government officials. Fellows also participate in an education program consisting of roundtable discussions with renowned leaders from the private and public sectors and trips to study U.S. policy in action both domestically and internationally.
Through the William D. Clarke, Sr. Diplomatic Security Fellowship, you will embark on a career path that will take you around the world, providing protection to U.S. personnel, facilities, and information, while supporting diplomacy. Funded by the U.S. Department of State, the Clarke DS Fellowship is a two-year graduate fellowship program designed for individuals who want to pursue a master's degree and a career as a Diplomatic Security Service (DSS) Special Agent in the Foreign Service. DSS Special Agents are sworn federal law enforcement officers. Clarke DS Fellows receive up to $38,000 annually during the two years for tuition, room, books, and other academic expenses.
Interested to find more funding opportunities for professional development and graduate school? Sign up to discover and bookmark more than 2,400 professional and academic fellowships and fully funded graduate programs in the ProFellow database.